Wouldn't you like to know one of the most exciting, fun, and rewarding ways to monetize your websites, social pages, mobile apps, and other online properties?
You may be aware of eBay seller; now it's time to become eBay Affiliate!
The eBay Partner Network provides a wonderful opportunity for you to make money with eBay Affiliate Program.
In fact, eBay is one of the most popular websites on the Internet. They are the world's largest shopping and auction site selling a wide variety of goods worldwide.
You can be a part of eBay success story by joining their great partner program – eBay Partner Network (EPN).
Here, we have come up with eBay Partner Network Review showing how site partners can make the most money with eBay Affiliate Program.
The eBay Partner Network in a Nutshell
The eBay Partner Network is an affiliate marketing network wherein you get quality products to advertise on your blog, social pages, and other online properties.
You earn a commission for sending a lead or new customer to the eBay site where they go on to make a purchase, and you get to earn a commission.
Effectively an affiliate marketer gets a commission when a user clicks through one of their ads and begins bidding on products. The eBay Partner Network pays affiliates for sending referrals from their affiliate links to eBay to purchase, bid, or register on the eBay website.
As an eBay partner (affiliate), you get to have tracking links that you can use to send the audience to the eBay website. Once your referrals make a purchase, you get to earn a commission.
In fact, with eBay Affiliate Program, affiliates get four options for promotion and referral linking such as Paid Search, Paid Placement, Ad-Network/Sub-Affiliate, and Natural Web site referrals.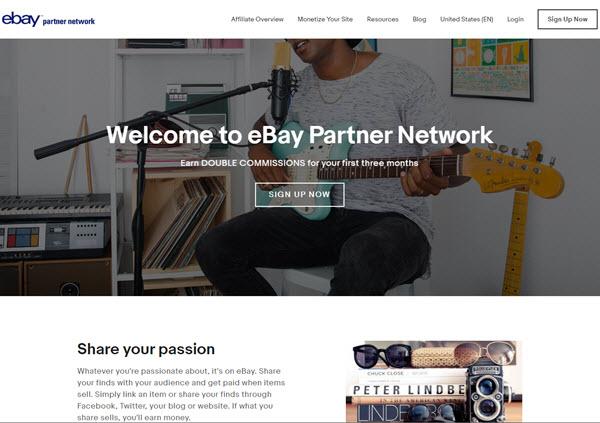 Why you should join eBay Partner Program
The eBay Partner Network program comes as a smart choice for joining the rewarding affiliate program that aptly fulfills your objectives. Here are some of the reasons why publishers choose to join the eBay Partner Program.
Easy Application Process
The eBay Partner Program application process is pretty straight forward and simple. You can make an online application that takes less than five minutes to complete. Your application gets processed very quickly as long as it is in line with eBay's Terms and Conditions. The approval rate is also very high.
Competitive Earnings
When you take up to join any affiliate program, you invariably look at its earning model. With eBay Partner Program, you get a simple and transparent earning model.
When your traffic to eBay gets converted into a purchase, you get to earn a percentage of eBay's revenue.
Your earnings depend on the amount of revenue you generate for eBay. So, if you generate more revenue for eBay, the more you'll earn. For increasing your earnings from eBay Partner Program, you should focus on high-value categories.
If you are successful in attracting first-time eBay buyers, you can get up to 200% commission bonus.
Low Threshold, Quick Payments
The minimum threshold for receiving commissions from the eBay Partner Program is pretty low. It is $10 per month, and it is paid out via direct deposit or PayPal. The payments are typically done on 22nd of each month and include earnings from the previous month's activities.
Bonuses and Promotions
The eBay Affiliate Program provides 200% new buyer bonus for attracting new buyers to eBay. Plus, eBay usually runs seasonal and category-based deals and promotions, thereby giving you a more financial incentive for driving traffic to eBay for making a purchase. So, there's a lot to grab by joining eBay Partner Program.
Most Trusted Online Brand
eBay is one of the most trusted names in the online world. It completed its 20th anniversary in 2015. Plus, eBay is successfully running its affiliate program since 2001. Its longevity and transparent working procedures have made eBay one of the most popular online marketplaces in the world.
Affiliates can expand globally by driving traffic to eBay sites across 13 countries and a wide variety of languages.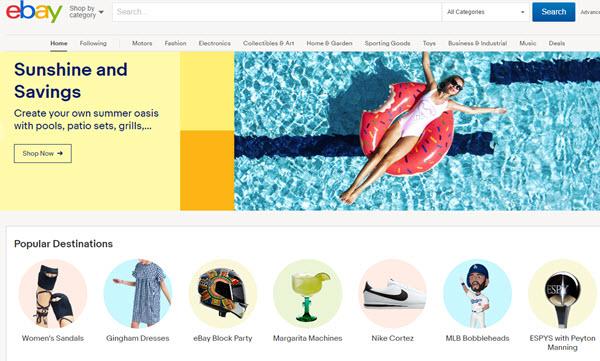 Large collection of Products
The eBay online marketplace provides a wide variety of choices for buyers. Buyers can shop just about anything on eBay, from cars to accessories to electronic gadgets to household items and much more.
It has a broad range of auction listings, 'buy it now' options and best of web deal pricing. In short, eBay has everything to fuel your visitors' passions.
Solutions for all Levels
With eBay Partner Network, you get tools that help you to promote eBay listings in a way that suits your business model and skill level. Its solutions fit all levels whether you run a simple blog, a more complex shopping site, or have a social media-based business.
Widgets and link generators are suitable for new publishers while more advanced programmers get eBay's API and product feeds for building customizable solutions.
Monetize your Social Network
If your chosen social network allows you to add affiliate links, the eBay Affiliate Program will compensate you for it. You can use your Facebook, Twitter or Tumblr following for promoting eBay products and earn affiliate commissions.
Dedicated Support & Communication
EPN regards its affiliates as true business partners. You get all the latest program news, industry tips and everything else for running a successful business. Besides providing a responsive support team, it has a number of communication channels to help you including a blog section, social channels, a community forum, videos, emails, and more.
These are enough reasons to spice up your interest in eBay Affiliate Program. Moreover, with over 162 million active buyers and more than 5 million sellers offering more than $70 billion in annual merchandise sales, together with eBay's global reach and 291 million people on their mobile app, you get a good earnings opportunity for nearly any blog, website or audience.
As eBay is well known and trusted globally, all you need to do is to send traffic to their site and leave the rest to them. For example, if you net in 15 sales of iPad Mini 4, you can hope to earn around $453.60 as commission simply for referring users to eBay. You can calculate your potential earnings by using the 'Earning's Calculator' found on the EPN site.
eBay Affiliate Program Commission
EPN partners or affiliate get a commission based on the revenue that eBay earns from each transaction. The commission can range anywhere from 40% to 80% depending on the product type.
However, you should note that the commission that is paid to affiliates is based on eBay's revenue and not on the final sale price of items on eBay. You are eligible for the commission when your referral makes a purchase within 24-hours, even when the auction takes up ten days to end.
When do you get Commission?
Commissions are paid to the members of eBay Partner Network on a monthly basis as soon as the minimum threshold of $10 is met. Payments are made by direct deposit or PayPal.
Members have access to campaign stats, commission, and earnings through the EPN Publisher Portal. Earnings are posted the day after the sale has occurred.
Joining eBay Partner Network
It is easy to join eBay Partner Network. You simply have to visit eBay Partner Network page and complete the signup details. You can also login using your existing eBay account. Once you get approved as a partner, you can then promote your referral links to your audience. The performance can be tracked from with the EPN Publisher Portal.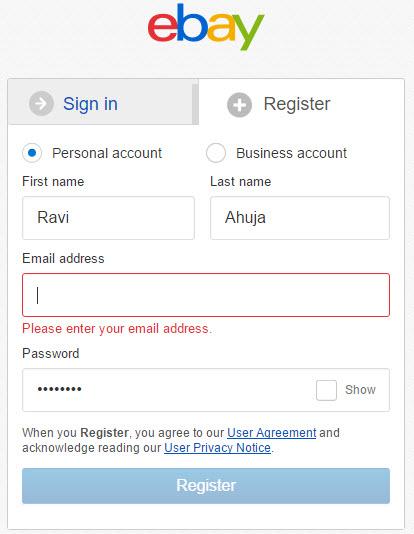 However, eBay reviews each and every application before accepting you as an eBay Partner. Usually, a site which is a good match for promoting their listings is accepted as an affiliate. In this respect, they go on to evaluate a site based on the amount of traffic it receives and the quality and relevance of the content. Typically, it takes about 72 hours to review your application for their Partner Network.
If you want to profit by associating with EPN, don't forget to integrate eBay links within your content. You should do this while recommending any products that people can purchase through eBay.
It has been a norm that product review sites, coupon directories, and content focused on fashion, technology, electronics, automotive, and collectibles go well with eBay Partner Network.
As everyone already knows about eBay and how to shop through their site, it is easy to make sales with eBay, just start sending good traffic to eBay and make money with eBay Affiliate Program.
Summarizing
The eBay Partner Network provides huge benefits for affiliate marketers.
As eBay happens to sell a wide variety of products, it becomes easy for any content-rich site to find items on eBay that can be useful to their users.
Another benefit of eBay Affiliate Program is that it can be used by niche sites which center on usual items. As eBay sells a wide variety of collectibles and hard to find items, it can be useful for niche sites which are promoting such products and items.
Plus, by joining eBay Affiliate Program, you can avail double commissions for first three months.
On the whole, eBay Partner Network has a lot of positives. It comes as an easy and most rewarding affiliate program to work with.
We hope that the eBay Affiliate Program Review has been successful in bringing out the relevance and usefulness of this affiliate marketing program.