Affiliate Marketing can become somewhat confusing and particularly for the ones who have taken up affiliate marketing for the first time.
So in order to become familiar with affiliate marketing, affiliates need to know and understand affiliate marketing terms.
Here under we have presented a glossary of Affiliate Marketing Terms. This will help you to know all the important and frequently used terms in affiliate marketing. The presentation of Affiliate Marketing terms is a comprehensive one and includes most of the terms commonly used and prevalent in Affiliate Marketing. New Affiliates should go through the presentation of Glossary of Affiliate Marketing Terms so that they can they can take up Affiliate marketing in a confident manner.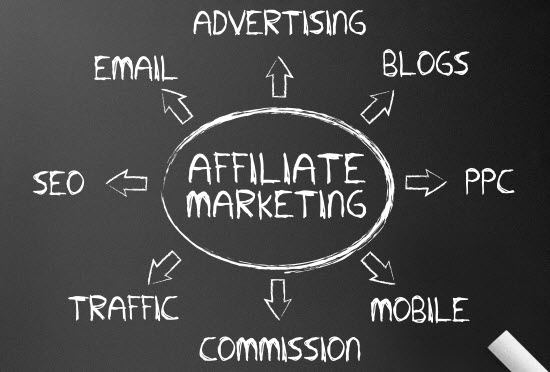 The definitions of Affiliate Marketing Terms have been kept precise, concise and to the point so that you can quickly learn them without wasting much of your time. Various Affiliate Marketing Terms have been included in the presentation which has made this glossary a thoroughly comprehensive one. I have included generic terms as well as specific terms related to affiliate marketing. So you would get to learn about terms such as advertiser, affiliate, affiliate program, merchant, CPC, EPC, PPS, CPA, ROAS, Landing Page and many other terms about affiliate marketing.
Going through the compilation of Glossary of Affiliate Marketing Terms will help you to enrich your knowledge about Affiliate Marketing.
From now on whenever you would come across affiliate marketing terms, acronyms, or abbreviations you would not face a problem in understanding them.
So you can go through the compilation of Glossary of Affiliate Marketing Terms, and I am sure you will find the presentation thoroughly useful and valuable.
Advertiser: Also known as the merchant, an advertiser is the person who sells goods or services. The advertiser pays a commission to the affiliates for sending visitors or traffic to his website once a product or service gets purchased from his website.
Affiliate: An Affiliate is a person who earns commission for referring sales to an advertiser or merchant.
Affiliate Agreement: It is an agreement between the advertiser and an affiliate. The agreement includes the terms based on which the affiliates are rewarded a commission for sending visitors or traffic to the advertiser's website.
Affiliate Link: This is a unique link that identifies an affiliate. With this URL tracking link, an advertiser get to know that the traffic has been sent by which affiliate site. An Affiliate link might look somewhat like this: http://www.yourdomain.com/yourpage.asp?AffilaiteID=4567 Mostly the Affiliate Links are text links, product links, or image links.
Affiliate Program: It is a program in which an advertiser or merchant rewards an affiliate for sending web traffic, leads or sales on a pay-per-click, pay-per-lead, or pay-per-sale basis. It is also known as Associate Program, Referral, or Revenue sharing program.
Affiliate Program Directory: It is a comprehensive list of merchants' affiliate programs. It is usually categorized by industry and includes commission rates or payout.
Affiliate Software: Software used to manage an affiliate program. It typically includes functions such as signing up of affiliates, managing links, tracking clicks, leads, and sales. It also handles activities related to paying affiliates.
Affiliate Manager: The person who is responsible for managing an affiliate program for a merchant. They manage affiliate recruitment and also act as liaison between the merchant and the affiliate. They also manage the affiliate program marketing and handles queries related to an affiliate program.
Affiliate Network: It is a third party which provides services to affiliates and affiliate merchants. Services provided include reporting tools, tracking technology, and payment processing.
Affiliate Tracking: It refers to the technology used for recording referred sales, clicks, and leads from affiliates.
Auto-Approve: It describes the affiliate application process wherein all applications are immediately accepted once they are submitted by the affiliate.
Banner Ad: It is an e-advertisement. It advertises a product, service, or website through an animated GIF, Flash Movie or JPEG.
Blogging Affiliates: These Affiliates use Blogs as a promotional method.
Click-Through: It describes an action wherein a user clicks a link and follows through to the merchant's website.
Click-Through-Ratio: It is the percentage of visitors who click a link to visit the advertiser's or merchant's website.
Co-branding: It is a situation in which affiliates can include their own branding or logo on the pages where visitors are sent through affiliate links.
Commission: It is the income earned by an affiliate when he generates a click-through, lead, or sale through to a merchant's website. It is also known as a referral's fee.
Contextual Link: These are affiliate links, which are placed within the related text of the content.
Conversation Rate: It describes the percentage of clicks that produce a commissionable activity such as a lead or sale.
CPA (Cost per Action): Also referred as Cost per Acquisition. It is the amount of money paid to get a conversion such as a sale, lead or sign-up.
CPC (Cost per Click): It is the amount of money you pay to get a click by a user on your link. Suppose you spent $100 on an ad campaign and received 200 clicks for that campaign, then your CPC is 0.50 cents.
CPM (Cost per Thousand): It is the amount of money you to display an advertisement per 1000 times. For example, if a website offers their adverting at $5 CPM and you wish to show your ad 10,000 times, then you would require paying $50 for that advertising.
Direct Linking: It refers to when your affiliate links directly go to the landing page instead of a redirect.
EPC (Earnings per Click): EPC or Earnings per Click is the average amount of money earned by you when your affiliate link gets clicked. To get the EPC, you have to consider the amount that you have earned as commission from the affiliate link and have to divide this amount by the total number of clicks received by that affiliate link. So, for example, the affiliate link generated $5000 in sales and was clicked on for 10,000 times, then the EPC would be 50 cents. This means your average earnings through the affiliate link is 50 cents every time someone clicks the affiliate link.
GAN: Referred to as Google Affiliate Network or GAN. It is one of the major affiliate networks in North America. It was formerly known as DoubleClick Performics and is now rebranded to GAN after Google acquired it from DoubleClick in 2007-08.
Impression: It refers to the number of times a banner ad is viewed or displayed.
Manual Approval: It is the process of validating an affiliate application. After performing validation the affiliate applications are approved. It also refers to the process of approving sales once validation has been performed.
Multiple Tiers: It is typically a multiple tier affiliate program in which affiliates earn commission off other affiliates which they refer.
Merchant: It refers to a person who sells goods or services. A merchant pays a commission to the affiliates for sending in visitors' traffic to his website once a product or service gets purchased from his website.
Pay-Per-Sale: It refers to an affiliate marketing program that rewards an affiliate for conversion to sale of product or service that happens from the merchant's website.
Pay-Per-Lead: It is an affiliate marketing program that pays affiliates commission for conversion to leads. A lead is generated when a user signs up a form, downloads software, survey, or signup for a trial.
Super Affiliates: It refers to the highest performing affiliates. Usually 1% of affiliates are super affiliates but that 1% is responsible for 90% of your total sales.
First Click: It describes an affiliate program wherein the first affiliate who gets a user to click on a link is credited with the sale if the purchase happens within the limits of the cookie expiration, even when the user lands on another affiliate's website and makes the purchase by clicking a link from its site.
Landing Page: It is a webpage on which traffic referred by affiliate lands.
ROAS (Return on Advertising Spending): It is a metric for measuring the revenue generated for every dollar spent on advertising.
Viral Marketing: It is a marketing technique that makes internet users and websites to spread the marketing message to other users or sites.
I hope that you would have found the presentation Glossary of Affiliate Marketing Terms highly valuable. I look forward to your comments and suggestions.