Ever since the upsurge of social media, the internet memes have become a widespread phenomenon over the web.
They are funny captions and are hugely humorous.
That's the reason they have become so popular on the web.
Internet Memes go on to tickle our funny bones and usually go viral instantaneously.
Nowadays, Internet Memes are everywhere on the web.
However, for anyone who might be new to the overall internet culture, Internet Memes can come down as pretty confusing and even downright ridiculous to understand.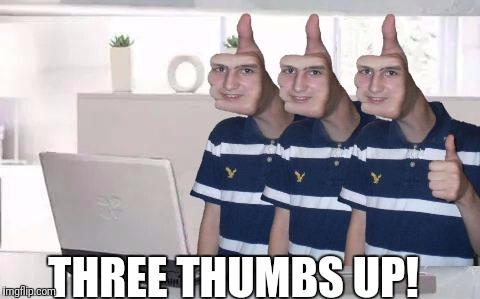 So, here is a post describing the phenomenon called Internet Memes.
Plus, we put across to you some of the most popular Meme Generator Tools and Apps for blogs and social which help you to make your own in a matter of seconds.
If you have a particular liking and inclination for Internet Memes, then it is a good idea to create and share your hilarious creations.
Who knows, your Internet Memes can go viral and earn you a good readership.
The least you can do is to enjoy them for what they are and the humorous messages behind them.
Still, it's worth understanding the basic nature of Internet Memes.
So, first let us quickly get to know what an Internet Meme is, where they came from, where you can find them, and most importantly what benefits you derive by posting Internet Memes on your Blog and Social Media.
What is an Internet Meme?
You must have seen funny captions and other things on the Internet you find humorous. They all can be grouped under the same description which we know as Internet Memes.
Although there can be variations in the exact definition of Internet Memes, they can be best understood as social or cultural ideas or symbols that are virally transmitted via the Internet.
Like the flu virus, an Internet Meme passes from one person to another quickly, until it's been seen thousands and even millions of times within mere few days or weeks.
An Internet Meme can be any idea or concept expressed in some form of content on the web. So, an Internet Meme can come out as a photo, video, a song, an event, an action, a GIF, a person, an animal, a fictional character, a symbol, a word, or anything else.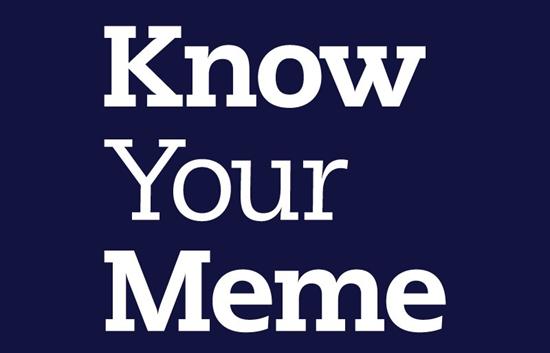 The highlight of Internet Memes is its capacity to be extremely relatable between most people and has a humorous effect to it.
There is a particular sarcasm or exaggeration that's embedded in each Internet Meme.
Plus, mass sharing is another main aspect of Internet Meme which has made it so popular with users all over the world.
Humans are particularly obsessed with funny pictures. And as Memes have an undercurrent of humor, they become an instant hit with people.
The best example of Internet Memes is your Facebook News Feed. Once you log into Facebook, you get to see some pictures with nice or funny words. These are one of the Internet Memes for you.
Even the Gangnam Style Music Video that was hugely popular with an online audience in 2012 can be considered an Internet Meme.
So, an Internet Meme appeals to a very large number of people and spreads very fast across the Internet.
In simple words, an Internet Meme can be best understood as something that goes insanely viral.
The word "meme" was first created by evolutionary biologist Richard Dawkins in his 1976 book "The Selfish Gene." He used the word to explain how cultural information and social memories spread from one person to another.
Today, an Internet Meme is spread quickly via emails, text messages, instant messages, and website links. They are usually based upon things people find funny and so tend to appeal to a wide audience.
Where to find Internet Memes?
Social Media is the best place for getting all the Internet Memes as soon as they start trending and go viral. So, you better be active on Social Media. You are not going to get them by checking your email or reading any of the local news websites.
Facebook and Twitter can be a good start. However, they are rather slow in exposing the newest Internet Memes.
So, check out places where many of the best Internet Memes are born.
Here are some examples where you can find many interesting Internet Memes:
4chan: The image-based community is one of the best places to find Internet Memes.
Reddit: Reddit is regarded as the birthplace of many Internet Memes.
Tumblr: Tumblr provides a perfect environment for Internet Memes. It is one of the most popular blogging platforms known for imagery and GIFs. Most of the stuff that first shows up on Reddit and 4chan eventually make their way to Tumblr.
As a bonus, you can also check out YouTube for newsworthy topics related to internet entertainment.
Benefits of posting Internet Memes on your Blog and Social Media
Internet Memes have the inherent capacity to go viral.
People like to be associated with Internet Memes.
So, they go on to share Memes as soon as they appear on blogs or social media sites.
Internet Memes are not just funny or shares someone's opinion or just a powerful message, but also have a sarcastic touch which makes them so special.
Moreover, people easily understand and appreciate Memes.
The popularity of social media channels has made them quite accessible to a large set of audience at large. Humans have a special liking for content that goes on to tickle their funny bones.
Internet Memes specialize in this sense and go on to attract the attention of every user. If you want to grab the attention of your visitors instantly, then Internet Memes are the best resource that you can rely upon.
So, posting Internet Memes on your Blog and Social Media Channels helps you to gain the attention of your audience and prospective customers quickly. Internet Memes are an integral part of Viral Marketing.
Today, the Internet has become a fiercely competitive platform.
You just cannot hope to gain the attention of your users by posting usual content. You invariably have to come out with something interesting and unusual.
With Internet Memes, you can offer creatives ideas to your users which not only appeals to them but also makes them laugh at the same time.
Once the Memes are liked and shared by users, it starts to generate the buzz. All eyes instantly pop up to see what's there in the Memes. So, with Internet Memes, you can increase your readership as well as go on to build brand awareness.
If all this appeals to you, then Internet Memes are certainly a thing to be used on Blogs and put across Social Media Channels.
It's an easy way to grabbing and holding the attention of your users.
Meme Generator Tools for Blogs and Social
Internet Memes are here to stay.
They spread through the web like wildfire.
So, if you fancy yourself an innovator and are interested in making Memes, here is a collection of some of the most reliable and easy to use Meme Generator Tools for Blogs and Social.
Let me tell you that it's pretty easy to get started and join in on the viral trend. Get your creative juices flowing with the Meme Generators for Blogs and Social.
Here's the list for you.
Free Meme Generator
Imgur provides one of the most efficient Meme Generator for Social such as Reddit. In fact, Imgur is one of the largest and most popular free image hosting platforms. It provides a decent drop-down selection menu for choosing your Meme.
You can also create an entirely new Meme. Once you are ready with your Meme, it can be uploaded directly to Imgur for being shared and embedded across the web.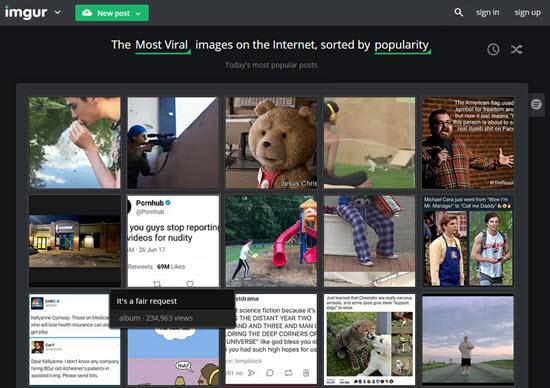 With Make a Meme online Meme Generator Tool you can easily create your own memes. It provides an elaborate set of thumbnails for the meme background image of your choice. You can select it for displaying a pop-up builder and customize your text for the caption.
You get a preview option to make sure it looks fine. When you are happy with the Meme you created, click on the 'Make the Meme' option.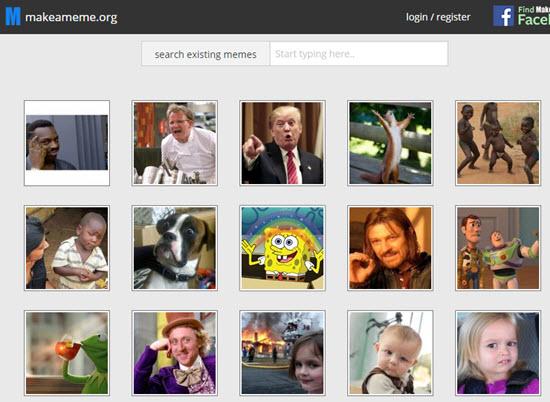 Quickmeme is one of the most popular and reliable sources for meme generation. Besides being a Meme Generator, Quickmeme also functions as a social network for humorous reposted images from around the web. You get featured memes displayed on the home page. You can browse through the best and random memes.
You can create a meme from scratch by using the "upload a funny" feature, or go on to click "caption a meme" for selecting a famous image that you can personalize with a funny caption. All-in-all, it is easy to use and lets you create memes quickly.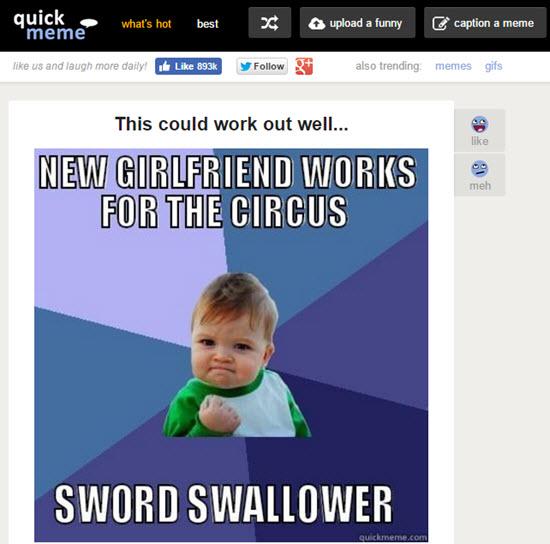 Meme Generator Apps for Android
Finding a good meme generator app can be quite tough. However, with Instameme you get a good meme generator app to help you out in creating hilarious and awesome Internet Memes easily. Instameme comes as a stylish meme generator. It is fun to use and great to look at.
Instameme provides a real-time WYSIWYG Editor which enables you to preview the meme design and correct errors quickly. It has more than 1000 meme templates, and you can even create your own using your photos.
It's relatively a new Android app for Meme Generation and developers are still adding features. So, expect that this one should get even better.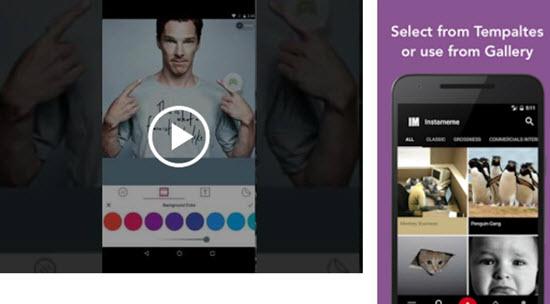 Meme Generator by ZomboDroid is one of the best generator apps that you should try first. It provides a wide collection of memes, as much as 700 memes to choose from. All are properly categorized for easy searching. You can even create your meme by using your photos.
Further up, Meme Generator allows you to create memes with up to 10 captions, multi-panel memes, as well as can apply various customization features so as to make your memes stand out from the crowd. Meme Generator lets you create funniest memes and share with your friends via Facebook, Twitter, WhatsApp, Google+, etc.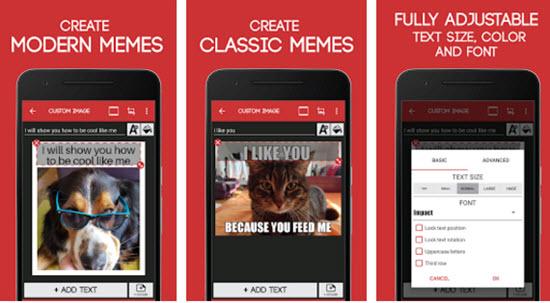 Meme Generator Apps for iOS
Meme Generator by ZomboDroid is also available for iOS devices. With Meme Generator, you can create funniest memes and share them with your friends via Facebook, Twitter, Google+, Messenger, Instagram, etc.
Key Features:
• Multiple meme categories
• No watermarks on images
• Custom memes use any picture from your gallery!
• More than 500 high-quality memes with lots of example captions
• Adjust text color and size
• Share and save memes
• Multiple fonts to choose from
• Move captions anywhere
• Create complex memes
• Image Cropping
• Add borders to any image you want
• Quick scroll and optional grid view
• Favorite memes
• SEARCH / Filter – you can find your favorite meme in seconds
• New memes are added regularly!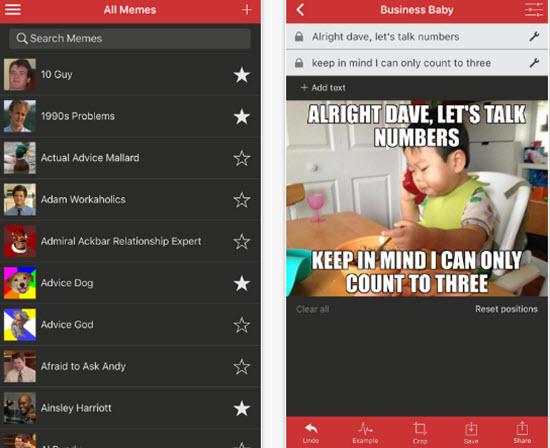 We hope that the article, Meme Generator for Blogs and Social, proves a valuable resource for you on Internet Memes. It shows how you can go on to create Memes using tools and apps easily and quickly.