Many bloggers and business owners don't realize the importance of building an email list. However, in reality, mailing list have a profound impact on website traffic and revenue.
For those of you who are still confused about starting an email list, here we have come up with a post listing the top reasons why you should start building an email list.
First of all, let us know:
What is a Mailing List?
An email list is a list of names and email addresses of people who allow you to send them updates and promotion emails from your business through email.
These subscribers joined your email list because they are extremely interested in what you are offering to them.
Building an email list opens up a highly rewarding communication channel providing you an opportunity of getting ten times higher conversions than social media campaigns.
Probably you would agree to the fact that the World Wide Web is a vastly competitive arena. In this context, it becomes important for you to retain and build your customer base. This has been a challenge for most of the website promoters, e-commerce portals, and bloggers.
One such tool that can help you immensely is your very own Mailing List or the Email Subscriber List.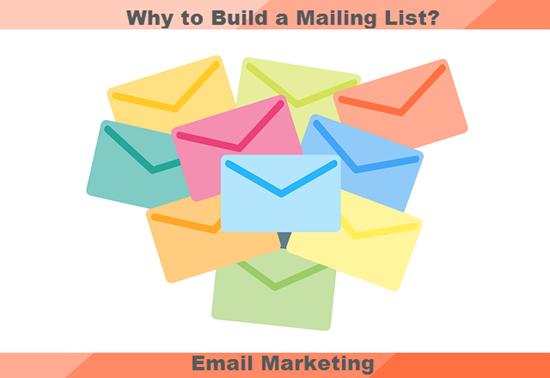 Usually, it happens that either we ignore our Mailing List or are not able to capitalize its full potential. The website traffic that you are generating eventually transforms into your customer base.
So, the success of your website finally depends on the volume of website traffic that your site is generating. To retain and build the website traffic, Mailing List plays a vital part. It shows the importance of building an email list.
A satisfied and happy website visitor would probably and invariably look forward to your site for information, products, and services and would like to come again and again to your website.
With an email list, you can serve these subscribers with information and promotion material that they are looking for, and it helps you to generate earnings from your website visitors.
This should be and probably is the real objective behind any website for that matter. Email Marketing can be very effective in utilizing the Mailing List that you have built over a period.
A well thought-out, researched and efficient implementation of Email Marketing Strategy can very well establish and popularize your website with the visitors with the result that you are successful in building and retaining the website traffic to your site.
Email Marketing involves the effective implementation of an Email Cycle which begins when a visitor to your site or blog voluntarily signs up for your email subscription services.
On the technical side, it involves the use of one of the software tools (like MailChimp or Aweber) to run this Email Cycle. The effective and efficient operation of the Email Cycle can surely work wonders for you.
When a visitor to your site signs up for the Email Subscription, it is a sort of victory for you. It means that you have been successful in building the initial trust with your prospects.
By signing up, the visitors confirm that they have liked your blog, services or products and have expressed their willingness to stay connected with your website to learn more about the services you can offer them, whether it is information, content, product or it can be serviced as well.
Now, we go on to look at the various advantages of building an email list.
You are in Control
Unlike other communication channels, an email list allows you to have absolute control over the way you market your products and services to your prospective customers.
Moreover, your email list consists of people who are interested in what you offer. That's why they have opted to be a part of your email list. You can decide on its frequency, its format, and decide the target audience, as well.
It is Personal
With an email, you can hit your user's inbox. It is essential, personal, direct and casual.
Cost effective
Among the various advantages offered by Email Marketing, one of the prime advantages is its cost effectiveness, and more importantly, it is result oriented. Through it, you are successful in building a fruitful and trusted relationship with your subscriber.
Email Subscribers are likely to buy your products
An email subscriber has shown interest in your products and services are the biggest probable of buying your products and services. Moreover, a person chooses to who they subscribe to via email. Their email inbox is their virtual home. By becoming an email subscriber, they have invited you to showcase your products and services.
It's a big opportunity for you to connect and engage with them. Your email subscribers tend to be your most engaged blog readers and go on to become your most loyal customers.
Excellent medium to keep in touch with your readers
An email list is the best way to share big announcements with your target audience. Not everyone would check your blog every day.
However, they do check their emails every day. So, whenever, you have something important to share, your email list is the ideal audience to make sure they receive your message. It is an excellent medium to keep in touch with your readers.
Email is Purposeful
Users signing for your email list and confirming their email addresses are obviously interested in hearing from you. Email is purposeful in the sense that it is intended especially for them and they more receptive to the message that you send to them via email.
Email is Targeted
Since you are aware of the interests of the users who have signed up your email list, you are in a better position to serve relevant content and offers to them to get best results. So, your email is targeted towards your subscribers.
It builds trust and confidence
Email is a private and one-on-one communication with your target audience. Your messages reach directly to the inbox of your readers. The subscribers read the email in the privacy of their inbox and can ask questions directly in private with full trust and confidence.
So, you go on to build the much-needed trust and confidence with your audience who have signed up for your email subscription. It is a long term investment which allows you to get your message across to your audience at a very low cost.
Signing up the Visitors
The important thing here is that you should be successful in signing up the visitors.
It should not be the case that though you are getting visitors frequently, they are not subscribing to your email newsletter.
So you can use various techniques for signing up your visitor.
The eagerness and enthusiasm have to be first shown by you. You can use the sidebar on your website page to hold an email subscription form.
You can also put the form at numerous places on the web page. Like at the top of the page and also at the end of the page.
You can also go for setting up a pop-up signup box which flashes once the visitors arrive at your site. Pop-up signup is quite an interesting technique and an effective one too in signing up the visitors for your newsletter.
Once the visitors have signed up for the email newsletter and have confirmed their subscription, the double opt-in way, you have the Email list ready with you and can then embark on the path of Email Marketing.
Your "Welcome Mail"
As an immediate and prompt follow up to their signup, you can choose to send a response mail, often referred to as "Welcome Mail." This Welcome Mail is quite necessary and fulfills lots of useful purposes.
First of all, it serves as an acknowledgment of your subscription services. It makes them feel that the site is prompt and is oriented towards building a better customer relationship. You can use the welcome mail to give an all round introduction about your website.
It can contain elements like site logo, links to various parts of your website, some archives, and recent posts and stuff like that. All this would make the visitor more aware and enlightened about the scope of your site.
Auto-Responders
Then you can also choose to setup the auto-responders for your email subscribers which enable you to send quick follow up emails to your subscribers at quick intervals.
The purpose of auto-responders is that the subscribers do not forget your website and do visit your site again. It is a reminder filled with interesting information, may be future offers and related services, links to your popular web pages that they can look up to on your website.
Weekly Updates
The next step in Email Marketing Cycle is the regular Weekly Updates that you serve to your subscribers. Preferably you can create a format for the Weekly Updates that best suits and serves your particular requirements.
This format is different for every website as each site has its goals and specific set of audience.
But still, you can incorporate elements such as welcome message, latest additions of the week, tips, techniques, presentations, and new arrivals, popular posts of the weeks, relevant video links, forum threads and stuff like that.
So, this reinforces the scope of your website with the readers, helps in driving and maintaining traffic flow to your website, and in the process, you can also gain much from all the things you are promoting.
Promotional Updates
In addition to the Weekly Updates, you can also serve specific theme oriented newsletter and dedicated promotional feed to your readers as well.
It is up to you how much and to what extent you want to make use of these two elements. But those of these elements have their advantages.
For example, in a Themed Update, you can showcase your various blogs which cater to one specific category and somehow have not got the response you were expecting.
This would make these blogs more popular and in turn drive more traffic to your websites.
Likewise, in Promotion Updates, you can choose to market and promote some related product or services that your website serves. For example, photography related blogging website may promote cameras of specific manufacturers to its readers. So you can earn while you promote and give added value to your cherished visitors, readers or customers.
Concluding
So we see that why we need to build Mailing List. If you want to grow and popularize your website, want to have big traffic of visitors regularly coming to your websites and that too in an organized and cost-effective way then do build your Mailing List and use the powerful techniques of Email Marketing to promote your content, products or services to your prospects and customers in a big and profitable way.
Also, check 10 Best Email Marketing Services