Building a website requires you to have a domain in place.
However, it is not that you always have to buy a brand new domain.
Well, you have the option of buying expired domains.
You are in for a big advantage when you get good backlink profile and existing targeted traffic for the same price as that of a brand new domain.
That's certainly possible with the power of expired domains.
In fact, buying expired domains is taken as a grey hat SEO technique to rank better in the search.
Today, we are here to showcase this power that you get with expired domains.
You get to know the best places to buy expired domains & benefits of buying expired domains.
What is an Expired Domain?
Expired domains are domain names that have been registered in the past by individuals or businesses, but they have not renewed after the contract period, and they are deliberately terminated.
These domains are available for re-registration by anyone.
There can be various reasons for abandoning a domain.
One of the prime reasons could be that the web project failed.
It could also be that a domain portfolio went into liquidation.
Domains could become free due to the owner receiving warnings for possible trademark infringement.
Benefits of Buying Expired Domains
The value of expired domain springs from the key SEO benefits associated with it due to an existing backlink profile.
In fact, it is necessary to determine the quality of an expired domain when you consider buying it.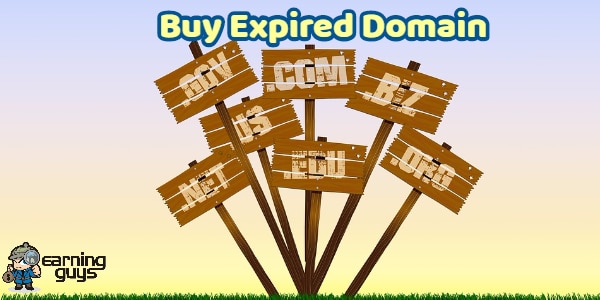 You should look at the inbound links that are associated with it.
Moreover, expired domains contain relevant keywords (in the second-level domain) that might refer to products, brands, or services.
So, buying an expired domain is all useful.
Backlinks
The most important benefit of expired domains is the backlink profile associated with it.
This relates to the incoming links that have built up when the domain was previously in use.
When these domains get re-registered, the incoming links remain to exist as long as website owners from where these links are coming to remove them.
However, we must state that the backlink profile of an expired domain comes as a double-edged sword.
On the one hand, expired domains can be well cared for by their previous owners and can come with high-quality links from reputable and authority websites.
However, on the other hand, some can contain quite questionable backlinks.
In the worst case scenario, the domain could have been penalized by some search engines.
It could have used as a link farm for strengthening a major project in a satellite domain network.
In fact, both the number and the quality of incoming links to a domain go on to influence its search engine rankings.
Moreover, three factors need to be kept in mind while accessing the backlinks of an expired domain.
These are:
Link popularity: It is a parameter that is used for quantitatively evaluating links to a website. It primarily refers to the number of links to a domain. Here, the more incoming links mean, the more important the site.
Domain popularity: It is an important factor used for evaluating the backlink profile value of an expired domain. Here, the incoming links that come from the same site are counted only once for evaluating the popularity of a domain. So, it prevents attempts of manipulation when domains link to each other several times over.
IP popularity: It goes on to determine the popularity of the IP. Here, the links are counted when they come from different servers on different networks. In fact, Google has included IP popularity for search engine ranking.
So, an expired domain is only valuable when it possesses high link popularity together with high IP and domain popularity.
When an expired domain has high link popularity but poor IP and Domain popularity, you can conclude that these links were obtained artificially.
Search engines might have even penalized them. In fact, that could be the prime reason for abandoning it.
So, when you access expired domains for incoming links, you should take note both quantity and quality of links coming to it.
A high-quality link profile has different link types that include footer and sidebar links, forum threads, links in comments, and social media posts, as well as content links coming from other similar websites. (Best Backlink Checker)
You should also find out whether these links are followed or no follow.
Domain Name with Keyword
Domain names that contain a keyword have been recognized as a strong pointer for search engine rankings.
The connection of a domain name with a keyword has proved highly relevant when it comes to gaining search engine rankings or even holding visitors' attention.
In fact, keyword domains are still very popular in the domain market.
This is an important reason why people look for expired domains that have a keyword.
Potential visitors have long regarded keyword rich domain names as more relevant. They are taken more seriously by visitors.
Potential customers have regularly monitored catchy URLs that contain strong search-volume keywords over the years.
So, it makes sense to purchase an expired domain containing a keyword that coincides with the content, products, or services you want to offer with that address in the future.
Domain Age Matters
Older age domains offer many advantages in SEO than new domains.
It's a much-acknowledged opinion of the experts. For instance, you can easily target and feature in the Google's Search top page from a domain that got registered in 2012 than with a new domain in 2018.
Moreover, expired or old domains mostly possess a better Alexa Rank, Google Page Rank, social media shares as well as other worth web calculations.
It will take a lot of time for a new domain to reach that stage.
Plus, the old websites have a little bit of traffic that is enough for understanding incoming traffic patterns. You can know which articles are working well on the old site.
You are at an advantage with expired domains as you can convert these small numbers (traffic) to a good income.
In fact, with expired domains, you get a competitive advantage over other websites or blogs that are operating in the same niche.
Re-Selling
You can go for buying an expired domain name and register it to reselling it in future.
You can make a good amount of money from re-selling expired domain.
In fact, the domain age, reputation, and page rank associated with an expired domain make it much expensive and valuable.
When all the SEO factors are available in the expired domain, then it becomes very profitable for you.
Build Authority Sites
Building a new authority site or niche site will never be easy with a brand new domain.
When you use new domains, you have to invest a considerable amount of time and money in building up their authority from SEO perspective.
On the other hand, an expired domain already offers the authority to build the site.
So, you get a huge head start with an expired domain.
You can easily build a content rich site on a powerful expired domain and crack the first page rankings without doing any extra work.
All that advantage cannot have from a brand new domain.
Moreover, the cost of registering an expired domain is the same as registering a brand new domain.
Build a PBN (Private Blog Network)
You can use expired domains for creating a private blog network.
With a PBN, you build a fleet of highly authoritative sites in a specific niche. You can use the PBN to rank any site you want easily.
In fact, Private Blog Networks use it for link building.
You get full control over content, link placement, anchor text, and much more.
However, you need to find expired domains (in your niche) that possess clean link profile as well as spam free history.
301 Redirects
The expired domains can be used for 301 redirects to your main site.
301 redirects help to pass a portion of the link juice as well as the authority of the expired domain to your site immediately. However, that domain should have existing traffic.
Things to Consider Before Buying Expired Domains
There are some important points to check when you venture out to buy expired domains from any marketplace.
Here, we have listed the most important pointers that you should consider before moving into domain flipping business.
#1. Check if the Expired Domain had Spam (Domain History)
You need to check whether the expired domain was used for spam purposes by the previous webmaster.
In fact, it is the first thing you need to do before you buy any expired domain for SEO or branding benefit.
Well, the easiest way to determine the content of an expired domain is to use Wayback Machine. It's the biggest Internet Archive that has over 450 billion web pages saved over time.
Simply head over to it.
Here, you need to search for the expired domain that you want to buy. You need to enter the domain into Internet Archive's search box.
Wayback Machine records the snapshots of the pages that were earlier on the domain. It had the timeline of the domain when it started up to the present.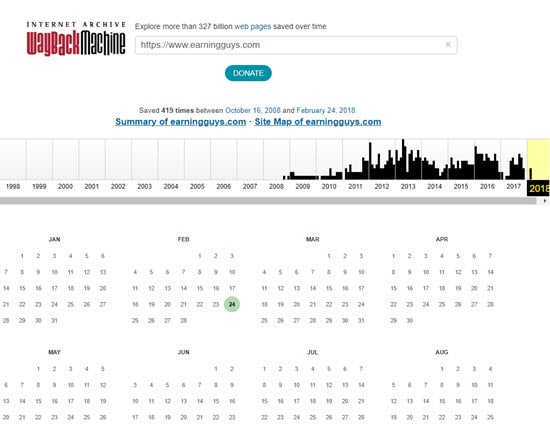 So, Wayback Machine provides the opportunity to see the content that was available on the domain (expired domain).
Now, you can determine whether the content was spam or not.
You get to know how the expired domain looked like and understood its previous activity.
You can view the domain's pieces of content and links.
So, you can discover an expired domain's history.
#2. Check Domain Authority and Page Authority
Moz has developed metrics such as Domain Authority (DA) and Page Authority (PA) that help site owners to assess their site's SEO performance.
Domain Authority and Page Authority are two such important metrics that determine the quality of any expired domain or live website.
You can check DA (domain authority) and PA (page authority) on Open Site Explorer/Moz SEO Toolbar.
Both DA and PA are scored on a scale of 1-100.
With domain authority score you come to know the likelihood of an entire domain to rank in search results.
With page authority score you come to know the ranking potential of an individual web page.
DA and PA score are determined by analyzing factors such as quality of content, number and quality of backlinks, and more.
So, make sure to check DA and PA when you buy an expired domain. You should try to grab a domain with DA 25+.
#3. Do a check with Google banned checker
Although domain authority and page authority are very important metrics that you must consider when buying any expired domain, however, that's not the end of it.
In fact, they are of no use in case Google has already banned it from search engines.
So, you should make sure whether Google does not ban the domain.
You can check it with Google banned checker and come to know whether it is banned or not.
However, if you want to buy the domain irrespective of the fact that it is banned, you can always use Google reconsideration request and place a request for un-banning the domain.
#4. Check Google AdSense Ban
There are hundreds of expired domains which are Google AdSense banned.
There is no point of buying a domain that is already banned for Google Adsense.
Well, you want to build a website on an expired domain because you want to make money online. If it is already banned, then it has no use for you.
So, it should be a prime concern for you to check for Google AdSense Ban.
With AdSense Sandbox Checker Tool you can find out AdSense ban. You need to put the URL and click on preview Ads.
If all the ads are being displayed, you can conclude that the domain is safe for you. Otherwise, it is banned.
#5. Check Backlink Profile
You can use SEMRush to know the complete backlink profile of an expired domain.
It has a massive database. Using SEMRush, you come to know the quality of backlinks of the expired domain. It analyzes the domain with accuracy.
SEMRush also helps in checking the domain for the following:
Site issues
Do-follow and No-follow links
IP addresses of the links in the domain
The growth of backlinks over time
Inbound and Outbound links
So, with SEMRush you can check every backlink of an expired domain in detail and avoid negative SEO.
#6. Check for Current Google Penalties
Run a simple Google search ("site: domain.com") to check for current Google Penalties.
In case nothing shows up, it means that the site is under penalty from Google. It can be an automatic or manual penalty.
And this is not a good sign.
However, there is a chance that its previous owner might have opted not to appear in the Google search index through robots.txt. Still, you should see a few hits mentioning this fact.
8 Best Place to Buy Expired Domain
Do you want to buy expired domains?
Well, you are at the perfect place.
Here, we have showcased the best sites that can help you with the same.
These are the prominent platforms from where you can grab the expired domains at a low price.
Here's the list of top websites for buying expired domains:
GoDaddy Auctions is one of the most renowned and popular websites for buying expired domains. In fact, GoDaddy Auctions is a very familiar name in the domain market.
Most of the people who want to acquire an expired domain name head over to GoDaddy Auctions for buying one from here.
GoDaddy Auctions has the largest customer base and offers decent expired domains at an affordable price.
You can also look for a lot of better deals at GoDaddy Auctions.
At GoDaddy Auctions, you can search the domain names using keywords in which you are interested.
For example, if you type the keyword "fitness," it will show you all the domain names that match with the keyword "fitness."
So, you can come up with a list of all the domain names with the desired keyword selection.
The platform lists all the possible expired domains along with the number of bids already placed, the market price, traffic, and valuation. Plus, it allows you to place your bidding offer for buying the domain.
Once you click on a particular domain name, it reveals more details which help you to go with your choice.
GoDaddy Auctions is the place to get a reputed domain name.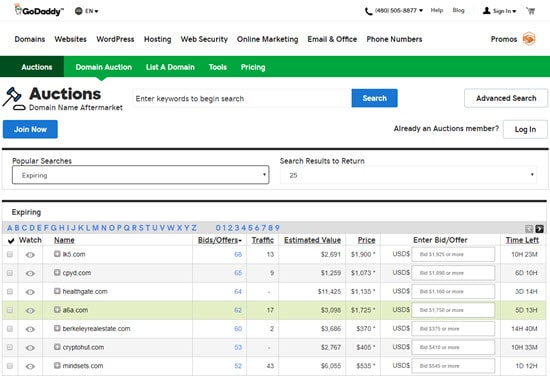 ExpiredDomains.net offers a HUGE list of domain names every day. Thousands of domain names expire every day.
ExpiredDomains is the best place to get all the valuable information regarding expired domains that you might want to buy.
You can even find deleted domains to register. It also gives other necessary information related to expired domain names like Page Rank; backlinks count the age of the domain, and much more.
ExpiredDomains.net can be the one-stop solution for all the information regarding an expired domain, and that too without paying a single penny. Simply check the details and grab one for yourself!!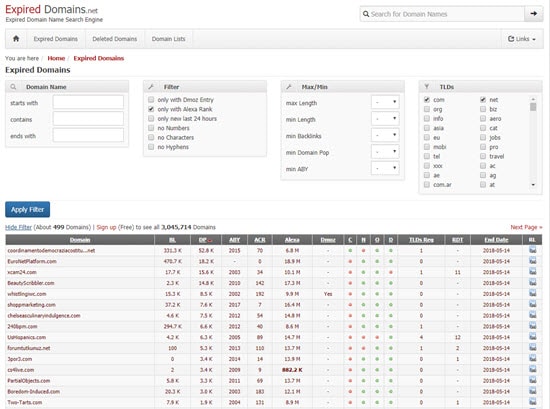 FreshDrop is another very popular site for searching an expired domain. In fact, FreshDrop has been the world's largest domain marketplace ever since 2007.
It has a HUGE database of nearly 3.7 million domains. So, it offers the opportunity to find the expired domains as per your choice easily.
One major highlight of FreshDrop is that it provides all the detailed information like Domain age, Page Authority, Domain Authority, Page Rank, Backlinks Count, and much more.
So, with FreshDrop, you don't have to worry about verifying the trustworthiness of a domain.
Moreover, it offers much information about a domain that you are planning to buy. It provides easy filter and search options right on top of the homepage.
The entire process of searching expired domains is made easy.
FreshDrop is one of the best websites for buying expired domains.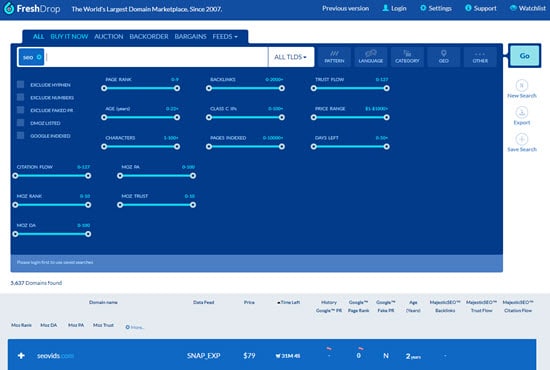 Flippa is one of the best sites for buying expired domains.
It is recognized as one of the biggest marketplaces for buying & selling of domains as well as websites.
It offers a dedicated search engine for finding expired domains.
At Flippa you can find all the active domains, brokered domains, soon going to end domains, deleted ones, etc.
It has a column called "Editor's Choice" that offers a huge list of all expired domains that are worth purchasing.
However, the cost of the domains at Flippa is a bit on the higher side.
As you go on to click a domain, you will see a page with a multitude of necessary information. Here you get the option to place the bid.
It is a platform where you get the best domains for sale.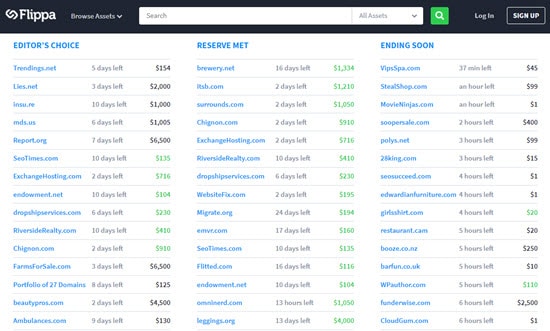 NameJet is another leading marketplace for buying expired domain names.
They make use of advanced domain software for displaying all the domains (including the ones that just expired) for individuals, domain professionals, and small businesses. It offers the opportunity to acquire domain names.
NameJet has three sections:
Hot Picks: Here you can find all the handpicked domains by experts. There are high-quality domains with search-friendly keywords. They can cost you some extra money, but they are worth it.
Last Chance: Here, you can make an offer to grab all the domain names that are going to auction very soon.
Open Auctions: It is the place where all the domains are shown in open public auctions. You can find all the closing soon domains. You have to bid the amount for grabbing them.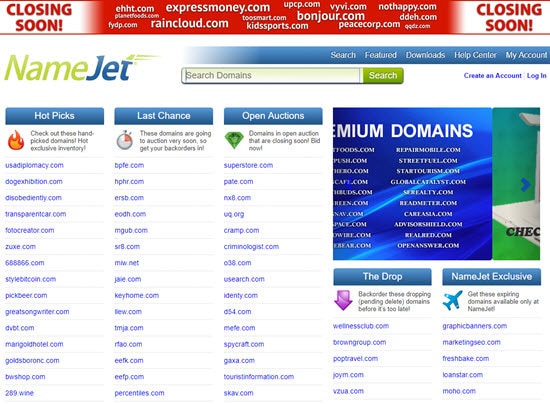 Snap Names are one of the best places for buying expired domain names of your own choice. They have a HUGE database of over 30 million domain names for meeting any budget.
It offers the opportunities to search, bid, or buy an expired domain name that you would like to buy.
It has a section where you can find handpicked domain names by experts. These are high quality and search friendly domain names.
You can buy from Snap Names on "backorder."
These are domain names that are not expected for availability for at least 36 days.
Snap Names will obtain these domain names for you if and when they become available.
You can make an offer when they are available and snap them instantly.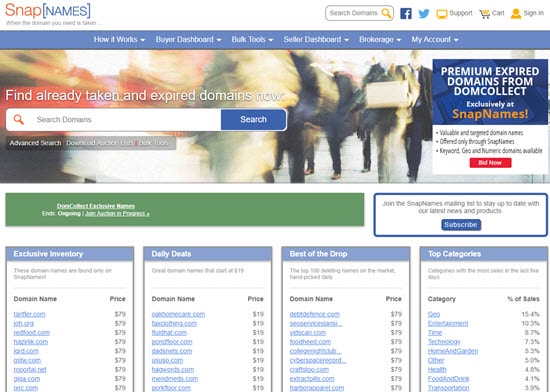 DomCop is one of the top websites for buying expired domains. The DomCop.com helps you to find great expired domains within minutes easily.
They have a huge database of over 20 million expired domains which include over 31 domain extensions such as .mobi, .net, .info, and more.
DomCop offers advanced search functions such as Moz rank, Majestic metrics, Alexa rank, Estibot, and more that help you to analyze the expired domains that you want to buy.
DomCop.com is a top domain marketplace.
Some of the top highlights of DomCop include:
Over 10 million new domains are added every month.
It offers advanced filtering options.
It offers 40+ metric checks for filtering out fake domains.
You need to click "Show Me Expired Domains" button on DomCop. You will see all the domain names with the domain age, page rank, Moz DA, and more along with the domain price.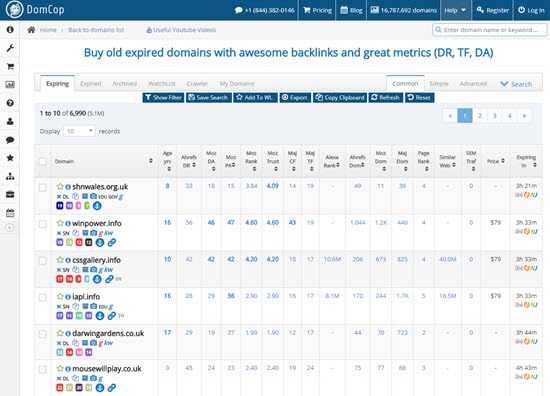 Spamzilla is one of the best places for buying powerful expired domains that have great backlinks. At Spamzilla, you can purchase a domain that already possesses an excellent backlink profile.
So, you don't need to start from scratch.
Spamzilla allows you to grab a domain (within your niche) that already has all those backlinks.
It saves your time and money.
Plus, you get past the competition.
Spamzilla makes sure that there is nothing suspicious or spammy about the expired domains. It's a trusted platform where thousands of domains are added every day after background checking.
At Spamzilla, you get high-quality expired domains at great prices. Here, you can get domains that have been packed with SEO value.
Here, we have listed some of the key features of Spamzilla that make buying domains a breeze:
Automated spam checking
It analyzes historical data & backlink data
It offers only clean domains with powerful backlinks
Many data points are taken into consideration for domain cleanliness, such as domain age, active history, redirect, website history, backlink history, anchor text, and more
With Backlinks Miner, you can quickly analyze the top 100+ backlinks from each domain
The Spamzilla database includes backlink data, thereby allowing you to easily find domains with powerful backlinks
It makes it easy for you to find domains with the highest Trust Flow or Domain Authority
Amazing SEO Tools – Domain Availability Checker, Wayback Exporter, Registrar Comparison, etc
It supports 16 different domain sources
60+ Country Code TLD's Supported
They have all the expiring domains, auction domains & country-specific domains for powering up any SEO campaign
Subscription Price:
Free
Standard: $37/mo (billed monthly)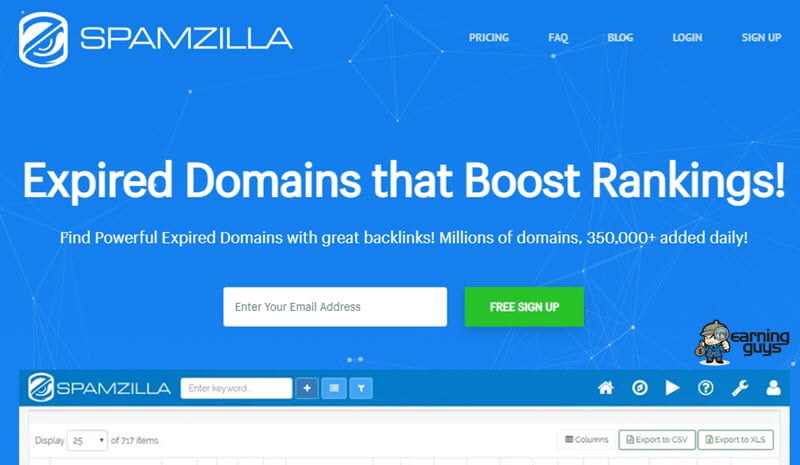 With this, we come to the end of this presentation.
We hope that it proves an immensely valuable resource for you.
We like to state that you need to spend some time in searching domain names. Moreover, you need to list out your priorities before going on to buy an expired domain name.
The above list of websites will surely help you in finding the best-expired domain names that tend to rank well in search engines.
With expired domains, you can easily boost your overall search engine rankings.
If you liked the post, please share it on Facebook, Twitter, and Google Plus.
We welcome your comments and suggestions.