One of the key questions that you're starting off with Affiliate Marketing is – "How do I find the best affiliate products to promote?"
While it is a legitimate concern, the magic is not in the product – the magic is in finding the product that your audience wants to buy. It's deceptively simple, but if not taken into account, it can result in very few sales and massive frustration!
The question is – How do you find what the audience wants? Research. Yep, it is simple, but it definitely is NOT easy. Here are four tactics that will turbo-charge your research:
Learn How to Find The Best Affiliate Products to Promote
1. Use Amazon: If there's only one step that you could take, it would probably be this! Amazon is the largest retailer in the world, and there are at least two ways you can use it:
Uncover the best sellers – Amazon makes it extremely easy for you to find the popular products in your market. Here's what you need to do:
Visit the Amazon Bestsellers Page and narrow it down the market you're in

And then Amazon lets us narrow down with these four options:

Best Sellers: These products are evergreen! Your audience knows about these (maybe you do too?).
Hot New Releases: These have been the anticipated products! What if you were to write a post explaining why? (Hint: It'll sell like hot cakes!)
Movers and Shakers: These products are swiftly moving up the top of the rankings. Why would that be? Maybe Oprah mentioned it on her show! If there aren't detailed enough reviews on these – you can easily rank in the search engines for these!
Most Wished For: THIS IS THE GEM! These are products that people have actually added to their wish baskets; you can hardly find people closer to purchasing than this!

Discover in-depth done-for-you product research: Peek in the customer reviews to understand exactly what they liked/disliked, why they bought it, what's missing! Even pictures from customers! This is a goldmine! See what I was able to uncover in less than a minute!

2. Use forums: Online communities and forums give you sneak peak into exactly what is going inside a customer's head. You can easily see from the screenshot below that customers not only care about the best coin of a type but the best time to buy and the best place to buy!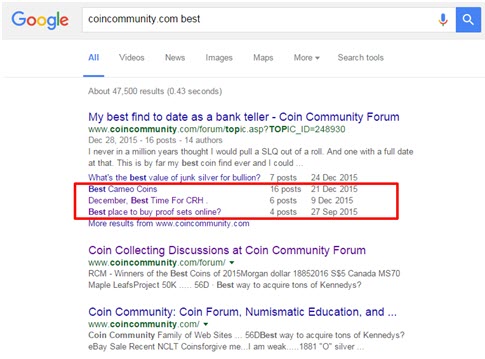 3. Look inside: If you have picked a market that you are familiar with (always a big plus!), the chances are that there are tons of resources that YOU USE EVERYDAY! Why not let your audience know about the products that you use, along with a detailed how you use it!
4. Solve a Problem: More often than not you'll discover in your research that there are problems that recur. These are the ones that run inside your customer's head multiple times a day, and if you focus on solving the problem, you wouldn't even have to sell. The audience will read through and see their problems being solved. How do you discover these? There are three ways to do that:
Forums: People use forums most of the time to get help! Even a simple Google search for "problem" + "forum" can yield great insights

Yahoo Answers: Browse through the questions people post, these tend to be really tactical. For example, wouldn't this girl (and a lot of people like her) start coin collection if you could show her how to do it inexpensively?

Quora: Like Yahoo Answers – Researching on Quora will also bring up tons of amazing questions that your audience has!

Ubersuggest: This nifty service aggregates Google Search Suggestions, this can help you compile a comprehensive list of customer problems! The only problem is that you need to have some customer research under your belt, you have to think laterally! You can't go in and type keyword + problem, here are the results it gave me: (Hint: I can still figure out that people are looking for videos!)

Now that we have understood what products customers would love to buy, you'll probably be on crossroads on how many products to promote. Ideally, the market that you're in should set you up to promote multiple products (it's a good sign that people in your market buy!)
Here's a simple rule of thumb that you can use:
For every need or problem that the customer faces, compare products that solve it and let the customer decide.

If you're promoting too many products with no real rhyme or reason, the chances are that your customers think the same, and they'll end up either not trusting you or confused. Whichever be the case, you'll end up losing the sale!
If you have several products that serve the same need, and you are not really sure which one you should, here's a simple equation that will make it crystal clear for you:
EPC=ProductPrice*Commission Percentage*Conversion Rate (CVR)
Your goal should be to maximize your EPC because this single metric ensures that you pick the products that serves your customers and brings in the best commissions. To that end here are 3 pointers that will help:
1. Product Price Point: One of the first things you'll consider, and it's not ok to promote just the high-end or the low-end product for the sake of it. You also need to take into account, how much you earn per sale and how well the vendor sales page converts!
2. Commission Percentage: If you pick a lower end product that has a higher commission rate, the chances are that the effective commission you make per sale shoots up. A higher end product with a lower percentage commission can be very lucrative as well. Vendors and merchants tend to reveal that as the Commission Per Sale.
3. Vendor Sales Page Conversion Rate: The vendor sales page is the final page that the customer will see, and if the sales page does not convince the customer that he should buy, you lose the sale! This is reflected best in the Conversion Rate. No matter how highly priced the product is, it's better to sell a cheaper one if visitors just don't convert! (and vice versa)
Hope now you can Find The Best Affiliate Products to Promote.