Joining a CPA Network is probably one of the best ways to go with affiliate marketing and open doors for earning money online.
However, choosing a CPA Affiliate Network comes as a daunting task simply because there is quite a number of them.
You just cannot go with any CPA Network.
It will be wasting your efforts if you join a below par CPA Affiliate Network. So, it is fair enough to know a CPA Network that provides rich dividends for both advertisers as well as publishers.
Today, we have come up with admitad CPA Network Review to show you how you can make money with this affiliate network.
admitad has a lot to offer both advertisers and publishers.
Let us know how different it is from any other affiliate network that you may have used.
What is admitad?
admitad is a fast – growing global CPA Affiliate Network.
admitad started operations in 2010.
It is a German – based affiliate network headquartered in Heilbronn having seven offices across the globe.
admitad is constantly engaged in providing advertisers with reliable sources of sales and publishers get access to new business models for monetizing traffic.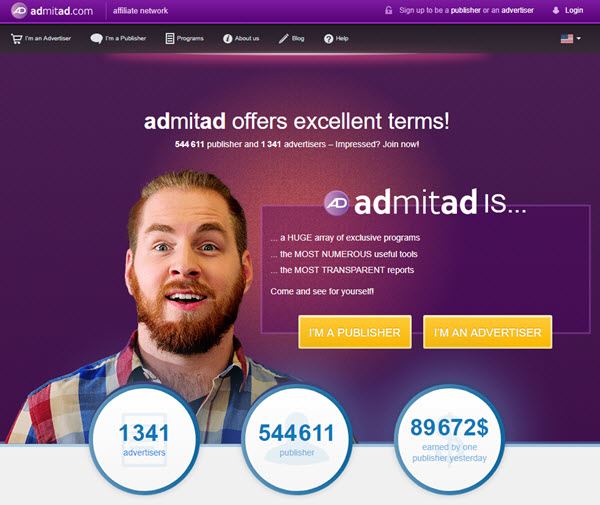 Its continued focus on innovation and intent to deliver a clear ROI to each client has led it to work with over 1200 leading advertising brands. It is now an affiliate network of more than 540,000 active publishers.
Importantly, admitad has made sure that advertisers get access to additional revenue across the globe, get new customers, and only pay for results. It has opened up an additional international sales channel for agencies and their customers.
With admitad, publishers get access to innovative products and global services and can monetize their traffic easily.
The success and acceptance of admitad can be gauged by the fact that it has registered year-over-year revenue growth exceeding 100% for six consecutive periods.
admitad a truly global affiliate network which has managed to secure exclusive worldwide partnerships with internationally recognized brands.
It has collaborated with giants such as AliExpress, eBay, Citibank, Nike, Booking.com, Adidas, Target, Microsoft, and others. admitad strongest geo by volume includes the US, Russia, the UK, Western Europe, and India. Find the US premium offers here.
Why Join admitad?
Signing up with admitad can open up a host of benefits for you. Let's see the salient features of admitad that make it an unbeatable and one of the top most CPA Affiliate Network.
In-house platform
To start with, it is important to point out that admitad is one such platform that provides publishers and advertisers the opportunity to enter the global market and increase their revenues.
admitad plays a vital role in optimizing their marketing strategies. With its competent tools for advertisers and publishers and a clear system of analytics and anti-fraud, admitad aims to help your business in the best possible way.
Easy to use Interface
If usability is a major concern for you, let us assure you that with admitad you get the most user-friendly interface to work with. It comes with an easy to use interface which makes navigation easy and straightforward so that you face no hindrance whatsoever while working with admitad.
Moreover, the signup process is easy, and all the necessary options can be easily picked from the navigation bar. Furthermore, if you face any issues, step by step guidance can be availed at [email protected]. The step-by-step guide "How to register in admitad" is also available for free.
Huge Coverage of Topics
As admitad is tied up for different product and service categories, you can look forward to getting the most matching advertisements on your site.
It's the huge coverage of topics that give a winning edge to admitad. Here, we list out some of the categories where admitad is running regular campaigns.
E-commerce – apparel, electronics, accessories, sports, furniture and household products, car goods, Chinese goods, and children's goods.
Online games
Mobile
Services – travel, finance, food delivery, coupon services, and much more.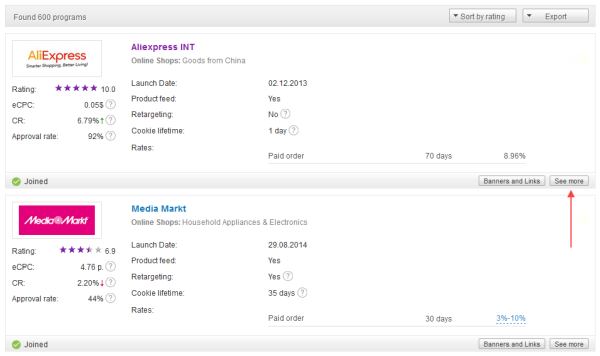 Weekly Payments and Multiple Modes
Usually, most of the affiliate networks offer a monthly payment schedule. However, with admitad, you get weekly payments.
Plus, admitad offers a variety of payment methods, including PayPal, e-payments, and Wire Transfer in all major currencies. Premium payment conditions are available to publishers and provide preliminary payments on request. The minimum payment threshold is low at $20.
Personalized Full Service
admitad delivers a full service, with no extra costs and spending. Each admitad advertiser gets an individual account manager that handles all of your queries (in your native language) and solves every issue that comes across.
They have expertise in client's specific field for optimizing the campaigns. You can even raise support tickets. Their team of managers is always eager to help you through live chat, email, and telephone support.
Detailed Reports
For deriving full benefits from affiliate marketing, you need a detailed, clear, and well-organized reporting system. With admitad, you are at an advantage as it provides clear and comprehensive reports.
You get a huge range of data organized in logical and useful form. You get to analyze impressions, clicks, and actions comprehensively. You can export the reports to XML and XLS format and can use them with external software such as Excel. It also allows you to feed the data into your system through the admitad API or with Postback URL tool.
Many useful tools
admitad provides the tools you need for succeeding in affiliate marketing. Its publishers and advertiser tools help in increasing conversions and program performance. You get dashboards, charts, graphs, metrics, and much more.
It provides many innovative tools for both advertisers and publishers such as fingerprint tracking, cross-device tracking, anti-cookie technologies, powerful anti-fraud technologies, deep linking options, advertiser toolbox, etc. These tools are meant to fine-tune advertising and increase profits.
How to register in admitad?
Here, we are listing the process to sign up as a publisher.
For this, you need to access the admitad home page and select "Sign up." It will lead you to the registration page. You need to fill in your Account information. Please note that all fields are mandatory.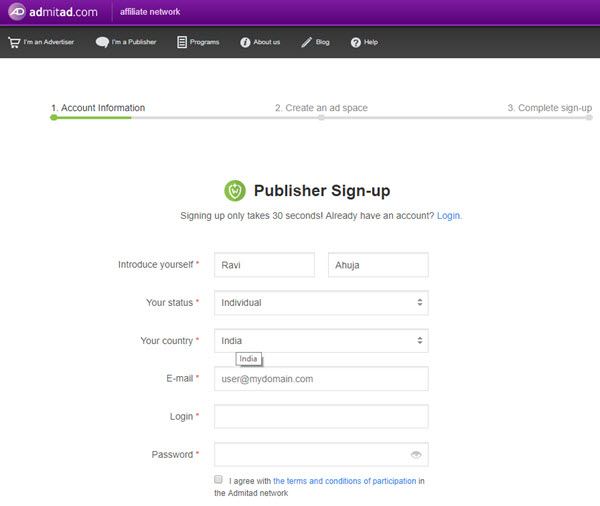 Next, you need to Tick on the "I agree to the terms and conditions of participation in the admitad network." Then you have to add an ad space. Fill all fields and add the ad space. Once this is done, click on the "Continue sign-up" button. When the registration is complete, a link will be sent to the specified e-mail for activating your account.
If you wish to register as an advertiser fill in the form here.
Aliexpress Hot Summer Rally 2017 from admitad
Publishers and everyone who is joining admitad get an opportunity to take part in Aliexpress Hot Summer Rally 2017. The Rally started on 15 June 2017 and will end on 15 September 2017. You get a chance to hit the Jackpot for $30000. There are three stages of races, and each one lasts for one calendar month.
The 3rd final stage has a Grand Prix of $5000. Plus, the total prize fund is $30000. The Aliexpress Hot Summer Rally 2017 provides a wonderful opportunity to enjoy exclusive deals and get higher rates in a win-win competition.
There's a lot of new and interesting perks on the grab for you at the 2nd Hot Summer Rally from admitad and Aliexpress.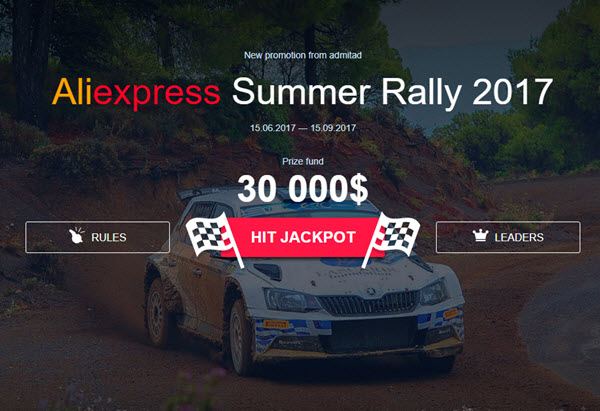 So, you can see that there is a clear advantage if you partner with admitad CPA Network and get to derive rich rewards from your affiliate marketing efforts.
Get $10 bonus with the registration through the link below.