As you may know, Google AdSense is one of the best methods of earning online for your website. Google AdSense is a great contextual advertising network that helps the publisher to monetize their website.
Implementing Google AdSense is very easy for a publisher; they have to paste a simple code on their website, and ads will start displaying whenever a website visitor clicks on the ad publisher earns. Earnings per click vary; it can be between $0.05 to $5 per click. If your website gets some good traffic, you can easily earn a lot of money per day.
With Google AdSense, the publisher can easily track their earnings by login into the publisher dashboard. Publishers love to track their earnings many times in a day, especially new publishers like to track their earnings every few minutes or hours.
It's not about new publishers; every publisher should track their earnings regularly; this will help them know how their website is earning and what they can do to improve their website earnings.
As all publishers can track the earnings by going to the Google AdSense publisher panel, but there are plenty more ways by which you can track your AdSense earnings. Google provides some AdSense apps that will help you track your AdSense earnings right from your mobile or web browser as an add-on.
Here I am listing some of the Google AdSense apps which will save your time and make your tracking work easily.
Google AdSense Android app will help you to track your AdSense earnings from anywhere right on your mobile device. This AdSense app allows you to display an account overview as well as a detailed performance report. You can view reports like top channels, top ad units, top countries, etc.
You can see your today's earnings, yesterday's earnings, this month's earnings, and last month's earnings on the main screen. You can also check the payment sent and current holding. With this app, you can also add a resizable widget on your mobile home screen.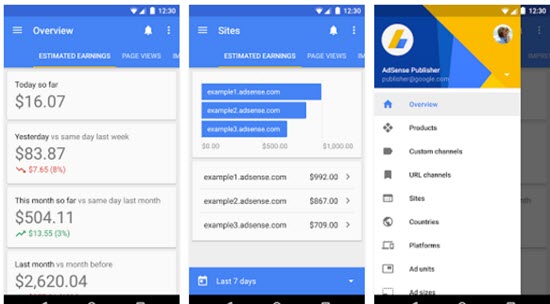 Google AdSense iOS App features the same as Android app. It is for iPhone, iPad users. You can see all reports and earnings right on your mobile device. With this iOs app, you will add a widget and alerts. On reporting, turn your device, and you can see graphs too. You can see Bar charts, pie charts, etc. This app supports many other languages.
Google Publisher Toolbar for Chrome
Want to see your AdSense earning right from your browser while surfing or doing work? Then Google Publisher Toolbar for Chrome is for you. With Google Publisher Toolbar, you can view your AdSense, DoubleClick, and Ad Exchange data with Google Chrome add-on.
With this AdSense toolbar, you can view your account earnings, your AdSense ads, and creatives. Click on the AdSense icon on your browser and see the basic information about your ads and earnings in the pop-up box.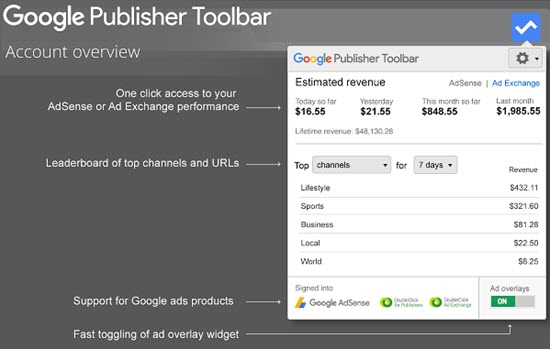 I hope you liked these Google AdSense apps; if you are using any other app to see your AdSense earnings, please share them with us.