Are You a Google Adsense Ads Publisher?
If yes, then hold on, as there is fantastic news for you.
Well, how many times you had thought and cherished to have the flexibility of customizing the layout of your Google Adsense Ads. You desperately wanted to increase your advertising revenue but to no gain as you only had the option of using standard sized Google Adsense Ads.
Although Google supported dozen-odd ad units like the 300×250 Rectangle, as well as the 160×600 Skyscraper, but they were still not sufficient to provide you the desired flexibility. However, Premium Google Adsense Publishers had a slight advantage in the sense that they had the freedom to customize the layout of text-only ads.
Still much was needed from Google with respect to Adsense Ads.
There was an urgent need to overhaul this online Advertising model so that it can prove profitable for publishers as well as for advertisers. With low CTRs and dwindling earnings from this Advertising Model, publishers and advertisers were adopting other profitable models to increase their online earnings.
However, Google was quick to realize this and started making the necessary changes in its Advertising Model through Adsense Ads. Publishers were looking forward to getting the flexibility for customizing the Google Adsense Ads so that the Ads looked more tuned and in line with the overall layout of their website. If implemented properly, the flexible Google Adsense Ad Units could drastically improve the overall Click through Rate (CTR).
Finally, Google delivered and introduced custom-sized Adsense Ad Units for premium as well as regular publishers. With this custom Adsense Ad Units, all publishers get an opportunity to create customized ad units which are optimally suitable for their website. With the introduction of custom ad sizes (with respect to Google Adsense Ads) premium and regular publishers have now come at par. This change was introduced in the month of December 2013 and has already received huge applause from publishers all across the globe.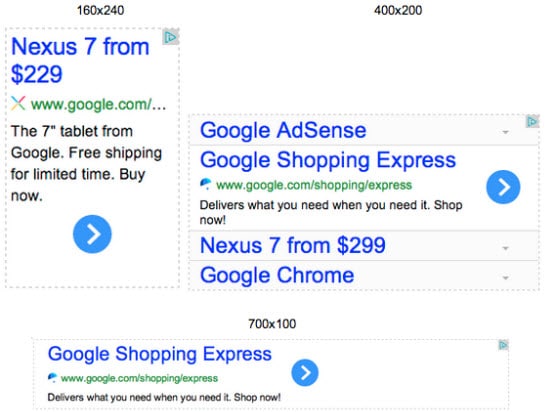 This is really a silver lining for Google Adsense Ad publishers who now get more flexibility to customize ad sizes and so get an opportunity to better design their content for users. Adsense publishers can now create customized ad units for text as well as display ads to be showcased on their websites.
Let's take an example to show how you can utilize custom Adsense Ads for your website.
Suppose your website has a sidebar that is 250 pixels in width. Prior to custom-sized Adsense Ads, you only had the option to choose from the regular standard size Ad formats such as the 120×600 or 160×600 skyscraper formats. However, as you can notice, both of these formats do not perfectly fit inside your sidebar. Now with custom-sized Adsense Ad formats available, you can create an ad unit to exactly fit the sidebar layout size of 250×600. So you can have an Adsense Ad in your website fitting exactly the available screen estate. Even if you have a long sidebar, you can have customized Adsense Ad unit to fit its size of say 250×1200 units.
The working of customized Google Adsense Ads is easy to understand.
You first have to login to your Adsense Console. Then you have to click on "create an ad" and then require selecting the custom ad size option. Once you select the custom ad size option, you have the flexibility to enter the width and height (in pixels) of the Ad, as well as the Ad Type that you want to have on your website. That's all you have to do. The rest is done by Google itself.

Customized Adsense Ads behave in the same manner as their standard or regular Ad size counterparts. The customized Ad is displayed either in the form of Text Ads or Image or Media Ads depending upon which is most likely to have the best performance for the impression.
Having said that, Google Adsense Custom Ad Sizes are not without restrictions.
Google has laid down specific guidelines and policies which govern Adsense Custom Ad units:
These are:
Minimum Width that you can set is 120 pixels
Minimum height that you can set is 50 units
Only one of the dimension can be above 300 pixels
Neither height nor width can exceed 1200 pixels
All the Ads must adhere to the Adsense Ad Placement Policies
Remember that your users value your content, so you must strike a balance between your content and the Ads displayed. Too many Ads on your website page distract users and in that case they are unlikely to revisit your site.
Another Custom Ad units disadvantage can be with image or media ads. If you have created a custom ad unit and there is no image ads available for that ad size, AdSense will only display text ads.
There are obvious advantages of using Google Custom-Sized Adsense Ads.
With Custom Sized Adsense Ads, you get an opportunity for better fit the Ads according to the layout of your website. You get the freedom, and the flexibility to customize to experiment with the Adsense Ads served on your website and can thus determine which format is getting you the most responses or clicks from your website visitors.
You get to know which formats are successful in getting the attention of your visitors and so lay down the platform for excellent brand awareness among the users. Custom Sized Adsense Ads let you have an optimized website with respect to the content and number of Ads displayed on your website. So your visitors are not distracted with the oversized, undersized or awkwardly placed Adsense Ads. In fact, the Custom Adsense Ads tend to elicit a proper response from your users thereby giving you the opportunity to increase your advertising revenue.
So if you still not using Google Custom-Sized Adsense Ads, you are missing a tremendous opportunity to boost your online advertising revenue.