Although Video Ad Networks are relatively a new phenomenon, it has quickly become popular with both publishers and advertisers. The single biggest reason for their popularity is that they provide a substantial boost in revenue.
So, if you want to increase revenue, you should definitely consider video ads format. Today, we bring to you 17 Best Video Ad Networks for publishers and advertisers.
Video Ads work best for entertainment sites.
However, video ads can also be supplemented with banner ads and native ads whenever you find that these ad formats are not producing enough revenue for you for one reason or the other.
So, you should give video ads a try whenever your revenue is shrinking for some reason.
The overall spending on Video Ads is relatively low, however, from the past few years, it's grown substantially and is expected to grow in the near future, as well.
For incorporating Video Ads as a potential source for monetization, the best way is to turn to a Video Ad Network, which handles all the sales-related tasks for you.
In fact, Video Ad Networks are the best way for monetizing your videos through Video Ads. The best thing about Video Ad Networks is that they can be used for monetizing both mobiles as well as desktop traffic. They are helpful in providing you with an additional source of income for your site.
In fact, Videos have always been a powerful medium for engaging website visitors. Even Facebook has incorporated Live Video features and welcomed advertisements for brands. You can make use of Video Ad Networks and maximize revenue for your website by showing video ads.
However, there are certain features that you should look in a Video Ad Networks.
Below we have shared some of the essential things that you should look for in a Video Ad Network.
First of all, a good Video Ad Network should provide a solid dose of targeting options. It should provide targeting options such as geotargeting, behavioral targeting, contextual targeting, and re-targeting depending on your video Ad goals.
Secondly, a good Video Ad Network should be capable of delivering video ads across a range of devices. Nowadays, users surf the web using a range of devices. So, your ad network should dish up your ads on any device.
Thirdly, to make sure that the Video Ad Network is right for you, you should take note of a Video Ad Network's existing clients. So, check out whether they are working with brands similar to yours or your competitors. It indicates that the video Ad Network is right for your business.
Fourthly, a good Video Ad Network should be capable of serving various ad formats. So, it should offer different Video Ad display formats. When you have different video ad formats available to you, you can easily find out which ad format is most suitable for your various video ad campaigns.
One more important aspect related to Video Ad Network is that they should be studded with analytics and measurement tools so that you can measure the performance and success of your video ad campaigns and go on to ensure that the video ads are performing up to your expectations.
In this compilation of Best Video Ad Networks, we have featured those Video Ad Networks that have been studded with all the above features which go on to make them a Good Video Ad Network for you.
So, let's see the most popular video advertising networks for publishers and advertisers.
17 Best Video Ad Networks
Here's the list for you:
Well, you can monetize your YouTube Videos using Google Adsense. It opens doors for you to make easy money from your YouTube Videos. For this, you need to link your YouTube channel to an Adsense account. Once it is done, you can submit your videos for monetization.
Your videos need to be approved with YouTube monetization requirements. One such requirement is that your videos need to be advertiser-friendly. Plus, you need to have the rights to the content for using it commercially. Now, the YouTube Partner Program limits channels with over 10k views to have ads on their videos and enable monetization.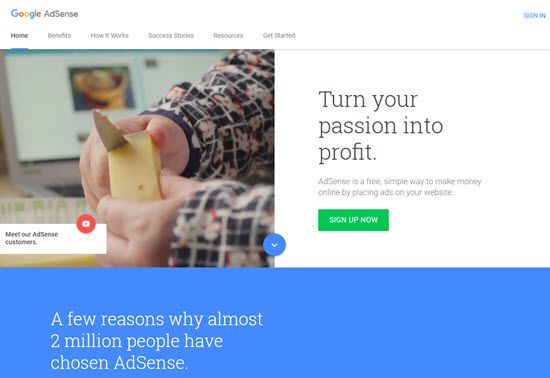 The Google DoubleClick Ad Exchange Service offers programmatic solutions to manage multiple monetization sources for online display advertising inventory. It provides the opportunity to grow revenue across varied channels by giving real-time access to every major demand source such as Google AdWords.
Google ADX comes with integration with DoubleClick for Publishers, provides multiple selling options, together with built-in optimization to make the most of every impression. It connects you to a large number of Google AdWords advertisers. Plus, you get access to a worldwide pool of top networks, trading desks, and DSPs.
It also offers video tags that can be integrated with a player for making the video inventory available. Furthermore, In the Ad Exchange Service, advertisers and ad networks are known as "Buyers," whereas publishers and publisher networks are called "Sellers."
Propeller Ads is another very popular Ad Platform. It offers publishers the opportunity for increasing their website's daily earnings by having access to nice and high CPM Rates. It turns out to be a perfect platform using which advertisers can serve up their ads across multiple channels. Propeller Ads provides them the opportunity to expand their advertising reach. It is well known for delivering optimized ads where they are most effective.
Propeller Ads offers many ad formats. It supports banner advertisements and pop-under (on click) Ads. It offers attractive on click CPM Rate. It also offers Video Ads. In fact, Propeller Ads is running over 3000+ active ad campaigns worldwide.
It performs manual checks on all ads to make sure that your website only displays the best quality video ads. It offers 100% inventory monetization. Propeller Ads have no minimum traffic requirements. It serves ads based on the CPM model. You get real-time reporting. The payout is based on Net 15.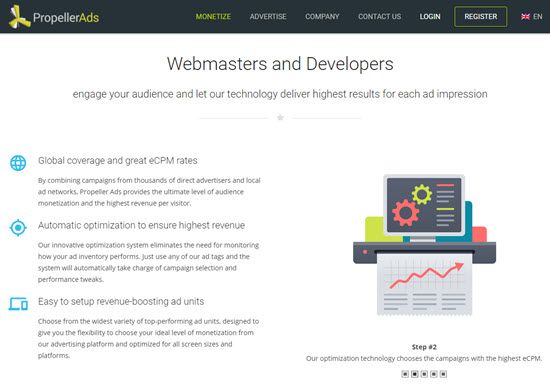 If you are looking for a video advertising network that can be used along with the other ads and on your website, on all devices: laptop, mobile, and tablets; then, you must try Viewdeos.
Viewdeos is a video ad network that shows premium video ads on your website to maximize your advertising revenues. Their video ads work on all devices and integrate very easily to any website or blog. You can use Viewdeos videos ads as native ads on your website as it looks natural and part of your website.
It is very easy to implement Viewdeos ads on your website; you need to grab ad code and place that code on your website or your adserver wherever you want to display the video ads. From Viewdeos publisher dashboard you can check your earnings, ad impression, CPM rates, etc.
As Viewdeos ads blend with your website, it gets a high engagement rate and more revenue for you. With high-quality video ads that don't look spammy makes Viewdeos a great choice. You can also use other network ads with Viewdeos ads to maximize your earnings.
Commission Type: CPM
Minimum Payment: No Minimum with Paypal
Payment Frequency: Net 30
Payment Method: Paypal and Bank Wire
Referral Program: Yes
Requirements For Publishers: Legit, Premium (non-gambling, adult), minimum PageViews of 2M/month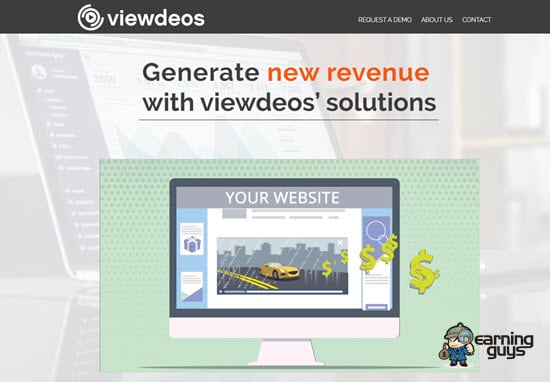 5. Chocolate Best Video Ad Network
Chocolate is another very popular platform for mobile video advertising. It is recognized as a leader in VDO mobile format, which is a proprietary technology enabling brands to have scalable mobile video ad campaigns on web, mobile, and apps.
Chocolate offers the 'Chocolate' programmatic platform which integrates top technology partners across the spectrum giving a unified one-stop platform for full planning, buying, and analysis of mobile video ad campaigns.
It has many global brands as its clients, including Coca Cola, Intel, Fords, Microsoft, Walt Disney, and hundreds of other leading global brands. Chocolate is headquartered in Silicon Valley with offices in CA, Fremont, Los Angeles, London, New York, Singapore, Chicago, Singapore, India, and Australia.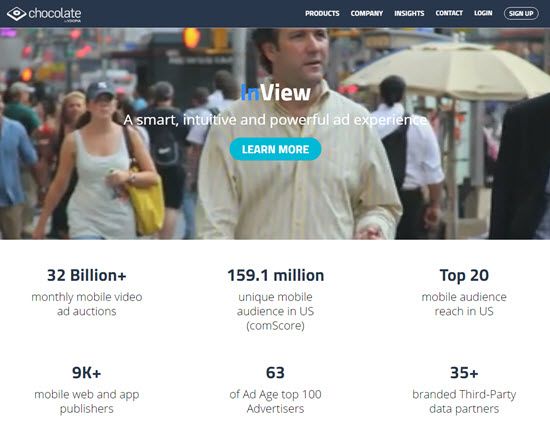 UnderTone is one of the pioneers in video ad formats. It is one of the best ad networks with no restrictions and gets easily configured. However, it does not entertain adult or online gambling publishers. UnderTone offers video ads in the form of in-banner and pre-roll. It provides high-impact ad formats as well as IAB standard formats.
Although its CPM rates are 100% – 1500% higher than traditional ads, it has steep traffic requirements with minimum traffic being 500,000. Reporting is real-time by the campaign and ad filtering. It offers CPA, CPM, CPC, and CPV model of advertising. Its high-impact ad formats and innovative technology captures consumers' interest and imagination. The end result benefits both the brand as well as the consumer.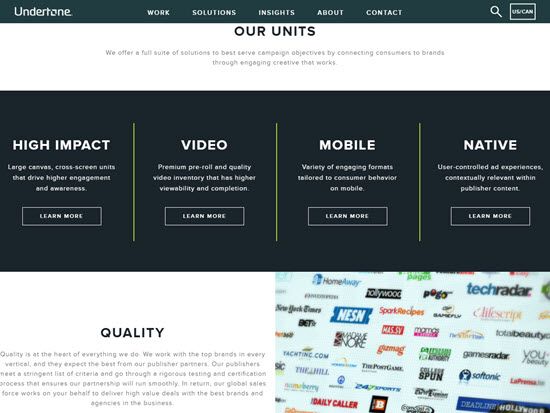 7. Taboola Top Video Ad Network
Taboola is one of the best video ad networks when you want to run elegant, highly viewable, and non-disruptive video campaigns. It offers you the opportunity to engage your audience with high-visibility video.
Taboola videos are highly efficient at engaging your audience as they appear at the end of the article or page. It's where your audience/users are most likely to engage with your content.
It optimizes viewability and user experience as the videos play only when in-view, plus the sound is user-initiated. In fact, Taboola ads prove 2.4X times more favorable than disruptive ads.
You got to know this fact that Taboola's targeting has been based on data collected across 1.4B users each month. So, they know and rather have deep insight into what content users engage with online. The result is highly relevant and personalized video recommendations.
Thus Taboola Video brings your brand to life. It allows you to hit your branding goals with CPCV or CPM basis. It's achieved across placements, creatives, and devices.
Moreover, you can even get access to its in-house creative studio with which you can optimize your engagement and results for your videos. You get features such as custom overlays, end-slates, and more.
All in all, it helps in driving your ROI. Moreover, Taboola protects you from damaging content as well as keeps your campaigns fraud-free. So, it endeavors in every way to protect your investment.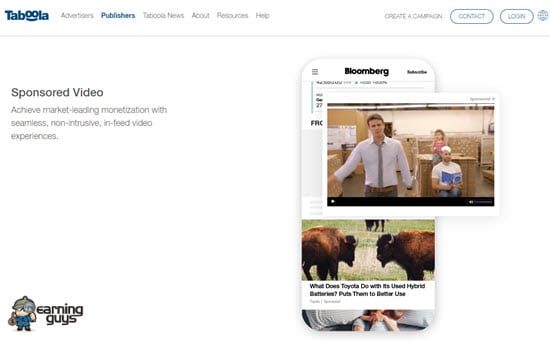 RhythmOne is a rebranding of Burst Media. The RhythmOne offers a complete advertising solution working across all devices and providing publishers a perfect platform for maximizing their revenue potential. Besides offering video and rich media ads, RhythmOne also offers sponsorships and distributed content.
It is a leading and well-trusted Video Ad Network working with more than 5000 publishers under a revenue-sharing model. RhythmOne offers publishers with a complete, fully-integrated monetization platform to help build their audience and grow their business.
It works seamlessly across desktop, mobile, and connected TV, so you do not have to work with multiple partners. Its solutions are catered towards reducing revenue leakage, enhancing site/app performance, and improving user experience, adding your overall revenue, eCPM, and yield. RhythmOne offers real-time reporting. It's payment methods include PayPal, Check, and Wire Transfer.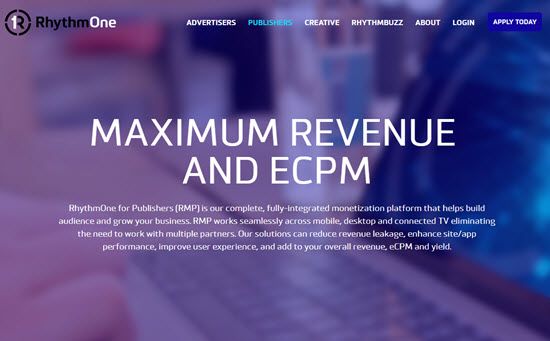 BrightRoll has some of the best video ad options and is engaged in serving as much as 10 billion impressions per month. However, entry to BrightRoll may be quite tough for most publishers as it has a high entry requirement of as much as five million video views per month or as much as 3 million mobile site views.
Using BrightRoll requires you to have your video player to serve video ads. If you are a company offering video content and utilizing your own video technology, then BrightRoll is a great option. It also offers videos for apps and mobile sites; if you go on to meet the 3 million per month view requirements.
BrightRoll focuses on the data-driven approach to help advertisers in reaching precise audiences across all formats and devices. It offers cross-channel targeting through video, display, and native ads. With exclusive access to Yahoo Audience Data, you are in for exceptional audience insights. You can control exactly where your creative appears, down to individual URLs.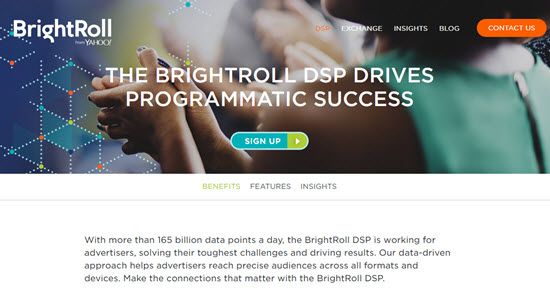 10. Videology Video Advertising Network
Videology specializes in TV and video advertising. The Videology is focused on turning data and inventory into guaranteed results for its clients. It's converged advertising software is helping advertisers, agencies, and media companies in driving greater media value by cross-screen planning, forecasting, execution, and measurement.
Its global platform goes on to unify the TV and video advertising ecosystems, thereby bringing efficiency and value for advertisers and content owners alike.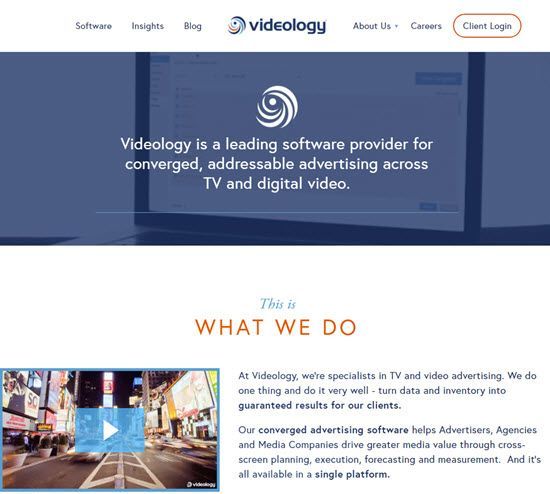 Nowadays, users access publisher content in a number of ways. Exponential is engaged in addressing this scenario by offering the most engaging, relevant, and dynamic ad formats across video, display, and mobile. It provides high-impact units such as IAB Rising Star ad formats together with polite pre-roll which go on to generate high CPMs for publishers.
Moreover, its world-class creative and delivery teams work hand-in-hand to help advertisers and publishers in enhancing UX.
Exponential takes a consultative approach for its partners thereby helping them in every way, shape, and form. The entry requirement for publishers is a minimum of 500,000 unique users per month. Together with this publishers need to come up with highly relevant, targeted and regularly updated content.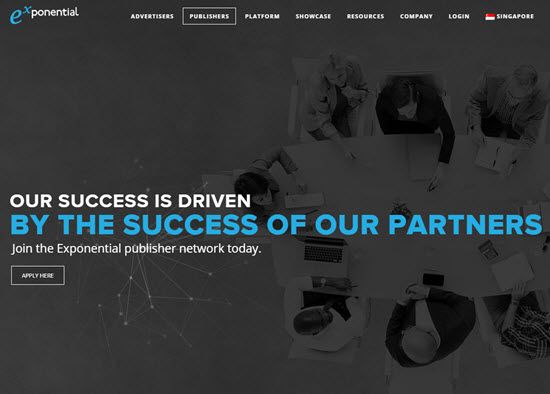 Selectmedia is a leading Video Ad Network offering solutions for monetizing cross-screen video desktop and mobile worldwide. However, Selectmedia has laid out stringent requirements for publishers to be accepted to their platform. The minimum traffic requirement is 250,000 page views per day.
Selectmedia offers an advanced programmatic platform for advertisers so that they can access high quality, safe, and fraud-free video media with a truly global scale and optimized price and reach. They are using proprietary predictive trading and delivery technologies employing big data and going beyond RTB for giving optimal video yield and performance.
Selectmedia is one of the most trusted and reliable video supply and distribution platforms and is working with the industry's top advertisers. It offers real-time reporting. The payout is based on Net 15 and payment method is PayPal, Payoneer, and Wire Transfer.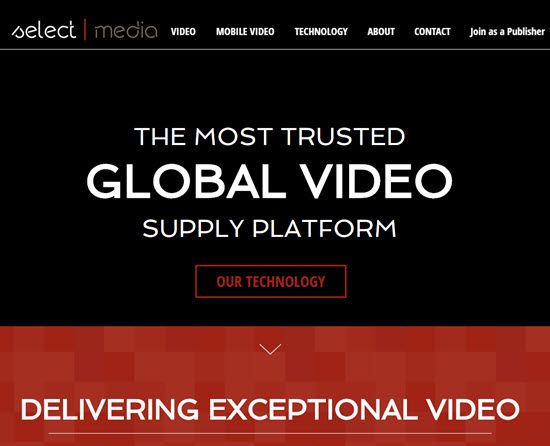 One by AOL is a recognized, well trusted, and reliable Video Ad Network in the world. In fact, Advertising.com which is one of the biggest ad networks is also a part of One by AOL. It offers ads in many categories such as mobile, display, and video. With Video Ads, publishers can monetize video inventory at scale. The ad network offers integrated tools for demand forecasting, yield optimization, and performance insights.
Reporting: Real-time
Video Availability: Worldwide
Model: CPM
Payout: Net 90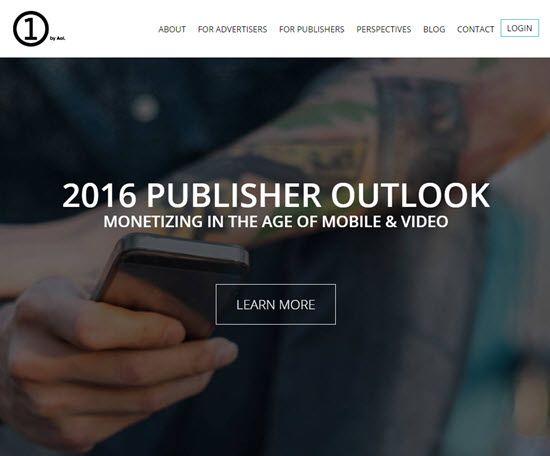 Verizon Media is focused on creating the best in content advertising and technology. It was formerly known as Oath. They are ever creating new ways for consumers, advertisers, as well as partners around the world to connect. In fact, Verizon Media provides a wide range of services to both publishers and advertisers.
As far as their video solution is concerned, Verizon Media is helping publishers to get the most out of their ad inventory with its wide range of integrated tools. Verizon Media goes on to offer demand forecasting, performance insights, yield optimization, speed improvements, plus a simplified video ad sales process. Its video ad server offers programmatic demand from the open exchange as well as other demand partners.
Moreover, Verizon Media is offering a self-servable platform for publishers that enable them to run video ads. Like other ad networks, you can even run out-stream video ads on your website by placing a JS. The platform has the capacity to yield higher CPMs, plus comes with the capacity to leverage your first-party data.
Verizon Media is also empowered with brand safety tools. Some of its prime highlights include:
It works best with mid-sized and premium publishers
Verizon Media comes studded with video syndication service which is a boon for non-video publishers
It allows you to use your first-party data and offers higher CPMs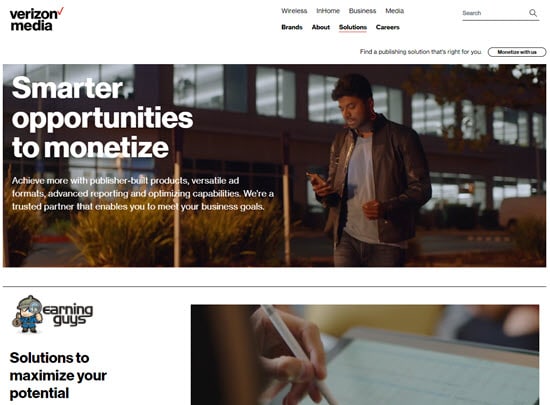 Adobe Primetime provides the opportunity to build and deliver video to every device and platform. It is a multi-screen TV platform helping broadcasters, cable networks, and service providers in creating and monetizing engaging, personalized viewing experiences.
Adobe Primetime allows you to deliver TV and film content to your viewers anywhere, across 3.4 billion devices. It also offers the opportunity to add modular capabilities to your existing broadcast including VOD, live TV, and linear TV.
Moreover, Adobe Sensei makes Primetime to accurately forecast value and package your advertising inventory. In fact, with Adobe Primetime, media companies can expect a high ROI.
It has been integrated with Adobe Analytics to help you understand how your audience watches and engages with TV, and ad content. It allows you to deliver personalized TV experiences for each viewer.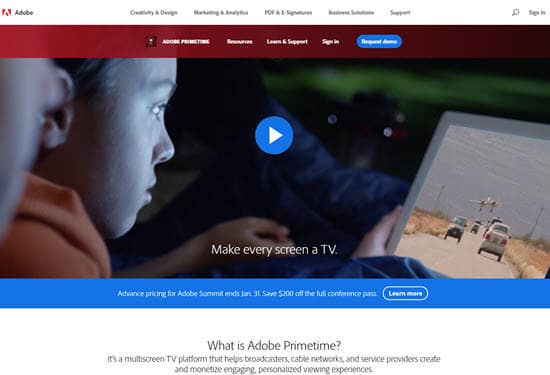 VeohClick offers a wide range of web advertising solutions for monetizing your traffic across varied platforms. It allows you to monetize video traffic, web traffic, as well as mobile traffic. The ad network pays on CPM and CPC basis. Various video ad formats are available such as in-banner and pre-roll, including IAB formats.
Reporting: Real-Time
Model: CPC and CPM
Video Availability: Worldwide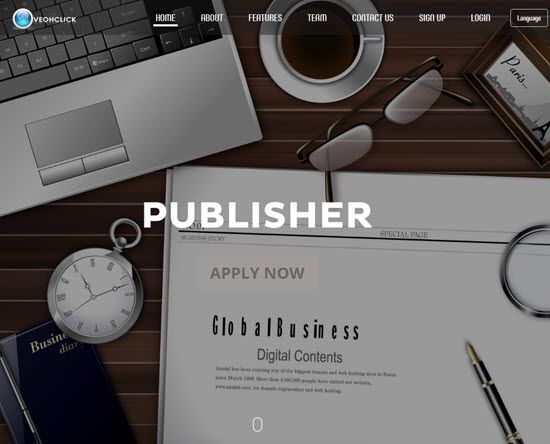 17. SpotX Video Ad Network
SpotX is one of the most trusted video Ad serving platforms for media owners. Moreover, it's a massive video Ad network which serves over 2.5 billion video ads each month and has a network of more than 1000 publishers.
SpotX offers the opportunity to leverage its modern ad server for monetizing across any screen on any stream. It has build up a reliable ad serving platform based on robust API support, interoperable solutions, and standards-based protocol.
SpotX offers best in class support with three touchpoints for communication. It offers multi-currency reporting, creative reviews, price floor optimization, and bid activity reporting for publishers. SpotX is a high paying network offering CPMs as high as $10.
Model: CPM
Video Availability: Worldwide
Payout: Net 60
Reporting: Real-Time
Payment Method: Check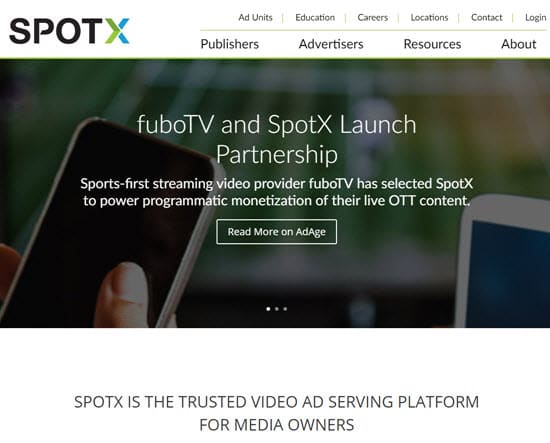 We hope that this presentation on 17 Best Video Ad Networks proves immensely valuable for you. We welcome your comments and suggestions to us. If you liked the post, don't forget to share it with your friends and colleagues.