Affiliate marketing provides a big opportunity for publishers to make huge money by leveraging the online platform. In fact, affiliate marketing has grown in popularity over recent years as more than 70% brands worldwide today go on to use this medium for driving sales.
However, taking advantage of affiliate marketing demands that your monetization methods cope up with latest technologies and trends. Moreover, you have to focus on the interests of your readers.
The emergence of CPA Affiliate Networks is a true testimony to these trends in online marketing especially affiliate marketing.
Today, we share with you Leadbit CPA Affiliate Network Review which is serving leading publishers and advertisers from across the globe.
This review shows you why you should seriously look into the benefits offered by Leadbit CPA Affiliate Network.
In fact, Leadbit's affiliate programs deserve a good mention as they go on to establish a system which has big money making opportunity waiting to be encashed.
As an online marketer, you want results and Leadbit sets up a perfect ground for you to take full advantage of affiliate marketing.
Leadbit: An Introduction
Leadbit is one of the most trustworthy, and professional CPA Affiliate Networks out there. It is a London based CPA Network which is operating successfully since last five years.
Most of the time there is one or the other issue with CPA Networks.
Either they are not legit or do not pay you on time.
Then there are other issues as well.
They do not have direct offers and completely depend upon brokered offers. They do not have a proper team to manage their affiliates.
However, Leadbit CPA Network faces no such issues.
In fact, Leadbit turns out to be such CPA Network that makes payment on time. Moreover, you will not face any difficulty in receiving payments.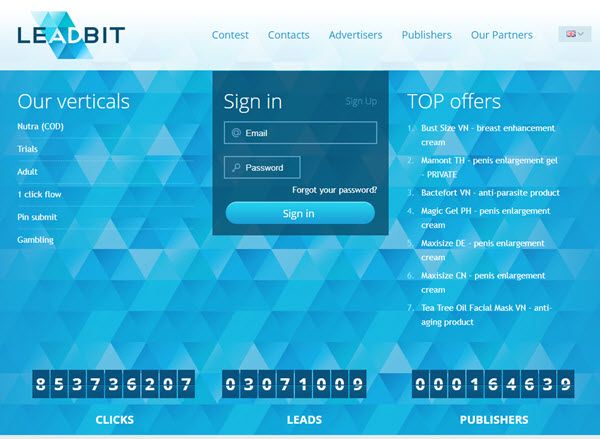 They don't solely focus on brokering offers from other networks. Instead, they provide many exclusive offers for Asia and Europe GEOs, including countries like China, Hong Kong, Thailand, Taiwan, and Vietnam.
Leadbit is a direct advertiser in Asia, Europe, and Latam, and worldwide affiliate network. They run best performing campaigns on their network. Moreover, most of their offers are not resale, but their own in-house campaigns. They have come out with a strong brand and can help you to make a real profit.
Plus, they have a support system with affiliate managers who take care about their affiliates. They focus on helping rather than selling to their affiliates.
Leadbit is working with some profitable verticals.
The main ones include Nutra offers by Cash-On-Delivery Model and Trials.
Plus, they also provide Gambling, 1–Click Flow & PIN Submit, and Sweepstakes offers. They also have their own betting platform.
Here, is the list of their verticals:
Adult
Nutra COD
Gambling
CPI
Sweepstakes
1-Click Flow & Pin Submit
The network features exclusive affiliate offers that are updated daily. Leadbit is a leading CPA Affiliate Network of highly experienced and professional affiliate managers skilled for blogs and websites set on varied niches.
The network has thousands of registered international webmasters enabling you to work with any kind of traffic from different countries. In fact, Leadbit provides offers in more than 50 countries across Asia, Europe, and CIS.
What to expect with Leadbit
Brands and websites that are linked with Leadbit network services have witnessed tremendous success and boosted sales. The highest conversion rates are for brands that deal with adult, beauty, skin, diet, health, and item for reducing power or fuel consumption.
They also provide exclusive offers with different conversion types that can be run right away.
For example:
1-Click Flow – It has the highest conversion rate. The user accesses the download page or targeted subscription. He/she then clicks the button or tap on the screen. The subscription is then released automatically.
CPL (Click per Lead) – It is a single opt-in campaign (SOI) and requires only the basic contact details of the user such as name and email.
CPI (Click per Install) – The user is redirected towards the landing page for getting a mobile app. Upon successful installation of the app, the pixel boosts right away.
PIN Submit – It is similar to 1-Click Flow, however, with an extra step. The user needs to submit his phone number. An SMS with a PIN code is received afterward. The code needs to be submitted, and the pixel boosts straight away.
You got to know this
There is one thing with Leadbit.
It always pays for confirmed requests.
It means once the client fills in the simple form; the order is verified by phone. However, there is no need to enter any credit card details. Neither there is need to wait for any repayment order. Leadbit CPA Network pays via ePayment, Paxum, WebMoney, Wire Transfer, or debit/credit card transfer.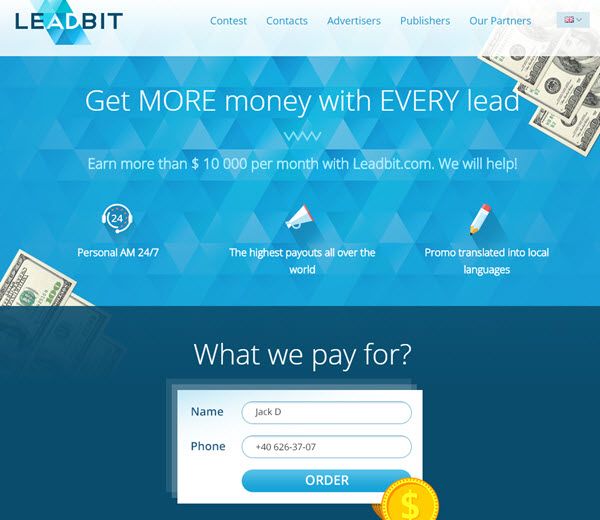 Some of the other highlights of Leadbit include:
High Payouts
Payouts are done weekly
Payments always on time.
It provides free comprehensive tracking & analytics platform.
Exclusive offers that are updated on a daily basis.
24/7 technical support.
Experienced and competent affiliate managers.
So, why you should sign up Leadbit?
One of the biggest plus with Leadbit is that they have easy payment terms. Moreover, the payments are always on time. They have a low payment threshold of only $25. Plus, they offer on Demand payment frequency.
So, joining Leadbit is every affiliate, "dreams come true."
In fact, you will not find many affiliate networks having payment terms to the likes of Leadbit.
Joining Leadbit will ensure that you have the cash flow going for your affiliate campaigns.
As Leadbit are advertisers themselves, they run offers which you don't find on other networks. So, affiliates with Leadbit network can request customer creatives & landing pages from their affiliate managers. It helps affiliates to make a big amount of money.
Some of the unique offer types include:
Cash on Delivery (COD)
Cash on Delivery (COD) offers to work great to boost the conversion rate. It's the best way to gain customers trust.
1-click flow offers
These are highly lucrative pin submit offers. With, 1 click conversion, there is no need to wait for a billable SMS message to be sent for the user to do a PIN submit.
Moreover, Leadbit runs international offers from countries such as Russia, China, and other Asian as well as European countries thereby giving you access to offers from GEOs that are still unsaturated. In fact, many affiliates are not aware of these. So, it means less competition and more conversions.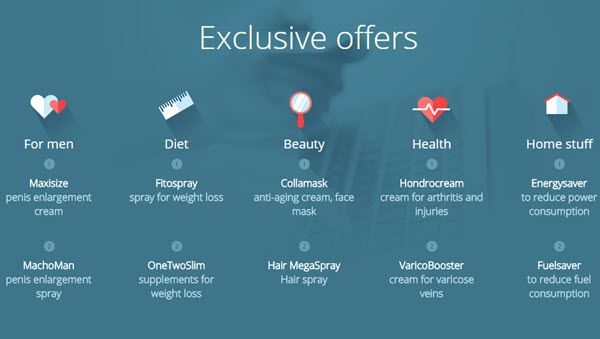 Further up, Leadbit is in the market from 2013 and has built a commendable reputation for itself. It is being run by very passionate people who are always eager to help out their affiliates.
Leadbit has built up a great supportive team of affiliate managers who are always eager to help you out in case there is an issue or problem.
They are regularly engaged in affiliate marketing conferences and meetups. For example, they have done Moscow Affiliate Conference and STM Forum.
Then, they offer tools for affiliates, such as the in-house tracking platform. So, you can go on to use this tracker which is provided by the network. Thus, you can utilize your money on buying traffic instead of buying expensive trackers.
Their strong points
Expect highest payouts, private offers, or best links.
Own tracking platform together with quick stats monitoring.
AM and Support 24/7 (tickets)
Daily payments without hold.
TDS, API, Banner rotator, Global Postback, and many other useful tools
Own local call centers in over 50 countries.
Assets for run successful ad campaigns
Exclusive bonuses for Leadbit affiliates.
Concluding
So, you see there are plenty of reasons for joining Leadbit.
They are a reputable CPA Affiliate Network.
In fact, it is very profitable to work with them.
There are no difficulties in approval.
They are really honest with payments.
Leadbit has a superb support team who are always there to help you out.
All in all, Leadbit is an excellent affiliate network, especially for beginners. Thousands of people have already joined Leadbit and are reaping good profits.
You can also be one of them.
There are big benefits for you at Leadbit CPA Network.
We hope that this Leadbit review has given you ample information about this fast-growing CPA Network.
If you found the post useful, do remember to share it with your friends and colleagues interested in affiliate marketing.
We welcome your comments and suggestions.