Today we will talk about Sticky Ads and why they are profitable. If you have not yet implemented Sticky ad on your website, this is the time to learn about them and make the profit from them.
Blog monetization is all about making more and more money.
It starts with more subscribers or getting more page views.
So, you need to focus on getting more conversion and lead generation. You need to optimize for viewability.
Here, Sticky Ads can play a big role.
It offers a high viewability rate without hampering user experience which means the ad catches the attention of your target audience and they take appropriate actions leading to conversions and sales.
Here, you get to know about Sticky Ads and How to Profit from them.
What are Sticky Ads?
Sticky Ads are ads that stick to the user's screen and stay afloat even when users go on to scroll the page in any direction.
So, Sticky Ad is visible to website visitors even when they scroll the page content.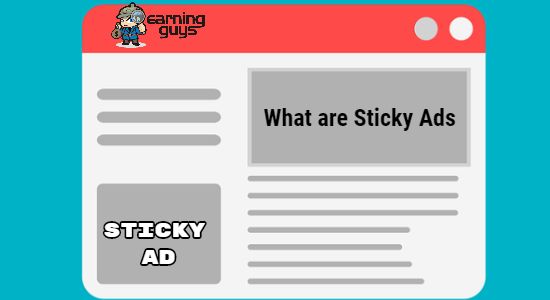 However, Sticky Ads is not a new concept.
It is being used on many blogs.
You might have also noticed sticky widgets on blogs.
Isn't it?
As you scroll down the page, the sidebar widget will stick and stays afloat. It is helpful in getting the attention of your users.
Sticky Advertisement has many practical usages.
You can use it for:
Getting more clicks on one of your ads
To get more subscribers by sticking the subscription form widget
Getting more Facebook likes by making the "Facebook Like" widget sticky
So, Sticky Ads stand to be one of the more versatile and high-yield ad formats. It can be implemented on standard web pages (desktop and mobile), Accelerated Mobile Pages, as well as in-app.
On-page placements vary and can include:
Horizontal top/bottom sticky ads (suitable on mobile)
Vertical left/right sticky ads (suitable for desktops)
Why do sticky ads perform better than standard display ads?
Online advertising has entered the age of "Banner Blindness."
Standard display ads have practically become white noise to the online public. They face complete user indifference and fail to generate views and clicks on ads.
So, getting sales and conversions is becoming a monumental task for publishers.
Here, Sticky Ads offer you an advantage.
Sticky Ads refuse to be scrolled past and forgotten.
So, they prove beneficial for publishers for earning better money. Sticky Ads are displayed to visitors all the time. As sticky ads are displayed all the time, visitors tend to click it more. The best part with Sticky Ads is the fact that they are not overly intrusive.
Sticky Ad tends to get as much as 40% to 60% higher CTR as compared to Standard Display Ads. They get better viewability (up to 200% more viewable) than other ad formats on the same placements. Moreover, advertisers are ready to shell out more on Sticky Advertisement. Plus, it increases the CPM value of all ad formats over time.
Well, you can even enable Sticky ads for Affiliate Campaigns. Your main concern is to direct your visitors to your affiliate websites.
Sticky banner ads stand out and grab the attention of your visitors delivering the message that a particular product or service is promising. So, your visitors will surely check out what you're recommending.
Word of Advice
You must use and implement Sticky Ads "sparingly."
Why so?
Too many or too large sticky ads will stand in the way of your content and so will hamper or spoil the user experience.
Moreover, it will get publishers (AdX and Adsense media-sellers) blocked from serving ads to Chrome users.
So, when implementing Sticky Ad on your website, you must follow these points religiously:
The width should less than 300 px
The Sticky Ads must cover < 30% of the screen at any time
One horizontal sticky per page
One vertical sticky per viewport
Sticky ad must remain immobile
You should have plenty of whitespace/boundary between your content and sticky ad
Remember to declare the units as "sticky."
Do not implement sticky ad on gaming sites or pages that have infinite scroll
Allow users to close sticky placements
How to implement a sticky sidebar widget in WordPress?
You can add a sticky sidebar widget in WordPress by using a simple plugin. The whole process is rather easy and does not take more than four to five minutes.
Here, we share with you one of the most popular WordPress plugins which allow you to add a sticky widget.
Q2W3 Fixed Widget comes as a free plugin which you can use on your WordPress blog to offer a sticky widget. It is simple to use and does not require any configuration.
You simply need to install and activate this plugin.
Access Appearance > Widgets and make any of your sidebar widget sticky.
Every widget comes with a checkbox to make it sticky.

You need to add a checkbox in front of "Fixed Widget" and click on Save. It will make your selected sidebar widget sticky.
You can make changes in plugin settings with Appearance > Fixed Widget options.
Why use fixed widgets?
Fixed widgets are used for:
Promoting any of your top content
Having email subscribers
Getting more clicks to your CPC Ads
Getting more clicks to your affiliate ad from your sidebar
A good idea would be to start with the blog subscription widget. As people scroll down to read your content, they can subscribe to get your latest blog updates.
Can you have Sticky Adsense Ads?
Well, you can't use sticky Adsense Ads.
However, with the premium version of Adsense, AdX, you can have sticky Adsense Ads. It allows you to have a sticky 300×250/300×600 sidebar ad unit. You can also have a 300×250 sticky bottom ad unit.
Publishers with more than 30 million page views are provided with AdX account. In fact, there are just a small number of publishers that have access to an AdX account.
That said you can sign up with a Certified Google Adsense Partner and ask for AdX codes.
Restrictions for Sticky Ad Units
You can only use ad formats with a width of 300 PX or less.
So, 160×600, 300×600, 300×250, 300×50 and 120×600 are all allowed.
728×90 is not allowed.
Moreover, if you are implementing a sticky ad on your mobile traffic, you must know that:
You can only use a 300×50 ad unit on mobile devices
The sticky ad can only be used at the bottom of the mobile screen
Concluding
So, we see that Sticky Ads are highly beneficial ad formats when it comes to user engagement and viewability. It helps in getting more subscribers, conversions and lead generation.
However, they are not ideal for gaming pages or dynamically evolving pages.
We recommend that you should thoroughly A/B test sticky ad performance before you go on and implement the ad unit across your website.
You must ensure that the user experience is of high-quality. Plus, the sticky ad unit should not detract or disrupt the page's performance.