There are a lot of considerations which you have to keep in mind while choosing a global money transfer service for sending or receiving payments online.
Moreover, not all payment gateways are created equally. Most of the time, they charge different fees and come with different features that are suitable for different industries and company sizes. Worst of all, not every global money transfer service comes with support for all nations and countries.
So, the biggest question is that what global money processing service should you be using for your online business?
Whether you have an eCommerce store, running a blog, doing freelancing work, or buying stuff from Amazon, and eBay, you invariably need a viable, secure, and affordable global money transfer service.
That's where Payoneer global money processing service comes into the picture. It is safe, secure, affordable, and trustworthy. It's truly a global money transfer service that helps you to receive payments across all nations and countries throughout the globe.
Here, we have come up with Payoneer review and show you how you can benefit from it.
What is Payoneer?
Payoneer is a long-running global money transfer service. It was founded in 2005 with a $2 million seed funding from then CEO Yuval Tal and other private investors.
It comes as a financial services business that goes on to provide online money transfer and e-commerce payment services. Presently, Scott Galit is the CEO of Payoneer Inc. Payoneer is headquartered in New York City.
Payoneer is a registered Member Service Provider (MSP) of MasterCard Incorporated. It provides various money transferring services such as wire transfers, online payments, reloadable prepaid master debit card, account-to-account money transfers.
Payoneer offers its services with a low currency conversion fee. Payoneer has a strong customer base with over three million users in more than 200 countries. It supports transactions in more than 150 currencies offering cross-border wire transfers, refillable debit card services, and online payments.
Payoneer also provides a US payment service wherein you get a free USA bank account (USA virtual bank account). In fact, Payoneer comes as one of the best online money transfer services for people who are located outside the United States and want to receive money through US companies quickly.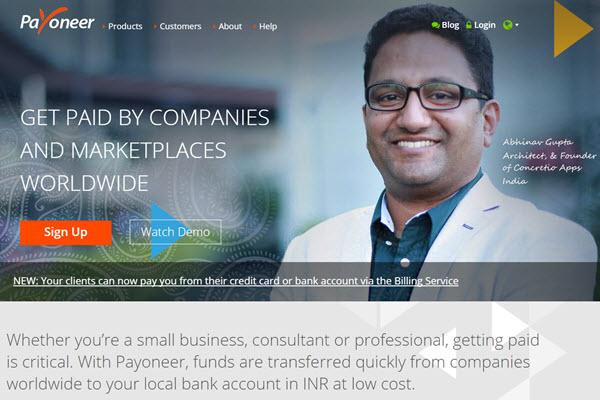 Who uses Payoneer?
The previous decade has witnessed a rapid expansion in Payoneer service. It has quickly spread all over the world. Now, there are many US companies that support Payoneer as a trustworthy and reliable online money processing service.
Here, is the list of some of the companies that use Payoneer for payouts
1. Amazon.com
2. 99designs
3. Amway Corporation
4. Avangate
5. 123RF
6. 2Checkout.com Inc.
7. Digital River
8. Envato Inc.
9. Facebook
10. Fiverr
11. GoDaddy.com
12. Hide My Ass!
13. Google Inc
14. Linkshare
15. oDesk
16. Microsoft Corporation
17. ShareASale.com
18. iStockPhotos
19. Welocalize
20. uShip
21. Clicxsense
22. PropellerAds
23. Bluesnap
24. Fiverr LBT (India)
25. Infolinks
26. oDesk
(Including many others)
Apart from these companies, there are many other companies from which you can get payments using the Payoneer US Payment Service.
In fact, there are many freelancers (located in Asia and Africa) who are using Payoneer payment service efficiently.
Is Payoneer for you?
If you are working as a blogger, freelance worker, or an internet marketer, then Payoneer can prove to be a formidable online money processing service. Moreover, Payoneer is being used by most of the service companies as a money withdrawal option. It comes as a fast payment service that is supported worldwide.
In fact, if you do not belong to PayPal supported country, then Payoneer should be the best alternative to go with. To get a Payoneer account, you should be at least 18 years of age. Creating an account with Payoneer is free.
Benefits of using Payoneer
Payoneer provides a lot of advantages.
Herein I have listed few of them:
Security
Payoneer employs advanced technology thereby ensuring customer privacy and authentication. So, your Payoneer account is always safe and secure.
You can set up as much as three security questions that are asked whenever there are any fraud login attempts for your account.
As the answers are only known to you, it is only you who can login to your account. It proves a good move to keep your money safe with Payoneer.
Payoneer's US Payment Service
It is one of the best offers that you get with Payoneer. Payoneer's US Payment Service allows you to have free virtual US bank account. You need to fulfill some requirements. However, once the requirements are met, you can go for opening US collection account.
You can use US virtual bank account for receiving money from US companies and other European companies which provide an option for direct deposit to US bank accounts. So, you do not need to wait for weeks to get your paychecks.
Receive money from European companies
When you partner with Payoneer, you can receive money from European companies in a fast and easy way. When you open up a Payoneer online account, the Payoneer team creates a  EUR collection account for you.
So, whenever you want to receive money from a European company, you only need to provide your checking collection account details.
Easy to use
Payoneer is accepted as a reliable online payment system by many US and European companies. You can easily set up Payoneer as the default payment method
Currency
Payoneer supports as much as 150 currencies worldwide. You don't need to convert funds into the local currency your funds are automatically converted and transferred to user's local bank account.
Account to Account Money Transfer
Payoneer allows you to transfer money from account to another easily. It is particularly useful if you have custom offers for your customers. Payoneer goes to deliver fast and secure one-to-one money processing service.
Some other Payoneer benefits include:
Funds are automatically transferred to user's local bank account
Multilingual Online Support Service which is available 24x7x365
Cost Effective
Load money from the local bank (saving/checking account) to Payoneer Account. (This is not available in India.)
How to apply for a Payoneer Account
Anyone who is aged above 18 years of age can apply for a Payoneer account.
Step #1: Go to Payoneer.com
Step#2: Click on the sign-up button and fill out the application form.
After you fill out the application form successfully, you will see a thank you page. If your application carries some errors, you will be notified that your application is declined.
However, if your application is error free, you will get a success message.
Bonus: When you sign up to Payoneer, you will get loaded with extra $50.00 as a bonus in your account on the first transaction of $100.00.
Step#3: Once your Payoneer application is approved, you need to apply for Payoneer US Payment Service. Once your US Payment Service is enabled, you are ready to use Payoneer.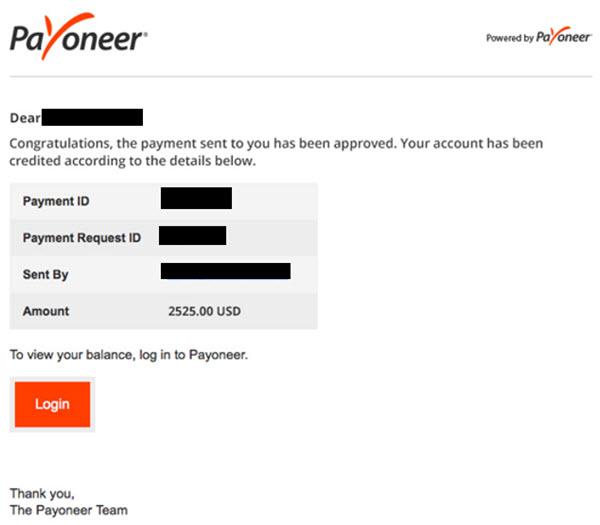 You can bill customers directly from your Payoneer Account
It takes a few simple steps to bill customers directly from the Payoneer platform. Payoneer makes it simple for you to get paid.
Here are the steps:
Log in to Payoneer
Click on "Request a Payment" (step by step instructions are listed here)
Fill out the details of the payment (Payoneer sends out an email to your client on your behalf, with instructions on how to pay you)
Get paid straight to your Payoneer account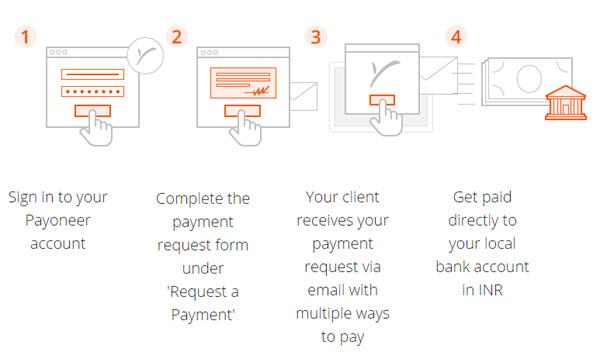 Payoneer makes it easy for your clients to pay you. Using Payoneer Billing Service, your clients get access to several simple and secure ways to pay you online.
With Payoneer, you will never forget to send out the bill. It helps to keep track of your finances.
Payoneer Fees
Here, we have summarized the Payoneer account fees for you:
For Receiving Payments

From another Payoneer Customer – Free
Via Receiving Accounts – Free (USD, EUR, GBP, JPY, CNY)
Via eCheck – Free (USD)
Via Credit/Debit Card – 3% (All Currencies)
Make Payments

To another Payoneer Customer – Free
Withdraw Funds

To a Bank Account in a different currency – Up to 2% above the mid-market rate.
Payoneer vs. PayPal vs. Bank Transfer
Let's find out what is the best option for receiving payments when an Indian company bill a US-based company directly.
Here's a quick comparison between Payoneer, PayPal, and Bank for cross-border payment transfer.
1. Through Bank Transfer

Sender Bank: Bank of America
Receiver Bank: HDFC Bank
Amount Transferred: $100
Wire Transfer Fee: $35
Currency Conversion Fee: 2.6% above the market rate
Total time is taken for transfer of Payment: One Working Day
Total Amount Transferred: $65
Mid-Market Rate: 1$ = Rs. 66.38
Currency conversion rate of banks = 64.65 (2.6% above market rate)
Hence, $65*64.65 = INR 4,202.25
2. Through PayPal Transfer
Payment transfer from PayPal (US) a/c to PayPal (India) a/c.
Sender: PayPal US
Receiver bank: PayPal India
Amount transferred: $100
Fee charged (receiver): 4.4% of the amount transferred + 0.30 cents
Currency conversion fee: 2.5% above the market rates
Total time is taken for payment: 3 to 5 days
The total amount transferred:
Mid-market rate: $1 = Rs. 66.38
PayPal's Currency conversion charges = 64.72 (2.5% above the market rate)
Amount transferred = $66.62
Hence, $95.3*64.72= INR 6,167.82
3. Through Payoneer
A payment made from the US to India through Payoneer ACH transfer.
Sender: Payoneer US
Receiver Bank: Local Indian Bank
Amount transferred: $100
Receiving fee: Nil
Currency conversion charges: 2% above the market rate
Total time is taken for payment: 2 to 4 days
The total amount transferred:
Mid-market rate: $1 = Rs. 66.38
Payoneer's Currency conversion charges = 65.05 (2% above market rate)
Amount transferred: $100
Hence, $100*65.05 = INR 6,505
Findings
From the above scenario, it can be seen that Payoneer offers best currency conversion rate of 2% above the mid-market rate. So, Payoneer proves to be the best option for making cross-border transactions.
By making the cross-border payment transfer through Payoneer, customers are able to save on forex conversion and transaction fees. In total, you can save 71% or more on your international payment transactions.
Payoneer for Freelancers
With Payoneer, it becomes easy for freelancers and marketplaces to do business in a global environment.
Freelancers get all the necessary tools they need to pay and get paid globally. With Payoneer, freelancers can easily and quickly send and receive funds across the globe.
Payoneer turns out to be a fast, reliable, flexible, and low-cost payment solution for freelancers. Freelancers are equipped with a host of payments services giving them complete peace of mind when it comes to getting paid.
So with Payoneer, freelancers can concentrate on what's really important for them.
Payoneer offers low fees so that freelancers can keep more of their earnings. With fast payment processing, freelancers get the opportunity to access funds within minutes. They can transfer funds quickly and securely to more than 200 countries and in over 100 currencies.
In short, Payoneer means "satisfaction guaranteed" for freelancers.
Conclusion
Payoneer turns out to be a secure and a compatible way for transferring money internationally. Already thousands of freelancers, bloggers, businesses, and internet marketers are using Payoneer for receiving earnings from US and European companies.
With Payoneer, you can even open a free US virtual bank account for your lifetime. Payoneer is a good alternative to PayPal. Lastly, Payoneer proves to be the best international money processing service.