After the launch of Google Disavow Links tool it's now more important to know who is linking to my website. By knowing backlinks you can find spam links which you can remove so that your website can be Penguin safe which gives penalty because of spam links.
As you may know Google hates backlinks which are aggressively created just for search ranking, are very low quality links or purchased links.
If you have also created such links or someone else who is trying to demote your search ranking have created spam links pointing to your site then you should try to remove those links.
As Google is suggesting that every website should not try Disavow Links tool and should not remove backlinks because if you removed genuine links by mistake it will harm your search ranking.
If you are not thinking about Google Disavow Links tool even though you should know who is linking to your website. This information can be used for improving your backlinks quality.
There are plenty of backlinks checker tools and services available which can tell who links to your site but if you are looking for free and better solution then Google Webmaster tools is the best place to find links to your site.
If you are using Google Webmaster Tools from some time you can easily check links to your site but if you have not yet joined Google Webmaster tools then you should start using it. Google Webmaster Tools is great place to know your search engine positions and how search engine is looking to your website.
How to Check Backlinks?
If you are using Google Webmaster Tools then you will be familiar how easy it is to use. To check backlinks login to Google Webmaster tools and select the website for which you want to check backlinks.
You will find Traffic Menu in left click on it and you will find "Links to Your Site" menu. Under Links to your site you will find tree section about backlinks to your website.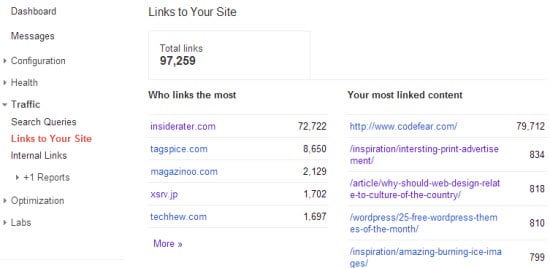 Who links the most: This section tells you which website is pointing most of the links to your website. You can see 5 sites with most of the link and by clicking "More" you can see full report.
Your most linked content shows most links for particular page. Your website can have more than one page and every page may be getting links. This section tells which pages are getting most links from different website.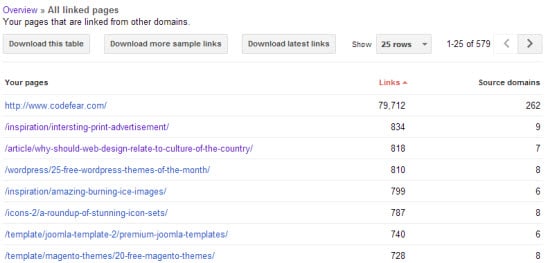 How your data is linked: This report shows most common anchor text for links pointing to your website. For example if your website is on Dog Training and links to your site are from the anchor text like dog training, dog training program, training program, yourdomianname.com etc. If most of the links are coming from same anchor text Google may see them as spam links.
You can see full report after clicking "More" link for all sections. With these reports you can do in-depth analysis like who is linking to your site, from which URL, which pages are getting most of the links, most common anchor text etc. You can even download these reports in Google Docs or CSV format.
By looking to backlinks report you can find low quality and spam links and can remove them or disavow those links which can improve your search ranking.
I am using this tool from long time and found it very useful. This tool also helped me to find website who was copying my content.
This tool can also help you to see your SEO progress if you are building back links for your website.