There are plenty of Search Engine Optimization software available but today I am going to review Market Samurai which I don't want to put in pure SEO software category.
Most of the SEO software focuses on link building and on-page optimization suggestions but Market Samurai don't exactly do this. Market Samurai is more searching and tracking software not website optimization or link building software.
As I write reviews of product which I own or I have used a lot and I am enjoying using Market Samurai because it's easy to use and help me to track my blog pages ranking on search engine.
What is Market Samurai?
Market Samurai is a keyword analysis tool which helps you to find the right keyword for your article for which you can rank easily on a search engine. Market Samurai helps you find niche keywords and checks competition for that keyword and suggest how competitive that keyword can be.
Knowing the right keyword helps you to win half battle for search engine ranking. Knowing where your competitor lacks will help you to rank much better over it. Market Samurai helps you to find keyword for which you can easily rank which is the only thing you can expect with any SEO software but Market Samurai is not exactly an SEO Software.
Market Samurai comes with 8 built-in tools which are:
Rank Tracker: With Rank Tracker tool you can monitor your web pages ranking on the search engine for given keyword. This tool automatically updates ranking every week and you can see your progress.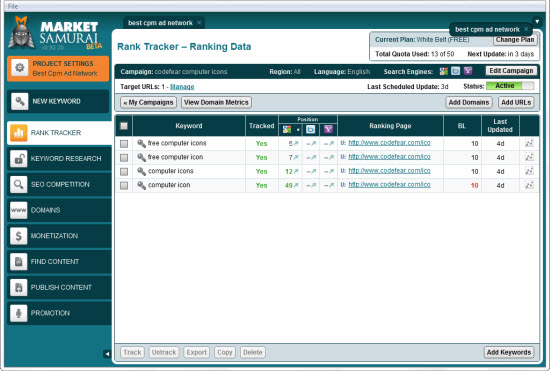 Keyword Research: Finding the right keyword for your article which can rank easily on the search engine is a little difficult but the Keyword Research tool solves this problem very easily.
SEO Competition Analysis: This tool helps to find competition for the given keyword. It shows top 10 results for that keyword which are already ranking on search engine. You will get data like how many backlinks that page has, what is the PR, do that keyword is on the title, description etc, is it easy or difficult to rank for that keyword (Shown in colors like green easy to compete) and many more data.
Domains: This tool helps you find the relevant domain for your targeted keyword.
Monetization which finds affiliate products related to your keyword. This helps you to make money by promoting relevant products on your web page.
Find Content: Before writing the article you may want to research that topic and find content tool will help you to research articles by finding relevant articles listed on Ezine articles, Wikipedia, Google Blogs, and much more. You can also analyze those articles for their page rank, backlinks etc.
Publish Content: This tool can publish your article on the WordPress blog. You can add many WordPress account and publish or promote an article from one place.
Promotion: This tool helps you find link building opportunity related to your keyword.
These are the tools which come with Market Samurai and you may have found that normally these type of tools do not come with any other software.
I don't use all the tools but the top three tools are my favorite.
How can you benefit from Market Samurai?
Till now I told what is Market Samurai and what tools come with it but the question is all these tools are useful or not.
Keyword Research Tool: You can add your Google AdWords account to do keyword research on Market Samurai. What is great about this tool? This can be done from the Google Keyword tool too. Yes, but what I like about this tool is that I don't have to log-in to my AdWords account every time, I can do the keyword search from one place.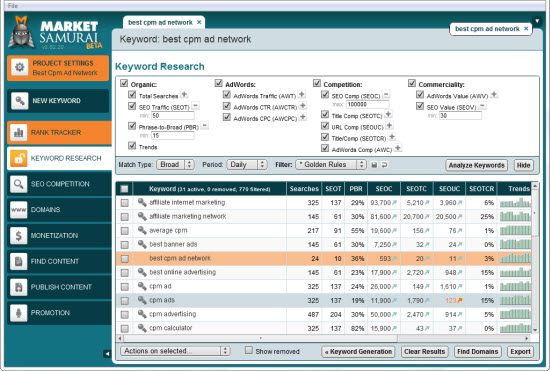 You can choose the length of keyword phrases like minimum length 3 and maximum length 6 by this way you can find long tail keyword very easily. You can also get more data for that keyword like how much traffic you can get for the first position on Google for that keyword and many SEO data which helps to find profitable keyword.
After researching keywords on Market Samurai I verify them on Google AdWords tools to be sure I am betting on the right keyword.
Rank Tracker: You have written a great article done on-page optimization and targeting a long tail keyword but you are not on the first page of search results so where your article ranks. If you don't know where your article rank on the search engine it will be difficult to manage your SEO efforts for that page. If you know where the page is ranking and if it is improving you can decide how much efforts you have to do to bring that page on the top result.
Market Samurai Rank Tracker tool automatically updates your web page ranking on search engine every week by this way you know exactly where your page ranks. This tool also shows historical data of your progress and the number of backlinks that page has. This type of rank tracking services can cost you $50 or more per month but with Market Samurai you get free rank tracking up to 10 keywords, which is great you don't have to pay the recurring amount every month. You can upgrade your rank tracking plan by just paying $5 every month for tracking up to 100 keywords which still cost very less.
SEO Competition Analysis: To get success in search ranking you should know the strength and weakness of your competitor for a given keyword. Market Samurai SEO competition analysis just does this perfectly. With this tool, you can check for SEO competition for targeted keyword and can analyze whether you can rank easily for that keyword or not.
SEO competition analysis tool gives a lot of information about the top 10 listings on the search result for the targeted keyword. You can check competitors PageRank backlinks counts to that page, the keyword is in title and description or not and much other useful information which can help you to decide you should go with that keyword or not. Market Samurai uses Majestic SEO data and we don't have to pay for this.
For me, SEO Competition Analysis is a very useful tool as by this tool I can easily plan my strategy. This helps me to rank for better for given keywords without build many backlinks.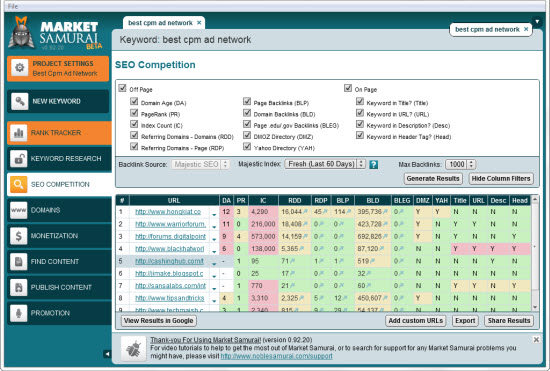 Other Tools: Market Samurai comes with many more tools but I use them less not because they are not useful but I don't focus much on link building and I love to search product for promotion manually. Many times these tools have saved my lot of time but they focus on the limited area because of that I don't use them regularly.
Rank Tracker, Keyword Research, and SEO competition analysis are my favorite tools and a lot of my research and analysis are depended on them.
Pricing: AS far as pricing is concerned Market Samurai is the most affordable product I have found yet. You don't have to pay the recurring payment for rank tracking or other tools. You just have to buy Market Samurai once and you will get lifetime updates totally free and very good support. Market Samurai cost just $149 for the lifetime license with regular updates and support.
You can save 35% on Market Samurai using the Buy Now Link below and it will just cost you $97 of the single payment. Using this link you will land on Market Samurai Homepage you must sign up for free Market Samurai as in the image below you have to just insert your Name and your Email. After clicking signup button this will take you to onetime offer page which will give you the discount of 35% on Market Samurai lifetime license.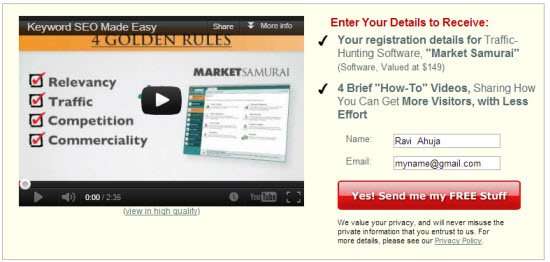 Verdict: As I said earlier Market Samurai is not SEO software, it is a keyword research, competition analysis, and rank tracking tool so don't expect much from it. It does a very good job for the purpose it is built. I will not say it is perfect software but for this price point, you can't complain. For me, rank tracking is very important and this software is saving my money for this feature other rank tracking tools easily charges $50 per month.
If you are not sure about Market Samurai features and usability I will suggest you download 7 days free trial which will help you understand Market Samurai and will help to make the firm decision about Market Samurai.