Getting top rankings on SERPs is not as difficult as most website or blog owners perceive. It is all about using the right SEO Techniques together with creating top-quality content. One way to enhance SEO rankings and increase traffic to your website or blog is by using LSI Keywords. It is one of the best techniques for getting better search engine rankings.
So, if you are not fully aware of LSI Keyword or, more importantly, how you can use "LSI Keywords" to improve your SEO, then simply read on as this post takes you through the ins and out of LSI Keyword and how you can benefit by using them in your content. Here, we have listed the 10 Best LSI Keywords Generator Tools for finding LSI Keywords.
The best thing about using LSI or related keywords in your content is that you do not have to do anything extra to rank your posts on Google or other search engines. You just have to know how to use LSI keywords effectively in your content.
That's what most successful bloggers and website owners are doing to get high rankings on SERPs.
"Best results with less effort" is what Similar Keywords deliver to you. So, if you aim for high rankings on SERPs, it is crucial to implement LSI Keyword as a part of your SEO Strategy.
What is the LSI keyword in SEO?
LSI Keywords or Latent Semantic Index Keywords are word phrases that are related or similar to your primary focus keyword. They are synonyms, substitutions, and related phrases to the main focus keyword(s).
Most of the time, they are sentimentally and logically related to your focus keyword. Search engines often use them to validate the quality of your content.
Simply put, LSI Keywords are just related keywords. It is often a synonym. These words are usually found together as they share the same context. For instance, 'iTunes' and 'Apple' are LSI Keywords as they share the same context and are usually found together.
LSI or Related Keywords help search engines to understand your content better. So, Related Keywords increase the relevance of your content for a specific topic and help to increase its rankings.
Nowadays, search engines have become much smarter. They first understand the meaning of user queries and give results that are synonymically related to the search query.
So, when your blog post is about "Apple," search engines make use of LSI Keywords and identify whether the post is related to the fruit or the brand.
Let's say; your page contains the words such as 'green apple,' 'eating an apple,' 'apple nutrition,' 'red apple,' then your page is most likely about apples, the fruit. However, if your page contains words such as 'apple stores,' 'Apple iPhone 5,' 'Apple iPad,' 'Apple news,' 'apple computers,' then your page is most likely about apple computers.
So, LSI Keywords help search engines (Google) to give out more relevant and accurate search results to their users. LSI Keywords help search engines to make out which pages are relevant to the particular search query.
If most of your traffic comes from search engines, then the use of Latent Semantic Index Keywords would be a smart strategy to increase your organic search engine traffic and improve your rankings.
Here are some examples of LSI Keywords:
For example, if your post is on "Windows," your post should logically include "Microsoft," "Bill Gates," and "Windows 10," and so on, as mentions. These related words are LSI Keywords which search engines use to differentiate and rank your post in SERPs.
Let's take another example.
For instance, your primary keyword is "dog training." Other related keywords that you can use include puppy training, dog behavior, housebreaking, and the like. Likewise, if your focus keyword is "WordPress," then LSI Keywords would include phrases such as "WordPress Blog," "WordPress Themes," or "WordPress SEO." These related keywords would be LSI Keywords.
With related keywords, you can target several keywords to get better search engine rankings and generate high traffic to your blog.
You might have also noticed that Google highlights the synonyms in SERPs. These synonyms are nothing but LSI Keyword in Google vocabulary. For example, if you search for "ps picture size," Google highlights the words "picture, photo, image."
Moreover, LSI Keywords have outdone the keyword density formula when you aim to rank high in the search engine results. LSI Keywords have become an important aspect of On-page SEO. It's a key ranking factor on search engines.
Now, you have a clear idea of what are LSI (Latent Semantic Index) Keywords.
Finding LSI or Latent Semantic Index Keywords becomes easy with the best LSI Keywords Generator Tools. So, if you want to do your research for LSI Keywords easily, then you are perfectly at the right place. Here, we have listed as many as 10 Best LSI Keywords Generator Tools for you, making it easy to find Latent Semantic Index Keywords for your blog content.
Why do Search Engines (Google) make use of LSI Keywords?
Earlier search engines (including Google) used "keyword density" to find out the relevancy of a page for a given search query.
However, as it turned out to be: keyword density was utterly spammed and abused. It was the prime reason for search engines (including Google) to move away from keyword density and use Related Keywords.
Taking one of the above examples as reference:
A legitimate page about "Apple Computers" is most likely to include words that are related to Apple computers (such as 'apple stores,' 'Apple iPad,' 'Apple iPhone 5'). However, a keyword-stuffed page about "Apple Computers" will only contain just that single keyword.
So, Related or Similar Keywords helped search engines determine and find the most relevant and accurate results based on the user search query.
It helped Google understand the meaning of a web page and offer accurate results based on a search query. It improved the ability of search engines (particularly Google) to understand the context of a web page.
LSI Keywords allowed Google to bridge the gap between what people look for (with a search query) and what they get in the search results.
How can LSI Keywords improve your SEO?
LSI Keywords improve your SEO in more than one ways:
Search engines like Google now look at the overall context of a web page rather than just keyword density. It means that a web page will rank higher for the main keyword only when Google can understand the context of that web page. LSI Keywords are similar (related) to the main or focus keyword and help search engines understand the total context of a web page better.
LSI Keywords allow you to add related keywords to your blog content safely. When you have reached the limit for keyword density for your blog content or web page, any more repetitions of the focus keyword will only invite the risk of a Google penalty. With Related Keywords, you can help search engines understand your content better and rank it higher in the search results.
LSI Keywords are "keyword variations" that are closely related to your main target keyword. So, by using LSI (Latent Semantic Index) keywords, you get a chance to rank for your main keyword and those keyword variations that are LSI Keywords.
Where to include LSI Keywords?
The good thing about using LSI Keywords is that they are SEO-friendly. Moreover, it is better to use LSI Keyword than to use the same (focus) keyword repeatedly in your blog post. LSI or similar Keywords help to increase content relevance.
However, they are some basic rules for using LSI Keywords.
More specifically, you can include LSI Keyword in:
Title Tag
Header Tags (H1 and H2 tags)
Permalinks
Meta Tags
Links Anchor Texts
Images Alt Text
Beginning Paragraph
Ending Paragraph
So, you should include LSI Keywords throughout the body of your article. However, you should make sure that they sound natural and appropriate about your blog content. In some cases, LSI or Related Keywords will be synonyms for your main focus keyword. So, you can substitute them for your focus keyword.
That said, you should keep at least two or three instances of your focus keyword. You should not worry about the keyword density of your focus keyword anymore, as it has been largely replaced by semantic indexing.
Moreover, you should avoid stuffing LSI Keywords in your blog post as they can be taken as spam. You should use each LSI Keyword just once on a web page. So, you should not over-optimize your page for any particular LSI Keyword.
Benefits of Using LSI Keywords
The big benefit of using LSI keywords is that you can target several keywords at a time to get more traffic. Apart from this, there are several other benefits of using LSI keywords in your article. They are listed below:
Fast Indexing: LSI Keywords make your content rich for visitors. Search engines like rich content and give priority to such content to index fast.
Natural Ranking: LSI optimized articles get a natural boost in search engine rankings, become viral, and creating tons of traffic.
No spamming: LSI Keywords help to make your content spam-free in the eyes of search engines. Using keyword phrases that are semantically related to your primary keywords helps to increase your content's credibility.
Reduce Bounce Rates: LSI Keyword help in reducing bounce rates by preventing your site from ranking for the wrong terms. They make the flow of content natural and meaningful.
Improve Search Engine Rankings: Articles with related Keywords are ranked better and get an opportunity to appear among the top results in related searches. Now search engines use LSI criteria to rank your site for semantically related searches irrespective of the target keyword.
Improve Blog Authority: LSI Keywords open the door for better search engine rankings which are instrumental in getting more click-through rates and more authority of your blog.
Increase Sales: With LSI Keyword, there is less competition and exact buyer intent, which propel sales. For example, Amazon records as much as 57% of all sales through keywords like the long tail and LSI versions of the main keyword.
You may like: 20 Best SEO Software and Tools
10 Best LSI Keyword Generator Tools
You can use the following LSI Keyword Generator Tools for finding LSI Keywords:
LSI Graph
SEOPressor
Google Auto-Complete
KeywordTool.io
Google Related Search
KWFinder
UberSuggest
LSI Keywords
KeySearch LSI Keywords Generator
Keys4up
It is a convenient tool for generating good LSI Keywords. All you have to do is enter your main or focus keyword, clear the Captcha, and hit "Generate." The result shows are some gems of Similar Keywords related to the main keyword that you entered.
Moreover, LSI Graph is available as a free SEO tool for finding Similar Keywords easily and quickly. It's effortless to use. Anyone can use this tool with little or no knowledge about SEO. You have to enter the main keyword in the search bar, and the tool generates the most relevant and related LSI Keywords for you.
LSI Graph is one of the most popular free LSI Keywords Generator Tool out there. Without signup, you can carry out only a few searches a day, including about 50 LSI Keywords each. With signup, you can increase the daily search limit to around 20 search queries. The tool proves very helpful in the beginning stages of content creation. However, you need to be careful about the keywords you want to analyze, given its limited search queries.
LSI Graph does not allow you to export the full generated list or even select the list. However, you can go on to copy and paste the LSI keyword list easily into other documents.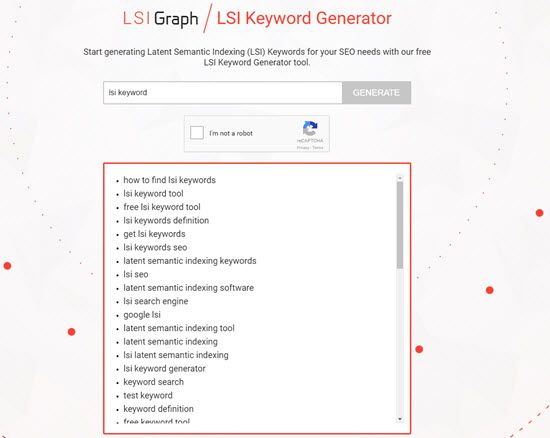 SEOPressor is one of those great SEO tools that save a ton of your time and gets the results you want. It's one of the best optimization tools out there. It's a premium WordPress Plugin for optimizing your posts for search engines.
It can be used to find LSI Keywords and Check Keyword Density. So, you can optimize your content and get more visitors to your site from search engines. You can optimize your blog posts and get better search rankings.
There are three aspects to On-page analysis with SEOPressor:
SEOPressor Score
Suggested Optimization
LSI Keywords Suggestion
The SEOPressor plugin gives you a score with analysis on:
Word Count
Readability
SQ Density (Semantic Quality)
The score is given out of 100. The higher score you get, the better chances to rank high on Google for your keywords. Plus, its suggested recommendations help you to optimize your blog posts for the search engines further. It warns you of keyword stuffing and suggests where to put the keywords for better rankings.
With its LSI Keywords suggestion, you come to know what all Similar keywords you can use within your content. It suggests LSI Keywords based on your seed keywords. So, SEOPressor is one of the best SEO tools for increasing your search rankings.

3. Google Auto-Complete
It is Google's search tool that you probably have used. Whenever you enter words into Google's search field, it will suggest terms that are potentially related to your search term. These suggestions are LSI Keywords or synonyms that you can use in your blog or website content.
Google Auto Complete is by far the easiest and the fasted way for finding LSI Keywords. You need to go to Google.com and type in your main keyword. Google will automatically show the best matching phrases or list closely related to the primary keyword entered in the search bar.
For instance, if you entered your main keyword is "LSI Keywords" in the Google search bar, the Google AutoComplete feature will automatically suggest related keyword phrases such as Related Keywords Example, LSI Keywords Tool, LSI Keywords Meaning, LSI Keywords Generator, and more.
You can even scroll at the bottom and get Google-related searches with suggestions such as LSI Keyword Finder or LSI Keyword Generator.

It is another good tool that you can use to generate LSI Keywords. It displays the result keywords in alphabetical order. Although it is a paid tool, its free version lets you easily generate LSI Keywords for your blog posts. The keyword suggestions are mostly longer than one word. You can use these keywords in your content and increase its relevance for search engines, including Google.
The tool can generate more than 500 keyword suggestions from Google, Bing, Amazon, YouTube, eBay, or the App Store based on the country and language you choose. So, you can structure your content for a specific platform and even for a specific country.
However, the free version does not come with any additional information about the generated keywords. It allows you to export or copy the list of keyword suggestions, which is a very useful feature of this tool. It also has a search option with which you can filter out keywords that contain specific terms. Its negative keyword function allows you to exclude unwanted keyword results.
So, KeywordTool.io helps you to optimize your content with Similar keywords.
5. Google Related Search
Google search shows you the related search at the bottom of the search results when you make a particular query with Google. You have to search for the main keyword in Google. It then returns you all the related keywords for the main search term at the bottom of SERP. So, Google Related Search can be very helpful when you look out for LSI Keywords. It's helpful when you want to optimize your content. You can include these keyword suggestions in your page titles, headings, within the paragraphs, or at the end of your post.
As these suggestions are based on the most popular users' queries, you get an idea of what you include in your blog post to go viral with your readers. You can also develop fresh content around these suggestions and gain more traffic to your blog or website.
All these suggestions are automatically listed at the end of the search results when you enter your search query on Google. So, there's a minimum effort on your part, and the results are offered instantly.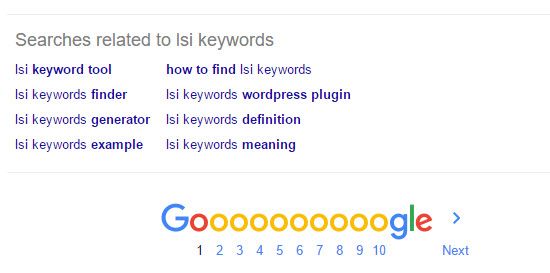 KWFinder is another popular keyword suggestion tool for finding LSI keywords. Usually, generated keywords contain more than one word. You get many choices with the related keywords matching your main keyword, making it easy for you to use in your content.
The KWFinder comes with a free version. It allows a few search queries per day and generates around 50 keywords each. It allows you to choose between suggestions, Autocomplete, or questions. You can search for any country and any language. Plus, you can filter for countries and languages. It uses Google Autocomplete to generate these keyword suggestions.
KWFinder offers additional filters with which you can include or exclude keywords from your generated list. Plus, you can filter based on several words and other factors, as well. The tool allows you to copy or export the list of keywords as a CSV file.
Another good and notable aspect of this tool is that it offers additional information, including search volume, CPC, keyword difficulty, and the level of competition in PPC (Pay per Click).
So, KWFinder proves a great tool when searching for new topics and even during content creation.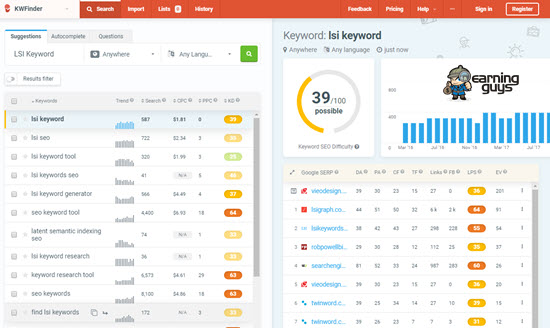 Ubersuggest is another simple and yet effective free keyword suggestion tool out there. It's a free keyword research tool by Neil Patel. Ubersuggest can help you to brainstorm and find keywords in your target niche quickly. It's a great tool for finding LSI keywords. Ubersuggest extracts all the Google Autocomplete words for a base keyword.
Ubersuggest uses your focus keyword and gives you many keyword suggestions with traffic volume, CPC, and estimated competition in Google SERPs.
It is very simple to use. You need to enter your target query (main keyword) in its query field. One can select the target country as well as your target market. Now click on "Suggest," and the tool will list down the keyword suggestions.
You can further click on any suggested keyword and get more ideas and keywords that might be of interest to you. You can hit the "plus (+)" button to add the keyword to your list. All the selected keywords will be listed in the right sidebar of the Ubersuggest site. You can click and copy all the keywords.
One can use these keyword suggestions and write posts based on them. It's a convenient tool for getting keyword-based post ideas. Ubersuggest is certainly one of the best free LSI Keyword Research tools out there.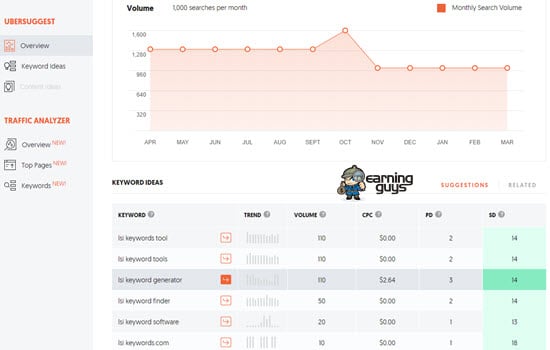 Twinword Ideas is one of the best platforms for discovering relevant LSI keywords for your content. Moreover, here you get the best keywords, and you do not need to go through long keyword lists. So, you can save time by getting just the keywords you need.
Twinword Ideas uses Automatic Keyword Grouping that helps you discover new ideas and concepts easily that got detected and grouped by A.I.
Twinword Ideas is all about and focused on helping you to create great content. It allows you to identify the best titles by targeting the best keywords. It offers you accurate keyword data like search volume, organic competition, paid competition, and CPC.
It allows you to search for LSI keywords. You can even filter the results by search volume, word count, and relevance score. You can also filter by user intent, like 'know,' 'do,' 'buy,' and 'local.'
It's one of the first AI-powered LSI keyword research tools to automatically detect user intent for each keyword suggestion. Twinword Ideas happens to be an excellent alternative to Google Keyword Planner.
The good thing with Twinword Ideas is that it doesn't offer you unrelated keywords. So, there is no such thing as manually removing or ignoring unrelated keywords. It's a tool that can filter unrelated keywords. It can score each keyword's relevance and allows you to filter them out with a simple slider.
Here, you need to enter a keyword related to your campaign. You can move the slider until all the unrelated keywords are gone. It's all that you need to do. Lastly, you can download the list and add it to your campaign. It helps you to speed up your keyword selection.
Twinword Ideas Pricing Plans:
Guest: Free
Plus: $5.00
Pro: $24.00
Agency: $95.00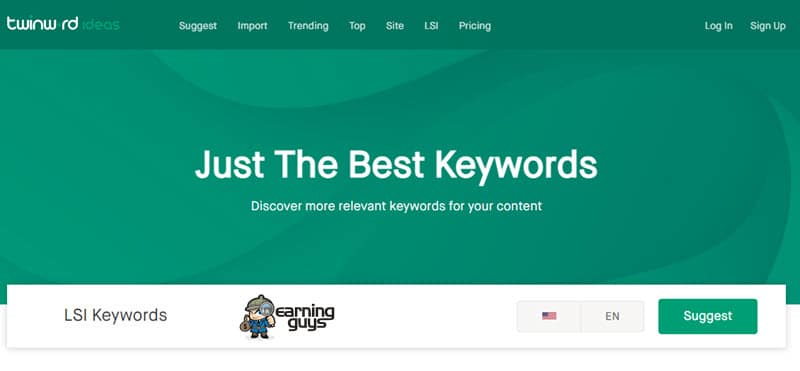 LSI Keywords Generator by KeySearch is a simple and effective LSI keyword tool. It's a free LSI keywords tool. It quickly finds out LSI keywords for any niche. It employs powerful LSI algorithms and returns the results quickly, helping you to get started. However, you need to sign up for a free KeySearch account to get in-depth LSI keywords analysis using more advanced features.
The tool comes studded with a powerful "deep analysis" feature which uses the more in-depth LSI Keywords algorithm. The algorithm goes on to access the Google results (for the first page) for your particular keyword.
It explores all the articles on those pages and finds out the words and phrases that were most used among these articles. It's the technique or method used to identify LSI Keywords. So, you come to know what keywords Google wants to see in your content for ranking it on page one.
The key search "Content Assistant" feature goes on to add another level of LSI keyword finding. It includes Google-related searches and also the top-ranking keywords found in the #1 result on Google. It's a unique and powerful way of finding hidden Latent Semantic Index keywords. So, you come to know the keywords for the #1 result in Google that are getting the highest traffic. It ensures that you can include keywords in your content for which Google wants to rank you higher on search results.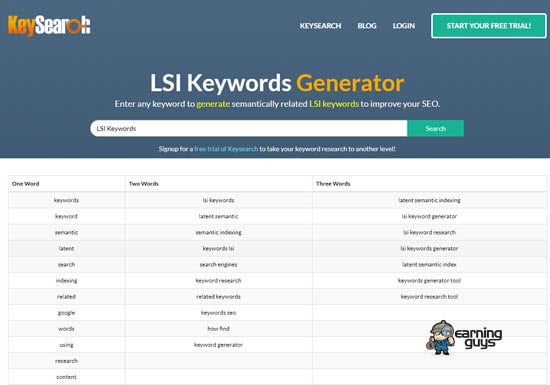 Keys4up is a very simple tool to find Latent Semantic Index Keywords. The LSI keyword generator can provide you with around 10 LSI keywords per search query. However, if you want to get the full keyword list, you must register with your email address.
After performing some more search queries, the web page wants you to share the tool on social media channels for receiving the full keyword list, which proves quite inconvenient.
The tool allows you to export the full keyword list or select keywords as a CSV file. The tool comes with options for displaying LSI keywords having one, two, or more than three words. So, it's a helpful feature if you want to look for short or long-tail keywords.
The tool has another very special feature known as the "4Up" index, which indicates how often you should use that LSI keyword in your content. It's a beneficial feature, especially for beginners. Moreover, the list of LSI keywords is organized in a visually pleasing manner.
So, Keys4up proves a very handy LSI keyword tool when looking for a simple yet effective LSI keyword generator.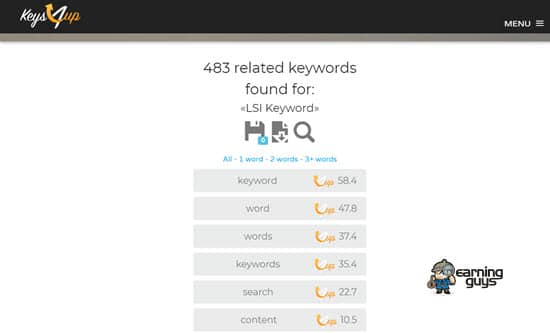 Conclusion
As we can now appreciate, LSI Keywords can be instrumental in generating huge traffic for your blog or website. So, in your overall content strategy, using LSI Keyword should be among the top priorities. Moreover, Related Keywords make your content more meaningful to your readers.
So, you should use related words or synonyms apart from using the main focus keyword in your content. The basic idea should be to make your content LSI-friendly. We have listed out the best LSI Keyword Generator Tools, which will help you get the most appropriate set of LSI keywords matching your content, helping you boost its ranking in the SERPs.