Push notifications have evolved to become the most effective way of getting the attention of users both on mobile as well as desktop.
Push notifications are being used to drive traffic to sites and even to the affiliate offers.
Today, we share with you one such advertising network that has an exclusive focus on push notifications.
It's none other than MegaPu.sh – the first push notifications advertising network from where you can buy push traffic.
MegaPu.sh is recognized as one of the best networks for maximizing your return on investment with push notifications.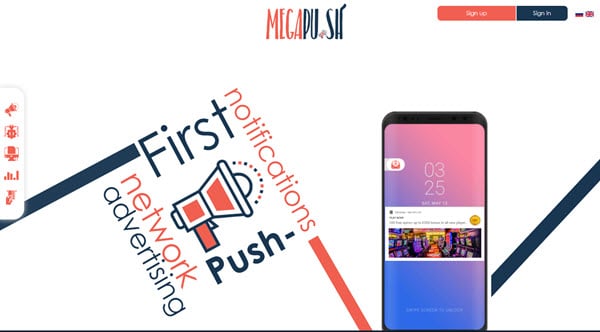 It's the first ad network that allows you to send ads with push notifications.
Your success as an affiliate marketer primarily depends upon your ability to convert an affiliate offer.
So, it's essential for you to get the attention of the potential lead.
Once you have got their attention, you need them to click on through to the landing page. And once they are there, you need them to convert.
The good thing with MegaPu.sh is that it excels in getting the attention of users with push notifications that are served on both mobile and desktop.
MegaPu.sh provides an excellent platform to reach these audiences in a very cost-effective manner.
MegaPu.sh excels in serving push notifications.
In fact, the push notifications offer a lot of advantages over other traditional means of ad formats.
For example, display advertising has a specific element of ad blindness. Moreover, the click-thru rates with content marketing are wildly unpredictable.
On the other hand, push notifications are instantly noticeable and timely. They cannot be easily ignored.
So, push notifications proves to be an incredible opportunity for marketers and can reach audiences like never before.
MegaPu.sh has leveraged this amazing opportunity with push notifications.
They have come up with a great platform where affiliates can reach audiences easily and in a very cost-effective manner.
MegaPu.sh excels at push notifications and has some really good ones.
MegaPu.sh helps to drive traffic from all countries. It allows you to set all the details such as OS/platform/country/browser/ISP. Its minimum price per click is $0.001, and the system is based on the CPC model.
MegaPu.sh offers moderation and support all around 24/7.
It receives nearly 12 million clicks per day. MegaPu.sh has made its mark in the push notifications networks industry with its quick results and effective working.
MegaPu.sh is booming and proves immensely beneficial for affiliate marketers and bloggers. It creates and delivers useful and relevant push notifications for your users.
MegaPu.sh User Dashboard
It offers an easy-to-use User Dashboard.
On the main page, you get to see your main statistics.
It offers information such as the number of clicks as well as the amount of ads spends that you have made during the month.
The main bar graph shows the top 10 campaigns with the number of clicks, targeted country, and the total cost. It also lists the top 10 active countries for campaigns across the network.
So, you get all the data across all your campaigns in a very convenient fashion too.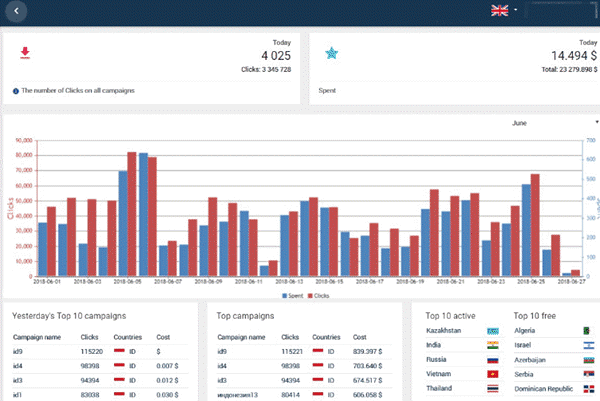 Working with MegaPu.sh
Working with MegaPu.sh is quite easy and straightforward.
You need to work with just a single page where you have to enter basic information.
It includes information such as the campaign name and target link. Plus, you need to upload the image, set your target country, and key in your CPC bid and so forth.
The CPC Bid amount will vary depending upon the geographic location that you want to target.
For example, the average CPC in Russia is 8.9 cents whereas in Egypt it is just 0.2 cents.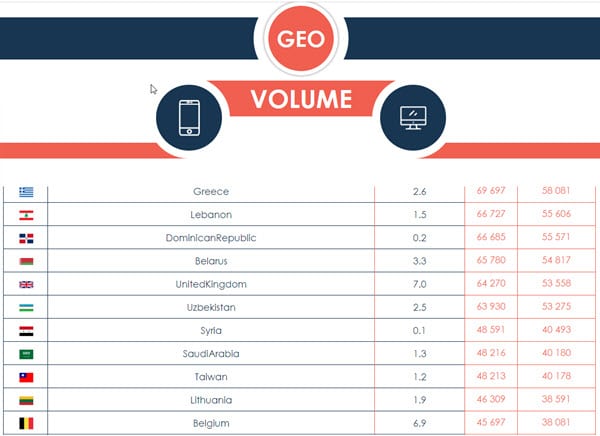 However, you need to go through a moderation process (prior to the configuration of the campaign, and submitting it for approval) which is efficient and fast.
Getting started is easy.
You need to click on "New Campaign" in the left sidebar.
Here, you need to provide all the relevant details for your campaign.
For example, you have to provide your campaign name.
Besides this, you need to provide a target URL for the link.
You also need to furnish a title (Max 30 characters) that appears in the push notification ad.
Plus, you have to provide a message (Max 45 characters) that appears in the push notification.
There's also a "smiley face" button in case you want to insert an Emoji.
Once you finish with these, you have to upload the primary image (492 x 328 pixels) as well as the icon (192 x 192 pixels) for your campaign.
However, MegaPu.sh doesn't offer any specific guidelines for the file format.
That said you can use PNG and JPG files with absolute confidence and face no problem whatsoever.
(But remember to resize them to the right dimensions.)
Below that you will get all your targeting options, such as the country and browser, as well as the CPC bids in cents.
It should be noted that when you go on to select a country, you will be shown the minimum price as well as the average price for that particular geolocation.
Below this, you get an option to select a start and end time.
You can define an IP range as well as choose between five networks such as AdMaven, PropellerAds, MegaPush, Adsterra, and Advexxx.
You also get the option to preview your push notification when deployed. To preview ad you need to click on the red "preview" button.
For submitting your campaign for moderation, you have to click on the blue "create" button.
That's all.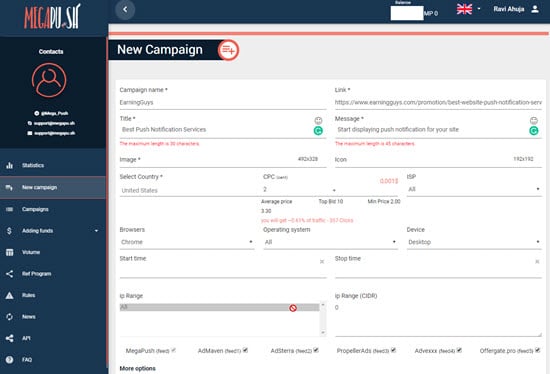 Once you have your ad approved, you can go on and check up on its stats, group it up with other campaigns, as well as top up your budget.
Plus, MegaPu.sh runs a referral program that offers a generous 7% commission when you refer a partner (to MegaPu.sh).
Concluding
Well, it's a fact, and you need to realize it as soon as possible.
Push notifications are very useful and remarkably profitable for generating targeted traffic to affiliate offers.
MegaPu.sh is a great way to take advantage of this very booming ad format – Push Notifications.
MegaPu.sh is very helpful for bloggers as well as affiliate marketers.
It gives you seamless access to traffic from all countries, full native tracking, advanced targeting by OS and platform, as well as offers a generous referral program.
So, if you want to profit from affiliate marketing then MegaPu.sh Push Notifications Network can be very helpful to you. MegaPu.sh provides you with the opportunity to drive traffic to site or affiliate offer.
We believe that you now possess enough information to take advantage of this very powerful and profitable push notification network in the form of MegaPu.sh Push Notification Advertising Network.