We have come up with a comprehensive guide that helps you to choose the best WordPress Membership Plugin for building your membership site. Here, we have featured 11 Best WordPress Membership Plugins to meet your unique needs for making more money online.
A WordPress Membership Plugin helps to transform your WordPress site into a fully functional membership site so that you can generate recurring income, sell online courses, or go on to build a list of loyal registered members.
With a membership site, you can limit access to downloads, forums, online content, as well as support to your registered users only. In fact, a membership site is one of the most effective ways of making money online.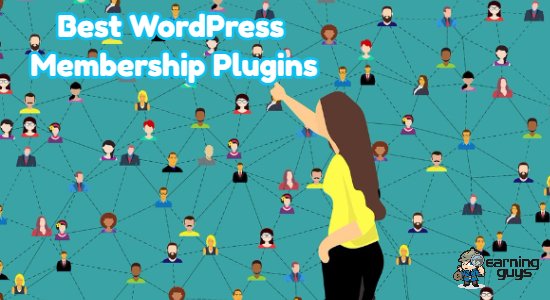 Here, are some of the main reasons you might want to build a membership website using WordPress Membership Plugins:
It allows you to generate recurring income. You can persuade users to pay for the subscription, thereby generating recurring revenue.
It allows you to create a highly engaging email list. You can come up with a content library and make it accessible only to your registered users. Plus, you can add these users to your email list.
It allows you to demonstrate your authority. You can establish yourself as an authority in your niche. You can establish a good relationship with your members and create a loyal customer base.
A membership site tends to offer more value to your users and encourage them to continue paying you for access
Choosing a WordPress Membership Plugin
Here, we have shared some of the most important criteria that you should keep in mind while choosing WordPress Membership Plugins for your site:
You should choose a WordPress Membership Plugin that's easy to use. There are some complex membership plugins that offer tons of functionality that you'll never need. Others are super lightweight that only offer the basics to set up a membership site up and to run. So, to make things easier, you should always use a more basic solution and go on to invest in additional functionality when required.
You need to make sure that the membership plugin you choose is compatible with your existing WordPress plugins and theme. If it's not, it could result in breaking your site and could make things a lot harder on yourself. So, you should test your membership plugin on a local WordPress install first. If everything goes well, you can then safely use the solution on your live site.
There are a lot of membership plugins that come with different sets of features. So, you should check the features before picking one for yourself. Here, we share some of the essential features that you should look for in WordPress Membership Plugins:
Course Building Tools
Member Management
Email Marketing Tools
Support for Forums & Live Chats
Content Drip Functionality
Multi-Level Subscriptions
Coupons and Discounts
Recurring Subscriptions
Easy Digital Downloads
Design Templates & Other Design Features
Now, let's dive straight and look at the top WordPress Membership Plugins so that you can finalize which one is right for you.
You may like: 15 Best WordPress SEO Plugins
11 Top WordPress Membership Plugins
Here, we have featured 11 Best WordPress Membership Plugins to sell your Courses:
The MemberPress Plugin is a popular WordPress Membership Plugin. It allows you to build a powerful membership website with ease. MemberPress comes with tons of features and can integrate with WordPress seamlessly. It includes all the standard features that you expect in a WordPress Membership Plugin.
It's easy to set up. You require to install the plugin and configure your payment gateways and go on to add some products. One can then invite people to join.
You can restrict user access to pages, posts, categories, tags, and much more. Admin gets full control over what members can see, depending on their membership status.
It easily integrates with most of the popular email marketing services like Aweber, Mailchimp, and GetResponse. MemberPress can also integrate with BuddyPress to create a forum. It supports payment gateways such as PayPal and Stripe.
With MemberPress, you also get many other features such as coupon generation, content dripping, dynamic pricing, and detailed analytics that allow you to monitor the success of your membership site. You can come up with unlimited membership levels and can include all kinds of trial periods and payment options. You can even create Membership Groups with predefined upgrade paths.
MemberPress allows you to restrict content in several ways. For instance, you can restrict whole categories or sets of child pages. If you want, you can even go granular and can restrict only parts of a post/page. Plus, you can limit access to individual files for managing downloads.
MemberPress allows you to drip out your content on a predefined schedule. You get all types of reports and find out how your membership site is performing. You can even send out emails (MemberPress Reminders) when specific events occur, such as an upcoming subscription level.
Most importantly, for you, it can integrate with LearnDash, which is a powerful learning management system to unlock some powerful online course functionality. So, you can create online courses using WordPress.
Price: MemberPress starts at $129/year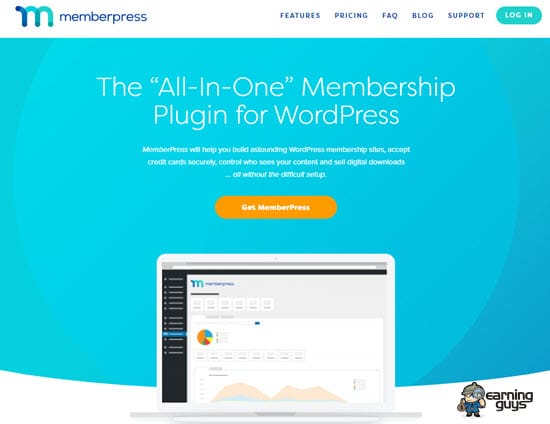 2. OptimizePress WordPress Membership Plugin
OptimizePress is a page builder for WordPress that allows you to design landing pages, sales pages, full-scale marketing sites, training pages, launch funnels, and even membership portals. Moreover, OptimizePress is more than just a page builder. It allows you to manage all your pages on WordPress.
You can create pages in real-time just by dragging and dropping elements on the page. It has over 30+ customizable templates and is fully responsive. It is available in both theme and plugin formats.
OptimizePress helps you to create membership sites and portals. It is one of the most striking features of OptimizePress. In fact, no other page builder can do this. It allows you to create and manage accounts for members and deliver the content securely.
It allows you to create login forms, module listings, and breadcrumb trails. So, there is no need to buy a membership plugin. Everything can be done through OptimizePress itself.
Moreover, OptimizePress offers full control over the design of the pages. You can control the design of the login page, module listings, and more. Plus, OptimizePress supports much integration, such as PayPal, InfusionSoft, ClickBank, and Authorize.Net.
Here are the main features of the Membership Portal provided by OptimizePress:
It allows you to create and deliver drip content easily
You can create packages and allow those members who purchased the package to access the content
You can use existing membership plugins
Fully responsive
Comprehensive support and documentation
Price: OptimizePress starts at $99/year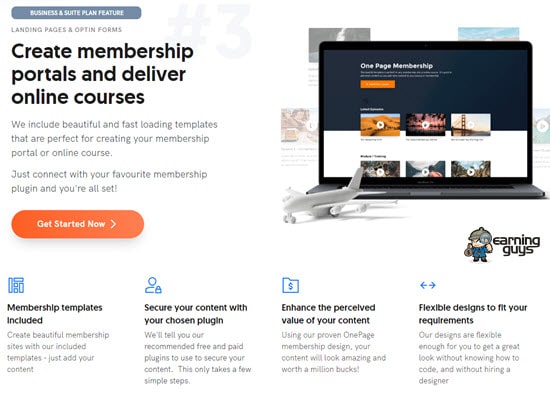 WishList Member is another popular premium Membership Plugin out there. It offers you tremendous control on how your content is restricted and made available, and to what members. It offers lots of options that can turn out to be quite confusing for new users. There are lots of settings and expansive menu systems that offer you full control over your membership site as well as premium content.
Here, we have shared some of the most prominent features of WishList Member Plugin:
It allows you to create unlimited membership levels
Sequential content delivery
Auto-upgrades of membership levels
It allows you to hide or restrict content pieces from non-members
You can come up with a free, trial, and paid memberships
Integrates with Clickbank and PayPal
Secure RSS feeds
Subscription length control with auto-expire
Free previews and protection after the "more" tag
Partial content display with as little as one sentence within a post
Plenty of support material such as video tutorials, support guides
Can be integrated with your WooCommerce store
One year of unlimited support
One year of unlimited updates
So, WishList Member Plugin has everything you need for setting up and managing a membership site. It offers lots of control over how your membership site works.
Price: $197 for the single site license and $297 for multisite license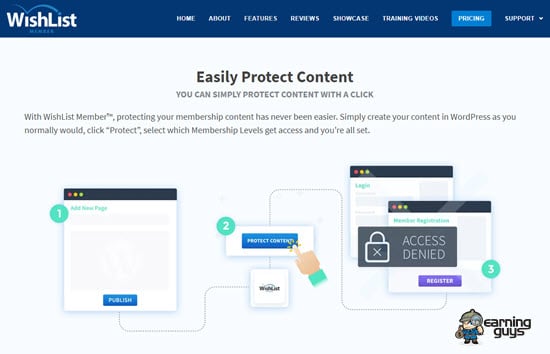 Restrict Content Pro is another premium option from Pippin's Plugins. It's a lightweight and easy-to-use WordPress membership plugin with all the features that you need for creating a full-featured membership site.
There's helpful documentation available throughout the settings pages, thereby helping you to get started as quickly as possible.
The plugin is thoroughly loaded with great features giving you complete control on how your content can be accessed. Moreover, it is continuously improving and goes on to regularly add new features to the list.
It allows you to restrict your content in a number of different ways. For instance, you can restrict access to your posts based on membership levels or even through use categories and tags.
Here, we list out salient features that you get with Restrict Content Pro:
Unlimited membership numbers
It allows you to create unlimited subscription package levels
Customers can view and manage their account details
You can sell an unlimited number of digital products
Built-in payment integrations with PayPal, Stripe, Braintree, 2Checkout, and Authorize.net
It works seamlessly with the WordPress interface
It's easy-to-use even for beginners
Create an unlimited number of subscription levels. You can assign them a price, optional signup fee, frequency, as well as a user role that your members can receive when they go on to register with your membership site
Members can easily upgrade and downgrade. New subscriptions are prorated automatically
Create an unlimited number of discounts
Detailed earnings reports
Price: Starts at $99/year for a single site license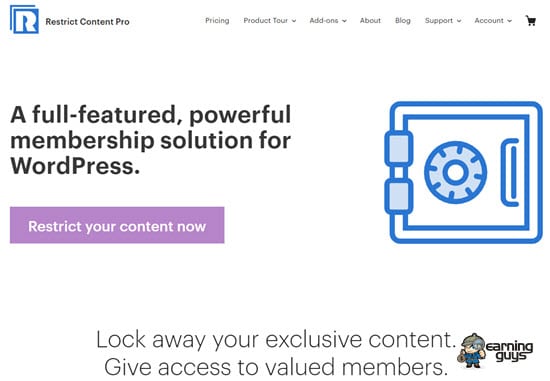 Ultimate Membership Pro is one of the most complete membership plugins that comes with dozens of features. It enables you to create and work with multi-level exclusive access for your members that are based on simple free packages.
With Ultimate Membership Pro, you can protect your valuable content or only part of it. You can protect your pages and products, categories, any URL, content sections, images, menu, and lots more.
It is one of those membership plugins that can manage multiple subscriptions simultaneously. Users can subscribe and get multiple active plans assigned at the same time, whether it's about single membership or recurrent subscriptions.
Ultimate Membership Pro offers thorough Content Access Management. You can set access rules for any type of content, post type, or any URL from your WordPress website with few clicks. You can even lock the navigation menu or physical files easily.
The plugin offers infinite subscription packages with a one-time payment, trial, or ongoing recurring charges. It is easy to set up, and you are ready to go instantly. It offers complete Members Management. The dashboard can handle users' activity, current subscription status, as well as reports.
You get built-in Integrations with PayPal, Stripe, Checkout, Braintree, PayPal Express, and even MailChimp, Aweber, and Zapier. It offers Partial Content Restrictions. You can easily restrict any part of the content based on certain conditions.
Its feature list includes:
Multi-level access
Unlimited Paid & Free Membership Levels
Drip Content Protection
Content Lockers for protecting individual pieces of content
5 Payment Gateways: PayPal, Authorize.net, and Stripe, 2Checkout, as well as, Bank Transfer
Restrict any post/page or URL
Menu Protection
Custom Redirect Links
Multiple Predefined Shortcodes
Custom Dashboard Access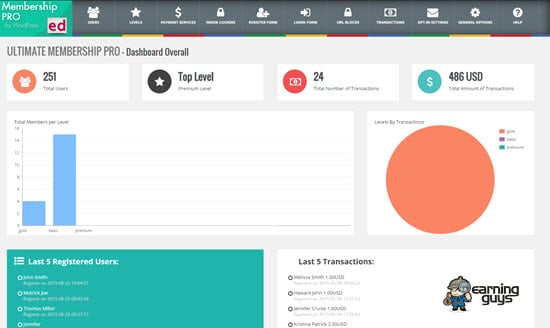 WP-Members is a simple to use, easy to set up, and yet flexible membership plugin that makes your WordPress site into a membership site. It allows you to restrict premium content, create custom registration fields, and more. With WP-Members, you can restrict selected WordPress content to registered site members.
It requires no modifications to your theme and remains scalable for users so that they can customize the look and feel and restrict content. So, WP-Members prove a great tool for sites that offer premium content to subscribers. Moreover, it can be adapted to a variety of applications. It is simple to install, configure, as well as customizable and scalable.
Its feature list includes:
You can restrict or hide posts, pages, and custom post types
User login, profile, and registration integrated into your theme
Login widget
You can create custom registration and profile fields
A library of API functions for extensibility
Notify admin of new user registrations
Shortcodes for login, and registration, content restriction, and more
You can create powerful customizations with over 120 action and filter hooks
Hold new registrations for admin approval
Premium support
With WP-Members, you can restrict content as restricted or hidden, thereby limiting access to registered users. It has seen more than 80,000 active installations to date. It's open-source software.
Price: Free Plugin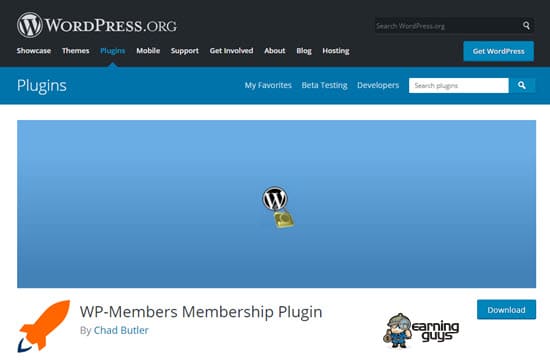 7. s2Member WordPress Membership Plugin
s2Member is a highly popular and free membership plugin. Being a free plugin, s2Member has still got a variety of features, though they are limited.
s2Member allows you to restrict posts/pages, custom post types, as well as categories. Plus, there are a couple of other neat restriction methods too. For instance, you can restrict BuddyPress, specific URL fragments, and individual pieces of content inside full posts. You can even restrict streaming media as well as file downloads.
s2Member offers many helpful tools such as email templates, brute-force protection, IP restrictions, as well as custom login welcome pages.
However, the free version cannot create coupon codes or drip content as well as other feature restrictions. Moreover, its free version is limited to four paid membership levels.
That said, you can upgrade to its premium versions and get those restricted features.
Price: Its Pro version starts at $89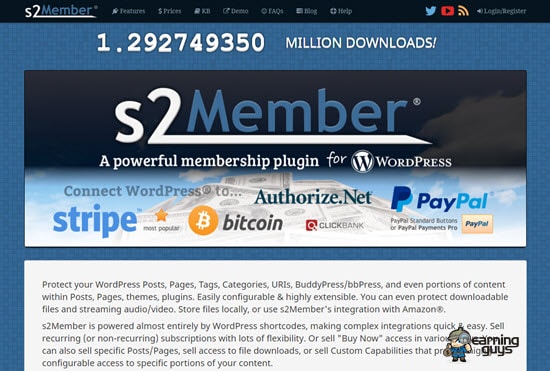 Paid Member Subscriptions is a lightweight and flexible WordPress membership plugin. It's available in both a free version (at WordPress.org) as well as two premium versions with extra features.
Its free version has a good amount of functionality, making it a great option for those that have a tight budget. It allows you to:
Create multiple membership levels
You can charge money for various membership levels through PayPal standard
Admin can restrict access to content which is based on a user's membership level
You can create front-end member registration as well as login forms
So, with its free version, you can create a fully-functioning basic membership site.
Its premium versions add a lot of other helpful features.
For instance, you can drip out content over time. One can create global content restriction rules for post types as well as taxonomies. You get a lot more options for payments and offer discount codes.
You get more payment gateways such as Stripe and PayPal Express. The site owner can also automatically collect recurring payments for subscriptions. Admin can set multiple membership levels. There's a bunch of helpful integrations with bbPress and WooCommerce.
Price: Paid version starts at $69/year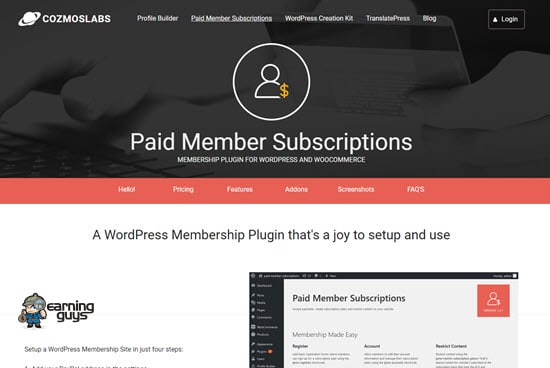 Magic Members is one of those WordPress membership plugins that have excellent content dripping abilities. It allows you to create unlimited membership levels with various trial options and pricing. Magic Members offers one helpful dashboard from which you can manage all of your members.
It allows you to restrict whole categories as well as individual posts or pages. You can even use shortcodes for restricting specific portions of your content. You can also release your content on a drip schedule. Its "pay per post" feature allows you to sell individual posts and pages. You can even charge per view for your individual content pieces.
Its download manager allows you to prevent unauthorized users from downloading files on your site. It also includes a feature that prevents multiple people from logging into the same account. Magic Members offer integrations with many payment gateways. It even has a robust email marketing service integration list.
Here's a list of some of its top features:
Compatible with multiple payment gateways
Sequential course delivery allowing content dripping
Integration with email newsletters including Aweber and MailChimp
Pay per View allowing paid access to specific content like videos
Automated expiration email reminders
Payment subscription support for daily, weekly, monthly, and more
Detailed support to help you up and running in no time whatsoever
However, its interface follows a custom design, rather than using the standard WordPress interface, which can turn out to be confusing for some users.
Magic Member has a 7-day free trial option.
Price: Its paid version starts at $97 (single-site license)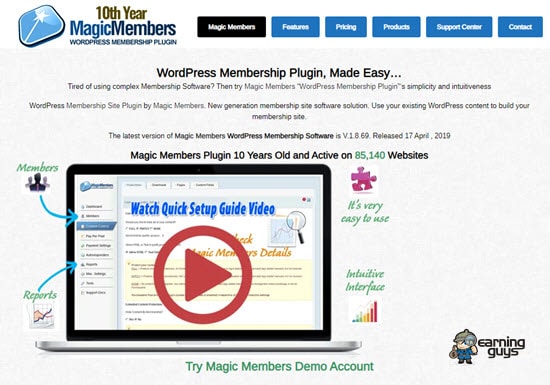 10. EasyCart WP Membership Plugin
With EasyCart, you can do many things with a WordPress installation such as manage an eCommerce store that's into selling of physical products or digital downloads. However, it also works as a WordPress membership plugin so that you can restrict access to your website with subscription payments as well as recurring billing.
Some of the top features of this membership plugin include:
Content dripping ability
Sell membership access with the recurring billing engine
It supports 50+ payment processors
PCI Compliant
Restrict access to pages, posts, individual pieces of content or entire categories
Subscribers can manage their billing information in the customer portal
It's an open-source software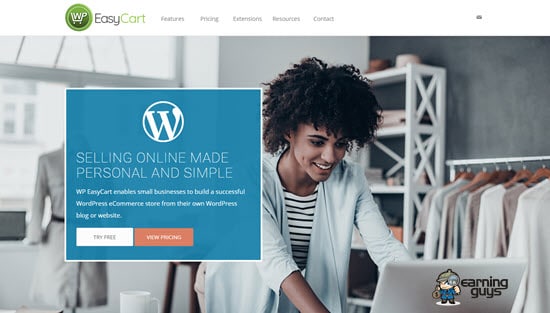 Paid Memberships Pro is another top option for creating a membership site in WordPress. On the highest tier, it has its own dedicated WordPress theme. You can create unlimited membership levels using flexible payment terms. The site owner can select a price, recurring billing cycle, as well as membership term, and can also specify free or reduced-price trial periods.
You can restrict posts/pages as well as whole categories. It can even display an excerpt of your restricted content to your non-members. It has some interesting advertising options. You can display ads to some membership levels and hide them for others. It comes with plenty of integrations with payment gateways as well as email marketing services.
Price: $97 for the core version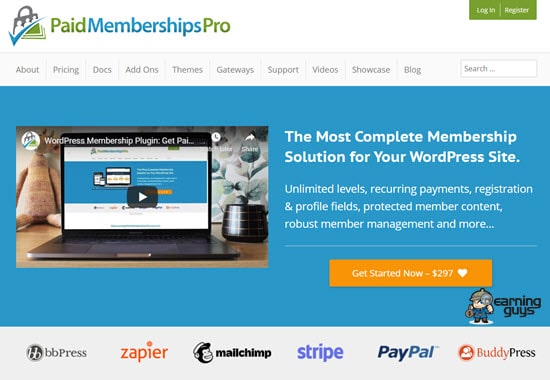 Finally, we hope that this post proved immensely useful to you in finding the best WordPress membership plugin to sell your courses. If you liked this article, please share it across popular social networking channels such as Facebook, LinkedIn, and Twitter. Thanks for visiting!
Have a look at 12 Best Amazon WordPress Plugins for Affiliates