Today, we list out some of the most popular WordPress Related Posts Plugins. In fact, these plugins feature among the best-related posts plugins for WordPress out there.
The fact remains that besides writing quality content, Search Engine Optimization (SEO) is also important in increasing visitor traffic to your website or blog.
Though you may have a large archive of blogs or posts, visitors hardly find them out. Then how would you get out from such a situation?
What you can do is to make your posts easily accessible for them so that they may know that you have content that caters to their interests and liking.
For this, you make use of your related posts that are close to the subject or category your visitors are interested in reading.
Moreover, you can easily implement this feature in your blog or website by using Related Posts WordPress Plugin.
So, here we present before you 10 Best WordPress Related Posts Plugins which you can easily install and activate to showcase your related posts from your blog archives.
Using Related Posts Plugins, you can place your related posts in all of your blog pages and posts. The related posts can be presented in the form of Thumbnails and even as Texts. You can have them before or after each post.
Related Posts WordPress Plugin analyses your site content to automatically find posts that are related to the post which you would publish.
Using them, you get an opportunity to increase your Page views as visitors get more relevant content on the post itself. If they find the topic useful or interesting, they will click on the related posts immediately.
So, by using the Related Posts Plugin, you tend to increase internal links and thereby increase Page views and reduce the Bounce Rate as well.
10 Best WordPress Related Posts Plugins listed hereunder are amongst the most popular WordPress Related Posts Plugins.
They are available as free and are easy to install, easy to use and have been loaded with powerful features too.
So, we recommend that you should go through the Best Related Posts WordPress Plugins and you would find the one suitable for your needs and requirements.
10 Free WordPress Related Posts Plugins
Jetpack is one of the most popular sets of tools from Automattic. It offers a related posts module as part of its feature set.
Jetpack contributes immensely towards the improvement of WordPress powered blogs and websites. Jetpack comes with an easy setup and implementation process.
With Jetpack, you get the hassle-free design, marketing, and security – all clubbed in one place. It's surely a must-have plugin for your WordPress blog. You must know that the plugin offers many modules which can be enabled or disabled individually. Related posts module is one of its core modules.
Here, we list out the core services offered by this powerful plugin – Jetpack by WordPress.com:
Design and Customization Services
Jetpack allows you to create & customize your WordPress site from start to finish. It offers powerful and intuitive customization tools. You get hundreds of professional themes for use with any website. It comes with a high-speed image and video content delivery network. It offers integration with the official WordPress mobile apps.
Marketing & Performance Services
Jetpack offers site stats and analytics. It facilitates social media posting & scheduling in advance. It offers many advertising programs such as Adsense, Facebook Ads, AOL, Amazon, Google AdX, and Yahoo. There are simple PayPal payment buttons. With Jetpack's site accelerator, you can load pages faster, and optimize your images.
Security and Backup Services
Jetpack prevents data loss, downtime, and hacking. It offers brute force attack protection, spam filtering, and downtime monitoring. You get real-time backups of your entire site. There are secure logins with optional two-factor authentication. Plus, it offers malware scanning, code scanning, and automated threat resolution.
Lastly, you get top-notch support with their support engineers. You can put your questions in the support forum, or contact them directly. Best part, Jetpack's core features are available for free.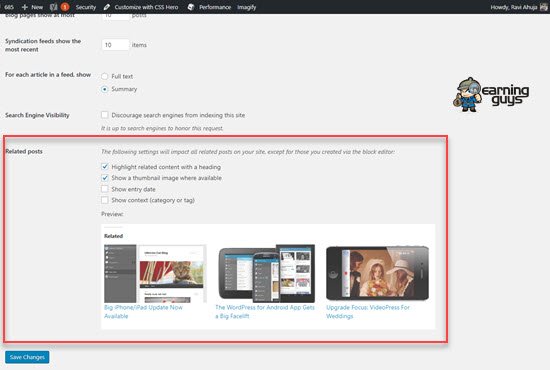 Yuzo Related Posts is a simple, minimalistic and free WordPress related posts plugin. The plugin allows you to show a minimalist related posts widget under your blog posts. Its minimalism makes the plugin special among other WordPress Related Posts Plugins.
It's fast to use with multiple features and many customization options. It offers thumbnail views, horizontal views with thumbnails, list views, and built-in cache. It's extremely easy to set up and easy to use.
Here, we list out some of its core features:
It is one of the fastest plugins in WordPress
Its RTL ready
Offers to cache with images and SQL making your site faster
Allows you to post related manually
Offers a minimalistic design with interesting effects
You can customize the text in many ways
You can check the number of visits to your posts
Supports horizontal and vertical styles
Moreover, many other options, as well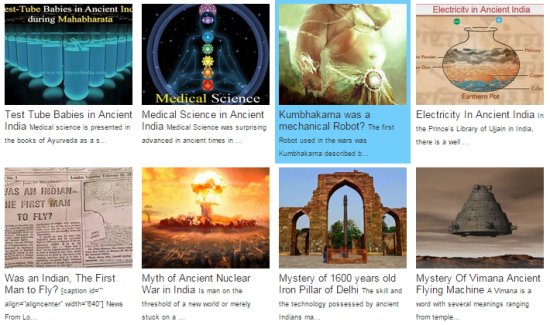 Shareaholic Plugin specializes in share and follows buttons. However, it also comes with a related posts widget. So, it's a bundle of share buttons, follow buttons as well as related posts widget.
You can display the related posts widget at the bottom of the page in various designs such as a rounded, card, or classic designs. It's easy to install. Moreover, there is no need to install separate plugins for share and follow buttons.
It offers analytics for shares and clicks. It also offers basic themes for customizing the related post widget. All this is offered in a simple dashboard. So, Shareaholic allows you to engage and grow your traffic.
It's built on lightweight Javascript. So, it does not hurt your page load speed. In fact, Shareaholic is recognized as the "essential speed friendly SEO toolkit." Shareaholic is more than just another simple related content plugin. It allows you to customize what content is delivered on your site quickly. The plugin comes with a well-optimized code that won't slow down your pages while loading.
It allows you to include related posts on all of your pages. You can choose between several themes that match your site's theme, design, and personality. Plus, you can promote and advertise your content by using its Related Content Advertising Tools. Shareaholic has been optimized for mobile devices such as iPhone, iPad, iPod touch, Android mobile phones, and more.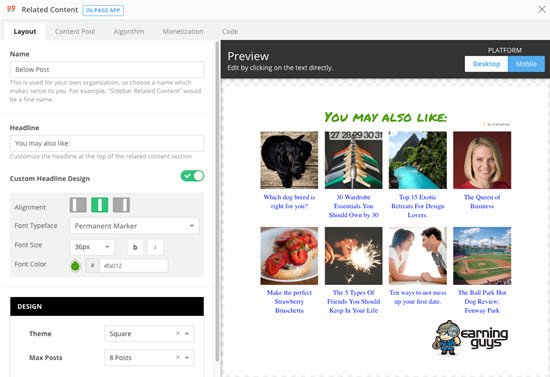 Related Posts Thumbnails is one of the best WordPress Related Posts Plugins. It goes on to add related posts thumbnails after the post. Moreover, the plugin allows you to customize thumbnail sizes, display settings as well as the type of relation. Plus, you can choose between 'thumbnail' and 'medium' size options.
You can even specify custom thumbnail size when your theme supports Post Thumbnails feature introduced with WordPress 2.9 onwards. There's also the facility to specify post custom field name that can be used as thumbnails source.
The thumbnails are displayed in columns under the post. You get the title of a related post under each post thumbnail. The plugin offers the facility to customize the colors of the background, border, text, text sizes, title, and excerpt length. You can specify the number of related posts together with start date, categories, style settings, as well as default image URL.
The plugin allows you to select the type of relation based on categories, tags, or custom taxonomies. You can even specify the place where you want to display the related posts. You can choose post type, page type, and select categories. If you want you can even turn off automatic appending to the end of the post.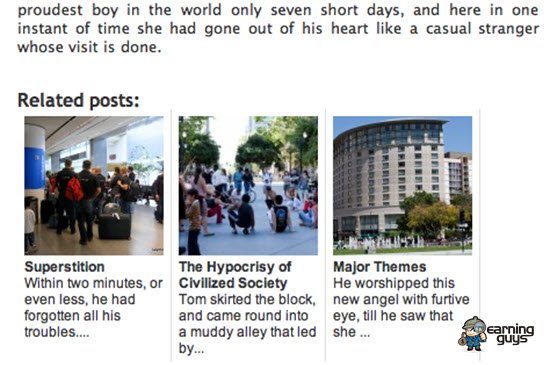 Related Posts for WordPress is another very popular plugin for handling related posts. Its setup wizard is super easy to use. It allows you to link posts to one another manually. However, the plugin can handle everything automatically. The plugin even offers a widget that can be used in your sidebar.
You need to install and activate the plugin. Relating posts in WordPress becomes easy with this plugin. Moreover, the plugin doesn't slow down your website. Related Posts for WordPress goes on to create its cache and does all the heavy lifting work in the admin panel. So, it keeps your website fast and offers you quality related posts.
Once you install the plugin, the wizard will analyze your posts and link them with each other based on its decision with what is related. So, Related Posts for WordPress can be installed on a website with thousands of posts. The plugin creates related connections on the fly.
The plugin can modify all automatically created related posts. You simply need to navigate to the post with incorrect related posts, then select the correct related post, and that's it.
Moreover, the plugin comes with a related post shortcode so that you can display the related posts on any position inside your content. It even has a related post widget with which you can display related posts in any sidebar.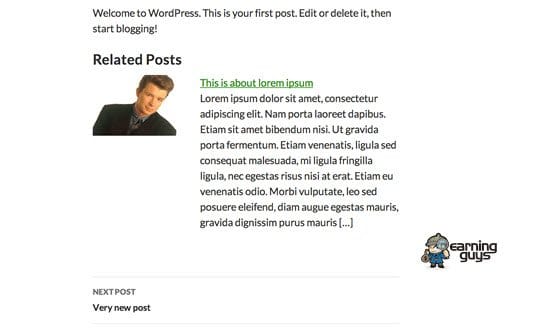 Contextual Related Posts is yet another powerful WordPress related posts plugin. Using Contextual Related Posts Plugin, you can display a list of related posts within your website as well as in your feed.
The list of related posts is based on the content of the title or content of the posts making them more relevant and of interest to your readers. So, with Contextual Related Posts Plugin, you can retain visitors, reduce bounce rates as well as refresh old entries.
In fact, Contextual Related Posts plugin is immensely featured rich with support for thumbnails, shortcodes, widgets, CSS styles, and custom post types. Its inbuilt cache makes sure that you get all the related posts without excessive load on your server. Moreover, Contextual Related Posts ensures that you get thumbnail-rich related posts on your website.
Here, we list out some of its key features:
Once you activate the plugin, CRP will show the related posts on your site and feed automatically
Support for WordPress post thumbnails
You can easily style the list
You can display excerpts in posts
Customize with HTML tags
It offers tons of filters and actions
Related posts output is automatically cached
You can use a shortcode and display the posts anywhere you want

With Inline Related Posts plugin, you can take care of the marketing aspect of your website and have related posts inside the content of your website. Many top brands and business houses have already embraced Inline Related Posts plugin for displaying related posts on their website.
So, with Inline Related Posts plugin, you can increase engagement and page views as well as reduce bounce rate for your website. Inline Related Posts wins the fight of catching the attention of your readers.
Inline Related Posts allows you to:
Have related posts boxes inside your content
You can choose over 20+ combinations of style (themes, colors, hovers)
Automatically detect line breaks
It can automatically put multiple boxes in all your posts
Best of all, you can use the Inline Related Posts Plugin along with another related posts plugin. Moreover, it does not slow down your website. Plus, its algorithm knows HTML tags and so do not place the boxes in the wrong places.

Related Posts by Taxonomy is another free yet powerful related posts plugin. It comes with widgets for both your blog posts as well as the side-bar to show related posts that have terms most in common with the content of your page.
It allows inserting the widget anywhere on your website using a simple shortcode. Related Posts by Taxonomy supports a lightweight design. The plugin can find related posts in multiple taxonomies as well as post types.
Some of the plugin features are as follows:
Widget and Shortcode
You can display related posts in the form of post thumbnails, or even as links, excerpts, or full posts
It doesn't slow down your site
It displays related posts after the post content
You can limit the search of related posts by using date or number
You can use filters for changing the default behavior of the plugin
Offers extensive plugin documentation
It follows WordPress coding standards
Employs plugin best practices
Allows search for related posts in single or multiple taxonomies or even by post types
It is highly adjustable!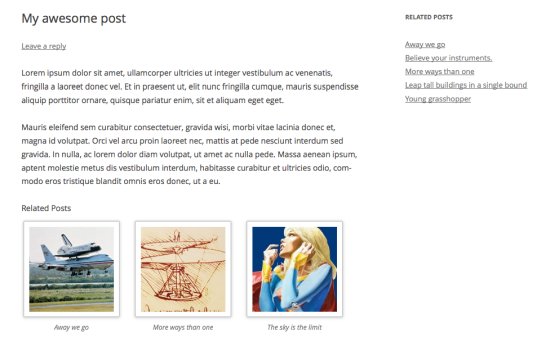 WordPress Related Posts is one of the best related posts plugin. It allows you to add related posts in the footer of your content. You simply need to install and activate the plugin. The WordPress Related Posts plugin can increase your internal traffic by (up to) 10 percent. It offers recommendations by Sovrn's world-class semantic service.
The plugin is fully customizable. It supports different styles, thumbnails, and caching for improved performance. It also supports mobile themes. So, the related posts are fully responsive and adapt to the screen-size thereby offering you maximum click-through rates.
The plugin goes on to place a list of links with thumbnails at the bottom of your posts. So, WordPress Related Posts plugin increases page views and encourages readers to discover more of your content. Plus, it recommends related posts from across the web. WordPress Related Posts Plugin offers you the highest rates of audience engagement for your content.
The WordPress Related Posts plugin comes free and helps to boost engagement on your WordPress site easily and quickly. It offers great support and caching for faster web experience. You get different styles and thumbnails. For accessing advanced features, you can navigate to Settings > Related Posts once you install the plugin.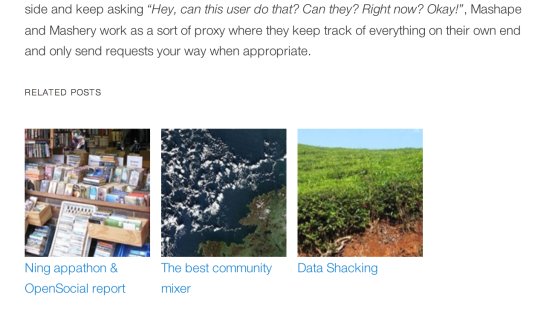 The Relevant Plugin can be used for displaying related, popular, the latest and featured posts on your WordPress website. It allows positioning the related, featured, popular and latest posts before the content as well as after the content.
You can use separate shortcodes and add the related posts to posts, pages, as well as custom post types. One can even add the related, featured, popular, and latest posts to the widgets area.
You can display related posts in your posts and pages based on:
Categories
Tags
Title
Meta Keyword
You can also set the custom size for the featured image. You can choose a certain category for displaying the latest posts.
The plugin allows you to customize the color of the featured post based on:
Section background
Text background
Section title
Description
Learn more link
You can display other important info for your related posts including:
Date
Author
Reading time
Comments number
Featured image
Excerpt
Moreover, the Relevant plugin is compatible with the latest WordPress version. It offers simple settings for quick setup. It even offers detailed documentation and videos.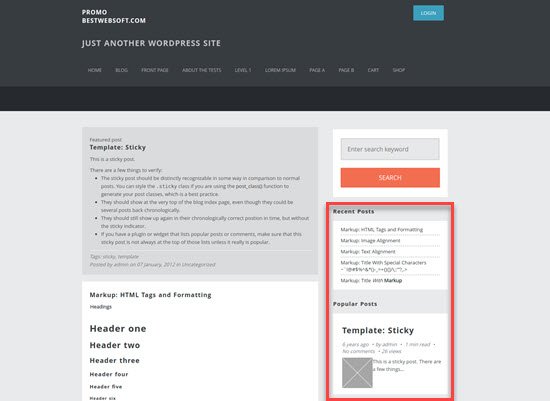 These are some of the most popular WordPress Related Posts Plugins. However, you may be using some other plugins. If so, then please share which WordPress related post plugin you are using.