Monetizing your website is an ingenious solution to earn revenues. With this aim in mind, a publisher has two main goals:
– He must fill in his website ad spaces as much as possible, making sure there will always be an ad in a given placement, whoever the visitor may be, wherever he may come from.
– Then, he has to make sure these ad spaces are being purchased at the highest possible price, in order to optimize his ad revenues.
But this is easier said than done. Small and medium websites publishers can have difficulty implementing a monetization system. Indeed, digital advertising is a real puzzle, and most beginners get lost in the complexity of all the existing tools.
Moreover, most popular advertising platforms ask for a huge number of page views per month, and many publishers are far away from meeting this criterion.
The Moneytizer's answer!
This ad-network optimizes your ad revenues through a plug & play solution. This platform gathers all the latest technologies in terms of digital advertisement, for publishers to obtain the highest possible revenues.
The Moneytizer simplifies the existing offers, providing websites publishers with the latest tools and formats, to which they usually don't have access (Ad-tech programmatic market). The platform acts as a link between advertisers and publishers, and there is no entry barrier for small and medium websites.
However, as far as your website content is concerned, you will have to comply with some standards:
The Moneytizer will not accept websites offering racist or homophobic content, pornography, illegal streaming or downloads, hate speeches, dating websites, etc. They want to preserve their high-quality network, and their team will inspect each website carefully before accepting them.
The Moneytizer's Innovative "Header Bidding" Technology
With the recent advent of programmatic technologies (automatic purchase of ad spaces through virtual platforms) and RTB (real-time bidding), the prices for each advertising platform have become fluctuating. The "header bidding" technology has been developed to guarantee that all the ad spaces will automatically be bought at the highest CPM (cost for one thousand impressions). It puts the different advertising partners in competition in real time. In the end, all the ad spaces will be purchased at the best possible price until there is 100% fill rate.

Nevertheless, this technology is pretty specialized and difficult to implement for novice publishers.
Therefore, The Moneytizer makes the "header bidding" technology accessible to its users, including small and medium websites publishers.
The platform interacts with more than 15 SSPs (among which Rubicon, AppNexus, RTB+, AOL…). This makes the bidding more competitive and guarantees the highest CPM for each ad space as well as a 100% fill rate. Furthermore, it enables small publishers to have new advertising partners with whom they would normally not be able to interact.
The Moneytizer gathers all the statistics from each advertising platform, in a single dashboard. Publishers can consult it anytime. They simply have to copy and paste the Moneytizer's script on their website. This service works for all publishers, in any country worldwide.
How To Get Started?
There's a very simple registration process. You can subscribe on The Moneytizer's website, give a few information about yourself and your website and then start choosing the most adapted ad formats for your website.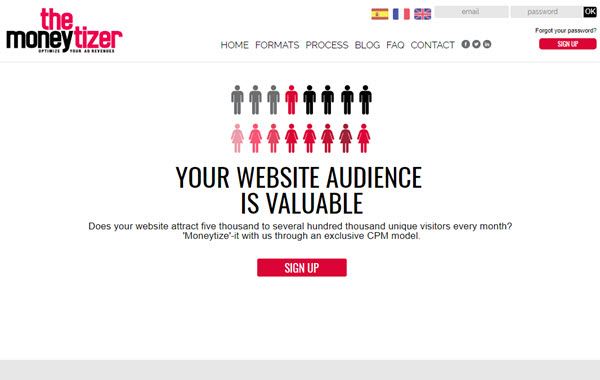 You can choose among a number of different formats:
Standard formats such as Leaderboard, Medium Rectangle, and Skyscraper.
High impact formats such as Skin, Footer, and Recommended Content.
Video formats such as in-text and preroll.
Mobile formats such as parallax and footer.

What else will you get?
After signup on The Moneytizer, you'll be exclusively paid with CPM. That means you'll be paid on the basis of 1000 ad views. For example, let's suppose that you have a 1$ CPM ad on all your pages. If you later reach 100 000 prints, you will earn 100$. This type of payment is effective because it monetizes each individual visit, even if no one actually clicks on the ad itself.Therefore, if your website audience is high or keeps on increasing, it can quickly become profitable.
The platform is available in 3 languages: English, French, and Spanish.
Any visitor can subscribe, from any country worldwide
Once you subscribe, you can see detailed statistics on your personal account.
The platform is non-exclusive and non-binding
You can register several websites on The Moneytizer platform.
The quality of the ads' content is a priority. The Moneytizer only partners with national and high-quality advertisers. They will never display an ad offering homophobic or racist content, illegal downloads, pornography, etc.
You will get automatic timely payouts
A dedicated team is available to help you optimizing your ad revenues, choosing the rights formats, assisting for any difficulty.
An online chat to address all your questions.
Get $5 Extra: While joining The Moneytizer use our sponsored code and you will get $5 extra after approval. Use Sponsored Code: 160014aa593ec14a02cbd8ca118fdaf8