Forms are one of the proven methods for capturing leads, doing market research, surveying your audience, learning about industry trends, and even for getting customer feedback. Here, we share with you some of the Best Form Builder Tools in the form of 12 Best Online Form Builder & Creators.
Online form builder tools enable you to create web forms with multiple form fields having different color and structure options.
For instance, you can create feedback forms and get to know whether your customers are satisfied or not. Moreover, you can capture leads & their info with Lead Generation Forms. Plus, you can collect payment with Payment Collection Forms.
In fact, there are two ways of creating forms:
Offline: You need to download and install an application on your website for creating forms without hassle.
Online: There are form builder tools (SaaS-based applications) that you can subscribe to create forms.
Here, we will be sharing with you best online form builder tools. These tools allow you to insert & validate the desired fields, which can then be embedded on your websites, social networks, and anywhere else. They come with easy UI, drag & drop builder options, reports, and much more.
The working of form builders is relatively straightforward. One can set labels and questions for all the information that you want to collect from your respondents. You can apply text boxes, dropdowns, radio buttons, and more. You can even set certain fields as required or optional to have more control over the data that you collect.
Here, we have listed online form builder tools that allow you to create simple contact forms as well as a detailed multi-page survey.
They are simple, fast, and easy to use so that you can build a form in less than five minutes. Moreover, they have been designed to work on any website as well as on any platform.
We have used these criteria to feature 12 best online form builder & creators. So, let's explore each of these web form builders in detail.
12 Best Online Form Creators
Here's the list for you:
1. Google Forms Free Online Form Builder
Google Forms is one of the best online form builders. It allows you to create powerful forms quickly and easily. In fact, the best aspect of Google Forms is that it's totally free. You simply need a Google Account for using it.
Moreover, with Google Forms, you can save your form results to a Google Sheets spreadsheet for carrying out advanced analysis. Plus, it's incredibly fast. Google Forms Editor allows you to add and edit form fields faster than any other form app.
Google Forms offers you with all the basic form fields. For example, it gives you options such as short and long-answer text boxes, checkboxes, dropdown menus, multiple choice selections, file uploads, and more. You can add images or videos. One can even set questions as required or optional.
You can build a form that functions like a quiz and scores answers. Google Forms allows you to include basic conditional logic that adjusts the questions which people see based on their answers. However, Google Forms does not offer the facility to accept payments.
Google Forms offers you a variety of pre-built templates for populating your forms with questions. You can even customize your forms when you are done with basic color and photo themes. Plus, with Google Forms Add-Ons, you can add extra fields and features. Its Google Sheets Integration feature allows you to validate your form entries.
Price: Free (You need to use your Google Account)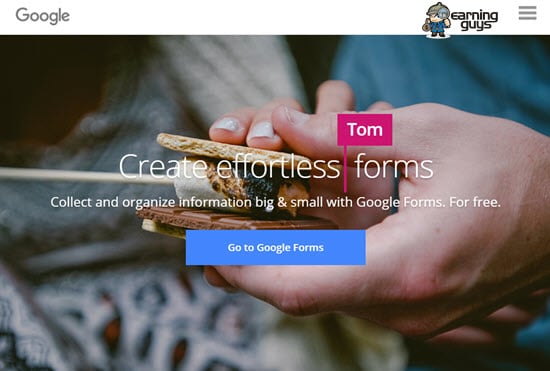 2. Zoho Forms Online Form Creators
The Zoho Forms is one of the best online form builders for any type of business that already use other Zoho apps.
Zoho Forms allows you to create just about any form you need. It offers you 30+ field types, customizable themes, and templates. It allows you to embed forms on your websites, share them privately or you can go public.
You can create custom reports and sort all your information. One can even view your form's performance and even identify your traffic source with Zoho Forms.
You can use conditional logic and trigger different actions such as sending out emails, assigning tasks, and displaying thank you pages for the responses that you receive. Moreover, you simply need to have a Zoho account to start creating forms in Zoho Forms for free.
Another salient aspect of Zoho Forms is that it's built for teams. So, it's easy for you and your teams to work on form responses. Plus, the Zoho Forms Mobile App allows you to approve form responses and view stats. You can also share data from forms in other Zoho Apps that your team is using.
All in all, Zoho Forms allows you to build forms that fit into your company's entire workflow. So, Zoho Forms comes out as a great option for you, especially when you are using Zoho apps.
Zoho Forms offers you a free option wherein you can create three forms and 500 submissions per month. Its Basic Plan comes for $10/month that includes unlimited forms, 10,000 submissions per month, and payment integrations.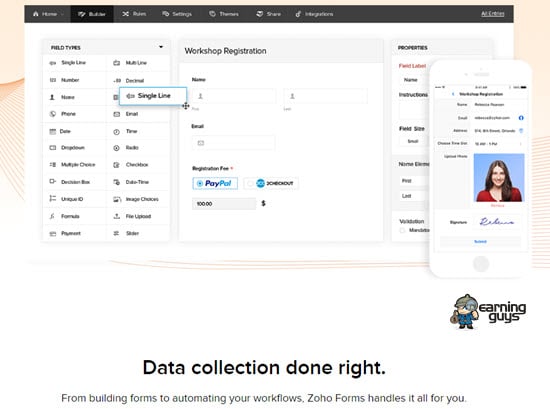 3. JotForm Online Form Builder
JotForm online form builder allows you to create highly customizable forms for free. So, you can create a free form that looks exactly the way you want it to look.
Moreover, the forms with JotForm are much more customizable than the forms that you create with Google Forms or Microsoft Forms. Plus, JotForm allows you to accept payments and collect signatures without having to upgrade to a premium plan.
In fact, JotForm offers over 10,000 form templates helping you to create everything such as contact forms, employment applications, new patient registration forms, market research surveys, and much more.
These templates allow you to create single-page and even multiple-page forms. You can start with a blank slate and create stunning forms. JotForm allows you to build or edit your form with as much as two dozen different types of form fields. You can even set up payment integrations. It offers a variety of widgets with which you can do things such as collect signatures, validates emails, adds a progress bar, and lots of other things.
The good thing is that all these features come with its free account. However, you can upgrade if you want to create more than five forms and want to have over 100 responses a month, or need to do away with the JotForm branding from your form.
You'll get an email with the responses when someone responds to your form. JotForm even makes it easy for you to work in a spreadsheet or create visuals. You can also download the responses in an Excel spreadsheet, HTML table, or even in the form of a visual report. It allows you to set up an RSS feed when you don't want to go through the emails for every response.
JotForm pricing starts from $19/month (Bronze Plan) with which you can build up to 25 forms without JotForm branding.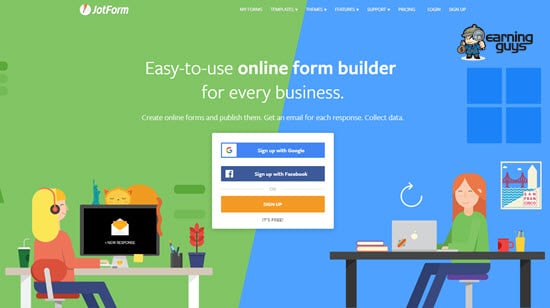 Microsoft Forms is one of the best online form creators that help you to collect and analyze form results in Excel. In fact, Microsoft Forms is similar to Google Forms and works largely in the same way.
Microsoft makes it easy and quick to add questions to the forms. For example, you can add a question and choose the answer format. You can even type in your questions as well as response options. However, Microsoft Forms does lack in some of the response types that exist in Google Forms. For example, it doesn't allow the respondents to upload files.
Once you are done with building your form, Microsoft Forms allows you to send people a direct link to respond. You can also use the embed code and add the form to your website. You can also have an overview of your responses within the Microsoft Forms interface and have a detailed visualization of your collected data.
Moreover, Microsoft Forms is free to use with a Microsoft account. With Microsoft Forms, you can create surveys, quizzes, and polls. It is simple to use and works on any web browser.
Microsoft Forms allows you to collect responses in real time. It facilitates exporting to Excel and offers customized, in-depth analysis. It is included with Office 365 work and school accounts.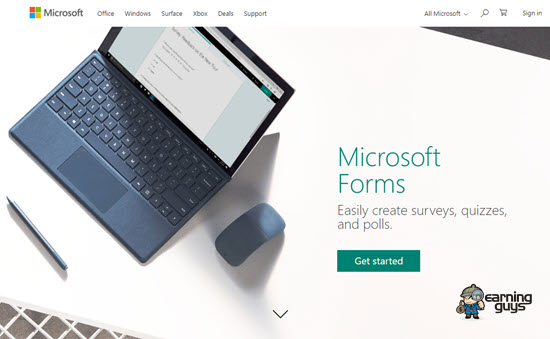 5. Wufoo Form Builder
If you want to build good looking online forms, then Wufoo form creator is the way to go. In fact, with Wufoo, it is easy and fast to build online forms.
Wufoo allows you to create forms, collect data and payments, and automate your workflows. You can create contact forms, online surveys, and invitations, thereby helping you to collect the data, registrations, and payments you need.
It's easy to use and allows you to customize and design your form. Moreover, Wufoo offers award-winning interface, easy customization, galleries, templates, and reporting. You can choose from over 400 form templates and customize your online form the way you want.
You can create dynamic visualizations with graphs, charts, and key metrics. Moreover, Wufoo allows you to specify rules for having dynamic forms that follow the logic that you have entered. Plus, you can accept payments with a Wufoo powered form within minutes.
Wufoo has come up with a free option. However, its plans start at $14.08/mo and max out at 183.25/mo.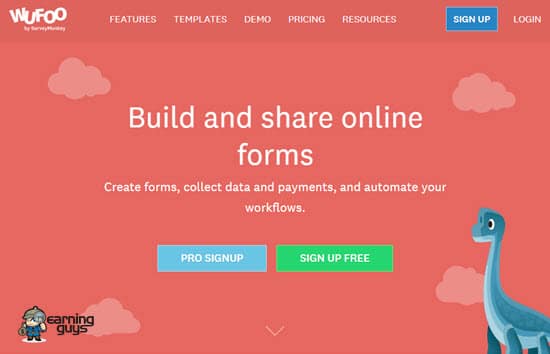 6. Typeform Form Creators
Typeform is one of the best web form builder that allows you to create beautiful and unique forms. You can create a registration form, job application form, lead generation form, customer feedback form, invitation form, and much more. It's easy to use, and free to get started with, and even integrates with your favorite tools.
Typeform does not follow the old conventions of a long page of questions and response fields. Instead, you get uniquely designed forms that show up one question at a time and blurring out the others. Respondents can use a designated key on their keyboards and select multiple-choice options. They can type and sort the dropdown menu options. They can press Enter and jump to the next field.
All in all, Typeform allows you to create beautiful forms quickly. You can include cover pages, multimedia, text paragraphs as well as traditional form fields. Its forms look great on mobile. They are studded with oversized buttons that are much easier to use on a touch screen than standard radio buttons.
Moreover, Typeform's Zapier Integrations allow you to send your users answers to other apps, including CRM, Email Marketing Tool, or anything else. Typeform has a free option which allows 10 questions per Form and 100 responses per month. It's Pro Plan starts from $35/mo that includes unlimited fields and responses as well as offers logic jumps and payment fields.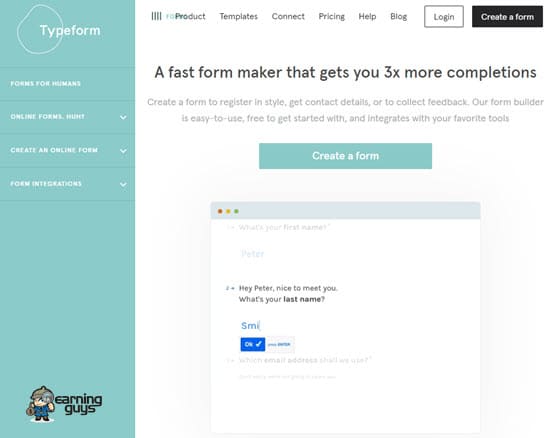 7. Formstack Online Form Builder
Formstack is regarded as one of the best online form builders when you want to have complex workflows and regulated businesses. It revolutionizes data collection and helps you to forge your way to better workplace productivity. It's a versatile online form builder for everyone.
Formstack helps you to create beautiful forms without knowing how to code. With intuitive drag-and-drop form builder and hundreds of templates, the possibilities are endless for you.
In fact, Formstack proves one of the best options for your business when your company is in a highly regulated industry and also in cases when you need form responses to follow an approval process. Formstack offers workflows feature for building approval workflows. For example, you can send form data to the correct person at your company so that they can review it online or via email.
Formstack even offers specific HIPAA and GDPR compliant forms to keep your respondent's data secure. It warns you if your form does not follow Section 508 Compliance standards. Its Zapier integrations send your users responses to other apps. Formstack comes with A/B testing tools that allow you to compare two versions of your forms directly. You also get detailed analytics and come to know how people found out your forms.
So, with Formstack, you can build forms that offer the results you need. Pricing starts at $19/mo for the Bronze Plan.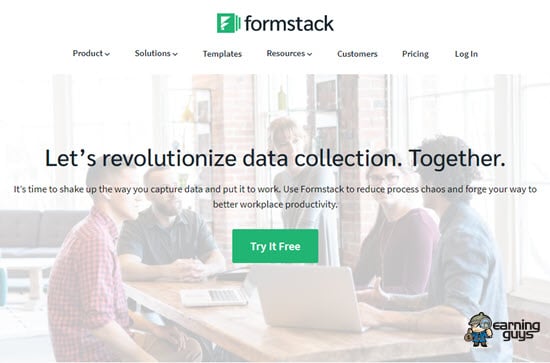 Cognito Forms is one of the Best Form Creators for building online forms that use conditional logic. The Cognito Forms allows you to create forms with advanced features. You can have calculated fields, go for file uploads, use conditional logic, as well as repeated sections.
Moreover, with Cognito Forms, you can create forms on a budget. It offers a free plan with all the above features. You can create unlimited forms and accept up to 500 entries per month. However, you need to pay one percent fee for accepted payments through Stripe.
Plus, you can upgrade, if you want more than one user. It removes the Cognito Forms branding and has advanced features such as HIPAA Compliance or Data Encryption. Cognito Forms makes it simple to build a form. It offers lots of pre-built templates as well as a drag-and-drop editor. Plus, you can customize the forms according to your needs.
For example, you can sort questions and response fields into different columns. You can insert page breaks for multi-page forms. You can adjust fonts, text size, form widths, background colors, and more. The result is a clean and streamlined form with which you can collect data easily.
Pricing starts from $10/mo for the Pro Plan that allows two users and up to 2000 entries per month.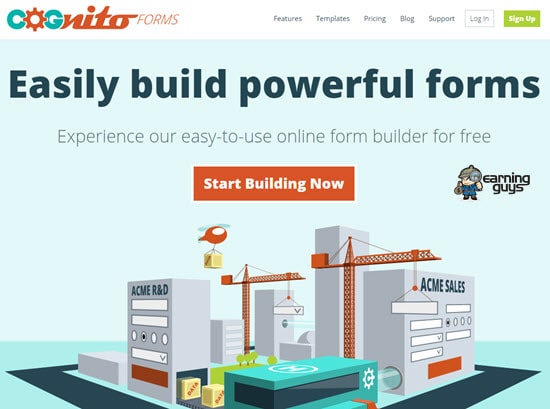 Formsite is one of the best web form builders for creating online forms and surveys. In fact, the possibilities are endless as you can create surveys, order forms, registration forms, contact forms, lead forms, and much more.
Its drag & drop form builder enables you to create your online form or survey easily. It offers 40 question types and more than 100 customizable templates. The result is beautiful and professional forms for registration, survey, order, lead generation, and more.
Moreover, your forms are automatically responsive to desktops, tablets, and phones. You can even share a secure link to your form or embed it into a page on your site. Plus, it handles hosting your form and processes your results.
Another good thing is that you receive your results in real time with email notifications. Moreover, you can export your results. You can even integrate them with third-party services and payment processors. You can securely share your reports having tables and charts.
With Formsite, you can create a form which has been tailored according to your needs. One can style forms to match your design. You can build multiple page forms. You can embed forms on any page. Moreover, you can create the perfect form using its toolbox that has over 40 item types.
There's a lot more to Formsite. For example, it offers lots of templates of registration forms, surveys, and order forms, thereby helping you to start your project quickly and easily. It supports 3rd party integrations with Salesforce, Dropbox, MailChimp, Zapier, and more.
It has a free option with 5 forms, 10 results per Form, and 50MB file space. Pricing starts from $19.95/mo (Deluxe) and maxes out at $99.95/mo (Pro 3).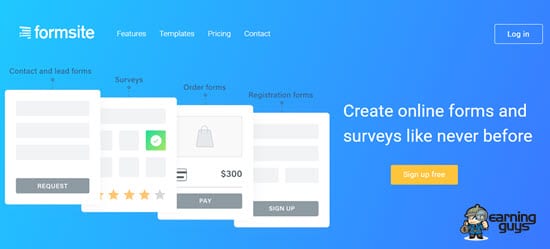 123FormBuilder allows you to create a free and basic form. It's one of the best online form builders out there.
The 123FormBuilder is very simple to use. You can begin with a blank form, or else you can choose from over 1400 templates to create forms that meet your needs from simple contact forms to complex agricultural tax exemption forms.
Once you select a template, you can add fields easily and quickly to populate data using its powerful drag-and-drop editor. You can then style it using one of several pre-built templates. Plus, you can do several other things. For instance, you can adjust the size of your form. You can select custom colors. You can change the padding between the form and its borders.
On the whole, you can create a form that's fairly basic in design and allows you to collect some information. Plus, you can apply 123FormBuilder Zapier Integrations to work.
Its free option allows you up to five forms, 10 fields/form, and 100 submissions per month. You can even upgrade to Gold Plan at $24.99/mo that offers up to 20 forms, unlimited fields, native third-party app integrations, and 5000 submissions per month.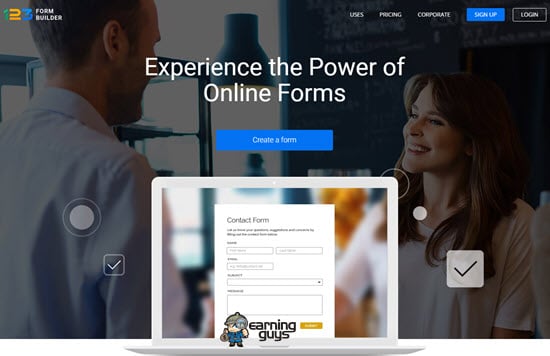 HubSpot offers one of the most Powerful forms builder tools in the form of its free online form builder. Its cutting edge technology offers you the opportunity to form creation that is at par with the best ones in business. Moreover, it's completely free.
Although the HubSpot's free online form builder is one of the most advanced Form Builder tools, you don't require any kind of technical expertise to use it. It means that you can quickly create forms using this drag-and-drop form builder to convert your anonymous website visitors into leads.
Now, when someone does fill out the form, they get automatically routed to the HubSpot CRM. Once they get into the CRM system, you can maintain relationships with your contacts by setting up reminders, sending them personalized emails, or calling them.
This form of builder offers data enrichment for contact profiles. It's also deeply integrated with the HubSpot marketing hub. So, you get a single system to manage forms, contacts, and marketing efforts.
12. Ninja Forms (WordPress Plugin)
Ninja Forms comes as a WordPress Plugin that can be used for generating forms on the WordPress blog. It's available as a free plugin for a lifetime for building unlimited forms with unlimited responses. However, for further features, you need to upgrade to the paid version.
Ninja Forms is a great tool for WordPress users. It allows you to build a basic form without touching a single line of code. It's best for getting a generic form up and running.
Here, we list out some of its main attributes:
It offers an option for sorting, searching, and downloading the entries through the CSV format.
Ninja Forms comes with built-in Akismet Protection for protecting from the spam.
It offers Customizable Notifications for the response to the forms
Its paid version offers customization of CSS as well as the layout
However, Ninja Forms require a self-hosted WordPress Site. Its extensions come at a variable price starting from $19 to $49.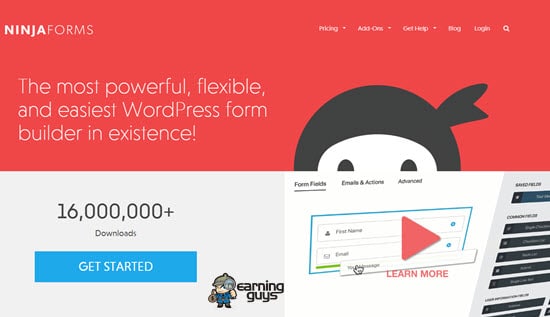 The post is aimed for sufficing your business needs when it comes to building forms. Here, we have featured some of the best online form builder tools.
We hope that the post proved useful to you. Moreover, we have listed many free online form builder tools that help you get started quickly. Form builder tools help to convert your anonymous website visitors into leads. So, get started as there are lots of options for you.
We would like to hear from you. Do leave your comments and let us know which form builder you are using. Thanks for visiting!