Here's a comprehensive guide that offers you the best resources to achieve SEO mastery on your own. It lists down 10 Best Online SEO Training & Courses.
So, you can learn the basics of SEO and SEO best practices thereby allowing you to increase the quality as well as the quantity of traffic going to your website through the organic results of search engines.
An online SEO course can be understood as a certified program that allows you to study one or many aspects of SEO.
For instance, you can specialize in Off-Page SEO techniques. Moreover, there are courses which teach you On-Page SEO. You can even learn how to craft the finest keyword research strategy.
So, SEO certifications help you to gain advanced SEO training thereby allowing you to become experts in the field of SEO.
With SEO training and courses, you develop your skills and improve search engine rankings, increase your overall website traffic, and even optimize for specific keywords.
You need to understand that SEO is not a stable entity. Moreover, Google is always updating guidelines and rules and releasing new algorithms.
It means that you need to adapt to new Google guidelines and new SEO rules. Here lies the importance of SEO training & courses as they update your knowledge on SEO rules and SEO best practices so that you get more visibility to your products or websites, with almost invisible costs.
Although SEO certification is not a guarantee of success, it's certainly a relevant investment which is focused on the future and making sure that your product or website is as sharp as possible.
It helps you to understand the basics of SEO as well as advanced SEO rules and practices so that you can move ahead in the SERPs and gain more traffic to your website or blog.
Here, we have listed out the Best Online SEO Courses which help you to race you ahead in the SEO game.
So, let's check out the list:
10 Top Online SEO Courses
SEMrush which is a leading provider of SEO tools has come up with a learning center known as SEMrush Academy. It offers courses in SEO, PPC, and Content Marketing.
As far as SEO is concerned, the Academy offers courses that cover SEO Fundamentals as well as Technical SEO. These SEO Courses cover almost everything that you need to know for becoming an SEO Professional.
Moreover, these courses have been prepared by the top SEO experts such as Greg Gifford and Bastian Grimm. Another good thing about these courses is that they are constantly updated as SEMrush goes on to introduce and add new features. Plus, all the courses are totally free!
You should register or log in using your SEMrush account. Now, choose the desired course that you want to study. After completing the course, you need to give the exam. Answer all the questions within the stipulated time frame and see if you passed the exam. You will receive your personal SEMrush certificate on passing the exam.
Udemy is recognized as the leading global marketplace for learning and instruction. The Udemy SEO Courses have been designed to offer you complete SEO training so that you can rank #1 on Google Search Engine.
Udemy offers the opportunity to master SEO skills from top instructors around the world. You get lifetime access to SEO courses on Udemy's website and app. Moreover, you get video courses on almost any topic for your career and personal growth. Its courses are frequently updated and incorporate new features and trends in SEO.
Here, we have featured some of the top SEO courses on Udemy:
Complete SEO Training + SEO for WordPress Websites: It offers SEO training on 40 SEO factors to rank #1 on Google Search Engine. You get to know reasons why those SEO factors matter in real time. You also get to know why those SEO factors affect the ranking of websites on Google.
The Complete SEO Guide to Ranking Local Business Websites: Understand how you can rank a local business website on the first page of Google. You come to know the entire local SEO process from start to finish. Plus, you can identify the best and the most profitable keywords for local businesses.
SEO for WordPress: Here, you get to know how to easily rank your website on Page #1 of Google, Yahoo, and Bing
Moreover, lots of other SEO Courses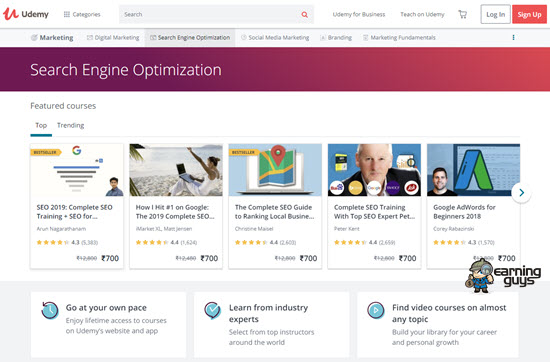 Well, you must be aware of the amazing WordPress Plugin – Yoast.
However, did you know that the platform also gives you an opportunity to do SEO mastery?
That's right!
With Yoast Online Courses, you can learn several different aspects of SEO. These guys know SEO. They offer some great info on SEO. Their SEO Training is super complete and updated.
In fact, Yoast Academy is one of the best online SEO training hubs. Their online SEO training courses prepare you for real-life SEO situations. You can develop your SEO skills and rank at the top of Google Search Results.
You can formulate SEO strategies and get feedback from Yoast experts. They share with you top-notch SEO knowledge. They have something for everyone including a beginner, an expert, a content writer, blogger, developer, online marketer, or even a business owner.
With Yoast Online SEO Courses, you can make quick and lasting improvements to your site. The best part is that they allow you to practice actual SEO skills from keyword research to technical SEO. Its online SEO training & courses have been developed by world-class SEOs and education experts that are trusted and followed by some of the biggest brands around the world.
Some of its most popular SEO courses include:
All-around SEO Training
SEO copywriting training
Site structure training
SEO training starter pack
Technical SEO training bundle
Technical SEO Training
Moreover, much more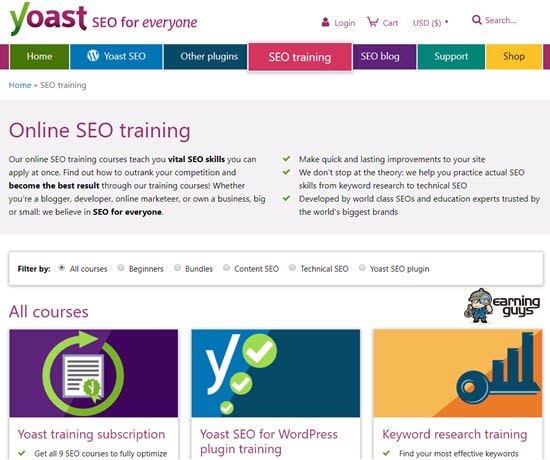 If you run a blog, then you should surely check out the Blogging for Business Course by Ahrefs Academy. Ahrefs allows you to grow your blog past 100k monthly visitors and convert thousands of your readers into paying customers. It includes ten lessons totaling 4 hr 56 min and costs $799.00. It even includes Guest interviews.
This content marketing course is very up to date and actionable. Lots of successful bloggers and digital marketers have already checked out and impressed with this online content marketing course.
The "Blogging for Business" Course covers the following lessons:
The compound effect of content marketing
Two major strategies of growing a blog
How to analyze the traffic potential and ranking difficulty of a keyword
Optimizing article for a target keyword and generate search traffic.
How to build backlinks for your blog content
How to find great content ideas that have high business value
Creating the content that promotes itself
How to create link-worthy content
Learn how to promote the content making it rank high in Google
How to build links as well as promote content through blogger outreach
It also includes guest interviews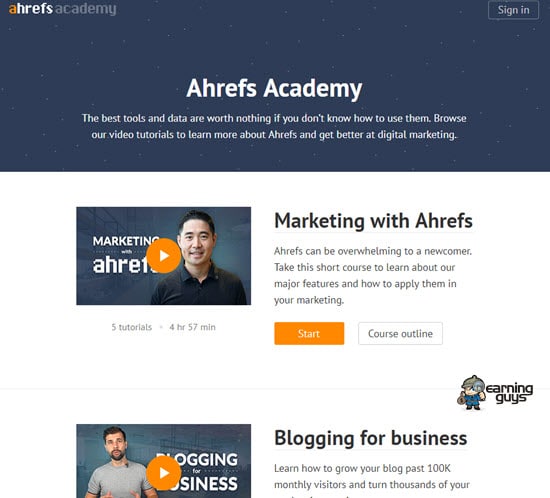 Moz happens to be one of the most reliable sources of SEO knowledge. They have come up with an SEO Learning Center where you can learn SEO for free. It offers SEO courses and training that are useful for beginners as well as experts and help to sharpen your skills and knowledge in SEO.
For example, they offer the Beginner's Guide to SEO where you can begin your SEO education. Moreover, you can learn more about On-Page SEO, Keyword Research, SEO Site Audits, Link Building, and much more. You can even get customized SEO training with Moz.
It offers SEO training & courses related to:
Ranking & Visibility: You get to know the factors that influence your online visibility in Google as well as other search engines.
On-Site SEO: You come to know about the elements of a website that you can change to gain more relevant search engine traffic.
Links & Link Building: Here, you come to know why links are important for SEO and master the basics of link building.
Local SEO: Here, you learn how to get a local business found online through Local SEO.
Keywords & Keyword Research: Learn about keywords that have the greatest impact on your SEO.
Crawling & Site Audits: Here, you learn about search engine crawling, indexation, and site audits.
Plus, there are more learning resources for you on:
SEO Analytics & Reporting
Content Marketing
Mobile SEO
International SEO
Social Media & Influencer Marketing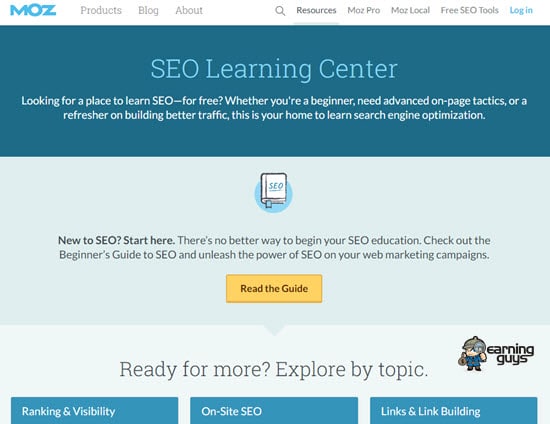 ClickMinded offers SEO training to increase your traffic from Google by manifolds. It's a place where thousands of startups, agencies, entrepreneurs, and students learn SEO. Its SEO training and courses have been designed to help you get more organic traffic for your blog or website.
With ClickMinded SEO Training, you would be able to generate a constant flow of relevant traffic to your site. It offers fundamental knowledge of SEO devoid of any complicated technical stuff so that you can rank your website #1 on Google Search Results.
With ClickMinded SEO Training, you would be able to generate a constant flow of relevant traffic to your site. It offers fundamental knowledge of SEO devoid of any complicated technical stuff so that you can rank your website #1 on Google Search Results.
In simple words, ClickMinded makes SEO easy for you so that you can top the search results and gain more traffic to your site.
With the ClickMinded SEO Framework, you can skyrocket your organic traffic. It allows you to achieve success in the digital world.
You come to know how SEO fundamentally works, and more importantly, what SEO is not. You will learn about the ideal search engine position.
One will come to know what kind of content you need to create for your users. You come to know how to carry out keyword research. You will come to know how to link building and authority work. You'll learn to create an SEO-friendly site from scratch. Moreover, much more.
It offers five SEO mini-courses. You can opt for its Local SEO Mini-Course if you have a local business. So, ClickMinded offers one of the most comprehensive SEO training courses out there.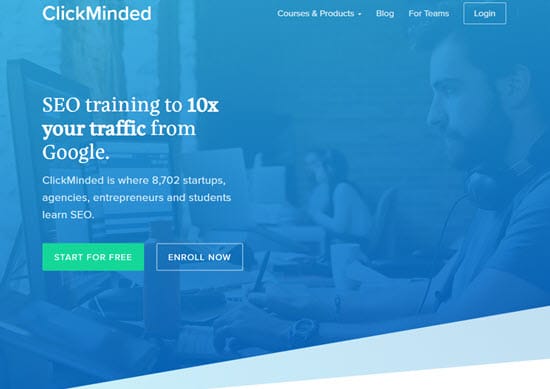 The SEO Playbook offers an in-depth and actionable online SEO training & course helping you to scale organic traffic and conversions across any website.
Its online SEO course includes step-by-step marketing processes which you can use to deliver consistent organic traffic as well as conversion gains for your business, or your clients.
This online SEO course is suitable for intermediate as well as advanced SEO practitioners.
The course helps to:
Land new clients
Build new SEO skills
Rapidly grow organic traffic
Fill critical gaps in agency processes
This online SEO course offers:
14 hours of video training
Includes 23 in-depth training modules
Over 100 video lectures
Over 50 pre-built templates and process docs
A private Slack community that has been filled with marketing professionals
Lifetime access to all current as well as new playbook content
It has been created by Robbie Richards who actually implements the course material on real businesses.
Price: One-time $497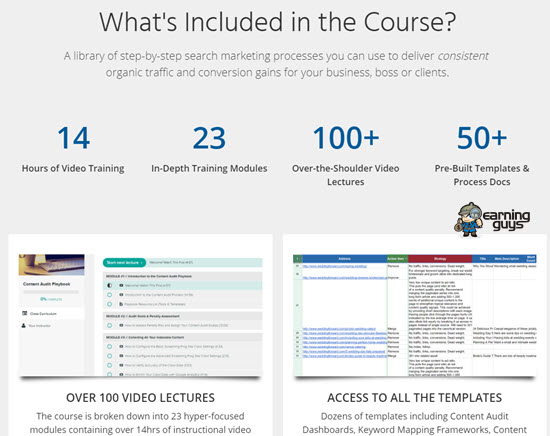 The HubSpot Academy offers completely free online courses and certifications. In fact, it's a worldwide leader in free online training for inbound marketing, sales, and customer service professionals. They offer comprehensive certifications, singular topic courses, and bite-sized lessons for professionals who want to grow their career and business.
For all those who would like to sharpen their skills in SEO, the HubSpot Academy has created free SEO Crash Course. It's a short training wherein you will learn SEO tips to grow organic traffic to your website and boost your rankings on Google's Search Results Page.
In this training, an email is delivered to your inbox every single day for five days. You have to read it, and you learn. This training will teach you the basics that you need to succeed in the SEO world.
The training will empower you to:
Select the right keywords for your website
Earn links from external sources
Know how search engines understand the content on your web pages
It covers both On-Page SEO and Off-Page SEO
You come to know how search engines crawl your website
You will learn tactical link building strategies
So, it's a short but very useful SEO training.
What's more, it's totally free. The HubSpot Academy is sharing free knowledge so that you can improve your SEO skills.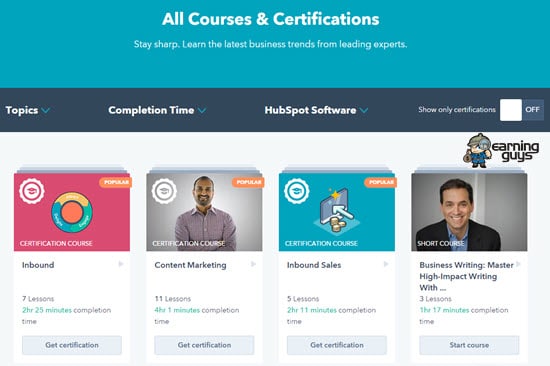 SEO That Works offers an SEO training course to rank your site with a tested step-by-step white hat SEO system. It's a brainchild of Brian Dean – the founder of Backlinko.
However, we must tell you that SEO That Works is not for everyone as it does not offer cheap SEO training. That said there's much to learn with SEO That Works such a link building and content strategies. It also offers real-life case studies as well as proven SEO strategies.
Here, we share with you its table of contents:
What's working right now in SEO
Linkreators
Power Page
Content Promotion and Link Building
Optimize Content for UX Signals
Brian is one of the leaders in the SEO Industry. So, we suggest that you should take a serious look at its SEO training.
You need to sign up and enroll for the SEO That Works training course.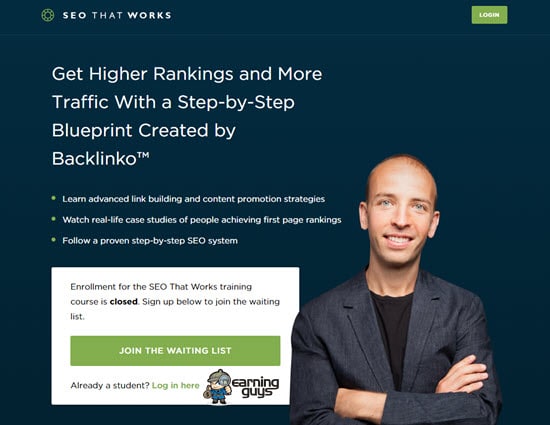 Brainstation Search Engine Optimization Training empowers you to succeed in the digital age. In fact, Brainstation is a global leader in digital skills training.
The training provides a foundational understanding of the working of the search engines. You learn the fundamental concepts and improve your SEO.
You learn to perform an audit of on-page SEO factors which includes Meta Descriptions, keyword relevance, and site experience so that you can increase your rankings and bring in more traffic. One also learn to build an Off-Page SEO Strategy to further increase your rankings including backlinks and other marketing efforts on your SEO.
You learn to create a keyword strategy so that you can send the customers to the proper pages on your website. The student learns to increase ranking and authority through content development and link building.
This online SEO course will help you to improve your page rank, and in turn, traffic to your site.
Moreover, Brainstation offers SEO Training both on-campus and online. The instructors deliver live lectures and provide immediate support and feedback.
So, with Brainstation SEO Training, you will become equipped to follow SEO best practices.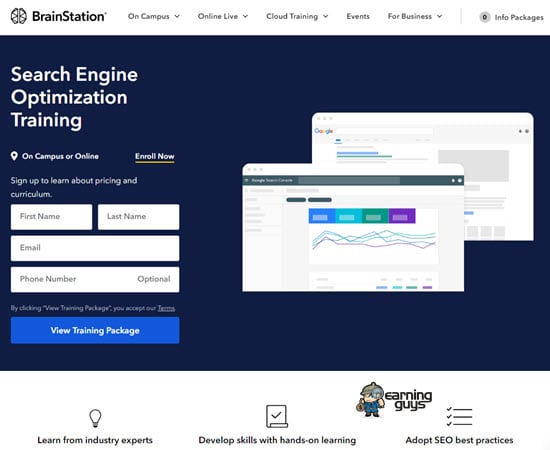 With this, we have completed the listing of 10 best online SEO training & courses. We hope that the post proves a helpful guide in choosing the best online SEO training for learning and improving your SEO knowledge.
Thanks for Reading.
We welcome your comments and suggestions. Please share the post across popular social networking channels such as Facebook, Pinterest, Twitter, and LinkedIn.