Social Media Marketing has become one of the essential and vital sources to promote your online business, blog or website. Social media sites such as Facebook, Twitter, Google+, LinkedIn, have a great potential for bringing large traffic of visitors to your website or blog. In this context, efficient use and management of social media sites are of utmost necessity. You require using the medium of Social networking sites to your advantage so that you are able to increase the number of visitors to your website or blog.
In the ongoing post, we have come up with a useful collection of 10 Best Social Media Management Tools so that you can better utilize and manage the various social media sites.
As a matter of fact, Social Media Management encompasses varied tasks that you have to undertake and perform on a regular basis if you really want to take advantage of this medium. So you have to manage your social media profiles or networks. Social Media Management Tools helps you to achieve this very easily, effectively and efficiently.
You get the capability to manage all the activities related to social media management from a single workplace. Social Media Management Tools provides you with an efficient and well-equipped dashboard which helps you to manage all your social network profiles.
You can post your articles, images or videos, schedule tweets, and messages; provide you with a detailed reporting and analysis system, together with the facility of performing varied other related tasks, as well. Social Media Management Tools helps to automate most of your social media management tasks and thus saves your time and effort.
In this post we have listed 10 Best Social Media Management Tools, we have carefully chosen some of the best and finest tools for managing your social media networks or profiles. We believe that you would be able to find a suitable Social Media Management Tool which fulfills your requirement.
10 Social Media Management Tools
HootSuite is one of the leading Social Media Management Tool. It provides you with well equipped and efficient dashboard which enables you, to measure and manage your various social media networks or profiles. It gives you the capability to track conversations as well as you can monitor the results of your social media campaigns.
HootSuite has to its credit millions of satisfied users. Using HootSuite you would be able to manage social media activity all from one single place. You would be able to manage your social profiles, schedule your tweets and messages, monitor brand mentions, and also get an analysis of the traffic that you get from social media.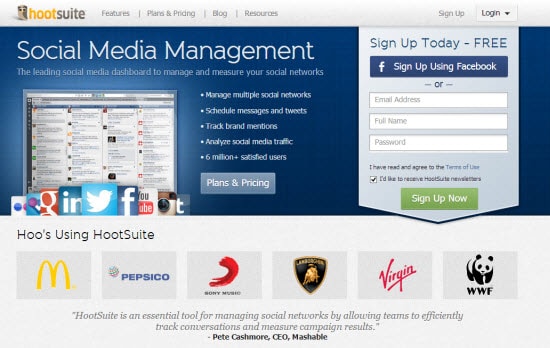 Buffer web application lets you utilize the benefits and capabilities of social media in a much easier and smarter way. Buffer lets you add articles, videos and images that you want to share on social networks while it does the rest for you automatically by sharing them on behalf of you and that too throughout the day. Manage your multiple accounts such as Facebook, Twitter, LinkedIn, Google+ easily, effectively and quickly. It makes posting to social networks really very easy.
It comes up with a detailed analytics and insights on every of your post that you put up on various social media sites. Buffer is available as browser extensions for Chrome, Safari, and Firefox. Buffer has native apps for your mobile devices which sharing on the go super easy and super fast. It has been integrated and is compatible with major apps for the news reader, so it is possible to use Buffer through your favorite applications.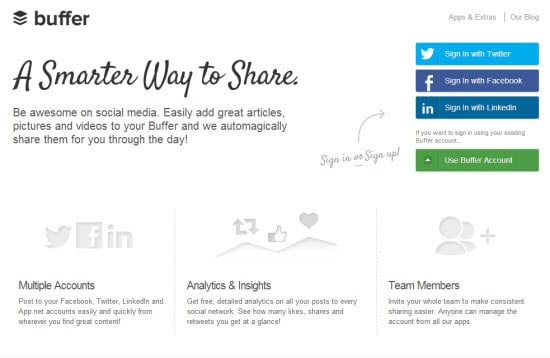 BuzzStream is one of the best Social Media Management Tool that you can use to accomplish, manage and track your social media activities. It blows off the time-consuming tasks related to managing the influencers and so gives you the opportunity to utilize your time and efforts in a much productive way.
Put simply, BuzzStream makes blogger outreach really easy and effective. Using BuzzStream you can do various tasks such as influencer research, accomplish relationship management, do list building, manage outreach, carry out project management, task management, etc. BuzzStream comes with a free trial offer, so you have the opportunity to test its capabilities and effectiveness in Social Media Management.
TweetDeck is one of the most highly rated Social Media Management Tool. TweetDeck is available as a desktop and web solution. It can be used on Chrome browsers as well as on Windows and Mac powered desktops. TweetDeck helps you to provide flexibility and insight to your social media activities especially for social sites such as Twitter and Facebook. You can manage your multiple social accounts through the TweetDeck environment. It provides you the facility to arrange feeds, has powerful filters so that you can focus on what is important for you, schedule your tweets, and be up to-date with alerts for fresh Tweets.
BuzzBundle provides one of the most powerful Social Media Management Tool and covers a great number of social sites. So with BuzzBundle expand your social outreach and make your social efforts more effective. Using BuzzBundle you can have a smarter and louder buzz through multiple social media sites.
BuzzBundle provides you with an opportunity to manage all of your social profiles through one single workplace. With BuzzBundle, you can strengthen your online presence and thus get to maximize your outreach. It provides you with the facility to schedule posts, messages, or announcements. You get to add your existing social profiles or create new ones.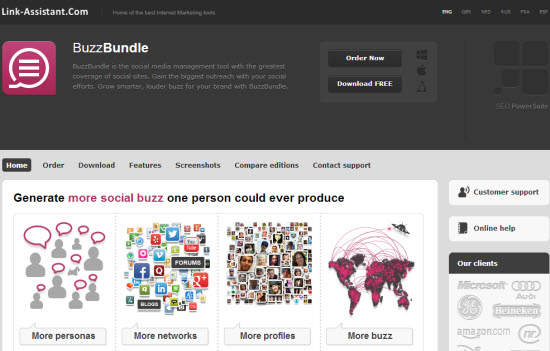 SproutSocial brings to you a powerful and feature-rich platform for social media engagement and management. It provides rich and varied tools to manage your social media accounts on Twitter, LinkedIn, and Facebook. With SproutSocial, you can easily post and schedule messages, manage teams and social channels, assignments, and tasks with absolute ease. It has a single stream inbox so that you never end up missing a message. It also comes with rich analytics and monitoring tools.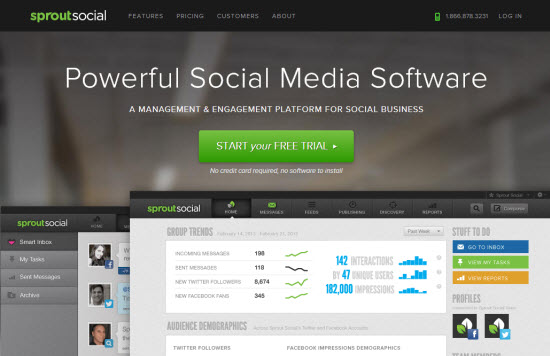 SocialPilot is a very helpful and powerful social media marketing and scheduling tool. It caters to the requirements of agencies and social media professionals. In fact, SocialPilot has become immensely popular. Over 75000+ agencies and social media professionals use SocialPilot for increasing their online marketing efficiency. It saves much of your valuable time.
SocialPilot supports almost all the major social networks such as Facebook, Twitter, Google+, LinkedIn, Pinterest, Tumblr, and many others. SocialPilot helps to streamline your social media marketing efforts. SocialPilot allows you to share as much as 500 posts and connect up to 200 social profiles from a single account. With SocialPilot, you can share and schedule all your posts, tweets, and updates without having to worry about hitting limits.
SocialPilot allows you to upload hundreds of posts at once in text or CSV format. So, with SocialPilot, you will never to worry when you need to share hundreds of social media posts. It offers bulk scheduling which ensures that the posts are sent out as per your schedule, and so you save much of your time. Moreover, SocialPilot allows you to work collaboratively with your entire team. You can designate some members as managers and other members as content schedulers so that only the best social media content gets posted to your accounts.
SocialPilot has been studded with powerful analytics and reporting features. It allows you to measure your content performance and notice what works well with your audience. It offers social media content calendar allowing you to schedule posts on a daily, weekly, or monthly basis. SocialPilot also offers custom Facebook branding and custom short URLs. You can even add all your favorite external RSS feeds. SocialPilot is easy to setup and proves excellent value for money.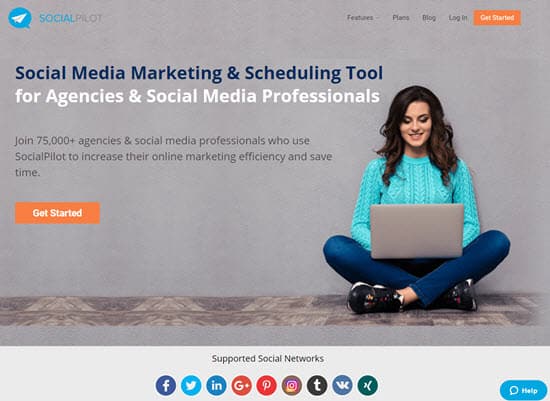 You can use SocialBro to engage, target and manage audience on Twitter. It comes with tools for browsing your community, enables you to identify major influencers, track engagement, helps you to determine what is the most appropriate time to tweet, has a report generation and analytics system, as well.
Sendible is brilliant social media management software for promoting your business over the web. Sendible enables you to engage with your customers, measure results as well as monitor your brand across various social media sites all through its single workplace. You can schedule messages and can run and manage varied marketing campaigns too. With Sendible, you can carry out brand monitoring, generate leads, do sentiment analysis and can build brand awareness. It comes with powerful analytics and tracking tools, as well.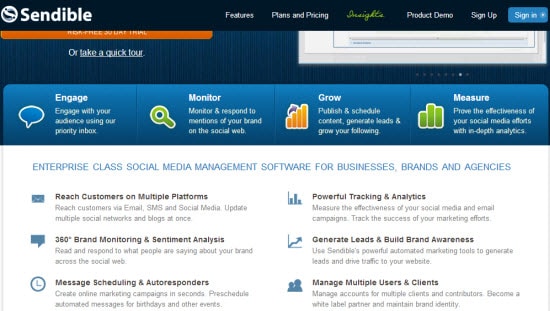 SocialOomph is yet another neat, simple-to-use and powerful social media management web tool. It includes many useful features such as scheduling tweets, retweets, auto-follow, DM inbox clean up and many more features, as well. SocialOomph is available for free as well as the paid option.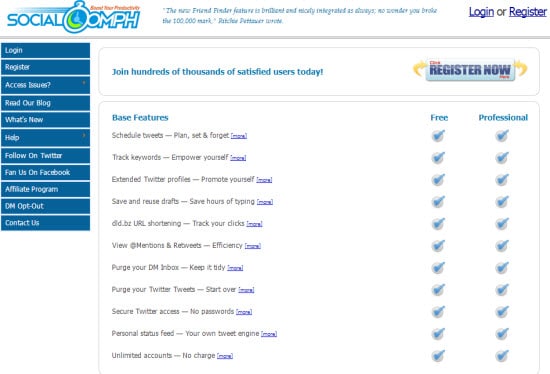 Hey, don't forget to share your favorite social media management tools and why you love them.