Pay-per-view is a huge market. It's set to generate $3,961m in 2019 and estimated to grow to $4,627m in 2023. And while it's filled with titans like HBO, and international brands like UFC that pull large crowds, there's still room for entrepreneurs to stake their claim.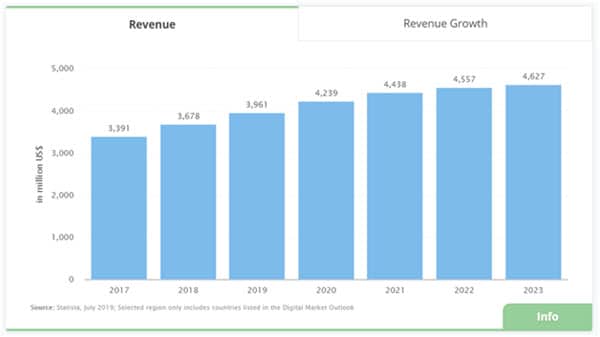 But how do you compete with operations of that magnitude?
If you're a video content creator trying to get in on this cash cow, there's a little more to consider. For starters, it's definitely possible to produce your very own live stream PPV service, and it's not as difficult as you may think.
Today, the average revenue generated per user is around $10, according to Statista. And when you begin to put two-and-two together, creating your very own PPV live stream service can be lucrative.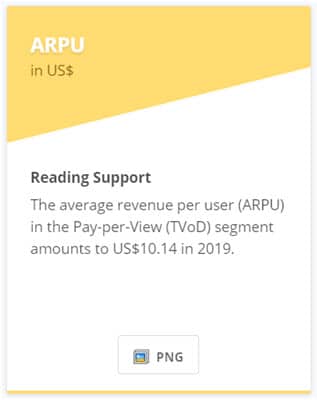 The growth of the internet has opened doors for tons of niches to develop. Today, video content creators can create and get paid for content around almost any topic.
What's more, there are audiences out there who want niche content.
For example, the International Motor Contest Association provides live streaming PPV for all IMCA events. They also offer replays for subscribers who couldn't watch the live event.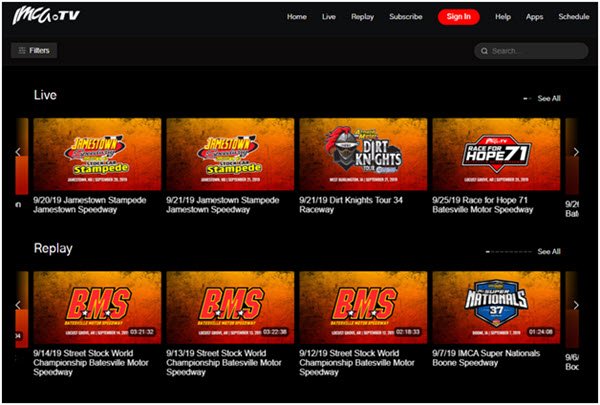 This proves that you don't need to worry about duking it out with UFC PPV specials. You can create your own live stream pay-per-view service and cater to your unique audience.
What is Pay-Per-View Live Streaming?
Live streaming isn't a difficult concept to grasp. It involves the live broadcast of video content. Pay-per-view includes the payment to view video content. Together, pay-per-view and live streaming allow you to generate revenue for your live stream content.
Simple, right?
Things, however, do get a little complicated when it comes to making live stream PPV work.
There are many live stream PPV platforms you can use, like Uscreen, Vimeo OTT (VHX), MAZ Systems. In this blog post, I'll take you behind the scenes of setting up your own PPV live stream service. To do this, I'll show you how Uscreen makes it possible to set up and start getting paid, in just a few steps.
I'll also highlight some very helpful features Uscreen offers clients. These include access to a powerful content delivery network (CDN) to make live streaming possible for a global audience, and the ability to remind people of live events they've signed up for using OTT app notifications.
But before we dive into the step-by-step process, why should you consider using a live streaming platform anyway?
Why not just build your own solution?
Exploring DIY Live Stream PPV
Building your own live stream pay-per-view service is a mammoth task. It involves the integration of a number of components and the need for strong project management, coding, and IT hardware knowledge.
What exactly would you need?
Website and Hosting
To start, you'll need a website and hosting to showcase your service. If you're not a developer, things can get a little tricky. You'll need to build a website capable of integrating must-have functionality. This includes a shopping cart, payment gateway, and a video streaming solution for visitors to watch your live stream.
You'll also need to create a strong and effective copy. Selling your live stream event can't happen without persuasive messaging.
Secure Shopping Cart and Payment Gateway
Shopping cart integration involves more than installing a plugin on a WordPress website. You've got to consider and create a purchase flow that makes paying to view live stream PPV events seamless. When setting up your shopping cart, you'll also need to integrate payment gateways to receive payments from visitors.
Website security is also a big issue online. If your site does not protect website visitors, it can be penalized by Google, or worst yet, hacked, and visitors' information could be stolen. To protect website traffic, you must install an SSL certificate.
Video Streaming Capabilities and CDN Access
Setting up video streaming is where building your own live streaming PPV service gets complicated. For live streaming to work, your site will have to be capable of streaming content in real-time to your audience, no matter where they are.
To make this happen, you'll need an encoding application that must be connected to a recording device (PC with encoding software or dedicated hardware encoder). Next, you'll need to ensure that viewers can watch your live stream without buffering issues. That's where CDNs come to the rescue. They are made of network centers located across the globe.
Using a CDN will require signing up a CDN provider. I recommend signing up with more than one to ensure that you have the greatest reach and the best possibility of providing quality live streams seamlessly.
For example, Uscreen has a network for four global CDNs. This means that your viewers will never experience live stream buffering.
OTT Apps
OTT apps or Over-the-top applications are apps that deliver video via the internet. They make it possible for your audience to access your live stream on mobile devices (smartphones and tablets) and TVs.
To create your OTT apps, you'll need to know how to code or hire a developer. The latter isn't cheap. Developing a stock iOS app can cost between $29,700 and $42,000, and that price range excludes video or live streaming platform capabilities and hosting for your video.
Regular Platform Maintenance
As with any online platform, you'll need to invest in regular maintenance. This will ensure that your platform is always working efficiently.
Uscreen offers clients all of these services, and more, rolled into a monthly premium.
As you can tell, creating your own live stream PPV service is a no small feat. What's the alternative? Let's take a look at how to set up your pay-per-view live stream through Uscreen.
Live Stream PPV With Uscreen
Uscreen's platform is robust. It offers video content creators both the essential components for setting up a live stream PPV service and includes other helpful features.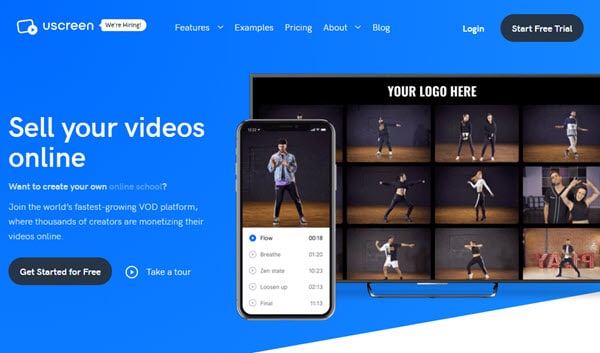 For instance, just because of your live streaming video, that doesn't mean you can't record it, too. Uscreen has built-in an auto-record feature. It allows you to later offer your recorded live stream as part of a VOD service, creating the opportunity to sell your recorded live stream and generate additional revenue.
Step 1: Create Your Event
To get started, log into your Uscreen account and click on Content in the left-hand navigation menu.
In the main window, click on Live Events, then click on the Add New button.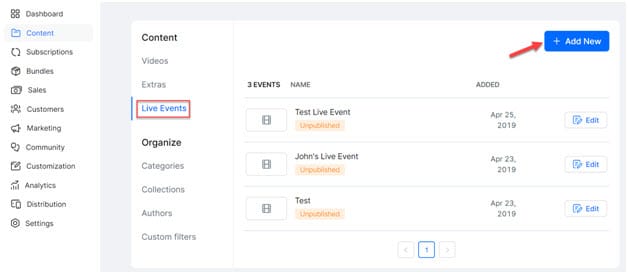 Enter a title for your live-stream event and click on the Create button.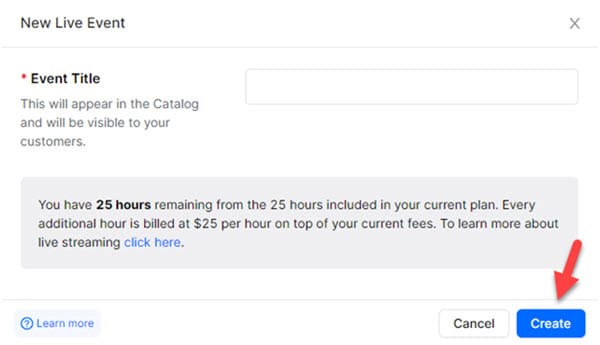 Step 2: Set Pricing, Rental and Subscription Plan Options
Next, you'll need to set a few criteria for your live event. These include a price point for your live stream (it's also possible to broadcast a free event). You also have the opportunity to offer your live stream as a subscription or a rental and choose how long a customer can view the rental for.
Handling payment through Uscreen is straightforward. As a complete PPV live streaming monetization platform, you'll get an easy-to-use store, have access to PayPal, Stripe or Uscreen payment gateways, and all transactions are secured by SSL encryption. You'll have everything you need to sell your videos online.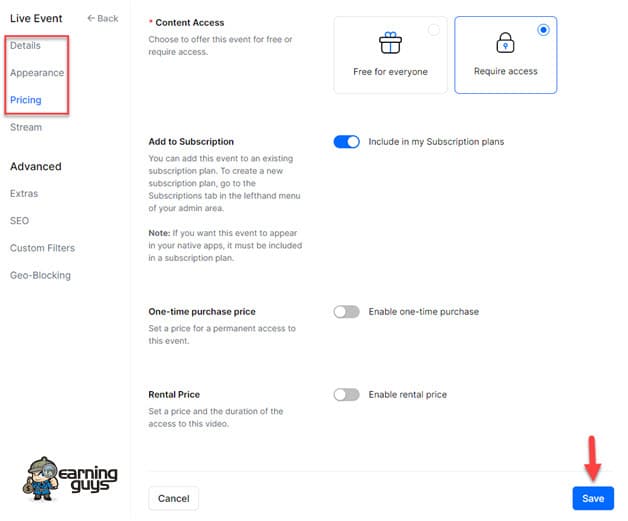 Once you've set your criteria, click the Save button.
Step 3: Generate Your Stream URL and Stream Key
To broadcast your live stream, you need encoding software (on your PC) or a hardware encoder. If you opt for software, using Open Broadcaster Software (OBS) is a good choice. It's free, works on Windows, Mac, and Linux, and easy to use.
Once downloaded and installed on your computer, click on the Stream tab in the left-hand menu. In the main window, you'll find your Stream URL and Stream Key. Copy and paste both into the respective fields in OBS.
To add both to OBS, click on File (in the top Navigation menu in OBS) and click on Settings.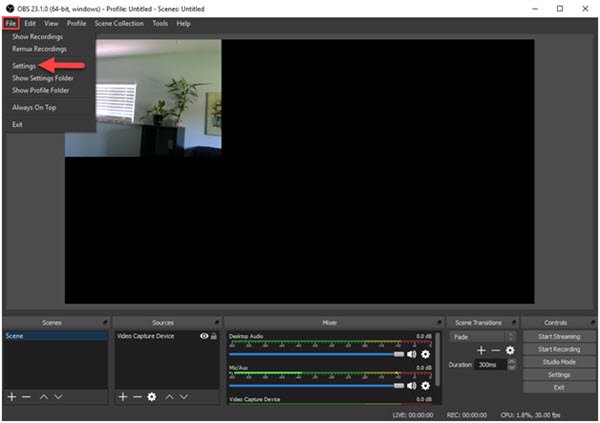 Next, click on Stream, paste each string and click on the Apply button.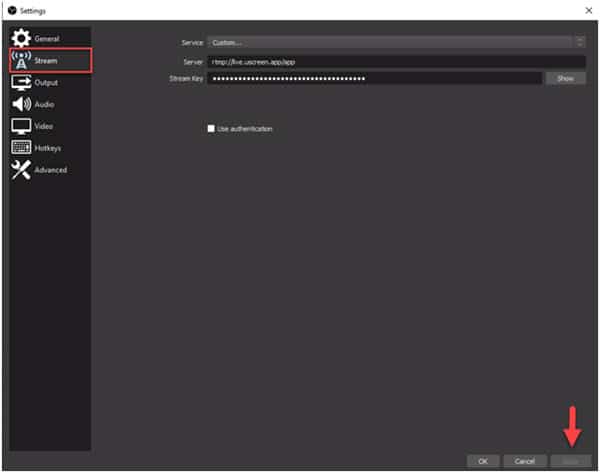 To start streaming, go back to the OBS main window and click on the Start Streaming button.
To test your live stream, head back to the Stream tab and click on the Test Player button. Your live stream should appear in a few moments.
As you can see, these are easy steps to follow. They do not require any advanced technical knowledge, coding or IT hardware management skills.
Uscreen also takes care of a host of other aspects of setting up your live stream PPV service. For example, they provide 8+ easy-to-use and customizable website templates. This makes it simpler to set up and brand your website. What's more, they also offer website hosting.
They include:
HTML 5 Video Player
Live streaming should be easy to access. And when it comes to ease-of-access, this usually means the availability of options for access to content. While Uscreen offers an OTT platform and branded apps, they also offer a powerful HTML 5 video player.
It's capable of delivering live streaming video all browsers, including smartphones and tablets. This level of versatility gives your viewers ample opportunity to pick the most convenient platform when viewing your live stream event.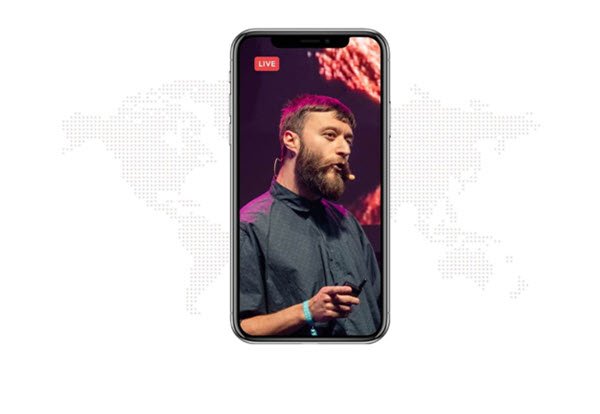 OTT Apps
OTT apps are all about convenient viewing. They give users the option of ditching browsers and opting for a stand-alone app for whatever viewing experience they prefer.
Uscreen supports native iOS and Android devices. They also provide clients with access to Roku, AppleTV, FireTV, and Xbox apps. Uscreen OTT apps are also customizable so that you can brand yours for your audience.
Uscreen also offers a collection of extras. These extras, coupled with the features mentioned above, make it easier to turn your live stream pay-per-view service as successful as possible.
Here's what's available:
Live Countdown
Build anticipation and excitement for your audience with an automated countdown.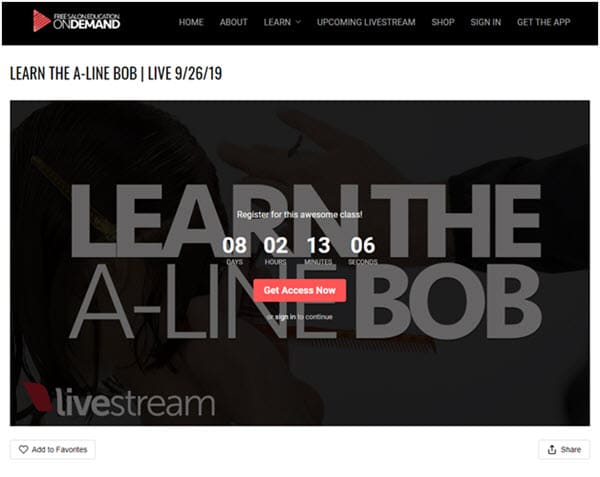 Auto-Record to VOD
Your live streams are recorded automatically and become available on-demand right after your event.
Pre Registration Page
Users can pre-register for your event. Using the Share button, they can also build engagement with a pre-sales page.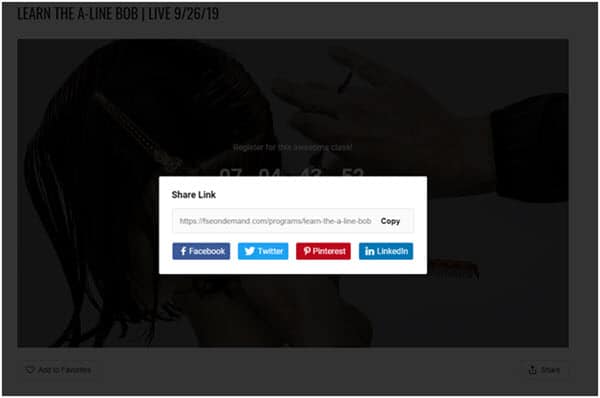 Go-Live Notifications
Give your audience a nudge with email and in-app notifications. Remind them of your event days and hours before it starts to ensure they don't miss it.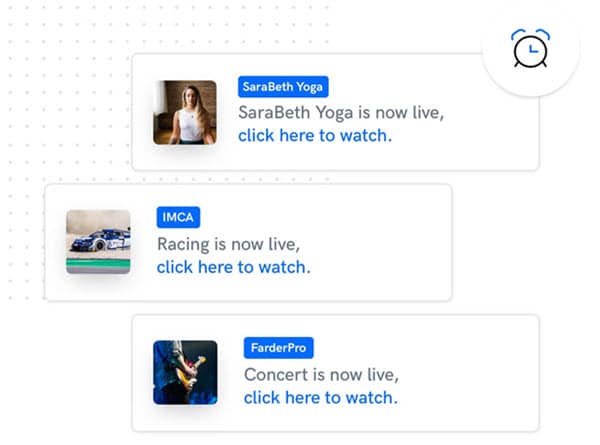 Fast Support
Uscreen also offers 24/7 support to clients. They're able to help you prepare for your event and deal with any issues during your live stream event.
Summary
Pay-per-view live streaming used to be out of reach or many video content creators. It required specialized coding skills and large investments to set up the infrastructure. Today, live streaming platforms allow entrepreneurs to create live stream pay-per-view events for niche audiences and broadcast them across the globe, without the need for large cash investments or technical skills.