WordPress is a highly powerful and popular Content Management System.
Today millions of bloggers and e-entrepreneurs have become absolute fans of this powerful and advanced web platform.
The popularity of WordPress is credited to the fact that it provides varied and customizable Frameworks for designing unique, attractive, and feature-rich and SEO Friendly Theme.
Hereunder I have come with a highly useful collection of 12 Best SEO WordPress Themes. Using these WordPress Themes, you can design the perfect website to meet your SEO goals and expectations.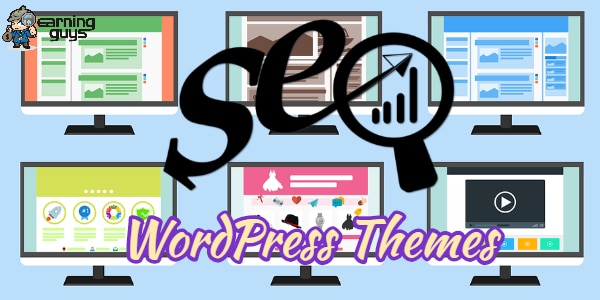 Why you need SEO WordPress Themes?
Search Engine Optimization (SEO) is the most important prerequisite for ranking your site high on the SERPs.
However, most site owners begin to think about SEO after the website has been launched.
Then it is much too late because the site ends up being built with many mistakes. Moreover, it becomes nearly impossible for search engines to find and index the site content. As a result, users do not find the site in search results.
So, you need to come with a viable SEO strategy. You invariably require a unique and SEO WordPress Theme so that you get an opportunity to rank high on the Search Engine Results Page.
With High Rankings in Search Engines, your website gets more views, more clicks and as a result, the overall conversion rate increases with the ultimate effect in enhancing the sales volumes.
There is a positive shift in your brand value when you use a right WordPress Theme which can help in your site SEO.
In fact, the position in the search results depends on a range of factors that search engines "deem" important.
First, the site needs to be accessible and understandable to search engine bots. It is important for indexing the site and allows it to appear when a search is done.
Secondly, your site needs to pass the quality standards set by the search engines so that it appears higher in search results.
The SEO WordPress Themes plays an important role in both of these aspects. It allows your site to get easily indexed by search engines and appear higher in search results.
Characteristics of SEO WordPress Theme
There are certain characteristics which make a WordPress Theme an SEO-friendly one.
Let's find out the features of an SEO WordPress Themes.
Valid Coding: SEO WordPress Themes are developed according to up-to-date coding standards.
It is compatible with all popular browsers. It has valid HTML & CSS. Plus, it works well with mobile devices.
Speed: SEO friendly WordPress Theme is originally fast loading. Such a WordPress Theme typically loads in 1.5 – 2 seconds. Plus, you have to make sure that the images and other media files are not too large.
You will also benefit by optimizing CSS files and using hosting with quick server response time.
(It should be noted that "site load time" is recognized as one of the most important criteria in Google's site ranking algorithm.) Check Website Speed
Responsive Design: SEO-friendly WordPress Theme supports responsive design. It means that it is mobile optimized.
Moreover, it is compatible with different devices and screen sizes to offer worthwhile experience to visitors.
(It should be noted that Google gives a responsive website a better result in the rankings on SERP.)
Social Media Integration: Although social media is not part of SEO, still it's a very important channel for acquiring site traffic. In fact, it's closely interrelated with SEO.
So, it's important that your WordPress theme comes studded with social media integration.
SEO WordPress Themes comes with an option to link with social media profiles such as Facebook, Google+, Pinterest, LinkedIn, Instagram, etc. It allows you to share your posts on social networking sites with special "Share with …" buttons.
Usability: SEO-friendly WordPress Theme has a layout structure that offers easy navigation. It makes easier for bots to crawl and index your pages thereby improving the chances of your website to rank high in search results.
It enhances your visitors' experience and helps them to find information more quickly.
Apart from the above features, SEO WordPress Themes can be upgraded with dozens of plugins helping you to boost your website and increase your ranking.
All this demands a choice as far as selecting WordPress Themes are concerned. You want to make sure that you get all the elements in your WordPress Theme necessary for running a world-class website.
You may also like: 10 Best Amazon WordPress Plugins
With the 12 Best SEO WordPress Themes, you can easily enhance your options for a perfectly suitable WordPress SEO Friendly Theme for your website.
These WordPress Themes provide ample customization and website builder features, editing options, creative flexibility, color schemes, layout and design variations, font styles, and much more.
These 12 Best SEO Friendly WordPress Themes can help you realize your dream of having an awesome WordPress Theme for your website.
So you can go through the compilation of 12 Best SEO WordPress Themes, and I am pretty hopeful that you will find the most suitable WordPress Theme for your website.
12 Best SEO WordPress Themes
StudioPress is a name that you can count on getting amazing WordPress Themes. They build reliable, beautiful, and SEO WordPress Themes.
StudioPress WordPress Themes are studded with stunning features, which is why they are the preferred choice for thousands of website owners.
One of the most outstanding features of StudioPress Themes is that they have been powered by the all-powerful Genesis Framework.
The Genesis Framework is regarded as one of the best premiums Framework for WordPress Themes. The Genesis Framework lets you quickly build incredible WordPress Themes.
Moreover, the Genesis Framework is Search Engine Optimized. You get the optimized code as well as smart design architecture which help you in achieving high rankings on the search engine results page.
The Genesis Framework has been built on the lightweight code which means that you always deliver fast performing WordPress websites to your customers, visitors, and clients.
Above all, the Genesis Framework is automatically updated so that your code is fully optimized and up to date.
Genesis is the foundation of a smart WordPress design.
With Genesis Framework optimized code as well as smart design architecture for achieving the best rankings possible.
Genesis provides an array of beautiful frames for your content built on HTML5.
Your site is compatible with future changes on the web. Moreover, your site will be responsive and mobile-friendly. You get truly state-of-the-art design.
Plus, StudioPress is constantly coming up with beautiful new themes to offer you many design options.
StudioPress has built up an extensive portfolio of WordPress Themes, which have a sleek, professional and responsive design.
On the whole, StudioPress comes as one of the best options if you want to have SEO Friendly Themes for your WordPress websites.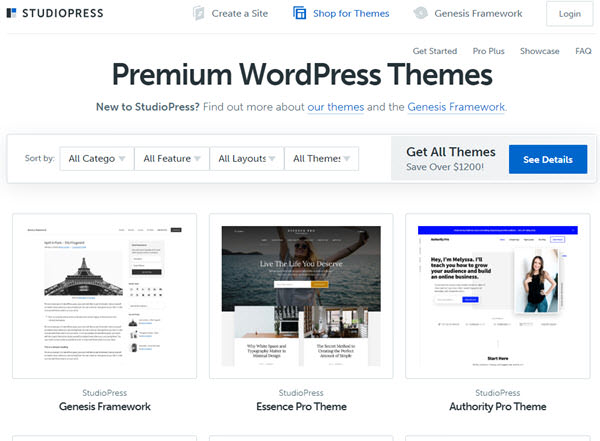 The Thesis WordPress Theme from DIYthemes is a perfect SEO-friendly WordPress Theme. It employs the powerful Thesis Theme Framework that allows you to control every element of your WordPress website including the features and site design so that you get to have a fully optimized WordPress website.
The Thesis Theme is perfect for running a business website or a personal blog.
The Thesis Theme comes loaded with three revolutionary features such as Boxes, Skins, and Site Tools. You get to control every aspect of your site using these revolutionary features that are exclusive to Thesis Theme.
Thesis Skins make your website more effective. You can have a beautiful web design that can be customized from the comfort of your WordPress dashboard.
The Thesis Theme comes with the Classic Responsive Skin which is crafted for performance, search engines, and mobile devices.
Moreover, Thesis is a responsive theme that works seamlessly on mobile devices everywhere. Thesis offers total template control without messing with code with its patent-pending visual template editor. It means that you can control all of your templates with Thesis visual template editor.
Thesis theme offers many smart design options so that every change you make is a good one. For example, its color scheme picker offers you infinite customization ability.
It realizes your customization dreams with a pixel-perfect reality. Moreover, Thesis offers a code-free way to control it.
The Thesis boxes allow you to add the functionality to your website such as email signup form or social sharing widgets or "popular posts" in your sidebar without using a single line of code.
Thesis with its remarkably efficient new architecture offers performance capabilities to establish an authoritative website and dominate the search engines. It offers a lightweight HTML structure that's enriched with markup schema.
All in all, with Thesis you can run a successful website that is SEO-friendly.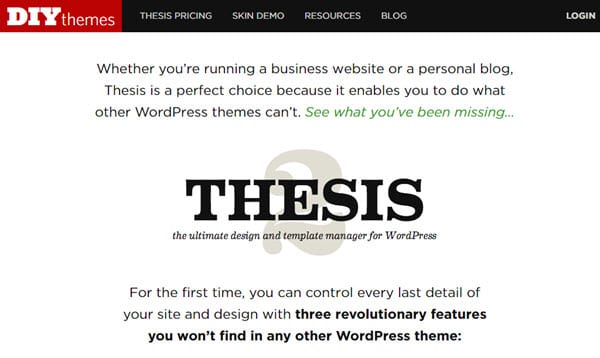 SwiftThemes is known for its fast, search engine optimized, responsive WordPress Themes. It has set high standards for WordPress Themes helping to improve website user experience (UX), rankings & revenue.
PageSpeed is the latest offering by SwiftThemes. It is an SEO-friendly, responsive WordPress Theme.
It delivers the best user experience and helps to boost up rankings and revenue.
PageSpeed is best if you are looking for speed, UX, and SEO for your WordPress site. In fact, it is one of the fastest WordPress Theme delivering "perfect" Google PageSpeed score.
PageSpeed takes care of speed, SEO, and UX helping your website get more traffic and revenue.
PageSpeed offers a wide range of customization options making your site design unique and truly personal. All this is achieved without you ever to write a single line of code.
It's a clean, super theme with a fresh look and plenty of options.
PageSpeed offers neatly organized customization options in the native WordPress customizer. You get customization options such as sticky header, social media icons, search in header and more.
It offers five layouts, three container styles, and two widget styles. In fact, you get as much as 30 styles to choose from. You can choose from a range of color schemes to match your brand with a few clicks.
One can customize the Page/Post Meta information with an easy drag and drop interface. You can easily customize the number of footer columns and their widths. One can even change the footer links and copyright text.
PageSpeed is built with high coding standards giving you the best performance, usability, user experience, and SEO. You and your users will certainly enjoy experiencing PageSpeed.
The code has been optimized for search engines. It has been coded with performance and security in mind. It follows WordPress coding standards and best practices.
PageSpeed supports Page Builders. So, you can build business websites super easily. PageSpeed offers smart color schemes allowing you to design easily. It offers multiple layouts and header styles. You can make the design truly personal.
It supports responsive design and is mobile optimized offering your readers a superior user experience.
It has every feature to make you fall in love with this SEO-friendly WordPress Theme from SwiftThemes.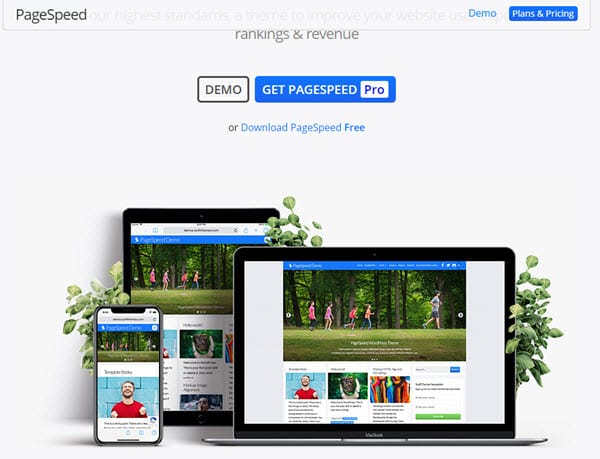 MyThemeShop has a large collection (121 Themes) of Best Premium WordPress Themes allowing you to come up with an SEO-friendly website.
The Schema is one of its fast loading, ultra-SEO WordPress Theme. It has been empowered with all the best features that MyThemeShop has to offer with its WordPress Themes. The schema has been studded with custom options panel, shortcodes, widgets, and pixel-perfect design. It includes rich snippets to help search engines to rank your site higher in search results.
You get:
One click installation
Five Domain Usage
Support & Updates for one year
24×7 Premium Technical Support
Narrated Video Tutorials
Secured & Optimized Code
Options Panel
30 Day Money Back Policy
You can easily customize it with the Options Panel. It is compatible with most third-party plugins.
Its support forum is the primary means of support. You can email your queries to them.
With Schema, you get quality code, fast site load times, SEO best practices, social media voting functionality, trust, and security, improved user experience, cross-browser and device compatibility, stable and secure code thereby helping you to rank high in search results.
Moreover, Schema is fully responsive, so it displays beautifully on all devices and browsers. You can use any kind of background image. Schema is lightweight and secure with battle-tested code helping your site perform securely and optimally.
It is integrated with Google's font library so you can choose from unlimited typography options. It includes all of MyThemeShop's custom widgets, so you don't have to work with extra plugins to get functionality.
With Schema, you can build an ultra SEO friendly website that's elegant, user-friendly, and loads so fast that your users, as well as Google, will love you for it.
It has been built with best SEO practices in mind. It also offers ad management panel to allow you to insert ads easily.
Schema allows you to get improved user experience and higher search rankings.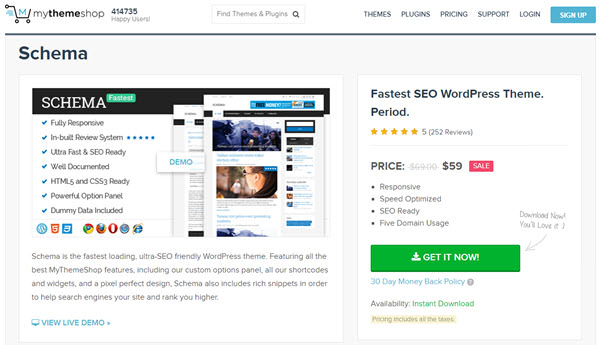 Divi is one of the best SEO-friendly WordPress Themes by Elegant Themes. Divi has been powered by insanely fast and incredibly intuitive front-end WordPress editor – Divi Builder. It makes it easy to build websites like never before.
Design instantly using the Divi Builder. When you make changes to your page, everything is updated instantly right before your eyes. You don't need to open up a settings panel for adding text content. Simply click on to your page and start typing.
Moreover, each element of Divi is fully customizable. You can adjust fonts, colors, sizing, spacing, and even apply custom CSS. It offers responsive editing wherein you get live, responsive previews and can apply custom changes to specific mobile breakpoints.
Divi offers the capability to organize with ease. You can add a new row and choose between various column types. Everything gets fitted together perfectly automatically.
Divi offers as much as 46 different content elements. So, you can build just about anything you can imagine. It allows you to save layouts to your library for later use. You can even import, export, share, and download layouts from the web.
The Divi Builder requires almost zero loading of any kind.
Moreover, you get as much as 20+ pre-made layouts that ship with the builder. The Divi Builder offers a truly customizable interface. You can adjust interface elements so that it compliments your screen and your content. You get responsive editing allowing adjusting the design for each device independently.
Divi comes shipped with many beautiful layouts which can be used to jump-start your new projects.
All in all, Divi comes out as the most versatile WordPress Theme for building just about anything.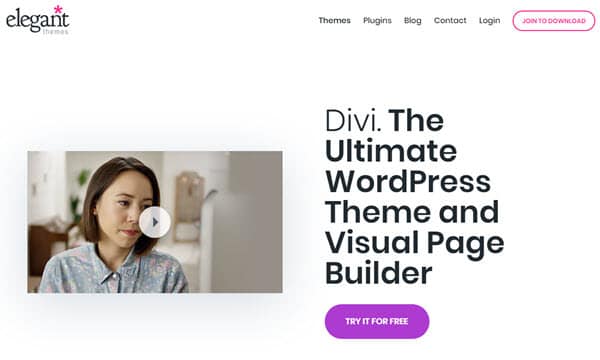 Themify Themes are amazing, awesome and stunning. If you are looking for SEO WordPress Themes, Themify Themes can be the perfect choice for you.
Themify Themes are a non-coders delight and are equally good for beginners as well as for professionals.
Moreover, The Themify Framework allows for quick and extensive customization through its options panel.
You can tweak the theme settings and style your way for a unique, attractive, user-friendly and feature-rich WordPress website theme design.
Themify themes are regarded as the most powerful & flexible WordPress Themes on the market suitable for most general sites as well as eCommerce.
It offers flexibility to build websites with simple drag and drop features. They have a vast collection of WordPress Themes that can be used to build professional looking websites. You can run your website in style as quickly as possible.
On the whole, Themify is known for SEO-friendly WordPress Themes that will appeal to the newbie as well as professionals out there.
With Themify Themes, you don't have to sacrifice on style and usability to have a fast loading website. Themify Themes allow you to come up with fast, engaging, and attractive websites.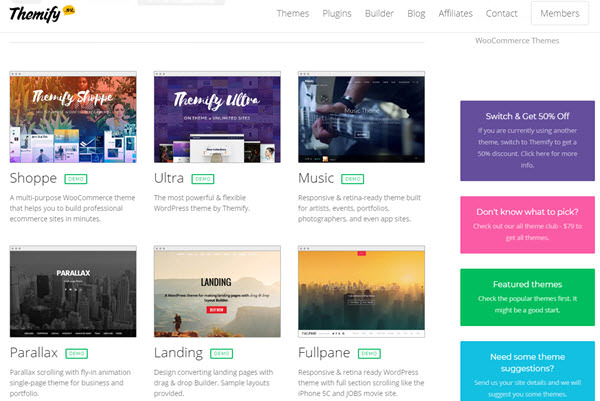 Proteus Themes has a vivid collection of SEO WordPress Themes. With Proteus Themes there is no heavy lifting at your end. Instead, they stand for simplicity and thoughtful niche designs in WordPress Themes. They work with the sole mission to deliver beautiful and powerful websites faster.
You don't have to run any time-consuming process to come with a user-friendly, fast loading, and feature-rich websites.
Moreover, Proteus Themes are made for speed.
They have done away with all the non-essential features used by slow multi-purpose themes. Their themes are fast, clean with high-quality code. All their themes are well done and well supported. They stay within WP standards and have incorporated features that don't slow the website down.
All its themes have been approved by Google's mobile-friendly test and are explicitly optimized for local SEO. So, using Proteus Themes, your websites can reach people who are in the surrounding area and get more targeted traffic.
Proteus Themes look perfect on every device and screen size. They are responsive, mobile-friendly, and dynamically adjust to all devices and resolutions.
Proteus Themes have been built on HTML5, CSS3, and support the latest web standards. They use clean and high-quality code. So, you get a fast, safe, and bullet-proof website.
They come wrapped with a clean design. The code structure is cross-browser compatible, so your website will look and feel the same irrespective of the browser type or version the visitors are using.
Proteus Themes are safe from all types of online threats.
Its themes are compatible with 3rd Party Plugins allowing you to extend your WordPress experience even further. They are translation and localization ready.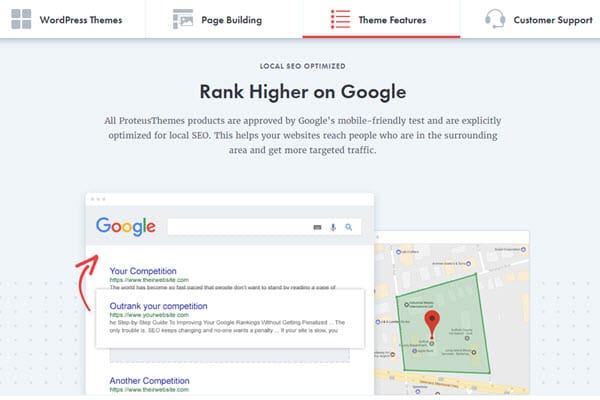 Avada Multi-Purpose WordPress Theme is trusted by over 400,000 dedicated customers and has been the #1 selling themes for the last five years.
It has received 5-Star customer satisfaction rating. Avada offers numerous options for easy customization.
Best of all, you can make Avada exactly how you want. It comes with reliable and caring customer support.
It offers free value-packed lifetime updates.
Moreover, its latest update (2018) brings an amazing host of new features. It includes three brand new Fusion Builder Elements: before and after the image element, the chart element with seven design types, and a syntax highlighter element.
And there's definitely more with Avada! It offers Font Awesome 5 integration across the theme, new sliding bar settings, SEO improvements for single posts and lots more.
Avada offers a complete website building experience. It's an SEO-friendly Multi-Purpose WordPress Theme which will certainly impress you as you go on to uncover its features.
Some of its salient SEO features include:
It employs semantical HTML and CSS making it easier for search engines to read your content.
It uses a PHP Compiler behind the scenes to merge all CSS into one file. Javascript is also minified.
It uses clean coding practices.
It's fully responsive. Plus, you get control over grids and page width.
It has retina-ready image support.
It integrates with all the major high-quality SEO plugins (Ex: All in One SEO) as well as performance-enhancing plugins (like W3 Cache) plus social integration plugins (such as Jetpack).
Avada offers power & flexibility when you create your site without having to modify the code. Avada happens to be one of the most popular WordPress Themes out there.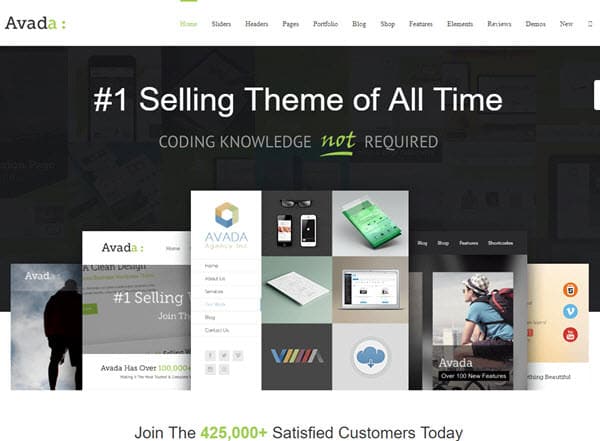 The7 is a feature packed, SEO-friendly multipurpose WordPress Theme. It delivers fast web page loading times for increased SEO-friendliness.
It has two main design modes that can be applied to get the desired appearance of your website. Both the options are high quality and offer in-depth customization options. They allow personalizing the way this theme is used on your website.
Overall, The7 has an impressive and flexible design.
It offers many popular features and tools available in web design today. The7 comes integrated with the Visual Composer Page Builder Tool. It has two premium content slider plugins, translation, and multilingual readiness. Plus, it offers a large number of pre-built page layout arrangements that can be used while setting up your website.
The7 has a 100% responsive layout. It offers deep integration with WooCommerce for easy online store creation.
The7 incorporates latest trends in WordPress web design and comes out as a very SEO-friendly theme. It is SEO-ready and mobile friendly.
The7 WordPress theme is multi-lingual and translation ready. It's easy to use with a myriad of options to customize your site.
It offers 750+ Theme Options for crafting almost any imaginable design. The7 features full and seamless integration with Visual Composer and Ultimate Add-ons. It comes with an advanced and unique page templates system.
Plus, you get free lifetime updates and professional support with extensive documentation.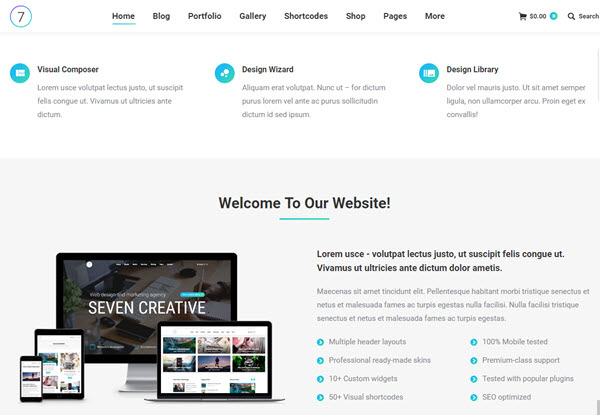 If you are looking for a WordPress Theme Framework which makes Theming easy and powerful, then Gantry WordPress Theme Framework can be the perfect solution for you.
The Gantry Framework comes with a comprehensive set of building blocks which enable you to have a versatile, flexible and SEO friendly website.
It's an amazing web theme framework developed by RocketTheme. Gantry Framework is available for WordPress as well as for Joomla Platform.
Using the Gantry Framework, you get to have unprecedented control over the design, layout, and features of your WordPress Website. The Gantry Framework compatible WordPress Themes are lightweight, flexible, customizable, secure, and above all are SEO friendly.
By installing Gantry Framework, you get the opportunity of using free child themes for your WordPress themes.
You can also use premium themes for your WordPress Website which are set on the powerful Gantry Framework. You can use free themes or can buy premium themes from RocketTheme for Gantry Framework.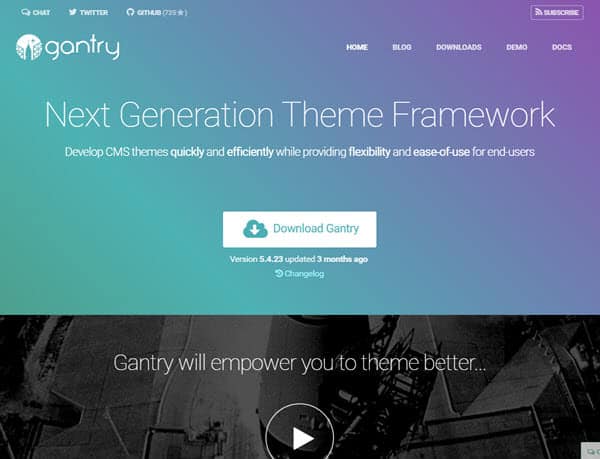 MagPlus is one of the best selling Blog & Magazine WordPress Theme from ThemeForest. It's a 100% responsive; SEO optimized WordPress Theme perfectly suitable for blogs and magazines. It enables you to edit & customize your website, the fast and easy way.
MagPlus offers unlimited layout. You can place any element anywhere forming a unique layout. You can use 160+ elements to make a unique layout.
It is compatible with WooCommerce and translation ready. It offers more than 40 beautiful templates. It's like getting 40+ themes for the price of only 1.
Plus, you get lifetime free updates.
MagPlus offers more than 12 Header Layouts thereby giving you the maximum flexibility to make your site look good. Plus, you get 25+ Article Layouts.
Moreover, MagPlus offers more than 20 sliders to choose from. It even includes some of the best premium plugins to boost up your site with more possibilities.
MagPlus allow you to customize your website with ease. It features exclusive widgets. With MagPlus, you can have a beautiful blog or magazine site better than imagined.
The MagPlus Theme is done well with lots of features. It's a theme for Blog/Magazine/Newspaper niches. It offers guides and videos on every aspect of this Magazine WordPress Theme.
So in case you need assistance, its dedicated support team is always there for you.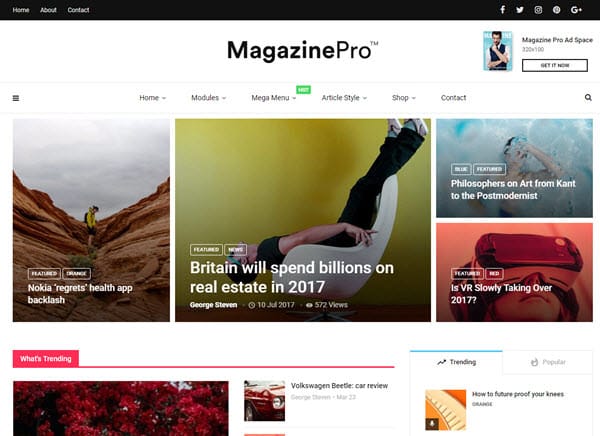 X is another very popular multi-purpose SEO WordPress Theme released last year.
It is one of the best selling WordPress Themes at the popular ThemeForest marketplace. X theme includes many premium WordPress plugins that work seamlessly with your website.
It is clean and coded smartly making X a fast loading WordPress theme. X theme has an overall good SEO-score helping you to rank your website high on SERPs.
It packs in semantic HTML5 markup and lots of features & elements for improved click-through rates together with a reduced bounce rate.
X WordPress Theme is packed with features and possibilities making it a truly multi-purpose WordPress Theme. It's SEO-friendly making it a perfect choice for bloggers and webmasters.
What's more, X is only getting better with time.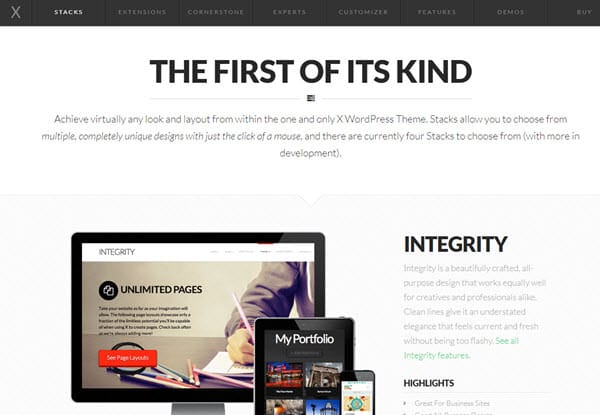 That's all we have for you in this presentation on 12 Best SEO WordPress Themes for SEO and speed. We hope that you have found this article useful. Please share the post on Facebook, Twitter, LinkedIn and Google Plus. We welcome your comments and suggestions.