Although affiliate marketing has seen much success in the past decade or so, it doesn't mean that all is good and smooth-sailing with it.
In fact, one of the biggest challenges to affiliate marketing comes in the form of technologies for affiliate tracking and management.
Other than setting up an affiliate marketing campaign, there are a series of events that you need to track for understanding market fluctuations and trends related to affiliate marketing.
It calls for the use of viable affiliate campaign tracking platforms and tools to monitor and handle the ups and downs of affiliate marketing campaigns.
RedTrack.io is one such effective platform for affiliate campaign tracking. It allows affiliate marketers as well as media buyers to handle complex performance tracking issues.
In fact, RedTrack.io is all about effective affiliate campaign tracking & analytics.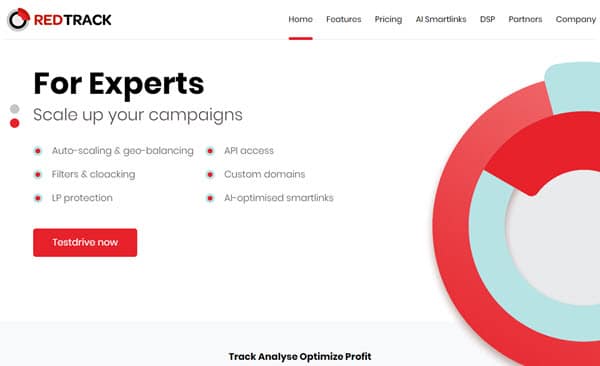 Today, we share with you a comprehensive RedTrack.io Review to let you know its features and benefits so that you can have an opportunity for higher ROI with your affiliate campaigns.
About RedTrack.io
RedTrack.io is a leading SaaS tracking platform enabling affiliate and performance marketing campaign optimization and ROI increase. The platform employs machine learning technologies to enable users to automate campaigns optimization.
RedTrack.io was founded in Lithuania in 2015 with the objective of helping affiliates and media buyers around the world to get higher ROI.
It comes studded with numerous powerful tools such as the Affiliate marketing tracker & analytics platform helping affiliates and media buying teams get a higher return on investment.
It supports all the advanced modes of data deployment such as Cloud, SaaS, Web, etc.
With RedTrack.io, the affiliates, agencies, and media buyers can have access to:
Advanced analytics and instant reports
Fast click redirects
Smart links optimization
Automatic offer integration through CPAPI
Custom dashboard and high-loaded Interface
It offers easy-to-use affiliate campaign tracker with instant start. No servers required. You get fast redirects worldwide.
It comes out as a friendly solution for starters.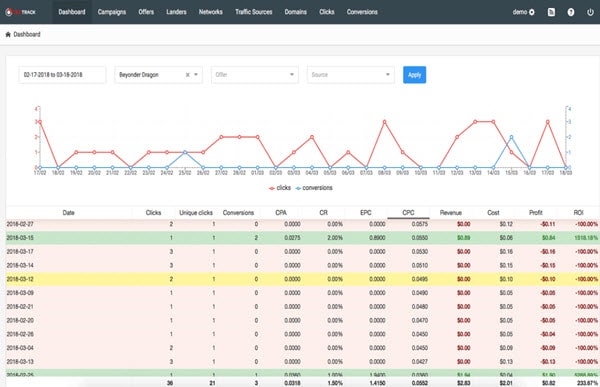 It offers:
Auto-scaling and geo-balancing
Filters & cloaking
LP protection
API Access
Custom Domains
AI-optimized smartlinks
So, RedTrack comes studded with all the core set of features for a demanding affiliate or performance marketer.
Moreover, RedTrack is constantly evolving to accommodate the changes in performance marketing practices and requirements.
RedTrack.io Features
SaaS – RedTrack allows you to focus on campaign performance. With RedTrack, you can say "goodbye" to server maintenance.
Autoscale – Redirects are always fast, and reports are always real-time.
Geo-balancing – Supports your campaigns across multiple GEOs with some predictable performance.
AI-Smartlinks – AI-based algorithms ensure maximum ROI.
LP Pixel – Split test or rotate offers with LP tracking pixels.
Custom Domains – Use custom domains for your tracking needs.
Custom Dashboards – Group data across multiple variables and save for easy access. Lets you find winning combinations.
Smart Streams – Create multiple streams for traffic distributions.
And there's more with RedTrack…
Fast redirects
Tracking all types of traffic
Unique visitor cap (One can limit the number of times an offer is shown to the same visitor. In case, the user has already seen the offer, he will be shown a different offer within the same campaign.)
Daily conversion cap
Support multiple cost models – CPA/CPC/RevShare. CPM soon.
Tracking of the following attributes for each click: source, network, offer, campaign, geo, OS, browser type & version, device, connection type, IP address, click date & time, referrer.
Why should you use RedTrack?
The biggest benefit with RedTrack is the ease of use.
It offers an intuitive interface.
There is no fancy design and dozens of buttons.
It has the perfect interface for starters.
Although they regularly add new features, their interface remains simple and easy-to-use. If you are new to tracking and analytics, RedTrack will come out as a very handy and easy tool for you. The tracker's interface is very simple and handy.
RedTrack is SaaS tracker.
It's a 100% web-based tool.
You don't need to install anything or hassle with geo balancing.
You simply need to sign up, and you're ready to work.
RedTrack was designed as a SaaS solution.
So, it is infinitely scalable and results in lighting fast click processing. Self-hosted solutions can't compete with them in the speed.
RedTrack constantly advances and innovate.
Each month they come out with at least two big updates. They add new features and upgrade the old functionality.
Plus, they have created the Telegram Community where users can share their needs and suggestions for making their tracker experience (with RedTrack) better.
RedTrack excels at technical support.
These guys are doing a remarkable job in offering exceptional assistance to the users of their tracking platform.
They offer prompt replies and free one-on-one onboarding to their customers. Their support team offers immediate help in case you face any problems in the set up of postbacks, adding Affiliate Networks or Traffic Source.
They have more than 20 step-by-step integration guides for Affiliate Networks such as Clickbank, DigitalRaves, AdCombo, Leadbit, CrakRevenue, MaxBounty, etc.; and Traffic Sources such as Facebook, PPCMate, Bing Ads, ExoClick, PropellerAds, AdCash, MGID, PopCash, etc.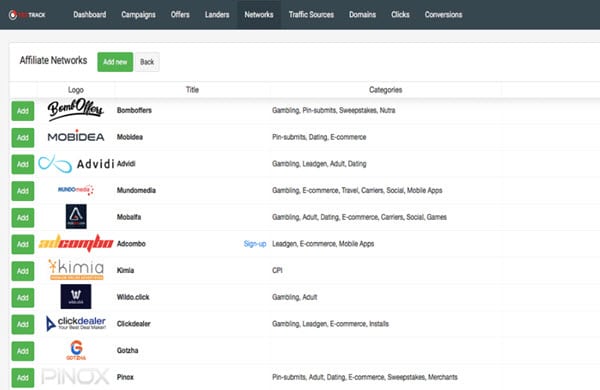 Plus, they offer a big Knowledge Base.
You get access to dozens of step-by-step integration manuals.
RedTrack Plans
Lastly, RedTrack is affordable.
They have come up with five different plans for the users.
The first one is FREE (up to 50,000 events in a month).
Plus, they have affordable paid subscriptions.
The plans start at $29.00 per month.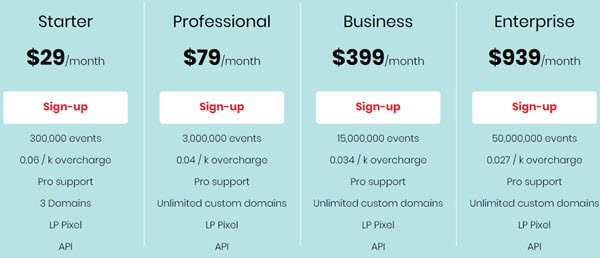 Starter
$29.00 per month
3 Custom Domains
Pro Support
LP Pixel
API
Professional
$79.00 per month
3,000,000 events
Pro Support
Unlimited Custom Domains
LP Pixel
API
Business
$399.00 per month
15,000,000 events
Pro support
Unlimited Custom Domains
LP Pixel
API
Enterprise
$939.00 per month
Pro support
Unlimited Custom Domains
LP Pixel
API
RedTrack also offers the facility to create a custom plan.
You simply need to ring them +1-347-732-2691 or email to [email protected]
Concluding
As we have seen above, RedTrack.io has all the core set of features that make it an effective affiliate campaign tracking solution for a demanding affiliate or performance marketer.
Moreover, RedTrack is constantly evolving to accommodate the changes and challenges in performance marketing practices and requirements.
It offers the opportunity to handle all the valuable information and actions from the custom dashboard. It is one of the best solutions to handle the ups and downs of your affiliate marketing campaigns.
Plus, it is reasonably priced.
So, RedTrack comes out as one of the best analytical tools to monitor your affiliate marketing campaigns without facing any hassles.
Tracking campaigns with RedTrack is easy, affordable, and rewarding.