Every blogger's dream is to make its blog popular and earn most from it, but not every blog get that success.
Making a blog successful is neither easy nor impossible because one can find many popular blog in their niche, which have a great popularity and earnings.
Now if, you also want to earn a lot from your blog and increase popularity of your blog then your competitor blogs can help you to improve your blog.
May be its sounds magical, but why your competitor will help you earn more and help you to improve your blog performance.
Yes, maybe no-one is going to help you, but you have to learn how your competitor can help you. You have to steal their success mantra to improve your blog.
Today I am going to tell how you can improve your blog performance by studying your competitors and picking good things of your competitor, and apply those good things on your blog. Studying your competitor is not about copying; it's more about adopting good things of your competitor.
Yes, your goals can be different from your competitor, but you can find blogs with same goals as yours.
Learn how your competitor can help to improve your blogs earnings and traffic:
List your Goals
Before improving your blog, you must know your goals. If you are not aware of your goals you will not able to study, and learn anything from your competitor.
Your goals can be improve your blogs earning, increase traffic, articles topic, increase opt-ins or anything else.
When you know your goals, then you can study your competitor on those areas. For example if you want to increase your opt-ins then you will focus on this while studying your competitors.
Your goals list can be increased as you study your competitor because you will learn lots of things from those blogs and want to apply on your website too.
List your competitors
Which blogs you feel are successful in your niche if you know some blogs, make a list of those blogs.
If you don't know some respectable blogs in your niche, you need to find some good blog related to your blog niche. You can find them by searching on Google by searching relevant keyword or you can search them on technorati.com Blog Directory where you can find plenty of blogs on different niches.
Don't list more than top five blogs because if you list plenty of blogs you will not be able to review them in detail and you will be confused as you will try to implement many things at once.
Content First
As you know the content is king, same rule applies for every blog. Blogs success is depended on content and writing great content should be the first priority of every blogger.
Study your competitor blog for:
What topics they cover
Length of their content
There writing style
Article formatting (Like: headings, points, font size etc)
Knowing what your competitors are writing and what you are not, will help you identify problems with your blog.
If your content is not giving value to your visitors or it is not engaging, then you may not get success as your competitors are getting.
Some blogs showcase popular post in the sidebar which can be extremely useful to find what people are looking for and what they liked about that blog post.
Again I want to say this is not about coping what your competitors are doing rather it's about learning what we need to improve.
Blog Design and Which Plugin They Use
As you know "First impression is the last impression" same rule applies for your blog. Not all, but some visitors follow this rule, and they judge your website quality with your site design.
If your blog look very ordinary, some people may not trust your blog but is this true. This is not just about how your blog looks rather it's about how easy your blog is to find information and easy to navigate.
Have a look at your competitor's blog. Do they look sexy or are they simple in design but easy to read, easy to navigate, not filled with ads, less clutter etc?
If so then compare their blog design with yours blog. You may find you need some improvements which will not just make your blog beautiful but user friendly too.
You can also check your competitor what plugins they are using. To know this, you need to check their blog page source by right clicking on the page and "View page source" this will open HTML source code. Don't worry you don't need to know HTML, just click Ctrl + F this will open search box in Google Chrome and search for "/plugins/" and Chrome will highlight this text wherever he finds this text. You will find plenty of URL which will help you to know which plugins your competitors are using.
What can you do with this information: What you are expecting, yes this will help you to improve your blog. Knowing which plugin they are using and for what purpose will help you apply those things on your blog, which will surely help your blog to improve. For example if your competitor is using CommentLuv plugin on their blog to increase comment engagement, then you can also apply CommentLuv plugin on your blog. This may help to increase comments on your blog.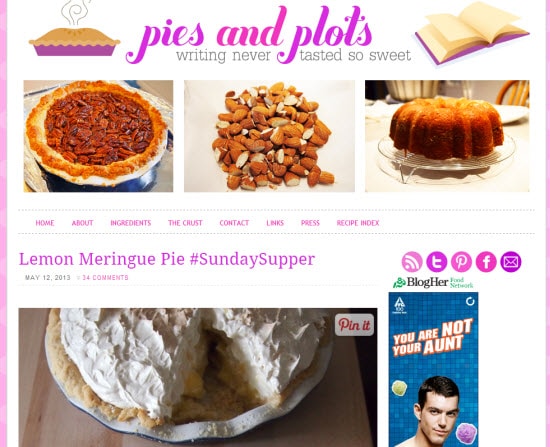 How your competitors earn?
It is not difficult to know how your competitors are earning. Most of the bloggers main earning source is Google AdSense, affiliate marketing, ad space sale etc.
You can easily find how your competitors are earning. They may be earning from different sources like affiliate marketing, AdSense, direct ad sales etc. You can also check your competitor's advertisement page, which can help you learn more about how your competitors earning source.
Some bloggers also publish their monthly earning report and explain how they earn. If you find such blog in your niche, who publish monthly earning report then this will be much easier for you to learn.
After knowing how they are earning it's time to learn how effectively they place ads or promote affiliate products.
If a blog is earning from AdSense and you also use AdSense on your blog then you should look for where they place AdSense ads, their ad size, is it only text ad or text and image ads both.
If a blog is earning from affiliate marketing, then you have to check how they promote affiliate products.
Do they write a review of that product?
Are they placing banner ads for affiliate products?
Which products and services they are promoting?
Are they promoting affiliate products from their mailing list? (To know about this you need to sign-up in their mailing list)
Knowing this will help you to find the right ad placement and ad size. You will learn which products can be useful to promote and how to promote them. All this together will help you increase your blog earnings.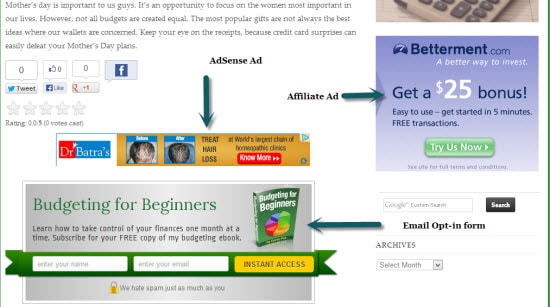 How your competitors promote their Blog?
A difficult one, how your competitor promote their blog. If you are able to know how your competitors promote their blog, then you can also implement their concept and your blog can also kiss success as your competitor.
First easy one: Have a look at your competitor blog, and find are they actively promoting their blog on social media. To know this, you need to follow them on social sites like Twitter, Facebook, and Google Plus etc. By this, you will learn how and how actively they are promoting their blog on social media site, and you can also apply their strategy to gain more visitors to your website.
Building Backlinks: If you can know from where your competitor gets link then you can also build backlinks on those sites and improve your blogs search visibility. You can use Opensiteexplorer.org to find your competitors backlinks.
For SEO, you can also analyze your site with your competitor website thru various SEO tools like SEOmoz and Raven Tools which will help you identify problems with your website and this will help you find good things of your competitor. By improving, and applying good things of your competitor, your blog can rank better on search result, which will give your blog more visitors and more earning.
At the end, I want to say again that this is not about coping your competitor rather it's about improving your blog or website compared to your competitor.
If you are giving good value to your visitors, your blog will become popular. Knowing what improvement you and your blog need will help you to get success quickly.