If you are looking to make handsome income over the internet, then Affiliate Marketing can prove to be one of the most powerful and effective ways of making this a reality. Affiliate Marketing offers you an opportunity of having a successful home based online business. Moreover, Affiliate Marketing has become an industry in itself.
You need to join affiliate marketing program and can start the journey for a high paying online home based business. It is easy to implement and can pay high commissions on a regular basis. In fact, many people have taken up Affiliate Marketing for this very reason.
Having said this, Affiliate Marketing is not a quick money making avenue. It requires your consistent efforts and a well thought of online marketing strategy to reap good results from Affiliate Marketing. In this context, it becomes utmost important that you adopt right affiliate marketing strategies and avoid affiliate marketing mistakes made by other Affiliate Marketers.
So, here under we have illustrated and described some of the most common affiliate marketing mistakes. These affiliate marketing mistakes should be avoided at any cost if you really want to succeed in your efforts of building a successful home based online business (through Affiliate Marketing).
If you have implemented Affiliate marketing or are about to join a new affiliate program, take note of these affiliate marketing mistakes and avoid making them.
The affiliate marketing mistakes listed below can be a sort of learning for you. Knowing what you should do and what you shouldn't is very important if you want to become a successful online affiliate marketer.
So you can go through the compilation of Affiliate Marketing Mistakes, and we hope that you would greatly benefit from them and make your affiliate marketing business a grand success.
10 Blogging Mistakes Most of the Bloggers Make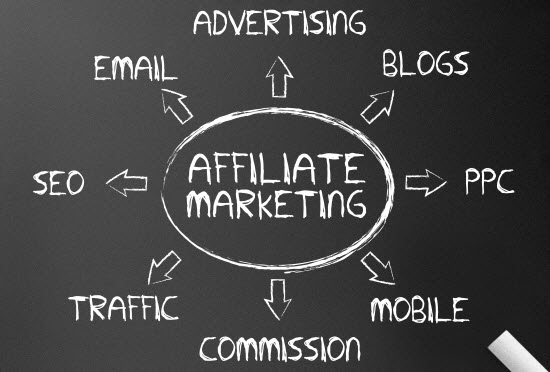 10 Affiliate Marketing Mistakes
1. Not choosing an affiliate product related to their website niche
Affiliate Marketing is all about choosing the right products.
So, what are these right products?
Well, when you take up affiliate marketing you should remember to market those products that are related to your website niche.
The reason is pretty obvious to understand.
The visitors to your website actually are searching for information, products or services related to the niche you are in. They will not appreciate such an affiliate product which has nothing to do with the niche you are catering in your website. On the contrary, this forms a negative impression on their minds. They might even not like to visit your website. For example, if your website caters to software and applications then it should promote affiliate products related to this niche only and not any other niche product such as entertainment, travelling, etc.
2. Promoting products without using them.
Another affiliate marketing mistake made by most webmasters or internet marketers is that they promote products without using them. Though, at first hand it would seem that there is nothing wrong in it, but if you analyse it further, you would discover the answer yourself.
Well, if you give any importance to analogy, then it is pretty much like a blind man describing an elephant. Yes, promoting products without using them is just like a blind man describing an elephant.
Your valued customers or website visitors come to your site because they give importance to your reviews and opinion about the products that are marketed by you. When you just say what others have already said, then there is no value addition. As you have not used the products, you cannot be sure that the things told by you are actually like that only. So you are not helping your potential customers. In the absence of true information, your visitors may decide to leave your website. Thus if, you want to flourish your affiliate marketing business then you should make a point to promote those products which you have used. This will help you to promote your affiliate marketing business.
3. Promoting too many products
Well, there goes an idiom that says, 'Too many cooks spoil the broth'. Likewise, promoting too many affiliate products does not guarantee you success. In most of the cases, affiliate marketers take up too many products because they think they would garner a large percentage of commission on the sale of these products. However, the visitors are not interested in too many products but are actually interested in useful products.
Secondly, it is really very difficult to maintain multiple affiliate programs. Learning, implementing, and maintenance of multiple affiliate programs are next to impossible. You are not able to concentrate on your efforts, and the result is fall in the number of sales. So you should run one or two affiliate programs and should not promote too many products at a time. Your focus should be to increase sales rather than on increasing the number of affiliate products.
4. Promoting poor quality products
Another factor, which can be regarded as an internet affiliate marketing mistake is with respect to promoting poor quality products. Quality is the first and foremost preference for each and every customer. If you are promoting poor quality products, your website visitors will simply skip those products. And if, by chance, they happen to buy such products, they will never buy again through your website.
So establish a relation of trust and promote valuable products so that you can build upon your customer list. A satisfied customer not only return to your website but will also recommend your site to his friends and co-workers. So by promoting quality products, you are hitting two birds with a single stone. You retain your present customers as well as increase the customer list.
5. Not creating an email list
An email list is another key element in affiliate marketing.
With an email list, you get a chance to promote your products to people again and again. However, with no email list you lose on the opportunity of reaching out to many people and so minimize the opportunity to up-sell. So you should create an email list so that you can effectively and efficiently promote your product to all of your prospective customers.
Why Affiliate Marketer Should Build Mailing List?
6. Want to make quick money (because of that give-up quickly)
Those of you who think that affiliate marketing is a way for making quick money would be utterly disappointed. Actually Affiliate marketing is a way for making money and not a way for making quick money. If you have taken up affiliate marketing thinking that it will give you large sums of money in quick time, then you will sooner or later quit affiliate marketing.
It requires consistent efforts on your part to make affiliate marketing a successful online business model. You should understand that a business, which gives quick money, is not an established business and can never be a continuous source of income.
7. Not having a website or blog
(Just promoting an affiliate product through social media, mailing list or paid advertisement)
Website or blog is an effective medium to promote your affiliate products. Your website or blog acts as a band wagon which promotes the affiliate programs on your behalf. It helps to establish your identity in front of your prospective customers. It establishes trust in the hearts of your visitors.
Once the visitors know your website, they can easily browse it whenever they need some information, product or service. So website or blog serves an effective medium to turn your visitors into loyal customers. And moreover, it proves to be a cost effective and time-saving technique to market affiliate products.
8. Not writing quality review
Quality review not only serves to provide information about the affiliate products, it also promotes the products. People like to know about the products they would be buying. They want to know their features, benefits, advantages and pricing. A quality review provides them with all of this information in a nicely laid out manner so that it becomes easy for them to understand what the product all about is. Not writing quality reviews you tend to confuse your prospective buyers. With little or no clarity about the product, they eventually decide not to buy that product. So you loose on a sure shot sale and moreover a customer for a lifetime. Writing quality reviews you can grow your Online affiliate marketing business.
9. No Keyword research
Keyword research is another vital element in affiliate marketing. Without keyword research, you tend to lose a lot of visitors' traffic. Actually by undertaking a comprehensive and thorough keyword research you get to find what people are exactly looking up when searching for the products. So, then you develop your landing page, or web page accordingly, do proper on-page SEO, target those specific keywords which can bring traffic to your site. You can optimize the use of such keywords (in your review, landing page), which bring traffic to your site. Thus, keyword research is very essential for successful affiliate marketing.
10 Best Keyword Research Tools
10. Depending on only one traffic source
If you really want to make your online affiliate marketing a success story, then you should never depend on only one traffic source. You should endeavour for maximizing your traffic sources so that you can get visitors from various sources. The sources can be search engine, social media channels, or even paid advertisements. So, you should optimize the usage of various channels of traffic that can bring large volume of traffic to your site and thus can promote and grow your online affiliate marketing.
We hope that the Affiliate Marketing Mistakes listed above will prove to a great value for you in enhancing and developing your online business. We look forward to your comments and suggestions.