Traffic Junky is one of the oldest adult advertising networks that was established in 2008 in Quebec, Canada. Here, we have come up with Traffic Junky Review so that you can come to know all the important aspects of this adult ad network for publisher & advertiser.
Traffic Junky runs a versatile and intelligent CPM-based advertising model and manages several rather highly trafficked "tube" websites, i.e., most popular porn or adult websites on the web.
Traffic Junky's main focus industries include Sexual Wellness, Adult Dating, Gambling, Entertainment, and Health & Beauty. They run a pre-paid advertising and self-serve bidding process to offer advertisers with ad spaces that meet most of their basic ad requirements.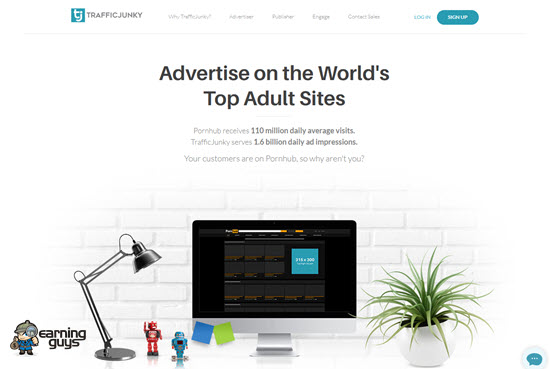 Traffic Junky has seen phenomenal success over the past few years accounting a stunning 2.2 Billion ad impressions per month with:
65.5 Million Daily Desktop Visitors
41.2 Million Daily Mobile Visitors
12.2 Million Daily Tablet Visitors
They have become a leading adult ad network providing everything that you would expect, such as keyword targeting, ISP targeting, time of day ad display, frequency capping, and more.
Some of its chief highlights include:
Intelligent ad serving
Auto optimization
Mobile campaign management
Spot advertising
Failback technology
Cost and Impression statistics
CPM platform
It's available in almost every country
Moreover, Traffic Junky offers several features for both advertisers and publishers, such as:
Advertisers:
Membership is free with no setup costs
Each ad has been tailored according to your target audience
It offers your business an extensive reach to your target audience
You can target specific countries, cities or worldwide traffic
As an advertiser, you can bid on ad placement
You can pay only for the impressions you want
Publishers:
Membership is free with no setup costs
Publishers can use it as an additional revenue stream
Monetization options related to niches such as online dating, gambling, health & beauty, and other sex-related niches
Ads can be placed in sidebars, banners, and footers
Publishers get the options of pre-set formats for best ad placements
How does Traffic Junky work?
Traffic Junky pays publishers for each impression. Its algorithms go on to rank websites on the number of conversions and clicks. It means that if your website gets a lot of traffic, you'll receive more ad clicks and earn better money.
Advertisers go for top quality sites that have tons of traffic. Advertisers will only bid on ad placement on your site if it has tons of traffic. So, Traffic Junky functions as the middle man.
As an advertiser, you go on to review websites for ad placement and go on to bid on places that are available on websites. The Publisher would go on to accept the bid. They get the code for the ad to be placed on their website.
Traffic Requirements
Traffic Junky is available in most countries. To sign up for the program as an advertiser or a publisher, you need to be at least 18 years or older. As a publisher, you need to submit your sites for approval to use the program. Its approval process involves traffic evaluation to make sure that your site has a high volume of traffic so that it can be included in their program.
Traffic Junky for Advertisers
Advertisers can run a successful marketing campaign for their online business by using Traffic Junky's highly advanced CPM-bidding platform, its self-serve interface, as well as advanced targeting options. Your business gets displayed on over 25 premium websites and over 200 high-quality websites with millions of impressions.
One can start with your campaigns by following these simple and straightforward steps:
You need to define your campaign: You have to set the name, target group, device, and daily budget for your campaign. One can use its keyword selection feature to define your audience.
You need to upload your graphics: You can upload the banners or images to your campaign. Moreover, you can upload the banners of different sizes based on the ad that you want to target.
You can select a Site & Placement: You can now choose the website where you can display your ad along with the locations such as header, below title, etc.
Check ROI: Now, it's time when you can see clicks, leads, and sales coming to your website. You can analyze your stats and can further optimize to get the best results.
Advertisers get several advantages working with Traffic Junky such as:
High volumes of targeted traffic: Advertisers get the opportunity to grow the number of sales and quality leads to their business. They can build an extensive reach to their target audience with a high volume of ad impressions that are served daily across the network and partner sites. Moreover, advertisers need to pay only for the impressions they need.
Tailored online global marketing: Advertisers can tailor each ad buy and select the specific placements; thereby, they can put the right ad in front of the right customer for their product. Moreover, they get the opportunity to target worldwide traffic, specific countries or cities.
Flexible ad serving platform: Advertisers can be sure that their ads get displayed to the right customers. Traffic Junky's fully automated ad serving platform will ensure that you reach your goals and results you want for your eCommerce business.
Other salient features for advertisers:
Offer Type: CPM
Verticals: Adult industry
Advertising Type: Display
Minimum Deposit: $25
Payments: Visa, Master Card, PayPal, Paxum, Discover
So, Traffic Junky turn out to be the best choice for advertisers who want a space to endorse their product or service. It's because Traffic Junky offers billions of visitors and impressions daily. Traffic Junky is working with the top publisher websites and allowing advertisers to choose where to promote their goods.
Moreover, with Traffic Junky, advertisers get an account manager who can assist them when they come up with any question. With this, advertisers can achieve the best results possible. Plus, advertisers get a wide array of tools and options to achieve specific goals. They can target visitors by keywords, location, device, and time. Advertisers also get a detailed performance report.
Traffic Junky for Publisher
As a publisher, you can have the opportunity to monetize your website with the ads served by the advertisers of Traffic Junky. You can start with your publisher account by following these simple steps:
Ad Spot: You can monetize all your ad spaces by choosing from a list of pre-set ad formats. You can even apply to have customized ad formats that are created for the best integration to your website.
Stats and Revenue: You can use the publisher dashboard to directly see the stats of your ads and the amount that you're earning.
Real Monetization Solutions: They give support to publishers from across all verticals. Publishers get a variety of effective ad formats in various popular sizes. Traffic Junky global ad network offers buyers from all across the world that meet your earning expectations.
Moreover, there is no minimum traffic requirement to join the network as a publisher. However, Traffic Junky restrict content that is extreme violence, abuse & rape, hacking or cracking, weapons & ammunition, drugs, and alcohol, incentive ads, bots that generate artificial impressions or clicks, incomplete websites, and illegal content websites.
Some important highlights for publishers:
Publisher's share of revenue: 60/40 (Publisher/Traffic Junky)
Payment Methods: PayPal, Paxum, Wire Transfer, Payoneer
Minimum Payout: PayPal: $100, Wire Transfer: $500, Paxum: $50, Payoneer: $50
Payout Frequency: Bi-weekly
Creating an Ad Unit: It is a simple & intuitive process that can be conducted in a few minutes
Display Ad Unit Sizes: Desktop and Tablet: (315×300, 300×250, 950×250); Mobile: (305×99, 300×250)
Implementation Technology: HTML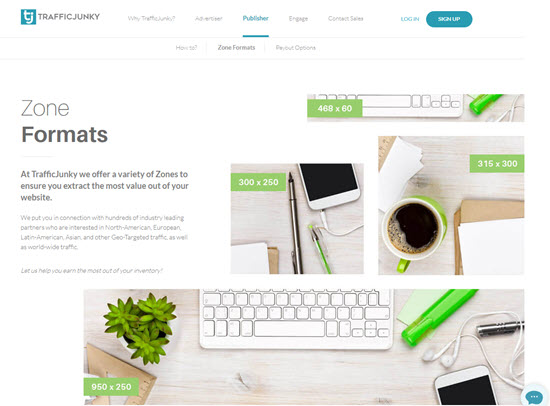 Moreover, publishers get several advantages when they partner with Traffic Junky, such as:
Opportunity to generate more revenue: Ads can be placed in a variety of formats or sizes that suit your specific site layout
Tracking and analytical tools: Traffic Junky offers tracking and analytical tools for measuring your growth instantaneously on desktop, mobile, as well as tablet
Competitive Payouts: Traffic Junky offers proven, flexible payment solutions. With Traffic Junky, you can maximize your online inventory revenue. Traffic Junky pays every week to increase your earning potential. It is CPM-based, so publishers get paid for each impression delivered. With the bidding system in line that assures publishers the highest rate possible.
So, it enhances the publisher's success. It also offers in-depth reports, payment options, customizable payment terms, as well as a highly-profitable referral program.
You may also like: 10 Best Adult Affiliate Networks
How to apply
Interested publishers and advertisers need to fill up the Traffic Junky's form and submit it for sign up. Once this is done, they get the confirmation email for their sign up, including the activation link that needs to be clicked for activating the account. Now, you can activate your account and instantly log in for accessing your dashboard.
Join Traffic Junky
How to start your campaign?
For starting a new campaign, you need to choose the following:
Type of device (Computer/Mobile)
Target Audience
Keywords
Niche
Targeted regions
Hours when ads run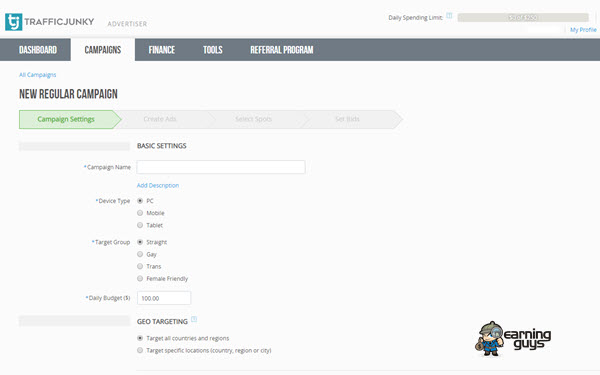 You can upload images and assign them a specific site/type of device. Moreover, you can even make specific banners for specific sites if you need them. For getting ads by Traffic Junky, you need to bid on them.
Traffic Junky takes into account the amount of bid, the target audience, niche, and your total daily budget. So, you need to plan and research. Moreover, you need to balance all these three elements to get the best return on your investment.
Traffic Junky provides an analytics tool for tracking how your ads perform overall (per banner, per website, and for each region). You even get useful information about impressions for a given period. You can also create graphs and get a visual of your banner's performances.
Why should you use Traffic Junky?
With Traffic Junky, you get the best opportunity of high-quality traffic in adult content, sexual health niches, and dating.
So, it is one of the best adult advertising networks. It gives you everything you need during each phase of your ad campaign.
Traffic Junky turns out to be the best choice for your marketing goals when your site, product, or service (that you are marketing) is in line with its niches.
Concluding
As you can make out from this Traffic Junky Review that it is one of the best adult advertising networks out there. So, Traffic Junky proves to be the ideal destination when you want to reach out to your targeted users in this segment.
Publishers get the opportunity to make money by placing Traffic Junky advertiser ads on their websites. You can even earn through the Traffic Junky Referral Program. You get to earn a 10% commission by way of Traffic Junky Credits. Traffic Junky offers support 24/7 through email and live chat.
We believe that you now have enough understanding of this ad network. This Traffic Junky Review aimed to show the network clearly to you. Thanks for your visit. We welcome your comments and suggestions.