Screaming Frog is a leading website Crawler/auditor and SEO analysis tool for marketers. It is highly efficient at crawling websites extensively. Moreover, it can capture large amounts of data within a relatively short period.
However, the downside, of course, is the price. It's about $210 per year. That's at a pretty steep price.
So, if you're looking out for Screaming Frog Alternatives, we must tell you that you're perfectly at the right place. Here, we have featured as much as 12 Best Website Crawler and Screaming Frog alternatives.
These tools can crawl your websites and can harvest a huge amount of data in a relatively short period of time. You get a complete readout of your scripts and media, and also you're Metadata, your links, and their status, plus a whole lot of other valuable data. All this information proves immensely valuable when you want to fix errors and make your site look SEO friendly.
The Screaming Frog free version is limited in functionality. For example, it can crawl your website for broken links and link errors. It can look out for page titles and Metadata; hreflang attributes, Meta robots directives, and can also find duplicate content.
It can even generate an XML sitemap for you. However, that's all it can do. Moreover, it has a limit of 500 URLs. So, if you want more features, you necessarily have to go with its paid version.
The Screaming Frog paid version comes at a steep price of $210 per year with additional crawl configuration options, saved crawls, integration with Google Analytics, Link Metrics, the custom source code searching, and even the Search Console.
Here comes the utility of Screaming Frog Alternatives. This post features some of the best SEO tools to help you with your SEO quest.
We have to admit that the biggest devil with Screaming Frog is its price tag. Screaming Frog is practically out of reach of many small businesses that cannot afford to take such a quote. Moreover, the most critical features come clubbed with its costly paid package.
The post allows you to explore multiple top website crawlers and Screaming Frog alternatives when you feel that Screaming Frog isn't your ideal SEO diagnostics solution. In fact, the post features quite many free alternatives with lots of functionality.
So, let's head straight to the list and explore the 12 Best Website Crawler & Screaming Frog Alternatives.
12 Best Website Crawlers
Here's the list for you:
Screaming Frog SEO Spider comes as an industry-leading website crawler for Windows, Ubuntu, and macOS. It is one of the best technical SEO audit tools and is trusted by thousands of SEOs and agencies worldwide.
It can crawl websites' URLs and fetches key elements to analyze and audit technical as well as onsite SEO. It's a powerful and flexible website crawler that can crawl both small as well as very large websites efficiently and allows you to analyze the results in real-time.
With Screaming Frog SEO Spider, you can gather key onsite data to make informed decisions. Moreover, the SEO Spider Tool allows you to:
Find Broken Links: It can crawl a website instantly and can find broken links (404s) as well as server errors. You can bulk export the errors and source URLs for fixing or sending to a developer.
Audit Redirects: You can find temporary and permanent redirects. You can even identify redirect chains and loops, as well as upload a list of URLs for audit in a site migration.
Analyze Page Titles and MetaData: It allows you to analyze page titles and Meta descriptions during a crawl. You can analyze that is too long, short, missing, or even duplicated across your site.
Discover Duplicate Content: It can perform md5 algorithmic check to find exact duplicate URLs. It can even find out partially duplicated elements like page titles, descriptions, or headings. Plus, you can come to know low content pages.
Extract Data with XPath: You can collect any data from the HTML of a webpage using CSS Path, XPath, or regex. This can include social meta tags, additional headings, prices, SKUs or more
Review Robots and Directives: You can view URLs blocked by robots.txt, Meta robots, or X Robots. It allows you to Tag directives such as "noindex" or "nofollow" as well as canonicals and rel= 'next' and rel= 'prev'
Generate XML Sitemaps: You can quickly create XML Sitemaps as well as Image XML Sitemaps
Integrate with Google Analytics: You can connect to the Google Analytics API fetching user data, which includes sessions or bounce rate and conversions, goals, transactions, and revenue.
Moreover, much more
SEO Spider comes in free as well as a paid version. Its paid version additionally offers:
Scheduling
Crawl Configuration
Save Crawls & Re-Upload
Custom Source Code Search
Custom Extraction
Google Analytics Integration
Search Console Integration
Link Metrics Integration
Rendering (JavaScript)
Pricing: Free (Limited Features), Paid: £149.00 Per Year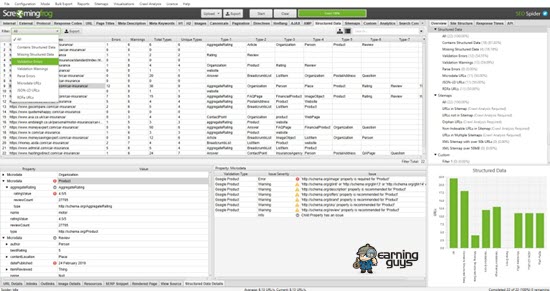 2. SEMRush Website SEO Audit
Before we take up SEMRush in detail, let's make it clear to you that SEMRush is not a dedicated on-demand SEO crawler such as Screaming Frog. Moreover, it's a complete digital marketing suite that offers SEO crawling as well as other critical digital marketing tools. So, SEMRush works as a full-fledged marketing solution that has multiple centralized channels.
SEMRush coordinates crawling from its Site Audit Section. Its engine analyses your website's pages, identify problems and offers a score (to your website) based on its overall SEO health. It even offers a detailed assessment report of the site and outlines issues like broken links, duplicate content, and more. Moreover, it makes it easy to resolve each issue individually.
SEMRush schedules it crawls weekly. The past reports can be tracked through the Progress Tab. However, the number of pages that can be crawled by SEMRush is limited for the bulk of its customers.
For example, at the lowest subscription level (Pro), it's impossible to analyze more than 100,000 pages. Its next package, Guru, expands it to 300,000 pages, while Business supports up to 1 million pages.
However, the Enterprise users (large businesses) are allowed to scan an unlimited number of pages.
So, SEMRush is a great tool for non-techies as well as marketing managers. Moreover, SEMRush is even good at analyzing the competition. It can identify the specific keywords which the respective businesses are using so that they can get ahead of your site. You can even assess their ranking strategies. Plus, SEMRush covers in-depth campaign assessment, keyword and ad research, keyword tracking, domain comparison, domain-specific keyword ranking, plus position tracking.
Pricing: Pro – $99.95 per month; Guru – $199.95 per month; Business – $399.95 per month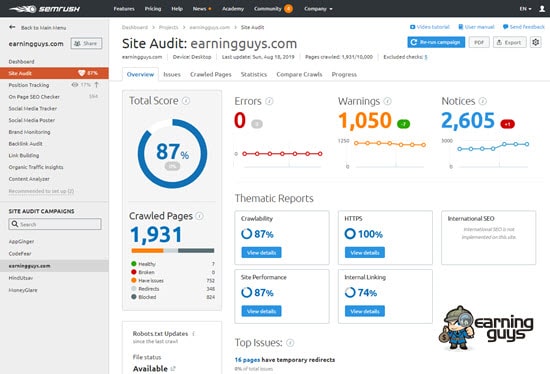 Website Auditor is a tool that you get with SEO PowerSuite. It can be purchased separately. Website Auditor has a more user-friendly interface than Screaming Frog. It's a tool for an in-depth SEO audit, including On-page analysis & optimization.
Moreover, Website Auditor offers On-page auditing, technical SEO, and has a reporting tool all in one app. You can download this SEO audit tool for free and increase online traffic to your website and improve its usability.
It digs diligently through your entire website to find and audit each and every resource (both internal as well as external) including HTML, CSS, JavaScript, Images, Videos, Flash, and more. It even performs a site crawl analysis like Google, Bing, or Yahoo.
Website Auditor performs a thorough SEO audit to find out every issue with your sites such as broken links, duplicate content, internal linking problems, poor mobile usability, W3C validation errors, heavy pages and scripts, thin content, and more. Moreover, for every error that it finds, you get a list of pages it affects, together with "How-to-fix" instructions.
Website Auditor can easily generate an XML Sitemap or Robots.txt file at a click of a button. It offers keyword and page-specific optimization advice to see what makes your competitors rank high on search results. It can also uncover problems in the site architecture, analyze internal link juice, and offer customized graphic reports.
Website Auditor lets you optimize pages in-app. It comes with in-built TF-IDF SEO tool that can improve your pages' topical relevance & authority, and work out to optimize for semantic search. It gives recommendations on keyword usage, which is based on the pages of top-ranking competitors. The reports offered are a customizable and white label. They are designed to look fab across all devices.
All in all, Website Auditor accomplishes:
Technical site optimization
Site structure visualizations
On-page SEO audit
Competitors' On-page intelligence
In-app content optimization
TF-IDF analysis
So, you will be impressed with the features that Website Auditor has to offer. It's a "must-have" tool if you're eyeing for a top 10 placement in search engines.
Pricing: Professional $124.75, Enterprise $299.75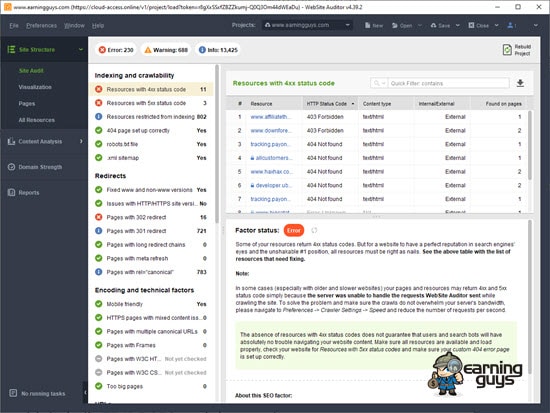 Netpeak Spider comes as a desktop tool which works like a search engine robot crawling your website and detecting key SEO issues that affect your website's visibility in SERP. So, Netpeak Spider is your personal SEO crawler that performs a fast, comprehensive technical audit of your entire website.
The tool enables you to:
Check 50+ Key On-Page SEO parameters of crawled URLs
You can spot more than 60 issues of your website optimization
Analyze incoming as well as outgoing internal links
Find broken links and redirects
Detect duplicate content, including pages, titles, Meta descriptions, H1 headers, etc.
Consider indexation instructions (Meta Robots, X-Robots-Tag, Robots.txt, Canonical)
You can calculate internal PageRank and improve website linking structure
You can set custom rules for crawling either the entire website or its certain part
You can save or export data so that you can work with it whenever you want
So, Netpeak Spider is one of the most efficient Website Crawler for performing everyday SEO tasks. In fact, thousands of SEOs, as well as webmasters across the world, are using Netpeak Spider for performing SEO tasks in the most efficient way.
Netpeak Spider detects issues such as:
Broken Pages
4xx Error Pages
5xx Error Pages
Duplicate Pages
Links with bad URL format
Duplicate Text
Duplicate H1
Missing or Empty Description
Broken Redirect
Endless Redirect
Broken Images
Missing Internal Links
Moreover, much more
Netpeak Spider Plans and Pricing:
1 month: $19.00/mo
3 months: $17.10/mo
6 months: $16.15/mo
12 months: $15.20/mo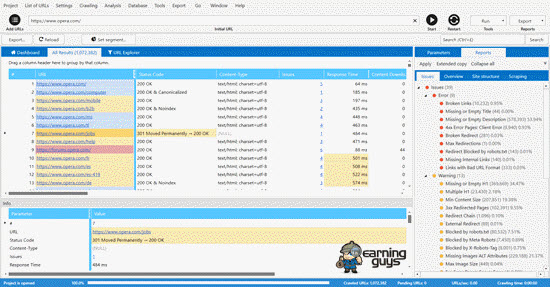 WildShark SEO Spider is a comprehensive website auditing and SEO tool that allows you to:
Identify missing and duplicate titles
Improve your On-Page SEO performance
Optimize your page titles and descriptions
Find broken links and duplicate meta tags
Analyze any website and identify link opportunities
Highlight missing H tags, title tags, and ALT tags
The WildShark SEO Spider works only on Windows.
You can thoroughly audit websites. It's a 100% free tool with no limitations. The SEO Spider Tool can identify crawl errors, highlight duplicates, improve SEO results, and enhance the overall user experience. It works with sites of any size.
You need to install the WildShark SEO Spider Tool, enter the URL of the website, and click Start. It then displays the list of errors that are present on that site. Moreover, the information is presented in a simple format, which is easy to understand. You don't need to be an SEO or programmer for understanding it.
The category that has errors is displayed in red. If it shows green, then the site is free from that particular type of error. You need to correct the errors to reduce or eliminate crawl errors and to enhance UX.
The tool helps you to optimize your site and boost the conversion rates. The WildShark SEO Spider Tool analyses and detects:
Missing Titles
Duplicate Titles
Short Page Titles
Long Page Titles
Missing Meta Description Tags
Duplicate Meta Description Tags
Meta Description Tag Too Long
H Tags Missing
Duplicate H Tags
H Tags Overused
Short Page H Tags
Long Page H Tags
Broken Links
Word Count Too Low
Missing Image ALT Tags
So, the WildShark Spider Tool identifies errors and problems on your website. Once you fix these errors, you go on to improve your search engine rankings, user experience rates, as well as conversions, revenue, and profits. On the whole, WildShark Spider Tool helps to analyze and improve your site performance.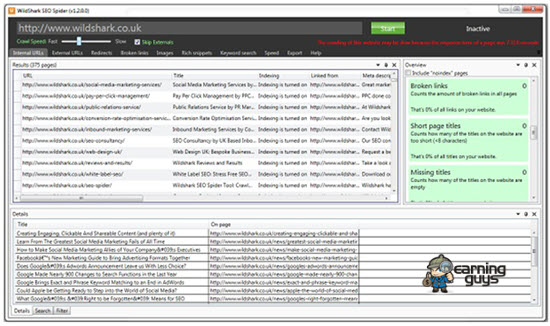 6. SE Ranking Website Audit Tool
SE Ranking is an all-inclusive cloud-based SEO Software that includes a variety of SEO tools such as Website Audit, Keyword Rank Tracker, Backlink Checker, On-Page Checker, Keyword Suggestion Tool, Backlink Monitoring, and much more. So, with SE Ranking, you get the complete suite of SEO analysis and promotion tools.
SE Ranking proves to be "all-in-one" SEO platform for any project, any level, and any budget. It is one of the best SEO software available in the market that comes with all standard SEO Tools along with special features that's difficult to find on any other SEO platform.
SE Ranking proves equally good for SEO Professionals, Website Owners, and even Digital Agencies. The SEO gurus out there get all SEO and extra unique features on one platform.
For example, the Keyword Grouper Tool saves time on grouping selected keywords that can be distributed effectively among web pages of your sites.
Likewise, the SEO/PPC Competitor Research can find out what keywords your competitors are using in their ads for generating organic traffic.
With the Backlink Monitoring tool, you get to know everything about your backlinks to act accordingly. With Website Audit, you can check as many pages you want and receive actionable recommendations on the go.
So, SE Ranking offers up-to-date data and information to benefit agencies and clients alike.
Pricing: Optimum $23.4/month, Plus $53.4/month, Enterprise $113/month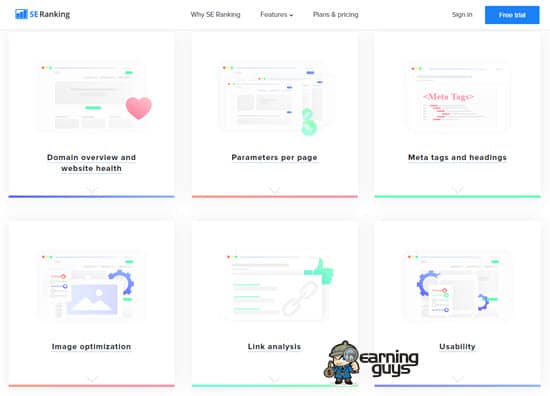 Ahrefs is known particularly for its solid data when it comes to your site's backlink and keyword state. It even offers a fantastic user experience. In fact, Ahrefs has become a leading player in the digital insights and data industry. It offers you with the most extensive live backlinks index. So, Ahrefs allows you to view sites linked to respective URLs, the strength of the backlinks, deployed anchors, and even much more.
Ahrefs Site Audit tool crawls your site and looks for the site structure and errors. It gives overall SEO health score, key data, charts, SEO issues, and provides information on how to fix the issues.
The Site Audit tool checks for over 100 SEO issues or regular basis and share the progress report. It also checks for the mobile version of your website.
Its Position Explorer tool offers you insights into your competition's search data. Then there's the rank tracker option with which you can see how your content adds up to your competition. It's a great offering, especially for those who want to climb up the Google ladder in the SERPs. Moreover, it allows you to view your competitors' flow of both paid and inorganic traffic.
However, by far, the biggest highlight of Ahrefs is its overall approach to content. Ahrefs offers comprehensive insights on content and keyword performance.
Plus, Ahrefs is pleasantly simple and straightforward. It generates quite extensive information which is backed by clear and comprehensive visualizations. There's also a notable proprietary function that delivers data exportation into other understandable formats.
However, all these features are not free. In fact, Ahrefs is more expensive than Screaming Frog. Its cheapest Lite package goes for $99 per month, while its most popular Standard package costs $179 per month. Moreover, its Advanced package is available at $399 every month while the Agency is priced extensively high at $999 per month.
That said the pricing is worth paying when you consider the number of resources it takes to maintain such a super index in real-time. Plus, Ahrefs is one step ahead of Screaming Frog in terms of features and functionalities. Overall, it's a great tool if you like to do extensive SEO work or would like to view your competitors.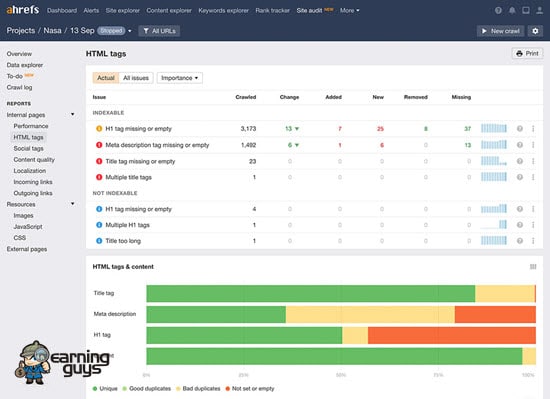 8. OnCrawl SEO Crawler
OnCrawl is another well-known Website Crawler that combines your content, log files, and search data at scale.
The OnCrawl SEO Suite covers:
OnCrawl SEO Crawler: It allows you to analyze your website like Google.
OnCrawl Log Analyzer: It tracks bots hits as well as visitors activities from search engines.
OnCrawl Data: It enriches your analysis with third-party datasets and advanced analysis.
OnCrawl Rankings: It allows you to analyze the influence of ranking factors on positions as well as impressions
OnCrawl Backlinks: It allows you to analyze the influence of your "backlink distribution" on crawl frequency
OnCrawl SEO Impact: You can optimize the crawl budget as well as ROI on strategic pages
OnCrawl Analytics: Drive SEO, SMO traffic as well as users to top-priority pages
OnCrawl Toolbox: It's a set of free tools and extensions for quickly fixing SEO pain points
OnCrawl Platform: It allows you to build unparalleled SEO reports
Moreover, OnCrawl supports your entire SEO process, including:
You can identify pages that are not linked to your structure for optimizing internal popularity
One can monitor how search engines are visiting your website. You can even come to know if strategic pages are correctly indexed
You can filter near-duplicates by similarity ratio
Optimize for mobile-first
Plus, their support team is ready to help you out no matter what's the complexity of SEO issues that you face.
Pricing: Pro $49/mo, Business $249/mo, Ultimate $349/mo, Premium $2290/mo

9. Sitebulb Website Crawler
Sitebulb is relatively a new entrant in the world of website crawling. However, going by its capabilities, Sitebulb is one of the best Screaming Frog Alternatives. This UK-headquartered solution has all guns blazing into the SEO crawler space.
You need to install it to your PC for using the application. So, Sitebulb is not a cloud-based solution. Its software versions work on Windows as well as Mac OS platforms. Sitebulb comes with a simple and no-nonsense approach to crawling. For initiating the process, you need to submit a few details about your site and do the clicking. Its engine will access your website's configuration and generate a set of corresponding settings. When it comes to the final stage of setting up a crawl, it throws up three different types of auditing, including:
XML Sitemaps
International Analysis
AMP Analysis
However, that's not all. It even offers a conclusive report on the structure of your sitemaps. It notifies you about the specific problems within the discovered URLs that were identified during the crawl. For example, it identifies issues such as sitemap size inconsistencies, sitemap listing (within the robot.txt files), as well as status code problems.
Plus, it even provides a brief overview of past audits, detailed information with page data and protocols, internal links analysis, page resources tracking, website indexability reports, as well as site speeds and traffic insights.
Pricing: All these features can be accessed for free, but only for 14 days. Plan costs $35 per month for one user license. It is $3.50 for each additional user.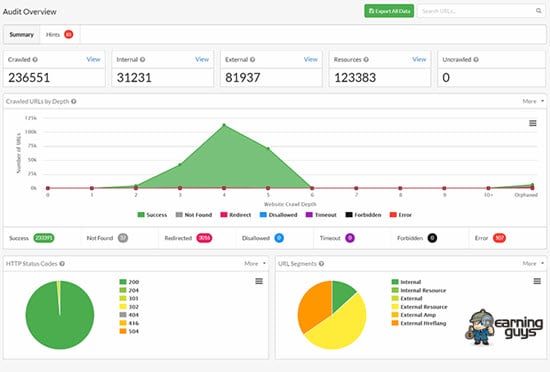 10. Moz Crawl and Audit
Moz offers a comprehensive toolset that's been optimized for increased visibility as well as improved search engine rankings. So, Moz offers a wide array of user-friendly tools that not only report performance but even optimize pages, identify SEO fixes, as well as evaluate links and research keywords.
For example, Moz can track your overall keyword ranking. It even extends the visibility to cover up your competitors' info as it digs deep into their sites and generates accurate results. So, you can come to know your chief competitors that rank best on different relevant keywords. It means that Moz helps you to draft an effective counter-strategy.
Moz is equally competent at keyword analysis as it evaluates data from all possible angles. It utilizes its segmentation capabilities and filters keywords as per label, campaign, plus location. It even identifies new link opportunities and helps to restore broken links. It also takes care of potentially detrimental links.
Plus, Moz is known for its crawl diagnostics. It points out SEO fixes as well as website crawlability problems. So, you come to know broken links, missing page elements, duplicate content, plus many other potential issues.
Pricing: The Standard Moz Pro package costs $99 per month. Its Medium plan has a price tag of $179 per month, while the Large comes at $349 per month. For heavy users, its Premium plan is priced at $999 per month.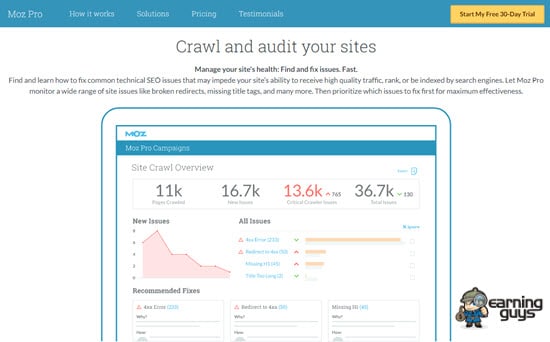 11. DeepCrawl Website Crawler
DeepCrawl is one of the best software tools for website crawling and SEO audit. It is solely optimized for crawling. So, it enables you to track your site assets. Plus, you can identify and correct SEO issues.
DeepCrawl goes beyond just "scratching the surface." Moreover, it does a comprehensive site assessment and generates critical reports on various relevant aspects. Plus, it offers features that prove effective for SEO planning.
On the whole, DeepCrawl Website Crawler is geared towards regular technical audits. So, it can audit your website regularly. Plus, it improves your site's visibility based on current trends. DeepCrawl even addresses the principal SEO problem that's encountered during a website migration. It allows site owners to work on their live sites for a seamless process.
Moreover, DeepCrawl is well streamlined towards Google Penguin and Panda algorithms. So, it can identify issues that can get your site blacklisted. It enables you to initiate the recovery process so that you can get the site back into the whitelisted zone.
DeepCrawl has got a lot of analytical tools for optimizing your search engine rankings. You can eliminate broken pages, benchmark backlinks, detect duplicates, monitor content, identify orphaned pages, pinpoint server response errors, test XML sitemaps, compare competitor SEO strategy, and lots more.
Pricing: Starter Package comes at $79 per month, while the Consultant is priced at $199 per month. Finally, there's the Corporate plan whose rates are negotiable.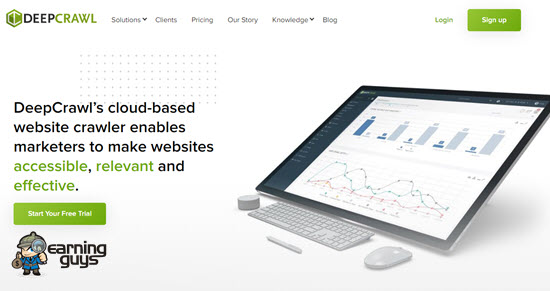 Visual SEO Studio is a comprehensive and powerful tool for technical SEO auditing. It allows you to crawl and see On-Site issues with ease. It offers comprehensive SEO suggestions. You get full control of your XML Sitemaps.
It's available for Windows as well as for Mac OS. This SEO audit tool is useful for web agencies, freelancers, in-house SEOs, as well as for e-commerce owners. It's available in the free, trial, as well as paid versions.
Visual SEO Studio offers periodical SEO audits. It comes integrated with Webmaster Tools. It performs on-site checks and produces visualized reports. It allows you to fix SEO issues quickly. You can spot poorly performing Call to Actions thanks to its fold visualization. Plus, it allows you to learn precious SEO skills.
All in all, Visual SEO Studio functions as an SEO spider. It explores websites following their internal links. It explores URL lists and audits XML Sitemaps. The tool comes integrated with search engines and third party APIs thereby delivering you even more data.
You get full control over XML Sitemaps and Robot.txt files. It can visualize the overall site structure with three different Site Views allowing it to spot any issues that would otherwise remain unnoticed. It offers pre-packaged reports that analyze the most common SEO issues.
Pricing:
Community – Free
Professional – 149.00 € + VAT per year, per PC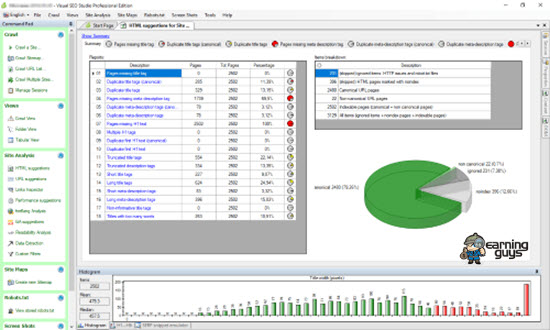 Well, with this, we complete the listing of 12 Best Website Crawler & Screaming Frog Alternatives. We hope that the post proves immensely valuable to you. Thanks for visiting. We welcome your comments and suggestions. Please share the post across popular social network channels.