In our last post, we shared how to Find the Email Address of Anyone. In this post, we are going to share with you some of the Best Email Lookup Tools. These tools will help you find anyone's email address.
As online marketing has reached its zenith, email plays a crucial role in communication. It's indispensable for marketers, salespeople, and professionals. In addition, it can help you to find new business opportunities.
However, at times finding someone's email can be very frustrating and difficult for you.
Fortunately for you, there are tools that can help you find the correct email address.
So, if you're looking for email-finding tools, here's a list of the 11 Best Email Lookup Tools that work and make finding emails easier for you.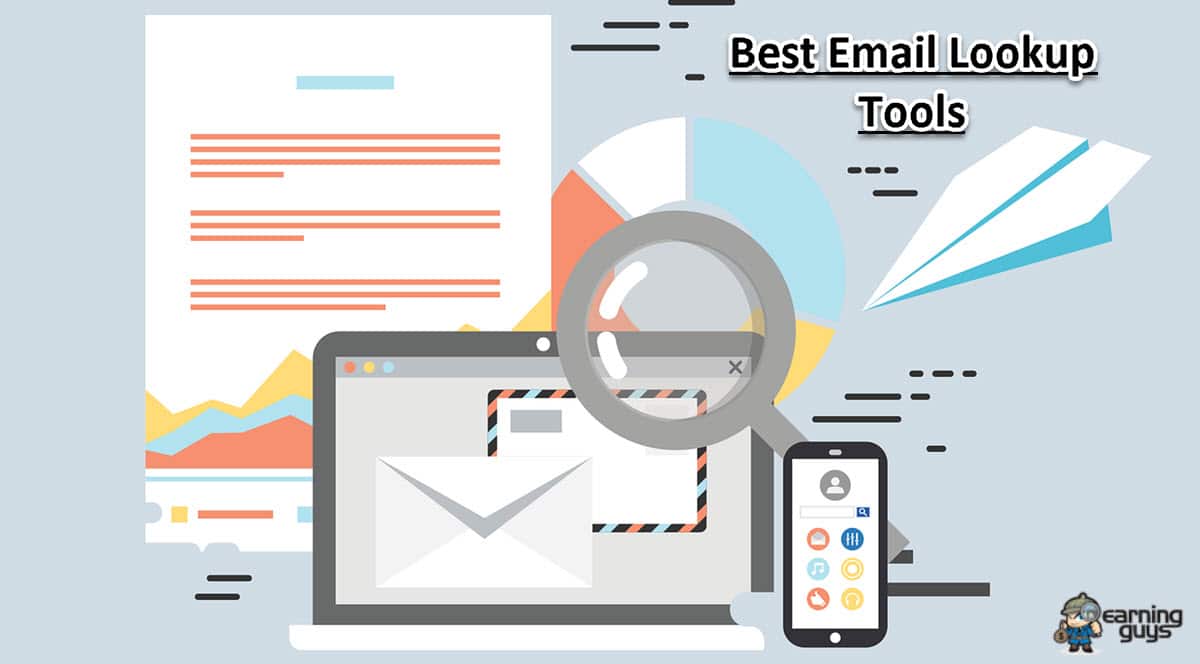 If you're into an online business, you must have realized that an email address is actually worth its weight in "gold."
If you want to "easily" detect an email address, an email-finding tool can make your task much easier.
Here, we have shared the features (as well as other related information) of the best email finder tools that will suit your marketing needs.
In fact, an email finder tool allows you to find personal or business email addresses online from various web pages.
Most of these email finders operate as web apps, Chrome extensions, or both. These tools can help you to grow your business. They can help you get the right person for the job position; they allow you to reach out to potential customers. They can help you find people (investors, business partners, or influencers) integral to your success.
Here, we have chosen the 10 Most Popular Email Finding Tools on the market for you to do email marketing on a budget.
You may also like: 11 Best Email Marketing Services
Let's dive deep into their features, pricing, and much more.
10 Top Email Lookup Tools
Now, let's get started with the list of email finder tools. Here's the list for you:
Hunter is a very popular tool for finding company email addresses. It comes with an email finder and domain searches as well as offers email verification.
(Note: As much as 95% of verified emails are deliverable)
When you enter a target domain (for example, Twitter), Hunter will offer you as many verified emails as possible for that domain.
So, with Hunter, you can find email addresses in seconds and connect with all who matter to your business.
In fact, Hunter is being used by over 600,000+ professionals. Moreover, Hunter has become the first choice of the smartest companies in the world.
It is a very good source for account-based sales.
Hunter comes with a free plan that includes up to 100 "requests" a month for free. A request can be in the form of a domain search, an email finder, and an email verification request.
Its Starter Plan is available at $39/mo, wherein you can get access to 1000 requests per month. It also comes with a CSV export capability in which you're allowed to download the results of domain searches.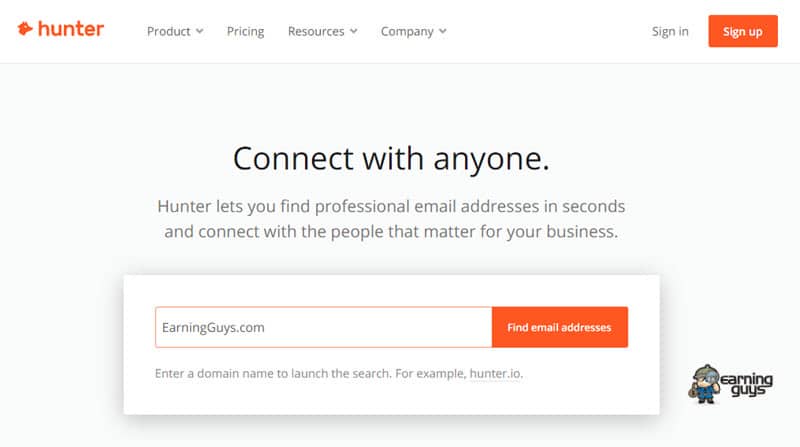 CocoFinder is an excellent tool for "reverse" email lookups. You can get detailed personal information in almost any email. For example, you can find your full name, age, photos, phone numbers, and current address.
So, with CocoFinder, you can find who is behind an unsolicited email in your inbox.
In fact, under any circumstances, you should not ignore an email from an unknown source. CocoFinder lets you perform an email search wherein you can easily find out who owns a particular email address.
CocoFinder takes the address you enter and run it through a massive database. First, it looks for hits connected to it. Then, it performs an email address search to provide you with more information than you may expect. However, if the search comes up empty, you can make out that you're dealing with an ill-intended message that you must avoid and block.
CocoFinder reverse email lookup offers you an extensive report that contains the following:
The owner's real name and full name
Its email address lookup gets you any known aliases.
The email search report will offer their complete current address.
Their phone numbers (mobile as well as landlines)
Its reverse email search gets you all of a person's social media profiles.
The email lookup gets you the photos of the owner.
So, with CocoFinder, you get complete transparency of information. It offers you a single platform where you can get all the data you require related to any person in a single place.
CocoFinder Advantages:
Trusted and Verified Sources
Super fast and Super Easy
In-depth Results
24×7 Support
Desktop and Mobile Optimized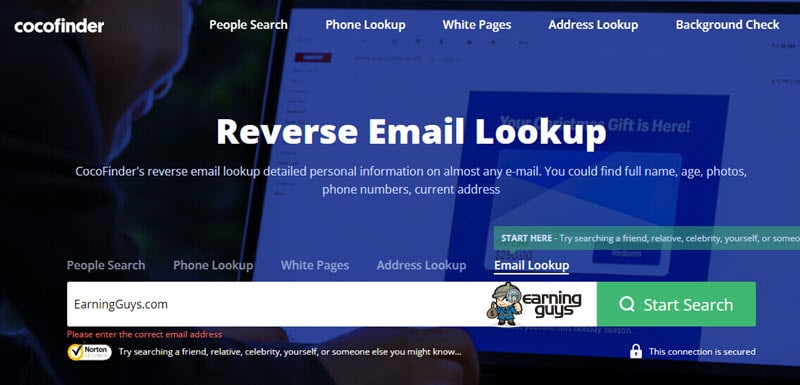 Looking for a way to contact someone at a specific company? Or maybe you need to find the email address of a potential client. ContactOut can help! With its massive database of over 700 million email addresses, you can search by name, company, or job title to find the right person to contact.
So whether you're looking for new business opportunities or just trying to stay in touch, ContactOut makes it easy! With three easy steps, you can find prospects' emails. In addition, ContactOut offers a Chrome extension to ease your work finding emails.
You can start with a Free plan on ContactOut with 40 email searches per month, and you can upgrade your plan as per your requirements, where you can search up to 12000 emails per year.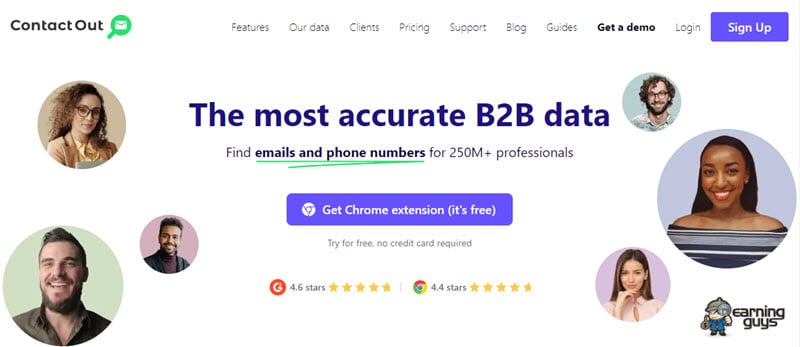 Snov.io is the fastest and most affordable email-extracting tool in the market. It's a part of an all-in-one cold outreach automation platform. It allows you to collect targeted leads in just a few minutes.
Here are some of its key features:
It offers you several search options: single and bulk email search, single and bulk domain search, company profile search, social URL search, etc
It allows you to scrape relevant email addresses from any website you visit
It can find a full prospect profile such as name, social profile, location, job position, and company information.
It allows you to integrate email search into your app or CRM using API
It supports prospect list export like CSV, XLSX, and Google Sheets formats
Dedicated Customer Care Team that helps you to resolve your questions via email, live chat, or phone
Pricing:
Freemium Plan (50 credits)
$39 (1000 credits per month)
$79 (5000 credits per month)
$169 (20,000 credits per month)
$289 (50,000 credits per month)
$578 (100,000 credits per month)

UpLead comes as a lead generation tool. It allows you to browse as many as 56 million contacts to find leads. Then, you can filter them by using more than 50 criteria options.
Once you're successful in finding the leads, this tool allows you to download them in bulk. You can even verify their emails in real-time to enrich your own data by using their information on your leads.
Plans offered include:
Free plan with 5 credits
Paid plans start at $99 and max out at $399, offering a maximum of up to 1000 monthly credits.
There is even a pay-as-you-go option on the grab.
Integrations:
HubSpot, Zoho, Outreach, Insightly, Copper, Pipedrive, etc
Available as: Chrome Extension, Web App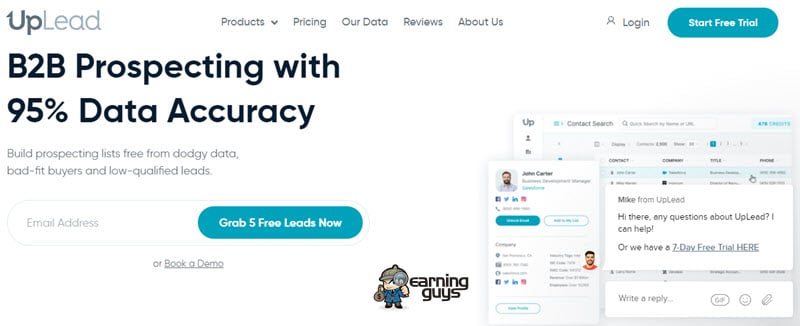 Clearbit can be integrated with your Gmail account very easily. It allows you to find the email addresses of any company you want to contact. Then, you just need to type in the company's name with the employee's first name or job title.
Its free plan comes with 50 Search Credits.
Paid plans start at $199 and max out at $999. They are categorized as Enrichment, Reveal, Risk, and Prospect.
Integrations on offer include the following:
Salesforce
Zapier
Slack
Marketo
Connect
Segment
It's available as Chrome Extension and Web App.
Clearbit can be used for both Individual as well as Bulk Email Findings.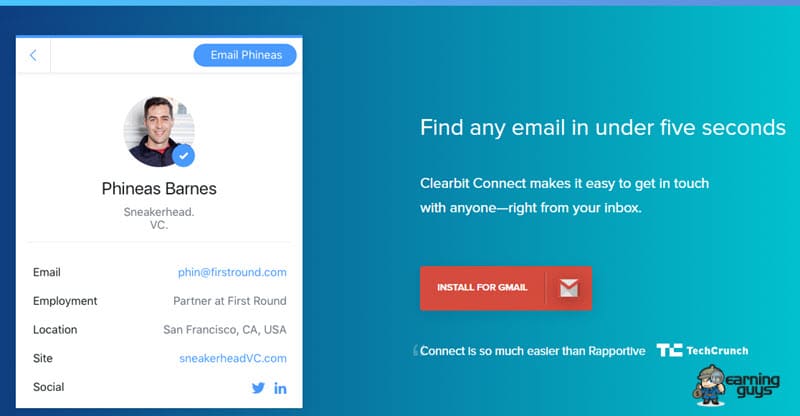 Voila, Norbert is another excellent email lookup tool that allows you to find any corporate email address by using first name, last name, and domain.
It sends out a signal to the mail host to verify the email addresses. So, there is no need to worry about the email being wrong.
Moreover, Norbert finds the email address free of charge.
Its free plan gives you 50 Search Credits.
Paid plans start at $49 and max out at $449. It gives you a maximum of 50,000 Search Credits.
Integrations include the likes of:
Zapier
Salesforce
Pipedrive
Drip
ReplyApp.io
Close.io
It's available as Chrome Extension and Web App.
Norbert is best for individuals. However, it can even be used for Bulk Email Finding. So, Norbert can be used for verifying anyone's email address.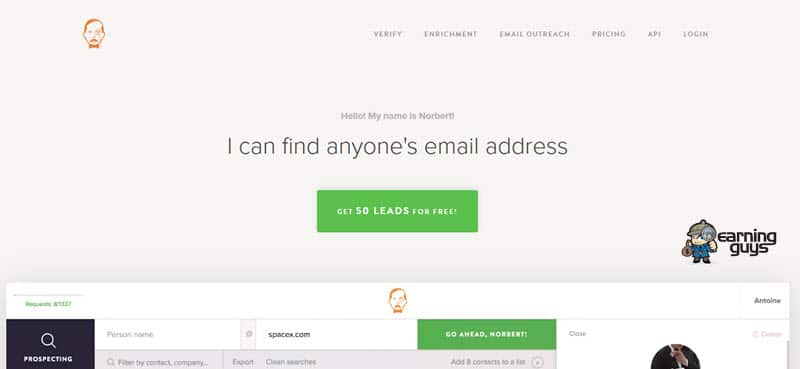 "Find That Email" allows you to easily find anyone's professional or work email.
In fact, Find That Email has been rated as one of the best email finders.
You just need to type in the name and domain. It will fetch you their email address and the sources from which they extracted it.
Its free plan offers you 50 Search Credits as well as 100 Verify Credits. Its paid plans start from $29 and max out at $249, giving you a maximum of 100,000 Search Credits.
It's available as a Chrome Extension.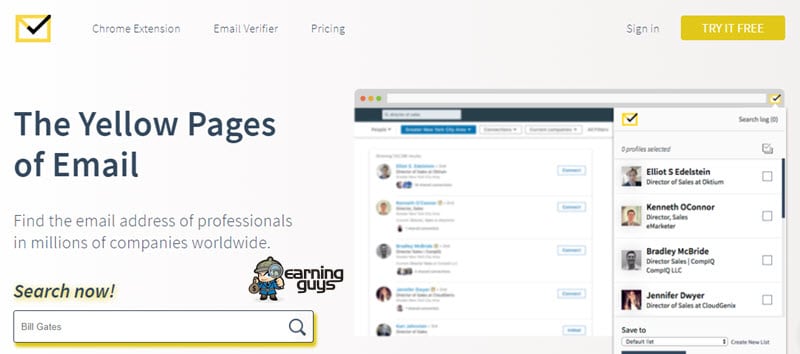 FindThatLead works more as a lead manager rather than an email-finding tool. However, it allows you to manage the email address list easily.
You just need to feed in the company's URL, and then you will get all the emails that are related to that URL.
Moreover, FindThatLead can also be used for the following purposes:
Domain Search
Lead Search
Prospector
Its free plan offers you 300 Search Credits.
The paid plans start out at $49 and max out at $399, giving you a maximum of 30,000 Search Credits.
It's available as a Chrome Extension and Web App.
FindThatLead can be used for both Individual as well as Bulk Email Finding.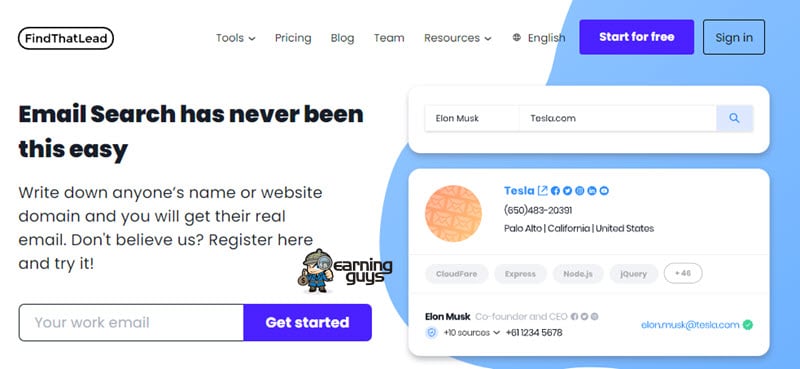 With AnyMail Finder, you can find email addresses by utilizing a person's name and domain.
It performs a search of millions of web pages and even directs server validation before delivering the email to you.
In fact, AnyMail Finder offers you as much as 97% accuracy with email addresses.
Its free plan offers you 90 Search Credits.
The paid plans start out at $49 and max out at $149, offering you a maximum of 10,000 Search Credits.
AnyMail Finder is available as a Web App.
It can be used for finding Individual Email Addresses.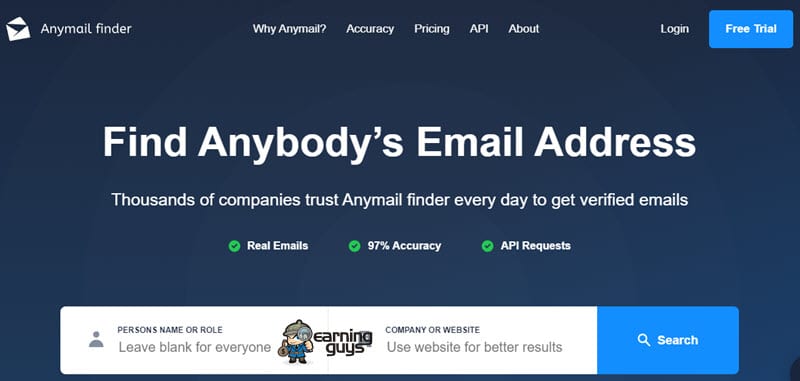 RocketReach can be used to connect with professionals and companies by utilizing its broad database.
In fact, RocketReach is trusted by more than 8.7 million users. Moreover, it offers various search options. For example, you can use RocketReach to find personal emails, professional emails, and direct-dial phone numbers.
Its paid plans start at $59 and max out at $299, offering you a maximum of 833 lookups.
Integrations include the following:
Zapier Integration
Salesforce Integration
It's available as:
Chrome Extension
Edge Extension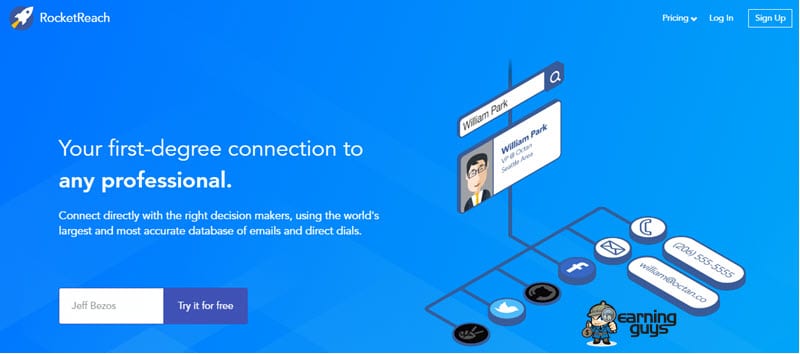 Well, with the above listing at your disposal, we hope that you now have enough data to find out which email-finding tool is best for you and your business.
Moreover, we have listed out the best ones in the market that are affordable, offer you a wide range of tools, and have multiple features. In addition, these tools come with excellent customer support and have made out a good reputation for themselves.
You can find both free as well as paid email finders in this list. It will help you to choose the perfect one out there.
Thanks for visiting EarningGuys and reading this post. We request you share this post across popular social networking channels. We look forward to your comments and suggestions.