When we talk about the world's best digital privacy tool, the name of Virtual Private Networks (VPNs) comes to the forefront. In fact, Virtual Private Network service can be regarded amongst the most useful tools available to internet users. They help improve your security by protecting against hackers, increasing your privacy, and geo-spoof your location so that you can access services that are only available in other countries. Today, we share with you 20 Best VPN Service Providers.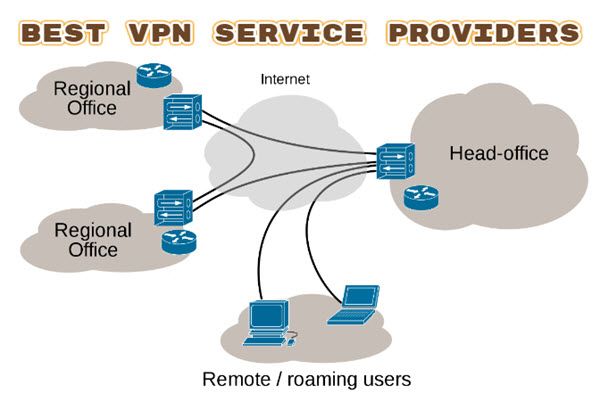 VPNs are valuable tools that everyone should understand and use. However, they are still a mystery for many. So, here's a quick recap about VPNs.
What is a VPN?
A Virtual Private Network can be described as a service that enables people to stay secure and private when connected to the Internet. They provide a strong layer of encryption, thereby helping people keep their data private (when they are connected to the Internet) at home and on public Wi-Fi.
Plus, VPN makes subscribers pretend that they are accessing the Internet from a remote location. It can be within their own country or even overseas. Once they are connected to a VPN, subscribers appear where the server is, making them accessible to content that is usually restricted.
The use of VPN lifts government censorship, blocks placed by schools, workplaces, and geo-restrictions. Most importantly, a VPN secures your computer's internet connection and ensures that all the data you send or receive is encrypted and secured from hackers.
Why you need VPN?
The use of VPNs has increased over the years.
However, traditionally, VPNs were employed by businesses for making their employees access a company's internal network securely.
Here, we share some of the main reasons why you should consider using VPNs.
If you value privacy, then you must consider using a VPN. Let's elaborate it further.
Your ISP holds a record of all the websites you access, and if asked by the government, you could be compelled to hand over that information. If that does not sound good to you, using a VPN makes sense as it helps to protect your privacy over the Internet.
Moreover, if you use your laptop or mobile device on public Wi-Fi, you expose yourself to hackers, who can easily access your browsing habits. Conducting banking transactions over a public Wi-Fi network is not safe at all. Plus, ISPs (Internet Service Providers) can now sell or share your web browsing data without asking your permission.
In all of these scenarios, using a VPN saves your day.
If you love streaming videos or enjoy watching catch-up TV, you must have noticed that some video sites are limited depending upon your location. For instance, BBC iPlayer and Sky Go are only available for UK viewers.
Further up, Netflix has licensing restrictions. With a VPN, you can overcome such restrictions and subscribe to streaming services. You can access full Netflix and streaming content even from outside the USA.
A VPN is P2P user's best friend.
Although a VPN connection slows your bandwidth by 25% – 50%, it ciphers your file downloads, uploads, and actual IP address, making you unidentifiable by authorities. So, a VPN connection helps to bypass ISP restrictions. When you use a VPN, your ISP can't tell what you're doing, and so throttling won't kick in.
Use Public Wi-Fi in Confidence
Public Wi-Fi is terribly insecure and offers no encryption security to its users. However, when you access a public Wi-Fi network and connect to a personal VPN, all of your hotspot web use will become encrypted and hidden from prying eyes.
If you are the one who regularly uses public Wi-Fi, then a VPN is a must for all your confidential email and browsing.
Get out of a Restrictive Network at work/school
Most organizations or schools/universities have an 'Acceptable Use' policy for browsing the web. They impose restrictions and block you from checking your Facebook page, reading Twitter, visiting YouTube, surfing Flickr, instant messaging, or even accessing your Gmail or Yahoo Mail.
With a VPN connection, you can 'tunnel out' of a restrictive network and connect to otherwise-restricted websites or webmail services. If you have valid reasons for bypassing restrictive networks, then a VPN connection can help you.
Bypass the Country's Web Censorship
Some nations surveil and limit access to the World Wide Web. They impose oppressive internet censorship on their entire countries. Examples include Egypt, China, Saudi Arabia, Afghanistan, Cuba, Syria, and Belarus.
If you happen to live in one of these countries, connecting to a VPN server will allow you to access the full World Wide Web and 'tunnel out' of the censorship restrictions. Although the bandwidth will be slower than the uncloaked internet, the freedom you get is unparalleled.
Checking Affiliate Offers
VPN is beneficial for affiliate marketers as well. As a CPA affiliate, you know that the affiliate URL given by CPA Affiliate Network may not work for you if the offer is outside your country.
Say you are in the US, and you want to promote a UK based offer, and you try to open the offer landing page with your affiliate URL, it may not open as it is restricted outside the UK.
In this case, you can need to use a VPN service and connect as a UK visitor, now you can access that offer with your affiliate URL, and you can check how that offer looks like.
How does a VPN work?
A VPN sends all user data in an encrypted format to the VPN server. The encrypted data is jumbled up so that none can understand it. It means that nobody snooping on your data can make out what you are doing, be it an Internet Service Provider, the government, or even a hacker on public Wi-Fi. So, your data remains protected, including passwords and bank details.
Once you get connected to the VPN server, the subscriber will be located at the VPN's IP address when they access any websites. So, the websites you visit are not able to make out the VPN user's real location. It allows people to access the Internet in the form of a resident of a foreign country. It is ideal for people who want to 'tunnel out' restricted networks or people who live under government censorship.
How to Choose a VPN Service?
The VPN Service Market has become overcrowded in the past few years. Many VPN providers throw fancy words and lure people into using their services. So, you have to remain careful while choosing a VPN service.
Typically, when evaluating which VPN service is good, you must consider its reputation, transparency, ease of use, performance, type of encryption used, support, and extra features.
Although the price is an important factor, it should not be the prime concern for you. That said, all VPN services don't require you to pay. Here, we have also listed free VPN services. A free VPN service can still keep you safe.
Some VPN services offer a free trial, so make good use of it. You will be better off with a short-term subscription. Once you are satisfied with their services, you can opt for their long-term subscription.
There are VPN services that offer a discount if you sign up for a year. However, you should always eye on the performance before entering any long-term contract with a VPN provider. Now that you have got a good idea about VPN services, it's time we move ahead and explore the 20 Best VPN Service, Providers.
Here's the list for you.
20 Top VPN Service Providers
1. NordVPN – Best VPN Service
NordVPN provides a super-safe advanced VPN service. In fact, It has been rated as the world's most advanced VPN providers. NordVPN makes the World Wide Web safe for you.
You can now check your bank balance, buy online, and more at public hotspots with an absolute peace of mind. Whatever you do online, NordVPN makes it safe, as if you were doing it at home.
With NordVPN, you get unrestricted access to the Internet and get to surf P2P services, social websites, media content, VoIP applications, and much more that may be restricted in your region or country. NordVPN is the safest way to experience the Internet with no censorship.
It provides a revolutionary 2048-bit SSL encryption that's impossible to crack. With NordVPN, you get double data encryption, super-fast servers, lightning speed, and the easiest VPN ever. It follows a strict 'No-Logs' policy. It comes with three pricing plans. However, the yearly plan at $5.75 is the best.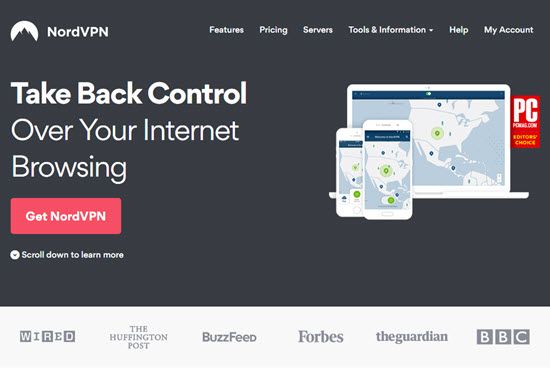 2. ExpressVPN – Best VPN Provider
ExpressVPN is one of the most trusted VPN Service Providers. Some of its biggest highlight being high speed, instant setup, ultra-secure, and ease of use.
ExpressVPN comes with a 30-day money-back guarantee. It allows you to watch content from anywhere on Earth at super-fast speeds. It delivers the highest online privacy by encrypting your Internet traffic and hiding your IP address from hackers.
With ExpressVPN, you get to access any website. It provides SSL security with 256-bit encryption. It's optimized network provides unlimited bandwidth and speed so that you can watch movies and TV shows in high definition without any interruptions.
ExpressVPN offers high-quality customer support through live chat and email. With ExpressVPN, you get to use the internet freely and securely. ExpressVPN provides three pricing plans. However, it's 12 months plan at $8.32 per month is the best.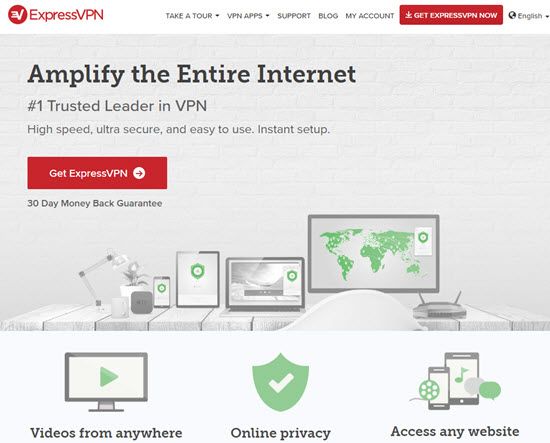 CyberGhost VPN is one of the best ways to secure your digital lifestyle. It comes out as a truly complete VPN solution.
It provides you the ability to surf anonymously. CyberGhost VPN delivers the 256-bit AES encryption algorithm, the strongest one on the market, encrypting all your Internet traffic.
It has been loaded with extra features such as ad-blocker, anti-tracking system, malware blocker, DNS leak protection, IP sharing, forced HTTPS redirect, no logs, and much more.
With CyberGhost VPN, you get access to the world's most viewed streaming services. It automatically protects you whenever you connect to a new Wi-Fi or internet connection. CyberGhost VPN is fully customizable.
The CyberGhost VPN provides free as well as paid plans, which are customer friendly. CyberGhost VPN yearly plan starts at $4.99/mo.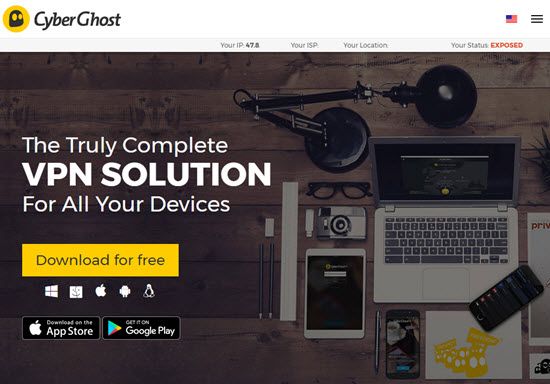 4. HideMyAss – Best VPN for Android
HideMyAss is one of the top-rated VPN Service Providers. With HideMyAss, you get total privacy and protection while accessing the Internet. In fact, HideMyAss provides you an opportunity to access your favorite sites online safely. Your IP is hidden so you can browse without being tracked.
You are totally secured online, even on public Wi-Fi connections and unsecured networks. HideMyAss backs its VPN Services with quality customer support. It is available in three pricing plans. However, the yearly plan at $6.55 per month is the best. It even offers a 30-day money-back guarantee.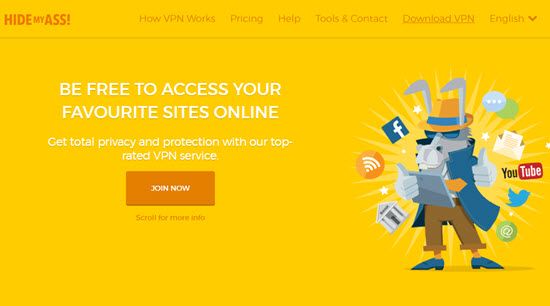 Here is another leading VPN Service Provider, Private Internet Access. It specializes in secure, encrypted VPN tunnels, creating several privacy and security layers, thereby delivering a safe internet experience. VPN Service is backed by multiple gateways worldwide and VPN Tunnel access in 25+ countries, 37+ countries.
It's the best way to protect your privacy with a VPN Tunnel. Using Private Internet Access VPN Service, you can encrypt your connection. It provides an anonymous IP for protecting your privacy. Private Internet Access is available in three paid plans. Its yearly plan at $3.33 per month is the best. It even provides a seven-day money-back guarantee.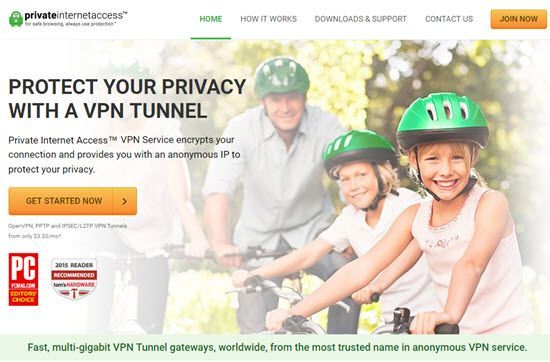 6. IPVanish – Top VPN Service
Stop the ISPs from spying on your private data with IPVanish VPN offering. It's a simple yet powerful solution for Internet Privacy. IPVanish comes with a 7-day money-back guarantee. It makes your real IP address disappear so that your online activity can't be tracked. It's a perfect way to surf the web without a trace.
IPVanish honors your civil right to privacy and does not record any of your activity while connected to their apps. It ensures that all your information remains protected. With lightning-fast speeds, maximum security, and zero logs, IPVanish is one of the best ways to surf the web. It offers three pricing plans. However, it's one year plan provides the best value at $6.49/mo (billed $77.99 annually).
7. PureVPN – Fastest VPN Service
PureVPN is one of the world's fastest VPN Service Providers. With PureVPN, you get reinforced encrypted online privacy and that too at the best rates. PureVPN comes with a 7-day money-back guarantee.
PureVPN employs state-of-the-art technology to encrypt internet traffic and enhance online security for work and accessibility. With PureVPN, your online activities are always protected, so you do not have to worry about who may be trying to track what you are doing online. It has been ranked amongst the top VPNs.
PureVPN has over one million users. This number itself is a testament to the dependability, availability, and trust people have in PureVPN.
PureVPN provides ultimate data encryption, so you get complete peace of mind knowing every bit of data that you send or receive through your internet-enabled devices is encrypted and protected from hackers.
It provides a world-class AES-256 Bit Ultra-secure VPN connection to give you complete online security and privacy. Moreover, you get the best and the fastest streaming speed on all devices all the time.
It gives you the freedom to grow your business by encrypting your employees' communications and securing their digital access with dedicated IPs. PureVPN offers three pricing plans. However, its two-year plan gives you the maximum savings and is the best and costs only $3.25/mo.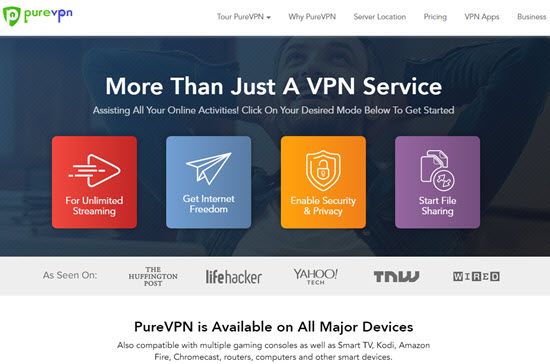 8. VyprVPN – Best VPN Provider
VyprVPN is one of the most powerful VPN Service Providers for Internet privacy and freedom. With VyprVPN, you get a private, secure, and open Internet. VyprVPN delivers Internet privacy and security, including on public Wi-Fi. Using VyprVPN, you can bypass restrictive networks and censorship. You get an awesome streaming experience and speed.
VyprVPN delivers the highest level of speed and security. It owns and manages all its hardware, software, and network, so you get end-to-end privacy and protection. VyprVPN offers easy-to-use apps for all devices, including Windows, Android, Mac, iOS, and TV. With VyprVPN, you get a free, secure, and open Internet Experience. VyprVPN comes with a free trial offer of three days.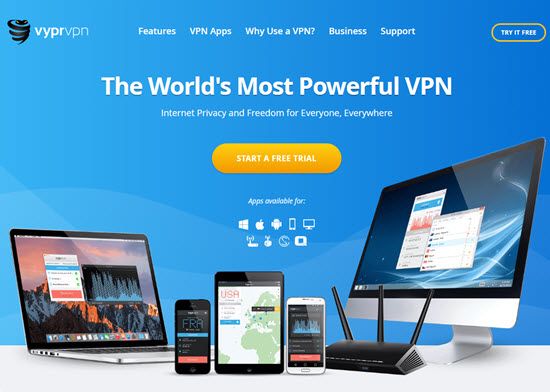 9. TorGuard – Best Virtual Private Network
TorGuard VPN Service provides you with the opportunity to protect your personal privacy online. It's one of the best VPN Providers out there, both on technical and customer service merits. So, whether you are worried about your ISP spying on your online activities, safeguarding your personal data, or just bypassing online censorship, with TorGuard, you always stay protected round the clock.
TorGuard's top-class VPN Service protects your online identity and provides the freedom to access the Internet safely. If online privacy is important to you, TorGuard is one of those VPN Service Providers you must surely consider. Its affordable pricing makes TorGuard ever more lucrative for users worldwide. TorGuard VPN price starts from $5.95/month.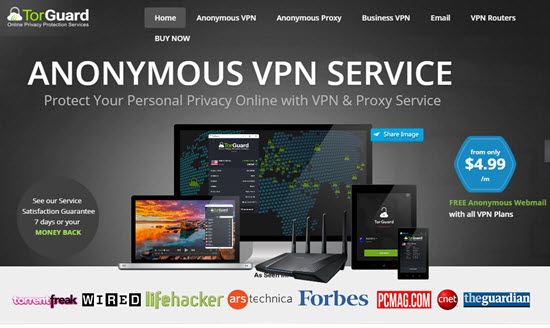 AnchorFree has the status of being one of the world's largest Internet Freedom and Privacy Platform. It provides secure access to the world's information with its top-class VPN service. AnchorFree Hotspot Shield Elite provides a secure Wi-Fi connection so that you can safely surf the web at home, work, or in public.
This VPN does not keep logs of your online activity or personal information, and you get to surf the web anonymously and privately. It provides you with the opportunity to access blocked and censored websites. You get safe access to social media, games, and videos. With AnchorFree, there's worry-free browsing with unlimited bandwidth. Hotspot Shield Elite price starts from $5.99 per month.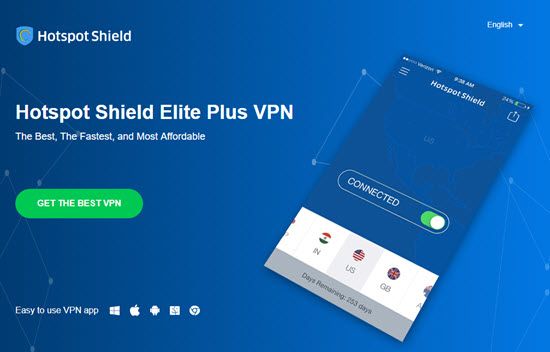 11. Windscribe Free VPN & Ad Block
Windscribe is one of the best Virtual Private Network Service Providers out there. It comes with 480+ servers located in as many as 51 countries, dishing out top-of-the-line encryption and protocol options, such as AES-256 across OpenVPN, IKEv2, and SOCK55.
It's a generous free service giving up to 10GB per month and allowing you to connect as many devices as you like. Its network performance is at par with other top VPN providers.
Plus, Windscribe is compatible with many platforms such as Amazon Fire and Kodi TV set-top boxes. It has a wide variety of connection options together with a wide geographic reach with several servers.
With Windscribe, you get an appealing and minimal user interface. It offers all the necessary features to protect your true IP from getting leaked to the world.
Another notable aspect of Windscribe is that it offers unlimited device connections. So, you don't need to purchase more than one account. You can have a go at Windscribe subscription with Bitcoin.
Windscribe is based in Canada, which is another plus point if you are varying of US authorities. The only downside with Windscribe is that it lacks a kill switch needed to stop all internet activity when the VPN connection is lost. However, there is no need to worry as Windscribe comes with a built-in firewall to prevent data leakage.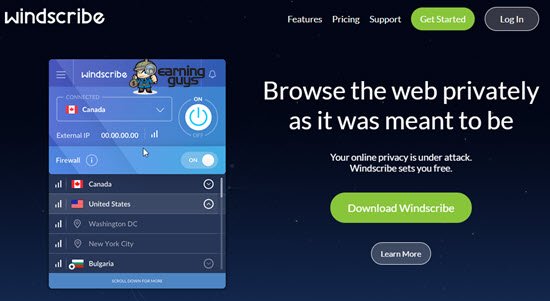 TunnelBear is one of the best VPN Service Providers, which comes in both free and paid options. Its free version offers 500MB/month Bandwidth.
TunnelBear employs the industry-standard OpenVPN protocol together with 256-bit AES encryption. However, their VPN connection speed is a little bit on the slower side. That said, TunnelBear is still a good choice when compared to other VPN providers.
TunnelBear has been around since 2011. They are based in Toronto; however, their VPN servers are spread to as many as 20 other countries, including North and South America, Asia, Europe, and Australia.
TunnelBear comes with a strict no-logging policy. So, if you're a privacy-conscious user, TunnelBear turns out as a great option. They don't sell any of your data.
TunnelBear has a user-friendly interface and offers rock-solid encryption. We got to tell you that TunnelBear is safe and secure.
It employs industry-standard OpenVPN encryption on Windows, Mac, as well as Android devices. It also offers a strong data authentication together with a secure Diffie-Hellman key exchange so that you always connect to the TunnelBear server.
Other notable features include:
Anonymous IP
Kill-Switch (VigilantBear)
5 Simultaneous Connections
So, TunnelBear makes VPN usage easy for everyone. It's effortless and easy to use. They allow both torrenting services and the use of the TOR network. They have a ticket-based customer support system.
Its first paid plan (Giant) starts at $9.99 per month for unlimited data. The Grizzly is an annual plan which requires you to pay $59.88 for 12 months of unlimited VPN service.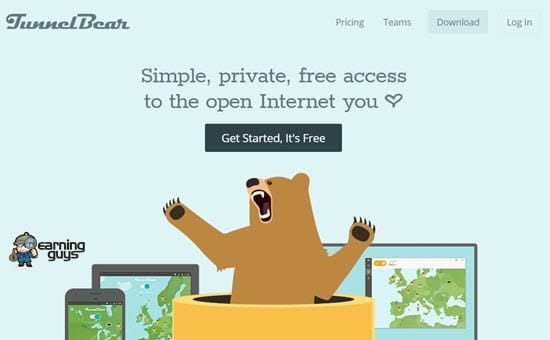 With Mullvad, you get an anonymous and private VPN service that secures your Internet connection. Mullvad employs OpenVPN and Wire Guard VPN protocols.
It comes with a strict no-logging privacy policy. Mullvad is safe and secure with no IP leaks. It employs industry-standard AES-256 Encryption via a UDP. It's DNS and Malware proof.
Mullvad offers you log-free website browsing for any Windows, Mac, or Linux device. However, Mullvad is not that easy to use as compared with other top VPN providers. It has a bare-bones desktop interface and no mobile client apps.
That said, Mullvad is worth your test as it's extremely private and secure. It asks you nothing when you go for signup. It assigns you a random number that's your username and password.
They own their servers and don't ask for any of your personally identifiable information. They accept Bitcoin and cash.
Some of its main highlights include:
Solid security
Good speeds
No registration
Three-hour free trial
No logs
Accepts anonymous payments
Simple UI
No DNS leak
Affordable
Unblocks Steam US libraries
Allows P2P
Allows up to five simultaneous connections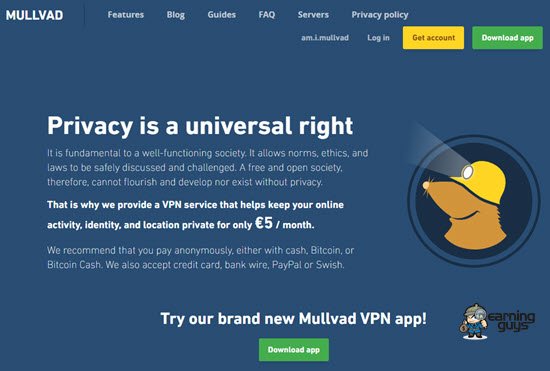 Avast SecureLine VPN delivers true "online privacy" by encrypting your internet connection at the click of a button. It's available for Windows, Mac, Android, and iOS.
It offers a 7-day free trial and can be downloaded for PC. Avast SecureLine VPN is surely meant for those who seek online freedom so that you can enjoy the Internet your way.
If you're worried about hackers on public Wi-Fi or don't want advertisers to track everything you do online, or even if you don't want to suffer from content blocks when you're in a wrong country, then Avast SecureLine VPN comes out as one of the top VPN services for you.
Avast SecureLine VPN is known to offer real privacy and hide your activities from your Internet provider, advertisers, employers, and more. Avast SecureLine VPN is safe and secure.
It allows you to be safe wherever you are. It gets you covered everywhere, including a coffee shop, airport, or a train station. With Avast SecureLine VPN, you can access any content.
Avast SecureLine VPN is lightning fast. It offers a wide variety of speedy servers all around the globe. It has servers located in various geographical locations covering as many as 34 countries, including United States, United Kingdom, France, Australia, New Zealand, Germany, Singapore, Japan, Canada, Turkey, and Switzerland.
Moreover, it uses bank-grade encryption to tunnel your communication through any network safely. Avast SecureLine VPN offers you the best protection over public Wi-Fi and unsecured networks.
With Avast SecureLine VPN, you can access your favorite sites and stream your favorite shows.
Surfshark is one such VPN Service Provider that's stuffed with advanced functionality. With Surfshark, there is no fear of retribution. Moreover, Surfshark offers the highest levels of online privacy. It's rich in features too.
Surfshark has been recognized as one of the best VPN Service Providers focusing on privacy, strong encryption, and diverse security options.
You get a strong security posture on the Surfshark VPN extensions. You do not face any privacy issues with Surfshark. It's a VPN Service Provider that nullifies online security threats: hacking, malware & phishing, or identity theft. It makes sure that your internet provider is not able to collect & sell your data to advertisers.
Surfshark encrypts all the internet traffic that is being sent to and from your device. They even hide your IP address. So, nobody can make out what you do online. That's not all, as Surfshark blocks ads, trackers, and also malware and phishing attempts.
It allows unlimited devices per subscription. You get a different IP address every time you get connected. However, you can stick with the same IP address as well.
Another notable aspect of Surfshark is that it is based in the Virgin Islands outside of surveillance alliances. It allows for Netflix in addition to torrenting. It comes with low costs for one as well as two-year subscriptions.
Surfshark has international server locations not only in the U.S. but in over 60 countries, from Vietnam to Albania. In the U.S. alone, they have servers in over 20 cities. It means that you would be more than satisfied with their server locations.
Surfshark has been rated as one of the best VPNs for torrenting. Its premium option is available for just USD 2.50 per month. They even offer free trials on iOS, macOS, and Android applications. Plus, all their plans come with a 30-day money-back guarantee. So, you can try out Surfshark on any platform.
Opera VPN comes built-in inside Opera's web browser.
It's the best VPN provider that allows users to surf the web with enhanced privacy. Moreover, Opera VPN is completely free and does not come with any bandwidth limits. However, it does not use OpenVPN. Instead, Opera VPN uses a proxy to encrypt your traffic.
It has one truly awesome feature. Opera VPN works with Netflix. Next, Opera VPN offers the easiest VPN setup. It's easy to set up and use. It involves no download, setup, or login process.
You can activate Opera VPN through the Opera browser menu by selecting "Settings." You need to access the Privacy and Security Tab. There you will see a section for VPN – "Enable VPN." You have to click the box to enable it.
Once it is activated, the VPN will appear next to your search bar. It's highlighted in blue, which means that you're connected.
You can turn the VPN on or off. Opera VPN offers harmless logging. However, Opera VPN is not a true VPN in the best sense. It's a proxy. Your IP is hidden, but the information is not encrypted. So, Opera VPN is not 100% safe. It's fine if you want to watch Netflix or YouTube.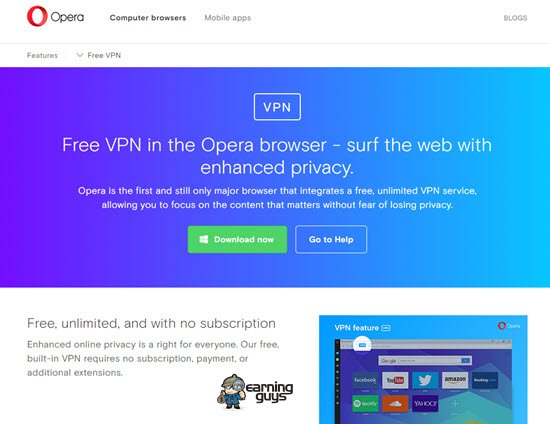 KeepSolid VPN Unlimited is the best VPN Provider. It enhances your online privacy and keeps your browsing encrypted. KeepSolid VPN Unlimited makes it easy for you to stream your favorite shows and music online.
It's one of the top VPN service out there. It offers excellent value and has less restrictive device policies. VPN Unlimited offers six pricing plans starting at $9.99 per month and maxing out at $119.40 with its five-year plan.
However, there is no free version of VPN Unlimited. It allows you to connect five devices simultaneously. It supports OpenVPN and KeepSolid Wise protocols for Windows and Android.
KeepSolid VPN Unlimited sports as many as 400 servers across 70 locations, which means better performance for you. Moreover, VPN Unlimited also offers specialized servers for video streaming. KeepSolid VPN Unlimited has a written privacy policy. Moreover, it does not log any user activity.
Top Pros of KeepSolid VPN Unlimited:
Inexpensive
Personal VPN Server
Allows P2P and BitTorrent
A strong slate of privacy and security features
Specialized Servers
Static IP available
Browser extensions
Cons:
No free version
No ad blocking
A small number of servers
Restrictive device policy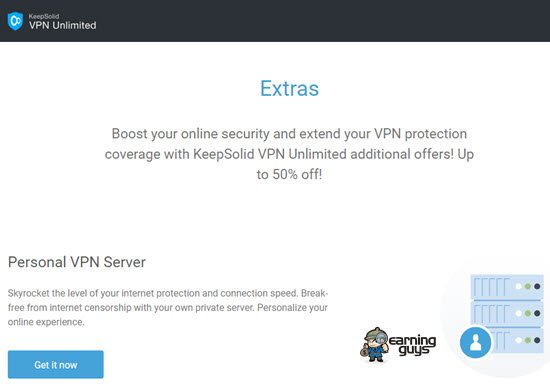 ProtonVPN is one of the top VPN Providers that defends your web traffic. It has a remarkable focus on privacy and security. It's truly a free VPN offering. Plus, ProtonVPN offers monthly and annual subscriptions. Moreover, you get a 20% discount with its longer subscriptions.
In the free version, you get three VPN server locations. It allows only one device to be connected at a time. Its first paid tier starts at $5 per month or $48 per year. It grants access to all its VPN locations. However, it limits you to just two devices.
Its second paid tier is ProtonVPN Plus and costs $10 per month or $96 per year. It allows five simultaneous device connections. You get access to all ProtonVPN server locations. Its final level, Visionary, comes at $30 per month or $288 annually. ProtonVPN makes use of OpenVPN protocol, which is fast and reliable. The number of VPN servers is 300. It offers 27 server locations. ProtonVPN stores no logs.
Pros include:
The free version is available
Flexible and low-cost plans
Excellent Privacy Policies
Focus on physical and digital security
P2P Friendly
Cons:
Few servers and locations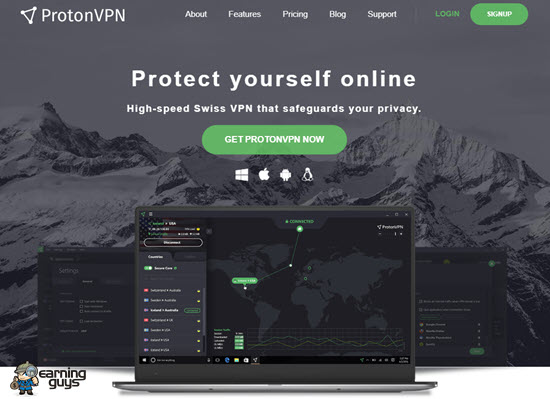 With $3.33 to $6.99 monthly cost, Trust.Zone turns out to be the cheapest VPN providers out there—moreover, Trust.Zone works as a reliable and fast VPN Service Provider. It delivers top performance with server speeds matching with the best in the industry.
Trust.Zone is based in Seychelles, which is known to be a privacy-haven. It means that your data is safe. They won't hand it over to the US, UK, Australia, or even any other country.
It's compatible with Mac, Windows, Linux, Android, and iOS. Trust.Zone is fully loaded with a kill switch. Its servers offer restricting-free torrenting. It even works with Netflix.
Plus, Trust.Zone offers many encryption standards such as AES-256-CBC cipher, RSA-2048 handshake, and SHA256 authentication. However, its server count is pretty low at 135 in 31 countries. Moreover, the customer service has no live chat available.
Pros:
Fast Server Network
Works with Netflix
Torrenting allowed
Affordable
Strict no logs policy
Cons:
Poor Customer Support
Limited device support
ibVPN, with its zero logging and Romanian location offer you total privacy and superb security. ibVPN turns out to be one of the best VPN Service Providers out there. It's compatible with a huge list of devices, including:
Android, iOS, Mac, Windows, Kindle Fire, Apple TV, Boxee Box, PS4, Xbox 360, Tomato USB routers, and many others. IbVPN allows you to connect as many as five devices simultaneously across these devices.
IbVPN employs AES-256 encryption and offers protocols such as OpenVPN, L2TP, SSTP, PPTP, and IPSec. They have a network of 180+ servers across 57 countries. Plus, they offer excellent customer support.
IbVPN Pros:
No logs policy
P2P and Torrenting allowed
Unblocking Netflix
Many features
Cons:
Average Speed
No PayPal Option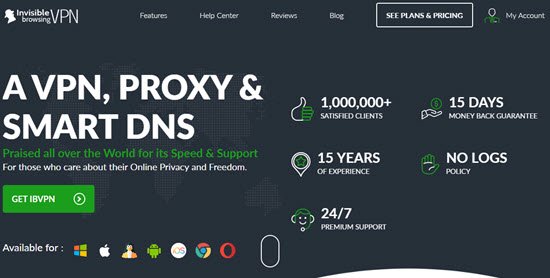 We hope that this presentation on 20 Best VPN Service Providers proves immensely useful to you. Don't forget to share your comments and suggestions with us.