As a digital marketer, you have always wanted to partner with an affiliate network that can power you ahead and make you earn a lot of money. That's the basic necessity for an Affiliate network.
Well, Spicyoffers is a CPA Affiliate Network that does this and much more for you. It's one of the best out there, equally suited for affiliates and advertisers.
Here, we take up the Spicyoffers CPA Affiliate Network Review to let you know why it stands out. As a matter of fact, it's not one of the thousand CPA Networks that have sprung out to offer similar services. Spicyoffers is an innovative and unique all-in-one marketplace with proprietary technology and advanced features.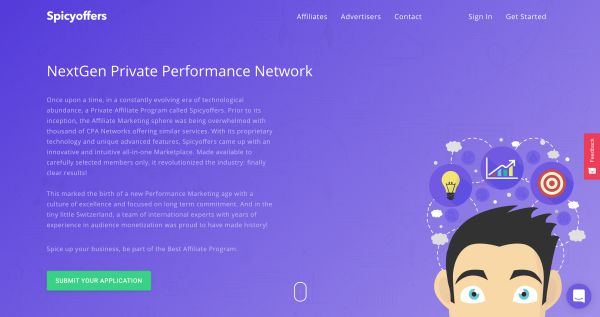 Spicyoffers has revolutionized the industry and dishes out clear and winning results for you. It comes with a culture of excellence and focuses on a long-term commitment. Their team members are experts in audience monetization.
It is the future standard of Performance Affiliate Network.
Let's have a thorough insight into Spicyoffers.
Getting to know Spicyoffers
Spicyoffers is a Swiss-made Private CPA Affiliate Network part of Flex Multimedia Group, which has specialized in affiliate marketing and audience monetization since the past 11 years. It is headquartered in Geneva and has offices in Barcelona, Luxembourg, and Singapore.
Spicyoffers was launched in 2016 and has come up with its proprietary platform, technology, and tools. It has introduced an intuitive as well as easy to use affiliate and advertiser interface. Also, you will be happy to know that the network is natively connected to the key tracking platforms such as CPV Lab, Voluum, AdsBridge, BeMob, and Thrive.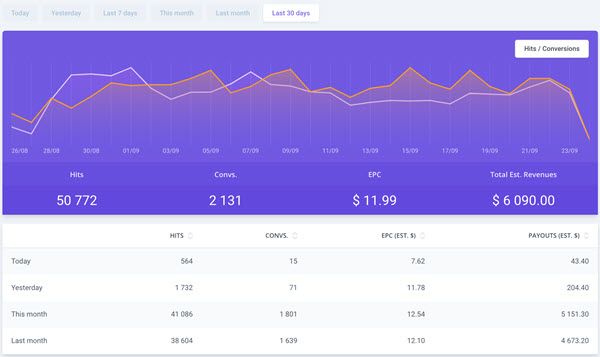 The selection of new users is made on an application-basis. If the registration is free, the procedure is however quite strict and requires several documents. Plus, it involves a rigorous verification process. This allows Spicyoffers to propose the best quality offers and traffic of the market. The approval is based on a number of factors like previous affiliate experience, promotional strategies or reputation, for example.
To help affiliates to monetize their traffic better, Spicyoffers offers exclusive SmartTools, which have been developed internally by their product and media buy teams. They currently propose Smartlinks using their DMP and optimization algorithms. It allows them to deliver the best performing SmartLink income and EPC of the market to the affiliates.
It is important to note that only in-house and direct advertisers offers are available on Spicyoffers, which is a great advantage. This includes their latest in-house e-Commerce offers Wondercoco and CrazyGlow.
Researching the right offers is a straightforward process on their platform. In fact, easy-to-use filters are available for you to find the offers that suit you best. All information regarding each offer such as conversion flow, traffic restriction or allowed traffic sources are clearly detailed on the offer page.
For now, you can take a look at their desktop and mobile offers on Offervault.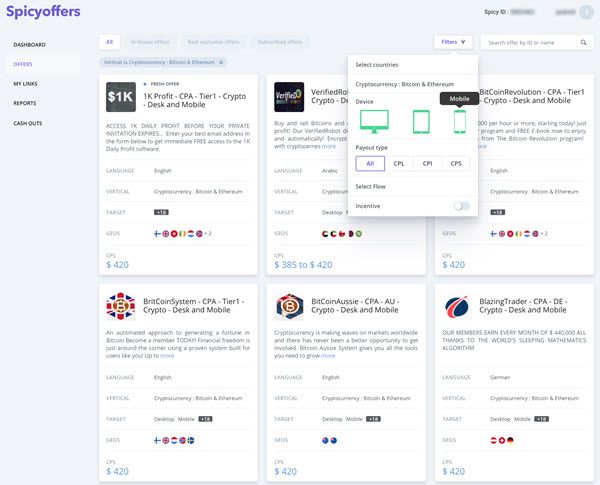 These are the main verticals of Spicyoffers Affiliate Program:
Crypto
Beauty, Health and Well-being / Nutra
Dating
E-Commerce
Finance
Gambling & Money Games
Online Games
Software
Streaming, VOD, and Music
Sweepstakes and Surveys
Tech support
Spicyoffers is working with several revenue models such as:
They have offers and traffic from worldwide GEOs. All the offers are first tested and validated internally.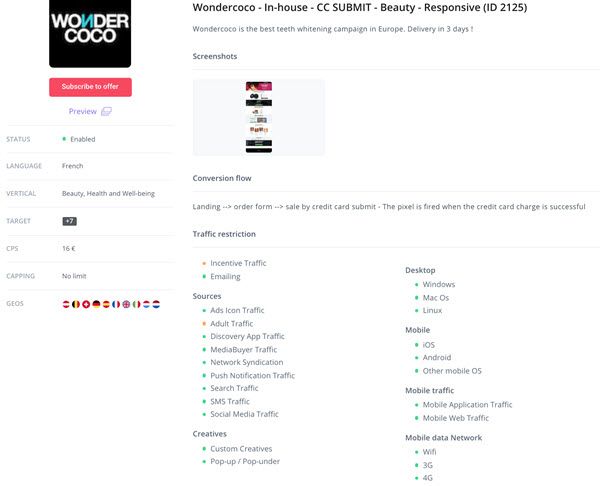 Another very important point that should not be neglected: the account managers. At Spicyoffers, all the affiliate and advertiser account managers are specialists, and all have several years of experience in this industry. They are available per email, phone, Skype/Telegram or other messaging App as well as through their live chat.
Moreover, the Spicyoffers team always participates to the main industry events such as Affiliate World Europe, Affiliate World Asia or Affiliate Summit Las Vegas, for example. Do not hesitate to contact them to meet at the next conference. You can also follow Spicyoffers on social networks to be informed about the next events and latest news.
Last but not least, payments are made on a weekly Net7 to Net30 basis, depending on your performance. The minimum payout is EUR 100 / USD 150. The payment options include Wire, Paypal, Paxum and ePayments. You will be able to discuss this more in details with your account manager.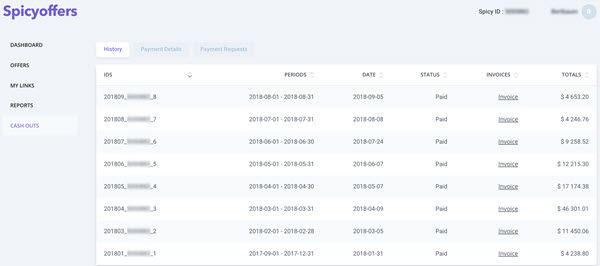 The Spicyoffers Advantages
If you are not yet convinced about joining Spicyoffers Private Performance Network, here is a resume of their advantages:
Spicyoffers is a Private network. They attach immense importance to the services provided to their duly selected users. This is the reason why each application request goes through a thorough verification process.
They handle billions of conversions every year for visionary companies across the world.
Their direct relationship with affiliates allows them to send high-quality and performing traffic to advertisers.
Spicyoffers places special importance on exchanging innovative ideas and practices and goes on to understand the needs of the affiliates to whom they propose qualitative and exclusive performance offers.
Their preferred and direct relationship with advertisers allows them to propose the best & unique lead generation and CPA offers.
They attach great importance to the tools used to track and optimize the campaigns. That's the reason why they also offer an advanced tracking solution, which is available for free. This is one of the killer features of this CPA Affiliate Network.
With Spicyoffers, the user gets an easy-to-use self-serve platform, the knowledge as well as the tools necessary to develop its business worldwide.
Spicyoffers is much more than just another Affiliate Program. It turns out to be an exclusive marketplace where the best affiliates meet the best offers owners.
What's there for the Affiliates?
Spicyoffers is collaborating only direct with affiliate marketers. Irrespective of the marketing strategy, techniques or channels you specialize in (social media, content site, pay per call, etc.), you will gain preferred access to:
Hundreds of top performing and REAL exclusive offers from direct advertisers
Tested and validated desktop & mobile offers
New in-house offers proposed on a regular basis
A 100% Swiss-made proprietary technology
A real-time reporting system in order to track your performance and revenue
A free advanced custom tracker
An intuitive self-serve Affiliate Program
Timely and secure payments through Wire, Paxum, Paypal, and ePayments
Mind-blowing monetization results
Dedicated support always focused on user satisfaction
All in all, Spicyoffers gives you a whole new perspective on affiliate marketing.
What's there for Advertisers?
Spicyoffers owns offers too. Hence, they are well aware of the difficulties faced when dealing with networks. There is nevertheless no need to worry as they have expertise in both facets of the advertising process. With Spicyoffers, you can enjoy:
Qualitative, direct, exclusive and monitored traffic
Statistics export API
Advanced anti-fraud systems
Pay Per Performance models such as CPA, CPL, CPS, CPI, PPCall
An easy to use a dedicated interface
The complimentary consulting of specialists
The knowledge of a company with over ten years experience in Affiliate Marketing
Self-Serve access to the massive quality traffic of direct traffic sources
The use of the tracking platform of your choice
As you can understand, advertising with Spicyoffers will guarantee results.
Concluding
Once your Spicyoffers account is enabled, you will be part of the best affiliate platform of the market. Its proprietary technology and unique advanced features will help you take your business to the next level.
Spicyoffers offers clear and measurable results. They work with the intention of long-term commitment. They have built a team of international experts who have years of experience in audience monetization.
To sum up, Spicyoffers CPA Affiliate Network can help you open the doors to success in the world of affiliate marketing.
Now, it's your turn to experience the multifold benefits of the fast-growing CPA Affiliate Network Spicyoffers.
Useful Links
You can follow Spicyoffers on several sites or networks :
Website: https://www.spicyoffers.com/
Facebook: https://www.facebook.com/spicyoffers/
Twitter: https://twitter.com/spicyoffers
Linkedin: https://www.linkedin.com/showcase/spicyoffers/
Instagram: https://www.instagram.com/spicyoffers/