Hello everyone! MarketCall.net team presents a fresh case study on how to work with pay per call health insurance offers.
Firstly, let's start with a description of the offer that we work with. We work with pay per call offers. This case study dedicated to health insurance vertical. Here are the characteristics of the offer we worked with:
The payout for qualified call: 30$
Minimum duration of a qualified call: 90 sec
Geo: USA, 47 states
Working days: Mon-Fr
Definition of qualified call: a Person interested in purchasing health insurance plan and willing to pay 200$ a month or more.

Landing page
An important part of any pay per call campaign is the landing page (except the case when you use Google call-only ads). Most of the call buyers don't provide any ad materials, so you have to create your own landing page to use for the ad campaign. The quality of the LP will directly affect the conversion rate of your traffic to calls.
Here is the landing page that we developed for this offer:
Desktop Version: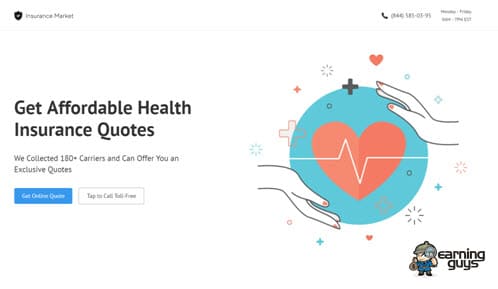 Mobile Version: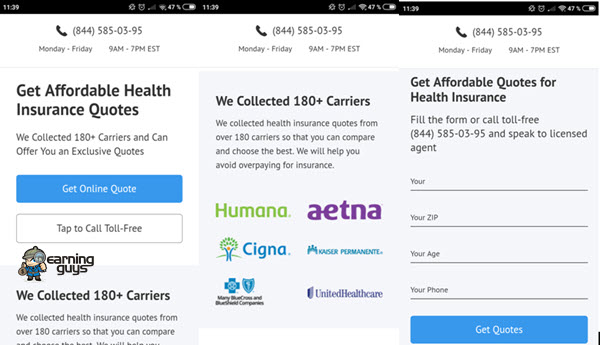 Here are important tips for making landing pages:
Try to convince the customer that he needs health insurance: Don't make a comparison with competitors; don't promise very low prices. You need to explain that having an insurance plan is cheaper than paying all health expenses with your own.
Don't use website and LP generators: Website and landing pages generation services use unnecessary scripts and HTML-code that increases file size. We used the text editor to code html+css code for our landing page.
Check your page in Google PageSpeed and Google Testmysite: Get advice from Google on your page to make the page load faster on mobile and desktop.
Install SSL certificate on your website, so as it's loads correctly on all devices and browsers.
Fix block with the phone number in the mobile version: It is very important to show the phone number in the mobile version of the website, so as the visitor has easy access to the click-to-call link. After we fixed this block, the conversion rate increased by 20%.
Leads to Calls Conversion
As you may notice, we used a simple lead form at the bottom of our landing page.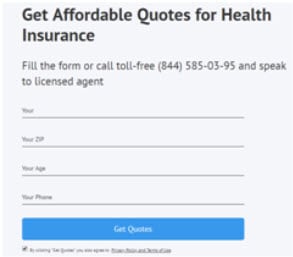 At first, we processed those leads with own call center (our own free service Broker). Our broker asked if the person is ready to get information about health insurance plans and if yes, we transferred him to the advertiser.
But with the increase of volume, it would take a longer time for the call center to call all leads. So then we used to service that automatically called the lead in 5 minutes after the lead was left. With the help of such service, we increased our profits by 12%, due to lower costs and higher conversion rate from a lead to qualified call.
Google Ads
We ran three campaigns – call-only search, search campaign, and GDN campaign.
1. Call only Ads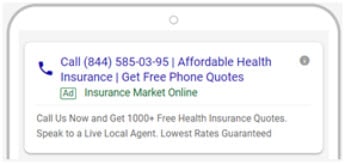 Call only ads showed good results in terms of the cost of the qualified call, but we were not satisfied with the volume of clicks/calls that we got in this campaign. The average CPC was 4.4$ for us, with the conversion rate of 19% from clicks to qualified calls.
2. Search Ads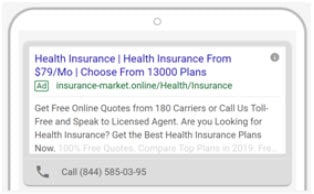 We ran traditional search ads to our landing page. Most of our leads and calls we got from this campaign. The average CPC was 2$, with an average CTR of 1.85%
3. GDN Ads

The average CPC for GDN ads was 0.25$. We got a lot of bot clicks and misclicks, that's why conversion rate to calls was super low.
Also, custom intent audiences and retargeting campaigns were not approved by Google, because it was defined as a medical campaign. So we ran only keywords targeting campaign.
Here are some tips for you when working with Google ads:
Check Google's call-tracking performance. In our case, it didn't work well, so we used 3-d party call tracking
Use click-fraud protection. You will save a lot of money because this service will eliminate all bot clicks.
Google prioritize ads that lead to a website to call-only ads. That's why you need to run traditional search ads to the landing page to scale your volumes.
Always check your search phrases report and add negative keywords. You should definitely exclude brands of insurance companies because these keywords generate a lot of service calls, that are not paid. You can get our negative keywords list, just ask your MarketCall personal manager.
Be careful working with GDN placements. Start with a low budget, check traffic sources and exclude those that give misclicks and bot clicks.
Facebook Ads
In Facebook ads, we made campaigns with traffic and lead generation goals.
We used only Facebook feeds and stories placements.
As for targeting methods, we used targeting based on interests, retargeting and look-alike campaign on the traffic we've already collected on our landing page from Google ads.
Here are some useful things that we discovered:
1. Video ads have X2 higher CTR than ads with image
Ads with video showed CTR (≈2.2%), while ads with static image showed (≈1%).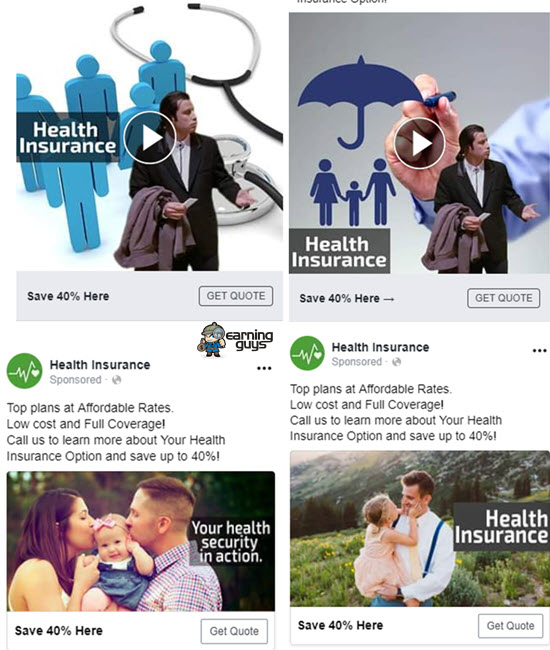 2. Lead generation campaigns showed better results than traffic campaigns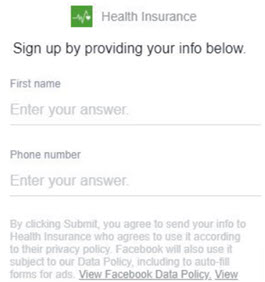 Facebook lead form
Campaigns with lead generation goal, when were collected leads on facebook instant view page, were more efficient and brought more leads than traffic campaign to the lander.
3. Stories placement showed bad results despite original creatives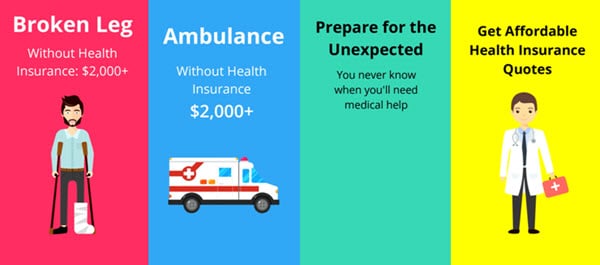 We made simple and bright creatives for Facebook and Instagram stories that led to our landing page. Despite using the same targeting as for Facebook feeds placement, we got a negative ROI and stopped the campaign.
Conclusions
Health insurance is a great niche for pay per call marketing. Our tests showed that there is enough traffic for this offer both in Google ads and Facebook ads.
In conclusion, let us give you key advice on working with this offer:
Prepare high converting and fast-loading landing page
Run both call only and traffic campaign on Google ads to scale your volumes
Use GDN placement only when you need to scale your campaign. Don't forget to use click-fraud protection
With right targeting Facebook ads can bring cheaper leads than Google ads
Thank you for reading this case study. We hope you've learned some useful insights. We have a special offer for all new affiliates: