I am sure you must be aware of Target Corporation especially if you are from the US. It's the eighth-largest retailer in the United States of America and a component of the S&P 500 Index.
However, are you aware that Target offers an affiliate program wherein you get an opportunity to earn a commission for driving traffic to the Target.com website?
Well, you can become a Target Affiliate and make some good money by promoting Target.com.
Here, we bring to you Target Affiliate Program Review so that you can know the ins-and-outs of this affiliate program and derive maximum benefits from it.
About Target Corporation
Target Corporation happens to be one of the biggest retailers in the United States of America. It even features in the S&P 500 Index (American Stock Market Index). Target is headquartered in Minneapolis. It was founded by George Dayton in June 1902 when it was known as Goodfellow Dry Goods.
The first Target store was started in Roseville, Minnesota in 1962. Target witnessed a rapid expansion in its store chain nationwide in the 1970s and 1980s. The huge success of Target saw the parent company to be renamed as the Target Corporation in 2000.
Although Target suffered some serious setbacks in the 2000s, it eventually experienced revitalized success due to its expansion in urban markets within the U.S.A.
As of 3rd February 2018, Target operates 1822 stores throughout the length and breadth of the United States of America. The company ranked No. 39 on the 2018 Fortune 500 list.
The retail formats offered are:
Discount Store Target
The Hypermarket Super Target
The "flexible format" Stores
Target emphasizes on "the needs of its younger, image-conscious shoppers."
Target Affiliate Program Benefits
A multitude of offers and high earning potential is what Target Affiliate Program is all about. In fact, Target Affiliate Program is one of the most respected and well-known affiliate programs out there.
Target is one of the most reputed brands in the USA. Moreover, Target is one of the fastest growing retail sites on the Internet.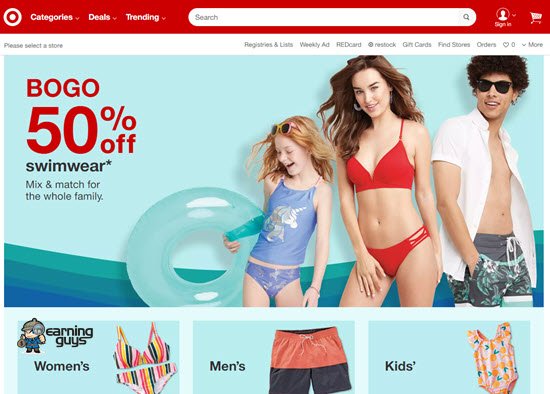 So, if you are an affiliate with a large consumer lifestyle audience, then you must surely check out Target Affiliate Program.
Target has strong brand recognition among the US audience. It offers thousands of products (new products added daily); regular discounts, and weekly affiliate newsletters giving affiliates the much-needed tools to become a successful Target affiliate.
Target features a huge variety of products. It's a well-reputed department store having the store locations in almost all the major cities of the US.
Target is mostly in the home goods or general products kind of niche. Its online store features the following categories:
Seasonal: Target offers many great items for every season
Clothing: Target offers men and women clothing for all ages and sizes. It even features a large variety of baby clothing
Home: Target features kitchen appliances, furniture, decorations, and almost everything that you want to put in your home
Toys: Target has a huge collection of toys for every occasion including birthdays and Christmas
Electronics: Target has a large variety of electronics such as TVs, Computers, Phones, Gaming Systems, as well as all kinds of electronic accessories such as cords, earphones, and more
Beauty and accessories: It features an extensive collection of beauty supplies with items such as soaps and shampoos, deodorants, perfumes, makeup kits, and much more
Grocery: Target offers the same-day grocery delivery program which also includes perishable goods. The goods get delivered to you the same day
(You can check out www.target.com if you want to know more of their products and current sales.)
So, whatever industry or niche you belong, you can always find something from its vast list of products available that you can promote as an affiliate.
You should keep in mind that Target offers physical goods and there is no software or online tools to sell on Target. So, affiliates whose main focus category is apparel, accessories, outdoors, or baby products stand to benefit most with the Target Affiliate Program.
Target Affiliate Program stands out from the rest of the affiliate programs due to the number of reasons. Let's check out some of the noteworthy features and benefits of the Target Affiliate Program:
As we have seen above, Target offers a large range of products that you can promote on your website. In fact, Target is called as an "everything store." No matter what niche you specialize in, Target Affiliate Program has something for you.
The Target Affiliate Program offers 7-day tracking cookies on its entire affiliate links. The seven day period is more than enough to get a commission from a purchase
If you compare this with Amazon that has a dismal 24 hours tracking cookies, then Target is surely a winner in every sense
Moreover, with the Target Affiliate Program, you get a commission for any purchase that's made during those seven daysSo, if somebody clicks on your link today and makes a purchase the other day, you will receive a commission. Not only this, if he/she makes another purchase after three days on the Target website, you will get a commission for the second one as well.
With Target Affiliate Program, affiliates get many creative options for advertising such as product widgets, banners, as well as other kinds of creative material which can be used with their links.
There are more than 150 different banners that are available for use. These banners allow you to keep your users updated on sales, promotions, and even new merchandise that is available within the online store.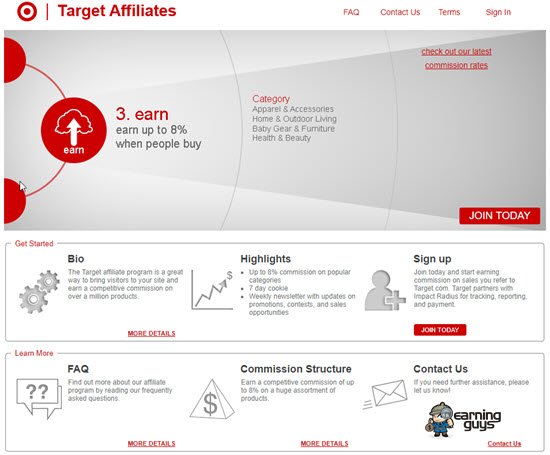 Why should affiliates promote Target.com as an affiliate?
There are many advantages when you work as a Target affiliate. Affiliates should promote Target.com because with the Target Affiliate Program they get the following advantages:
Target is a well-trusted name in the US. They already have brick and mortar stores around the US for decades. This brand trust and identity is extended to your partnership and ultimately to your brand. All this helps to boost your conversion rates as people already know and trust the brand in the form of Target.com.
Target has a very generous cookie expiration. The link cookies last for seven days. So, you get seven days wherein customers can make a purchase when you have driven them to the Target website through your link. Thus, you get a lot of time to make your commission. It leads to much higher conversion rates.
Although Target Commissions are by no means high, they are still average for the industry.
When you are in doubt or have questions, you can take them straight to Target's dedicated affiliate management team. They will offer you a prompt response.
Target offers a wide range of products for promotion. So, the Target affiliate program is suitable for most niches.
You have the opportunity to make multiple-purchase commissions whenever someone clicks on your affiliate links and make purchases within seven days.
There is very easy signup to get started with Target affiliate program.
Affiliates get plenty of creative materials to place on their website.
Commission Structure of Target Affiliate Program
Target Affiliate Program offers four categories in which affiliates can make commissions. These are as follows:
Apparel and Accessories
Home & Outdoor living
Baby Gear & Furniture
Health & Beauty Products
The commission rate varies from 1% to 8% depending upon the category you promote and the number of sales you refer per month.
The categories such as Apparel & Accessories and Home & Outdoor Living offer the best commissions to affiliates. The commissions with these categories start at 5% and go up to 8% when you refer more than 10,000 (10,001+) sales per month.
With Baby Gear & Furniture, the commissions reach as high as 5%. However, in the Health & Beauty category, affiliates can make commissions of 1% only.
We need to mention that the 1% commission in the Health & Beauty category is not the best in the industry. For instance, with Amazon, you get 4% (minimum) for these types of products.
However, the 8% commission rate for home items is the best you can get with any affiliate program out there. So, Target Affiliate Program is the clear winner here.
So, the best that you can make with Target Affiliate Program stands out to be at 8% commission rate.
Overall, there's some pretty good money to be made for sending people to Target for buying up products through your link. All you need to do is to build a site with lots of traffic and send buyers to Target. So, you can certainly make a great income each month as Target affiliate.
How to Join and Promote Target Affiliate Program
The Target Affiliate Program is very easy to join.
You simply need to access the "Target Affiliate Sign up Page" and register to become a Target affiliate.
Ideally, you should have a working website before you join as a Target affiliate. It will allow you to get accepted without any hassles.
Once accepted, you need to promote the Target Affiliate Program through your website.
One of the best ways to promote Target online is to carry out specific product reviews on specific items that are found in the Target marketplace.
For instance, you can come out with product reviews on different home items that are featured on the Target website.
If done right, these product reviews will be featured high on the search engine results page. People who are interested in these home items will read these reviews and get interested in buying these items at Target.com website (through your affiliate link).
You can send them to the specific product page on Target and make solid commissions by selling the product. If you send targeted visitors, then you don't have to worry about the seven-day cookie expiration.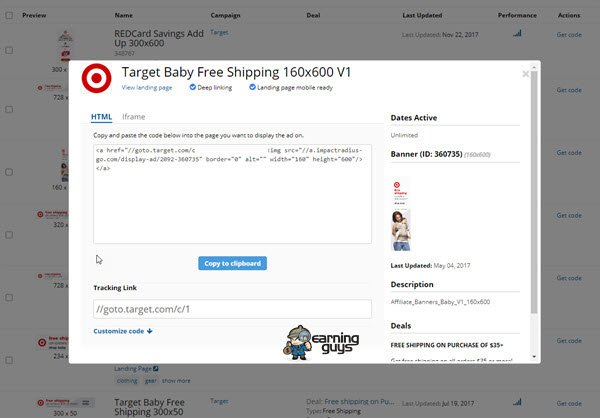 How does the Target Affiliate Program work?
The Target Affiliate Program allows participating websites or affiliates to earn a commission on sales referred to Target.com with affiliate links provided by Impact Affiliate Network.
So, you need to apply to the affiliate program via Impact.com. Once, you get accepted as a Target affiliate; you can place links using banners, widgets, text links, or other creatives on your website.
When your visitors click these links and reach the Target website, they are tracked within a seven-day cookie window until they place an order. This order is tracked and associated with your website as the referring source.
Now, you're Impact affiliate account has credited a commission for the order. So, the more the number of visitors converts into Target customers, the more you get paid.
Moreover, you get paid each time when that customer places an order within seven days of clicking on your affiliate link.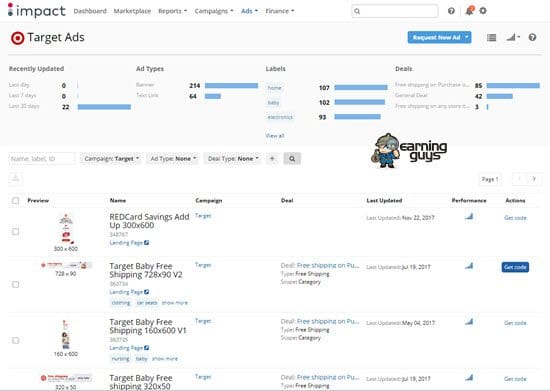 Who Should Become a Target Affiliate?
Most importantly, Target Affiliate Program is free to join. Plus, they run a decent commission structure to get you going.
However, if you are in a niche closely aligned to Target offers such as home items, apparels, baby products, toys, and electronics, gadgets, health & beauty products, then you should become a Target affiliate ("Yes").
Moreover, if your audience is mainly from the United States, then you stand to benefit being a Target affiliate.
Plus, you should be able to refer over 10,000 sales per month.
Cons of Working with Target Affiliate Program
There aren't many cons associated with Target Affiliate Program. Let's get to know what the cons with Target Affiliate Program are:
When compared to other companies such as Amazon or Walmart, the number of products (300,000+) available on Target is comparatively less.
Some of its categories have nonexistent commissions. For instance, Health & Beauty fetches you only 1% commission. Moreover, many other categories won't fetch you any commission at all.
The Affiliate Program is run through the Impact Affiliate Network. So, you need to sign up with Impact.
Although the program allows websites from other countries, the content must be directed towards the US audience, since Target happens to be a US store.
Final Words
As you have seen above, Target Affiliate Program brings some remarkable benefits for affiliates.
Target has built a great reputation with the US audience. This brings a big advantage for you as an affiliate as it can increase your conversion rate. Its commission structure is comparable with the best in the industry. Target has generous cookie expiration. Link cookies last for seven days.
On the whole, Target Affiliate Program can spell "success" for you in your run to profit from affiliate marketing efforts.
So, Target Affiliate Program is a good option for affiliate marketers.