Perhaps the best way to monetize the adult site is to partner with an Adult Advertising Network. However, there are not much Adult Ad Networks that do the job perfectly well as it is done by AdxXx Adult Advertising Network.
In fact, AdxXx Adult Ad Network is the best way to monetize your adult traffic or adult websites. Here, we have come up with AdxXx Review to help you know more about this leading adult ad network.
AdxXx is a Singapore-based adult Ad network and provides CPM-based revenue model. AdxXx works for all types of adult websites. It allows you to use the right combination of ad units to increase your earnings.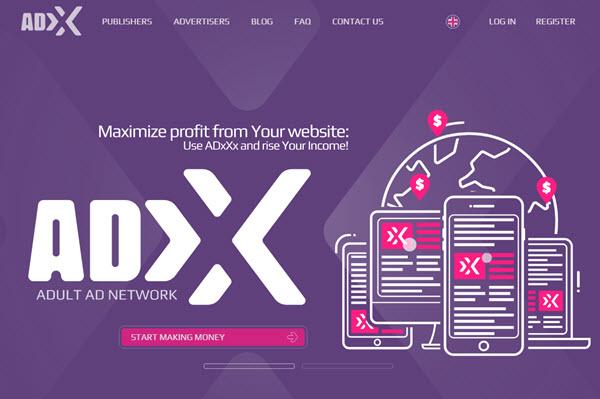 With AdxXx, adult webmasters get a guaranteed avenue for increasing their income and advertisers have access to targeted online advertising capabilities.
AdxXx opens doors for generating revenue from your website content by using its sponsored content marketplace providers. It is one of the best ways to monetize your traffic from adult ads.
They are having rich experience in online advertising and come with as much as 10+ years of experience. They have one of the best operating efficiency in the adult ad network industry.
AdxXx mainly focuses on CPM advertising and has many CPM based projects running successfully. It offers much higher eCPM rate compared to any other adult ad network. However, they have also pioneered in native advertising in the adult industry.
They have partnered with hundreds of adult webmasters who go on to deliver quality traffic. The quality of ads and the higher percentage of revenue sharing with publishers make them a leading adult ad network in the world.
AdxXx is particularly known for its high eCPM rate, on-time payment, and low threshold.
AdxXx proves to be an excellent adult ad network for both advertisers and publishers. AdxXx ensures that they get the best value for their traffic and money.
AdxXx is currently delivering over 950 million daily ad views which itself is a testimony of the size and reach of the ad network.
Major Features of AdxXx Adult Advertising Network
Here, we list down some of the major features of AdxXx which makes them a leading adult ad network in the world.
World Wide Coverage
AdxXx spans in as much as six continents and over 180 countries making them a truly global company. They go on to provide perfect targeting and global geo localizations thereby providing both publishers and advertisers a sea of opportunity.
High eCPM
AdxXx has gone on to become a leading adult ad network largely because it provides excellent eCPM rates matching with the best in the industry.
They have focused on this aspect of adult advertising which has given them the edge over other adult ad networks. Moreover, this provides an excellent opportunity for publishers to earn more.
Quick Integration
Once your website gets approved, integrating ads is super easy and quick. You just have to create the ad tag and paste it on your website.
The whole process is super quick and takes not more than five minutes. Then, the ads will start showing on your website.
Quality Support
AdxXx is backed up by quality support team which ensures that all your queries are resolved promptly. All customers are treated with priority, so there is not even a slightest of lag when you face any problem.
Most importantly, AdxXx support team is ready to help you with the best ad placement and campaigns and ensures that you get better revenue.
#1 Performance Network
AdxXx is one of the best examples of performance network. It is recognized as a leading global ad solution processing over 500 million clicks per month and over 900 million impressions per day.
Publisher Payment Methods
AdxXx offers various payment methods including PayPal, Wire Transfer, WebMoney, Paxum, Payoneer, and ePayments. The minimum payment threshold is $50 USD. AdxXx is one of those few ad networks which pay on the Net 7 basis.
So, payment is made weekly. With AdxXx there are no hiccups for receiving payments. It is easy and smooth.
Multiple Advertising Formats
AdxXx supports multiple ad formats. Besides native ads, you can have banner display ads in different sizes including 300×250, 300×100, 728×90, 315×300, and 160×600.
Real-Time Statistics
AdxXx provides its publishers a dedicated dashboard from where they can get all the real-time statistics about their ad campaigns. It enables publishers to take real-time actions which help them to earn more.
AdxXx Referral Program
AdxXx runs an excellent referral program whereby publishers can earn money by referring other members. Publishers can generate the AdxXx referral link by logging into their publisher account.
Referral stats are available that provide information about how many members you have referred and how much money you have earned through referring.
Requirements for Publishers for Joining AdxXx
AdxXx puts down a stringent list of requirements for those who would like to join them as publishers. It is done to maintain the level and reliability of the network.
It ensures that the advertisers get good ROI on their investment. AdxXx checks the publishers' website before approving them.
Here we have listed down the requirements for publishers who wish to join the AdxXx adult ad network:
There must be no illegitimate content hosted on publisher's website. No spam, spyware, malware, and adware.
There must be no pirated or copyright content on publisher's site. Publishers should also have a copyright law page.
The site must not have been made for advertising purpose.
The site must not contain any misleading information.
The publishers must not use bots for manipulating clicks and impressions.
The publishers must not create multiple accounts.
They must not alter ad code.
The publishers must not use bots, proxies, traffic exchanges, and auto refreshing sites for generating fake traffic.
How to join AdxXx as a publisher?
Here, we have listed all the steps that you have to take to register on AdxXx as a publisher.
First, you need to sign up on AdxXx publisher registration page.
On the registration page, you need to fill in your basic info like name, country, email, password, and Skype ID.
Once you fill out these details and send it over to AdxXx (by clicking on the 'Send' button), you will instantly receive an email with a confirmation link for confirming your email for AdxXx publisher account.
Once the email is verified, you can then log in to the publisher dashboard through https://adxxx.com/login
Then you can add sites to your publisher dashboard for displaying ads on your website.
Visit Sites > Add Sites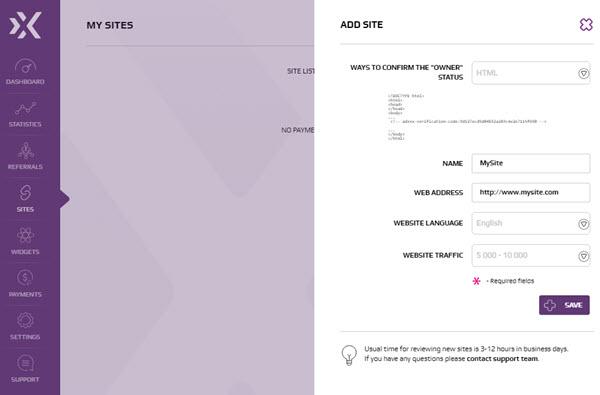 Go on to verify the owner status.
It can be done via HTML code or by uploading an HTML file in the root of your domain.
Once you verify and submit the site, AdxXx will go on to review it. If your website meets their publisher guidelines, AdxXx will then approve it.
That's it. Once AdxXx approves your websites, you can go on to generate multiple ad codes and place on your site.
Concluding
AdxXx proves one of the best adult advertising network for monetizing your adult traffic. AdxXx offers the highest payout for their publishers. With AdxXx, publishers can look up to guaranteed increase in eCPM, on time weekly payments, best converting ads, and quality support.
It works well for all types of adult websites. With all these features, AdxXx has become a leading adult advertising network in the world. We hope that this AdxXx review will help adult webmasters to monetize their adult website profitably.
You can follow AdxXx on social sites: Facebook, Twitter, Linkedin