Digital advertising now encompasses what is known as Mobile Advertising.
In fact, Mobility has transformed the way we communicate, connect, and share with others.
The result has been a tremendous upsurge in the field of Mobile Advertising.
Businesses world over have come to realize the immense potential and benefits of Mobile Advertising for improved performance and more business opportunities.
The coming years hold great scope for Mobile Advertising.
As such, it has become important to be fully aware of Mobile Advertising to take advantage of this new trend in digital advertising.
Today, we take a look at Mobile Advertising & Mobile Ad Sizes.
What is Mobile Advertising?
Mobile Advertising involves communication of products or services to Smartphone and other mobile device consumers.
Simply put, mobile advertising is "ads on the phone."
Mobile Advertising includes short message service (SMS) as well as interactive advertisements (in the form of banner ads) that are embedded in mobile websites, in downloaded apps, or in mobile games.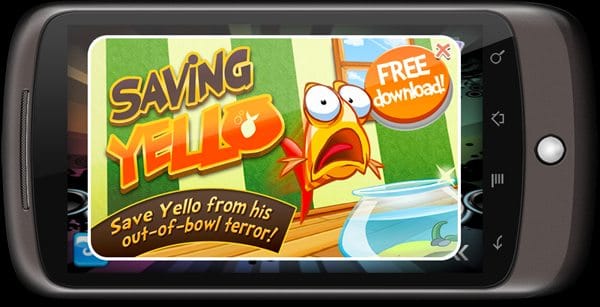 Usually, the mobile ads are based on individual's web browsing history, geographic location, as well as data collected by shopping habits.
In the beginning, mobile advertising involved the use of SMS text messages.
However, with time it evolved into mobile web and in-app advertisements.
Nowadays, most of the free version of apps show up advertisements within the app.
Mobile websites also serve ads which have been specifically created for the smaller mobile displays.
There is one specific feature of Mobile Advertising.
It targets users based on specified demographics.
Mobile Ad networks go on to recognize mobile profiles and related preferences and show corresponding ads when consumers download and use services like apps, games, or ringtones.
Mobile Advertising takes the following forms:
Mobile Web: Rich Media Mobile Ads, Text Tagline Ads, Mobile Web Banner Ads, WAP 1.0 Banner Ads.
Multimedia Messaging Service: Audio Ads, Video Ads, Rectangle Ads, Banner Ads, Short Text Ads, Long Text Ads, Full Ads.
Mobile Video Advertising Units: Ad Breaks, Linear & Non-Linear Ad Breaks, Interactive Mobile Video.
Mobile Applications: In-app Display Advertising Units, Sponsored Mobile Applications, Branded Mobile Applications, and Integrated Ads.
Benefits of Mobile Advertising
Today, mobile advertising has become a huge hit with businesses all over the world.
Businesses are making huge profits using this platform.
Mobile ads cater to the target audience needs at the right point in time.
This makes mobile advertising even more effective and popular as a digital marketing strategy.
Let's get to know the benefits of Mobile Advertising:
Exposure to a Wider Market
Mobile Ads open a much wider market for businesses.
The mobile advertising market has grown close to 2.5 billion by 2016 and is expected to touch a figure of 4.0 billion by 2019 according to a recent survey.
So, there is huge scope for businesses to leverage this platform for enhanced opportunities and driving performance for promoting their products and services.
Mobile Advertising is Cost Effective
Mobile Advertising proves less expensive when compared with rest of the traditional advertising options for promoting a business.
In fact, mobile ads make you reach more people for less money.
Moreover, mobile ads can be tried out for effectiveness before moving to other expensive mediums.
Always ON Advantage
Most of the people keep their phones with them.
Moreover, they always keep them turned on.
This means that your promotional and time-sensitive messages can reach your target consumers in no time or with little delay.
So, you get "always on" advantage with mobile advertising.
Your consumers receive messages instantly and can read them at their convenience.
Accessibility
Another big plus with mobile advertising is that it follows people wherever they go.
And it does not even depend on any single location.
Most people keep their mobile handsets handy throughout the day.
So, you don't have to expect them to log on to the internet with a computer, notice a physical sign or tune in to a broadcast.
You get round the clock access to your customers wherever they are.
Build Customer Database
Mobile Advertising opens doors for customer retention and loyalty marketing.
When your customers opt to receive an ad, you can use that information to build a customer database.
You can then offer your customers lucrative discounts and deals so that they stick to your brand.
Intimacy
Mobile Ads tend to convey a sense of intimacy when they are tailored according to the expectations of mobile users.
They carry a sense of friendliness and use low-pressure advertising pitches.
In fact, customers pay more attention to advertisements that are promoted on the mobile platform than any other mode.
This helps to build relationships with customers and get repeat business.
With all these benefits, mobile advertising has become an inclusive tool for businesses within their marketing strategy.
Mobile ads have a huge potential for promoting and propagating a brand.
That's the reason businesses are continuously investing in it for higher returns.
What's Happening in the World of Mobile Advertising
Recent years have witnessed consumers more frequently accessing the web on their phones.
Smartphones have fueled the growth in web traffic.
Mobile-based impressions and clicks have been having been major growth drivers for digital advertising.
As much as 71 percent of internet consumption will be mobile-driven in 2017, according to Zenith media.
It means that mobile advertising has become hugely popular with internet marketers.
According to a forecast released by media measurement company, Zenith, mobile advertising is driving most ad spending growth throughout the world.
Mobile ad spending is expected to grow to $107 billion in 2017.
This is 34 percent increase ($27 billion) in mobile ad spending as compared to last year in 2016.
The most popular mobile ad types being video, search, and display that are being delivered to Smartphones and Tablets.
Google and Facebook are still holding the biggest market share in mobile advertising.
Mobile Ad Types
Below, we have given a brief description on five of the most popular types of mobile ads.
1. Banner
It is still the most popular mobile ad format.
Banner ads feature an unobtrusive "banner" at the top or bottom of the screen loaded with relevant text and graphics.
It's a simple way for showcasing your brand name and product to as many people as possible.
However, as banner ads provide little space for detailed information; these ad types are most useful for popular brands.
In fact, banner ads rely heavily on brand recognition.
Big brands can easily leverage its minimal space without having to provide additional information as they are known.
On the other side, emerging brands need to stuff additional information into the tiny space which makes it look cluttered.
Banner Ads are plagued by low CTRs and generate the least earnings among all ad types.
However, it can be still effective, especially during the engagement phase when users are fully attentive and active within the app.
So, advertisers need to highlight key features and include a clear call to action.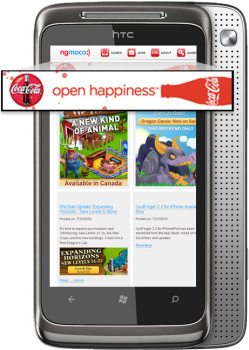 Image Credit: inmobi.com
2. Native Ads
Native ads are ad types that don't really look like ads.
They combine advertising message together with user-centric content.
Publishers get the freedom to display the elements in ways that fit well with their app.
The ad appears as part of the app's content. Hence, the name "native."
Native ads look contextually appropriate.
They leverage the relevance and context of the content where they appear.
Native ads are usually seen as a new content in the information flow.
They don't take up the full display or a particular screen space.
Native ads offer improved the user experience.
They are non-disruptive and less of an eye-sore.
They are almost indistinguishable from the content surrounding it.
All these features make native mobile ads highly effective without disrupting the user experience.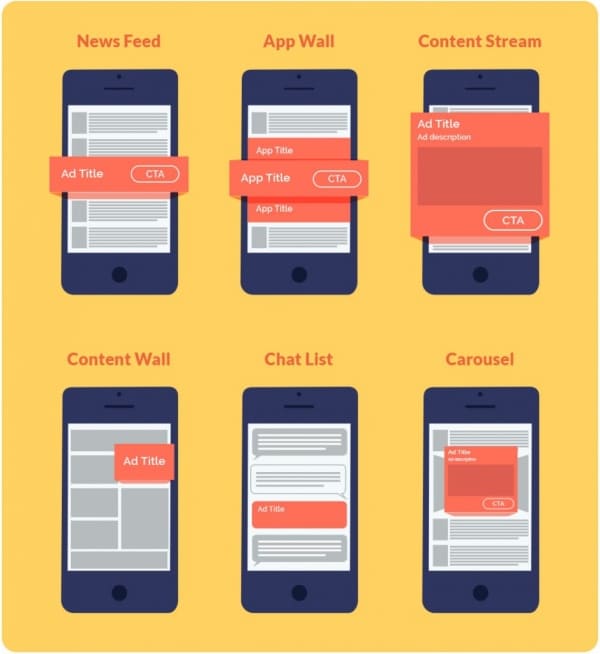 Image Credit: bucksense.com
3. Video Ads
Video ads are rather simple in concept yet complex in their execution.
These ad types showcase videos (that play) when a user opens or interacts with a mobile app.
Video ads require substantial budget but deliver a high level of user engagement.
They are highly suitable for advertising games and popular brands.
A typical video ad is in the range of 15 to 30 seconds. A user needs to tap on the video ad to play it.
However, some video ads play automatically when in view.
The important thing with video ads is that they should be placed at a natural break in user's app journey.
There should also be enticing screen grab encouraging users for playing the video.
They should provide the option to users for turning it on or off.
However, video ads are expensive to produce.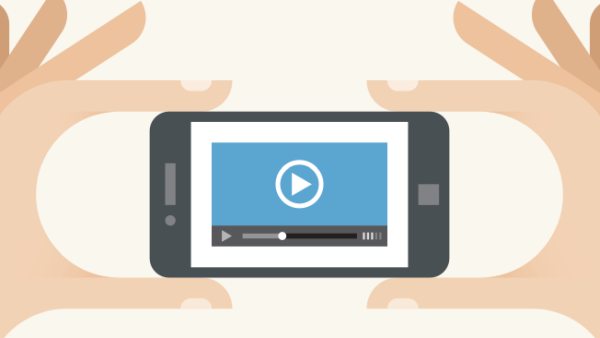 4. Interstitial Ads
Interstitial ads are visuals that go on to cover the entire mobile screen with a size of 320 x 480 pixels.
This interstitial ad size allows for more contexts, clear call to action, and creative content such as videos, store locator, and much more.
Interstitial is useful for better brand performance and recall.
Apart from the usual 320 x 480 interstitial ad size, the other interstitial sizes include 300 x 400, and 300 x 250.
Interstitial ads usually show up at crucial moments during navigation while opening, browsing between pages, and also in between games.
Interstitial ads feature compelling and creative calls to action.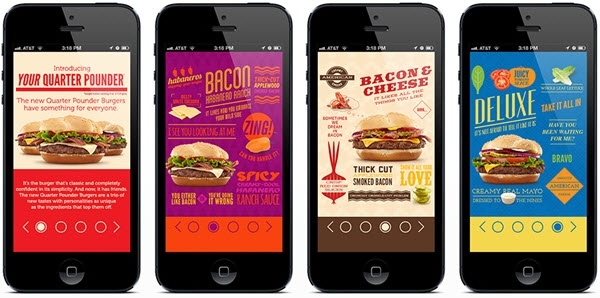 Image Credit: bucksense.com
5. Rich Media Ads
These are dynamic and highly interactive ads limited only by advertiser's creativity.
Rich Media Ads are known for creatively engaging with users and generate high CTR and conversions.
Usually, Rich Media mobile ads make use of mobile-specific technology, such as the GPS functionality for engaging users.
Rich Media Ads receive high user engagement because they are fun and convenient.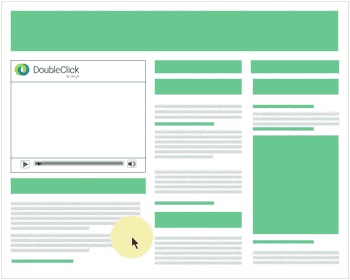 Image Credit: Google.com
Mobile Ad Sizes
Banner ads usually come in sizes of either 300 x 50 or 320 x 50 or 320 x 150.
Interstitial ad sizes include 300 x 250 or 320 x 250.
Video Ads and Rich Media follow the same guidelines.
However, they are dynamic and interactive as opposed to being static.
Native ads sizes depend on where they are shown as they integrate with the app ecosystem.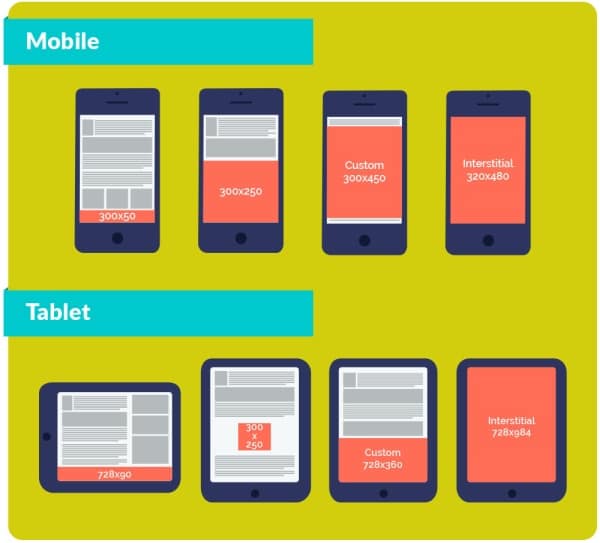 Image Credit: bucksense.com
Selecting a Mobile Ad Type?
Selecting a specific mobile ad type depends on the needs of your campaign.
However, we still have listed some important points that you should note while selecting an ad unit that's right for your brand.
Banner Ads are the cheapest ad format.
They can be used to remind consumers of your product or service, regardless of whether they choose to click on the ad or not.
Interstitial produce high level of engagement.
Mobile users like Video Ads. They are easy to focus and good for brands. However, they are one of the most expensive mobile ad units.
Native Ads offer high CTR and better ad engagement rate. They are less intrusive than other mobile ad formats.
Rich Media is amongst the best performing mobile ad units on the market. They are highly dynamic and interactive mobile ads type. They easily grab consumer attention. However, they are very expensive.
Conclusion
Mobile advertising has become highly popular with brands big and small.
In fact, mobile ad spending has taken over desktop advertising.
Mobile advertising has become inevitable if you want to improve performance and gain more business opportunities.
Data wise Video ads and interstitial lead the pack among mobile ad types as they are preferred by large number of advertisers worldwide, and show a high level of user engagement and CTR.
However, given your campaign requirements and target audience, you need to select the right mobile ad type that's best for user experience.
However, you can experiment with different mobile ad formats to see what is working for you.
It is also after experimenting and continuous analysis of results, you get to find the perfect mix of ad types, placement, and frequency for your campaigns on a mobile platform.
Then, it's also important to optimize the ad content so that it works with your target audience.
It will generate a better response from your users.
Last but not the least; your mobile ads should be successful in generating a positive feeling among target consumers.
It is only then you will get brand affinity, brand recall, and would be able to engage users.