Are you looking for new ads format that proves a source of extra-monetization?
Well, we recommend website owners, webmasters, as well as website monetization specialists to check out this post.
Here, we share with you a detailed review about Evadav Push Notification Ad Network that helps you in traffic monetization by leveraging push subscription.
It does not occupy advertising places and functions as a source of extra-monetization. It's focused on monetization websites and providing push-notification service.
The success of your monetization efforts depends upon how well you take care of your visitors. So, the ad formats should not annoy your visitors. It calls for non-disruptive advertising. The ad formats should be non-intrusive and offer easy monetization.
Here, push notification ads prove as a "savior" for many marketers.
It's simply an alert message with an icon and appears in your client's browser or a mobile device. So, it does not occupy any advertising space on your website. It appears as a small pop-up on the screen of the user's device.
Push notification has four key elements:
Title
Description
Landing Page URL
Icon and Banner Image
Call to Action Buttons
The major advantage with push notification ads is the fact that people quite knowingly agree to receive these push notifications. People show interest and subscribe to a website's notifications. So, there's a huge scope for potential conversions with push notification ads.
Originally, the push notifications were app driven. Push notification messages were used to communicate with the users. It could be an update to an offer or an exclusive product launch notification. However, nowadays modern browsers support push notifications for desktop and laptops.
Push notification offers great results and proves lucrative both for the publisher and the ad network.
Push notification ads help advertisers to connect with their users. They can communicate new offers, and improve customer experience. Moreover, push notification ads to prove cheaper than other forms of advertising. It allows them to set up an extremely robust campaign with higher ROI.
Publishers also derive "big" benefits with push notification ads. It proves as a source of lifetime revenue for publishers. They can show their website content as well as ads from a push notification ad network.
So, push notification prove a great way for reaching your customers directly. The ad format goes on to bring diversity to your marketing mix. It's an essential component for the consistent long-term growth of your business.
Moreover, push notifications can be used for:
Special offers and promos
eCommerce updates
Sales and discounts announcements
News and content updates
Downloadable including eBooks, templates, and checklists
Alerts based on geolocation
Freebies
Mobile apps promos for increasing installs
The Evadav Advantage
The Evadav platform for collecting subscriptions has been created by the developers. It's integrated via OpenRTB and focuses on the number of bidders. Moreover, the Evadav traffic has been bought by as much as 52 push platforms. So, these guys are one of the biggest on the market.
The Evadav Push Notification Ad Network works on the model of Revenue Share. So, you bring the user and get up to 70% whenever they are shown ads. Plus, there are no prohibited types of traffic with Evadav. It allows you to test different sources, and you can dwell on the one that suits you.
Evadav proves an attractive option for publishers with the highest eCPM rate among all advertising formats. It offers 100% safety for publishers.
It offers push notifications which prove worthwhile advertising opportunity for advertisers with high conversion and 100% brand safety.
Evadav has come up with a proprietary anti-fraud system together with an effective algorithm for predicting audience behavior.
There's also the Postback, trafficback, button block, and personal domains for top publishers.
Evadav has excelled in providing unique opportunities for the advertising market and its participants. The ads are displayed in the right place, at the right time, and to the right user.
Moreover, Evadav allows advertisers and publishers with any geo-traffic to be integrated with its system.
The main advantage of Evadav advertising is that it guarantees to increase income by avoiding allocated advertising spots on the web page. So, the users' experience remains intact during the visit to the publisher's website.
Evadav has some impressive facts to back its claim as a leading push notification advertising network:
• 50000000 Daily Impressions
• 2000 Publishers
• 300 Advertisers
• 10000 Campaigns
Payments are made once a week. The minimum payout threshold is just 25 bucks.
Evadav supports multiple payment methods including:
PayPal
WebMoney
ePayments
Skrill
Paxum
Payoneer
Bank Transfer
Moreover, Evadav has plans to integrate with the push system mailings. So, you will get the opportunity to earn more money by monetizing the subscribers of customers of these services.
Plus, Evadav has announced the start of the Referral Program. So, bring a friend and earn together!
You can send your friends and colleagues a referral link with your unique ID.
You can earn 5% of the income of attracted publishers. Moreover, this is a lifetime commission.
How to start working with Evadav?
It doesn't matter whether you possess a website, or you don't have a website at all. You can get logged in and working.
For creating a campaign, you need to access the "Streams" section on the interface and click "Create Stream."
Now, access the "Streams" tab and select the campaign. Click on "Widgets" and then "Create Widgets."
If "Native," enter the name of the campaign, the address of the site as well as its working name
Click on "Create"
Wait for the moderation letter
Post the code on the site
If "Popup," choose a suitable landing, the level of complexity, indicate Postback and trackback.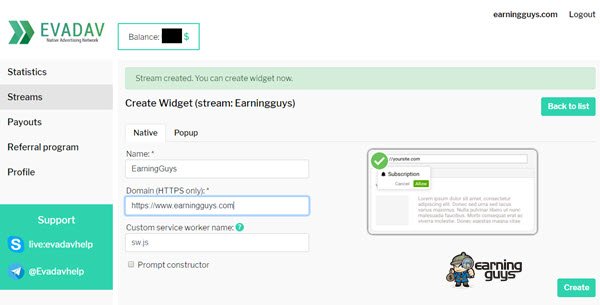 So, you see that Evadav offers you a viable and powerful platform to profit from push notifications.
You need to appreciate and understand that you have to treat your push subscribers with respect.
You need to take care about their informational interests if you want to take advantage of Evadav Push Notification Network.
And some Bonuses from Evadav partners:
Use promo code EVADAV at keitaro.io and take up to 40% discount for a 6-month subscription.
Use promo code EVADAV at binom.org and take free 30-day and 40% discount for the second month.