Organic search is still alive and very much important for the success of your blog or online business.
So, you simply can't ignore organic search if you want to skyrocket your website traffic and hopefully want to dominate your competition.
For WordPress users, the way to go forward is doing the WordPress SEO – The Right Way.
It's certainly needed for taking advantage of organic search so that you top the search results and get good traffic to your blog or website.
Although it's a never-ending game in SERPs but is starts with SEO or preferably WordPress SEO, if you are a WordPress user.
Here, we list down the tips for taking charge of WordPress SEO.
It will show you how to do WordPress SEO in the right way.
Moreover, by utilizing these techniques, you can make the WordPress platform work to your advantage.
The least you have to do is to optimize WordPress site so that you get search engine traffic for your website or blog.
You can make a lot of income only when you get good search engine traffic.
And that happens when you do WordPress SEO the right way.
This post is meant for beginners as well as professionals who want to improve their WordPress SEO and have more organic traffic.
Although WordPress is SEO friendly still lots of things need to be done to maximize organic traffic.
So, let's start with this WordPress SEO Guide.
You will get to know all the basics of WordPress SEO and then can start applying to your blog or website.
What is SEO?
SEO stands for Search Engine Optimization.
To keep it short and sweet, SEO can be understood as the techniques or strategies used by website owners for getting more organic traffic by ranking high in search results.
It involves strategies for optimizing your content for the search engines so that they appear higher in SERPs.
However, SEO is not about tricking Google, and neither is it gaming the system.
It's about creating a website with optimized code and formatting so that it is easy for search engines to detect and rank your site in SERPs.
When you optimize your content for search engines, it tends to appear higher in search results thereby facilitating users to click through to your website.
So, with SEO or Search Engine Optimization, your content is optimized and shows up higher in SERPs where more users get to see it and click on it to reach your website or blog.
SEO Importance in WordPress
While WordPress is SEO friendly, still lots need to be done to position your content among the top results in SERPs.
Let's give you an example.
When you query search engines, you are most likely to visit only up to top 5 results on SERPs.
Moreover, the top 2 results are always visited. This itself is a testimony that SEO is important for grabbing top places on SERPs.
Without SEO, you fail to attain top positions in SERPs.
In fact, search engines don't understand a web page the same way as we do.
Doing WordPress SEO in the right way, you must make sure that search engines understand what that page is all about and how it can be useful for users.
Moreover, users put all the responsibility on search engines to find the best content for them.
SEO importance in WordPress lies in the fact that it helps your website to rank on top of the SERPs so that whenever a user fires a query; your website is visible on top of the search results.
In fact, search engines make use of a set of algorithms to figure out best content based on a user's query.
Those websites or results which fulfill the set of criteria for search engines make it to the top results.
WordPress SEO ensures that your content is noticed by search engines so that they can feature it in the top results on SERPs.
Then, with WordPress SEO, you take efforts for improving the user experience and usability of your website.
These are very much important if you want to retain the interest of your users towards your content.
Lastly, WordPress SEO makes sure that you get more visitors, trust, and sales.
When a user sees your website in the top results on SERPs, your overall brand acceptance takes a positive shift.
Your brand visibility increases thereby giving you a positive feedback from your users.
The Basics of WordPress SEO
Here, we show you the basic things that you ought to do for WordPress SEO. These are the things which shouldn't be ignored at any cost if you hope to make it to the top spots in SERPs.
So, let's begin:
Choose www or Non-www
When you are launching your website, the very first question that you are faced is whether or not to go with www, i.e. (http://www.example.com) or non-www (http://example.com) for the URL of your site.
In fact, for search engines, www or non-www are two different websites.
So, do avoid duplicate issues you have to choose one of these and stick with it.
However, you are free to choose www version or non-www version for your website.
You can set your preference by using the Settings >> General page. You have to add your preferred URL in the 'WordPress Address' and 'Site Address' fields.
That said, from SEO point of view, there's no advantage of using one over the other.
Make sure, you choose one of them and stick with it.
Using SEO Friendly URL Structures
SEO friendly URL Structures can be easily read by both humans as well as search engines.
They contain words that clearly explain what the page is all about.
Here are some examples of SEO friendly URLs:
"https://www.earningguys.com/seo/meta-description/"
"https://www.earningguys.com/seo/best-seo-software/"
As you may have noticed, these URLs are readable.
A user can easily make out what they will get on the page by simply looking at the URL text.
Here, are some examples of non-SEO friendly URL:
http://www.example.com/?p=1234
http://example.com/archives/789
As you can see, these URLs use numbers that are totally unrelated to the content.
In fact, a user cannot find out what they will see on the page by looking at the URL.
You can use SEO friendly permalink structure for getting better positions in search results.
It is simple to update your WordPress site's permalink structure.
Go on and access the Settings >> Permalinks page.
Select the 'Post name' option.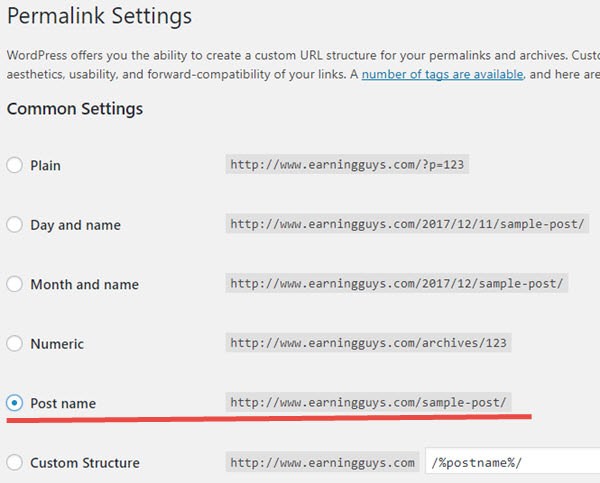 And click on the 'Save Changes' button for storing your settings.
However, if your site is live for last few months, then you should not change your permalink as an indexed page of your site will get de-indexed and the search engine will have to re-indexed those pages.
In case you are using Day and Name or Month and Name, then you should change your Permalinks as date give the search engine a clue that article is related to certain date which may not give you regular traffic.
Altering permalink structure of an established site, you stand to lose all your backlinks, social media share count and your SEO ranking can take a hit.
If you are sure, you have to change the URL structure of your site you can use 301 redirect it will redirect old URLs to the new one.
Create XML Sitemaps
An XML Sitemap comes as a specially formatted file that goes on to list every single page on your website.
When you have XML Sitemap, you make it easy for search engines to find all of your content.
So, an XML Sitemap allows site owners to tell search engines about all the pages that are there on their website.
With a Sitemap, search engines such as Google, Bing, or Yandex can grab the hierarchy as well as the structure of your WordPress site. Sitemap ensures better crawling.
However, it should be noted that adding an XML Sitemap does not give a boost to your site's search rankings.
That said, XML Sitemap does help search engines to find your pages quickly and go on to rank them.
For example, suppose some page on your site is not indexed, then sitemap can be used to let search engines get to know about that page so that it can be indexed properly.
Then, Sitemaps are very useful for new websites and blogs.
Actually, it is very hard for search engines to discover posts and pages for new websites and blogs as there are very few backlinks pointing to it.
With Sitemaps, it becomes easy for search engines to crawl and index such sites.
For popular websites, sitemaps improve the overall visibility of such sites to search engines.
In fact, there are several ways for creating XML Sitemap in WordPress.
Best of all, you can use plugins like Yoast SEO or Google XML Sitemaps.
First, you need to install and activate Yoast WordPress SEO Plugin.
Then you have to enable XML sitemap functionality.
You have to check the box for enabling XML sitemap functionality.
You get a number of options that you can configure for your Sitemaps.
You can even ignore them and go to click Save settings.
Doing this will generate the sitemaps. The Yoast WordPress SEO will show an XML Sitemap that you can click for viewing sitemap_index.xml sitemap.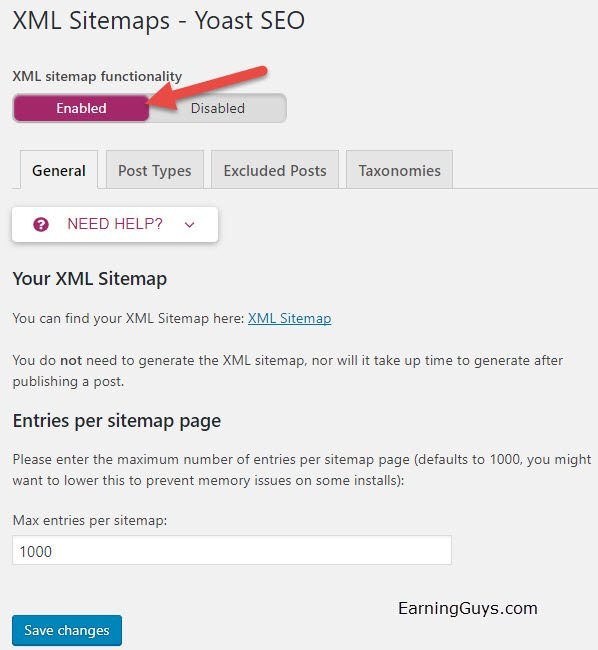 You can also use the plugin Google XML Sitemaps to create specialized sitemaps to help search engines to better index your site.
It notifies all the key search engines every time you come with a new post.
The plugin supports all types of WordPress generated pages and custom URLs.
With a sitemap, it becomes easy for crawlers to see the complete structure of a site and retrieve it more efficiently.
You can go on to submit your sitemap to Google by making use of Google Webmaster tools.
Use WordPress SEO Plugin
WordPress is already much SEO friendly.
However, we recommend website owners to use WordPress SEO Plugin when they are working on their WordPress site.
It will allow optimizing your WordPress site so that it can stand a good chance to grab the top spots on SERPs.
Considering the popularity, Yoast SEO Plugin is a free and best option available to website owners.
In fact, Yoast SEO Plugin comes with end-to-end optimization capabilities.
So, we highly recommend the Yoast SEO Plugin.
The Yoast SEO Plugin performs many SEO tasks.
It automatically generates XML sitemaps.
It allows you to write better content on the page and keyword analysis.
It adds social and schema markup and enable breadcrumbs.
Plus, it performs a multitude of other optimization tasks.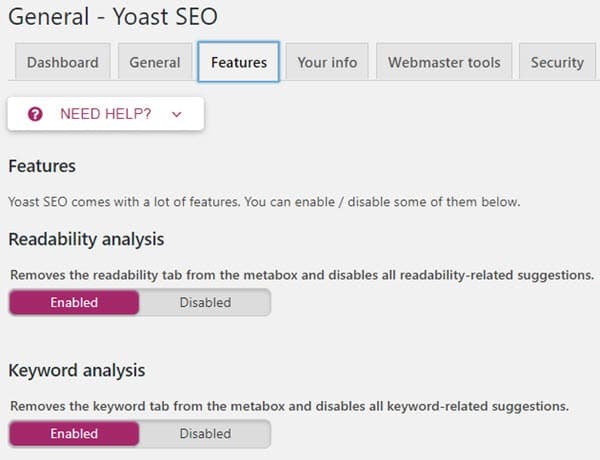 The Yoast SEO Plugin has already seen over 1 million installs. It has got 4.8 out of 5-star rating.
It can be downloaded free from the WordPress repository.
Use Lightweight WordPress Theme
Choosing a WordPress Theme is one of the most crucial decisions for any webmaster.
Well, most of the website owners look at the "attractive" aspect of a WordPress theme.
Although this might be necessary, the other critical aspect of a WordPress theme is the Speed.
Nobody wants to see slow loading websites. In fact, a slow loading site leads to a poor user experience.
The important thing is that search engines take a note of this aspect of website performance and penalize sites that load slow and perform slow.
So, if you are using a WordPress Theme, that's slow to load, then better beware.
Your search engine rankings might be affected. Moreover, visitors will shun your website simply because it takes too much time to load.
This calls for the use of lightweight WordPress Themes.
You should be using fastest loading WordPress themes without compromising on features.
Here, we recommend StudioPress WordPress Themes.
They offer stylish, lightweight, and modern WordPress themes.
StudioPress use Genesis Framework which is search engine optimized.
Their smart design architecture makes sure that you achieve best rankings possible.
Moreover, the Genesis Framework ensures that you get the best security possible. And it achieves all these without sacrificing performance.
It is clean and lightweight. Sites built on Genesis Framework have page load times in milliseconds. That's the most crucial and essential difference.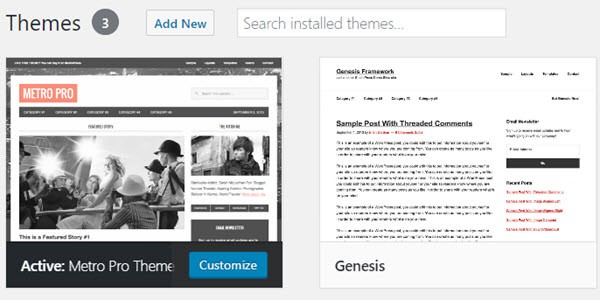 Creating SEO Friendly Blog Post
Creating SEO friendly blog posts is a matter of skill and can be improved by practice. And importantly, it's not at all a difficult process.
Making a blog post SEO friendly involves fixing things such as blog post title, the blog structure, formatting, headings, and paragraph.
In fact, an SEO friendly blog post invariably becomes a user-friendly blog post too.
So, making a blog post SEO friendly means that the content is understood both by the search engines as well as by the users.
An SEO friendly blog post invariably gains high rankings in the SERPs.
Here, we list out some of the necessary steps for creating SEO friendly blog posts:
Find a topic that is interesting for users.
Define the different parts of a blog post.
Come up with a good and exciting title.
Optimize the URL.
Use headings in a hierarchical mode H1 -> H2 -> H3
Keep your paragraphs short.
Add internal links.
Include keywords in the title, main headings, within the content, and in conclusion. However, keyword stuffing is not recommended.
Pay due attention to the quality of your content.
Optimize the length of your blog post.
Optimize the meta description – make it informative and interesting.
Optimize media elements (images, graphs, infographics, statistics, and videos). Use human-friendly ALT Text.
Keep your content up-to-date

Speed-up your WordPress Site
As a website owner, you have very limited time to convince users to stay on your website.
In fact, not more than 5 seconds.
If a user encounters a slow website, he/she will potentially leave the site before it even loads.
This translates into a loss in conversions, fewer page views, and a decrease in customer satisfaction.
Moreover, search engines (like Google) go on to penalize slow websites by lowering them in search results which means low traffic for slow websites.
So, to avoid these problems of running a slow website, you must take proper steps to make your WordPress website Fast!
In fact, use of bad plugins, external scripts, poor web hosting, page size, and even WordPress configuration are some of the causes for a slow WordPress site.
Here, we list out some of the ways by which you can speed-up your WordPress site:
By installing a WordPress Caching Plugin.
Use a Content Delivery Network.
Optimize Images
Keep your WordPress site, plugins, and theme updated to the latest versions.
Use excerpts on Homepage and Archives.
Break comments into pages.
Use a lightweight WordPress theme.
Never upload videos directly to WordPress.
Use faster WordPress slider plugins such as Soliloquy.
Use a WordPress Gallery plugin optimized for speed.
Optimize WordPress Database.
Split long posts into pages.
Optimizing Images for SEO in WordPress
Images are an important part of your content and help boost engagement.
In fact, studies have proved that using colored visuals in blog posts makes people 80% more likely to read your content.
However, if your images aren't optimized, they can be a cause of great worry for you. Moreover, non-optimized images go on to slow your WordPress site.
So, we recommend that before you upload a photo to your WordPress post, you should use photo editing software for optimizing your images for the web.
Photoshop is a favorite photo editing tool that you can use for optimizing images.
Plus, the image format you choose makes a huge difference in the website performance.
For example, the .png format is uncompressed. It has high quality but with large file size and takes longer to load.
While .jpeg is a compressed file format with reduced image quality but significantly small in size.
You can also use WordPress Plugins like Imagify to optimize image while uploading and optimize existing images.
Create Interlink on Blog Post
You should cultivate the habit of interlinking your own posts whenever possible.
Interlinking just means that you link your content to your other blog posts.
In fact, search engines assign a score known as page authority to each page on your website.
An important factor in determining this score is the links to your content from your other blog posts or pages.
Interlinking is not only useful regarding SEO, but it also offers your readers more posts to read thus helping to increase your page views.
Users will get an opportunity to spend more time on your site.
Nofollow Unimportant Pages
There are certain pages, that is, "unimportant" pages where you don't want to send your "link juice."
These are the pages such as the user login page, thank you page, about page, category links, RSS feed, etc.
Using Nofollow attribute for such pages ensures that you keep the link juice to the pages where you want it to go.
So, if you are having a link to the contact form, make it Nofollow because you don't want to make it a powerful page and waste your link juice.
Simply linking to the page is enough to have it indexed in Google.
By using Nofollow attribute for "unimportant" pages, you ensure that the "weight" from backlinks won't be wasted on those 'unimportant' pages.
In fact, Nofollow attribute is mainly used to stop spam on the web for ranking in SERPs.
Add your Site to Google Search Console
Google Search Console or Webmaster Tools is a set of tools by Google that enables site owners to know how their content is seen by the search engine.
It offers reports and data to give you an insight about how your pages appear in search results.
You get information such as the search terms used by people to find your website, how often your pages are clicked, and how the pages appear in search results.
It helps to figure out what's working and what's not on your website.
So, with all these information, you can plan your content strategy.
It also alerts you about duplicate content or restricted resources.
We recommend that you should add your website to Google Search Console.
Moreover, you should check your Search Console regularly to know your website's SEO progress and for gathering valuable insights.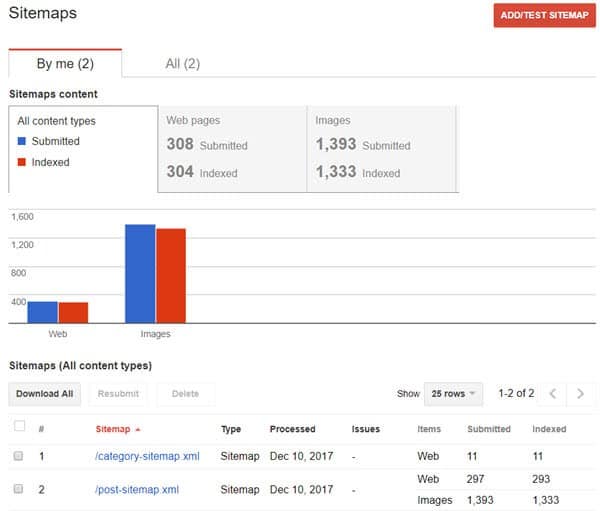 We hope that the article will prove a valuable resource for you in learning how to optimize your WordPress site for SEO.
It's all you need to know about WordPress SEO doing it the right way.
If you liked the article, then please share it with your friends and colleagues. We welcome your comments and suggestions.