For performance marketing professionals out there, efficiency is the key to success. The logic is simple here – the more time you'll be able to save, the more money you'll be able to make. In this respect, Binom Tracker plays a big role.
It's a self-hosted tracker designed for professional CPA Affiliates.
The Binom Tracker puts speed first and foremost whether its click processing or report generation. Binom saves your time and increases your efficiency thereby enabling you to increase your earnings.
Binom assists you with the right data at the right time and about the right people.
Today, we check out Binom Tracker: a self-hosted tracker for CPA Affiliates.
Binom Tracker is a tool that's specifically geared towards the affiliate marketing industry. However, it's also applicable to other areas as well.
It's a self-hosted tracking platform.
In fact, Binom is one of the best trackers out there in terms of pricing, features, speed, and reporting. It does the basic job of tracking campaigns really well so that you can optimize and make more money.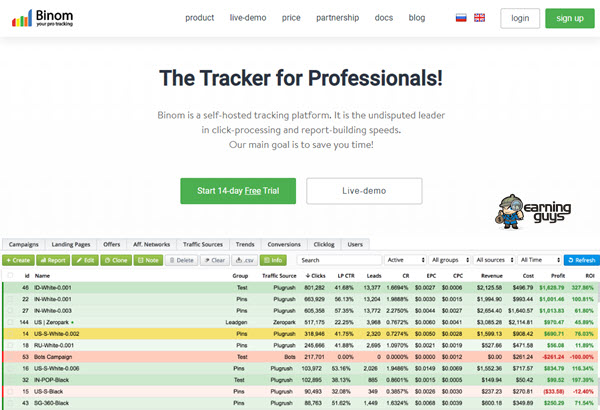 Binom Tracker Overview
Binom is one of the most popular self-hosted trackers out there. It helps you to manage affiliate marketing paths such as clicks, CPA campaigns, costs, revenue, sales, report building, and more, all in one place.
In fact, Binom excels in click processing and report building speeds. It offers you a convenient interface thereby saving a lot of your valuable time. It tracks your CPA campaigns and lets you know from where and how the main source of revenue is coming.
Binom can track and manage your affiliate operations without any redirects. It offers in-depth reports about the conversions and clicks.
Plus, it comes loaded with a lot of features and functionality such as multi-level filter system, report, and analytics formation, superb click-processing, advanced traffic distribution, and rock-solid API. Binom proves one of the most important tools to track all your income and conversions through your affiliate marketing efforts.
So, Binom tracks out any complications that exist in your marketing plans and helps you to eliminate them before any blunder.
In a nutshell, Binom makes affiliate marketing easier and more profitable for you. It's an advanced solution with outstanding power that has successfully withstood severe competition in the self-hosted tracker's marketplace.
The Advantages of Binom Tracker
There are a bunch of reasons that I need to share with you that makes Binom stand as the best among self-hosted trackers for CPA Affiliates.
Here, I share some of its remarkable attributes which make Binom one of the most sorts after trackers in the world.
Let's have a look at the following points that highlight the advantages that you get with Binom Tracker:
You don't need to handle the hassle of installing and setting up the tracker. The Binom support will install the tracker on your server for free. You simply need to write to them, and the rest is their job!
Binom is a self-hosted tracking solution. So, there are no extra costs attached to this tracker. So, Binom is a low-cost tracking solution.
Here, you don't have to pay on the number of clicks or actions. It's a great advantage for all those who run high volume campaigns on a daily basis.
These guys know what they are doing. They have more than three years of experience in tracker building and over five years of experience in affiliate marketing.
Binom Tracker works even in high volume traffic without slowing down redirects or reporting. In fact, Binom can handle millions of clicks per day.
Binom provides SSL for all your domains for free.
Binom is one of the best trackers in click processing. Its click processing time is 5 ms under any server load.
Binom offers remarkable traffic distribution. It has solid traffic distribution rules. It allows you to track over 20 metrics thereby ensuring maximum profit in your marketing campaigns. Thorough research is carried out to figure out which landing pages are not getting much recognition and conversions. It even carries out A/B and MVT testing before redirecting to the proxy traffic.
Binom offers group campaign reports. It's a unique feature that takes the pain away from comparing results whenever you launch campaigns with different angles and compare their results.
You get Binom updates in every few months. The Binom updates are concentrated on automatization for your campaigns. It means more profit and fewer headaches for you. You get many new features which are always a welcome sign. So, Binom is properly maintained.
Binom has remarkable tracking and reporting capabilities. For example, it records whenever a viewer comes across your landing page and also takes note of their exit to generate better reports. Binom offers a thorough analysis of your traffic, clicks, and conversions in the process of more than thirty metrics. You can even share detailed reports and traffic sources with your staff.
Binom has a fantastic support team with an average support response time of two minutes. Binom support team ensures that all your questions and problems are resolved in the shortest time.
The speed with which Binom processes each click is very impressive. In fact, Binom processes each click within 5 to 30ms at the most.
Binom tracking software is studded with CRM features. For example, you can easily make notes about your changes in campaigns.
Binom makes sure that the user receives complete knowledge about the campaigns, clicks, landing pages, and other offers.
You can track custom events in landing pages which proves very helpful in optimizing your landing pages. For example, you can measure screen resolution, time spent on landing pages, scroll percentage, and lots more.
Binom comes with exit tracking feature allowing you to track which CTA's are performing better and track their CTR.
Its smart rotation function allows you to maximize your conversions. You can show a new angle to your visitor when they see you're landing page.
The fastest and most convenient user interface
Moreover, much more
So, you see that Binom comes out as one of the most powerful self-hosted trackers to help affiliate marketers with efficient click processing, traffic distribution, campaign tracking, analytics, and much more.
Binom Features
Here, we have listed most of the features of Binom Tracker:
A. Click Processing
Processing time for a click ranges from 5 to 30ms
Guarantee of zero losses
Processing speed is not dependent on the volume
It does not depend on the number of clicks in the database
Separated from report generation
B. Organization
Saves offers and landings
Additional users with limited access
Preset traffic sources
Batch adding of offers and landings
Notes to the campaigns, offers, and landings
Directory of rated affiliate networks
Groups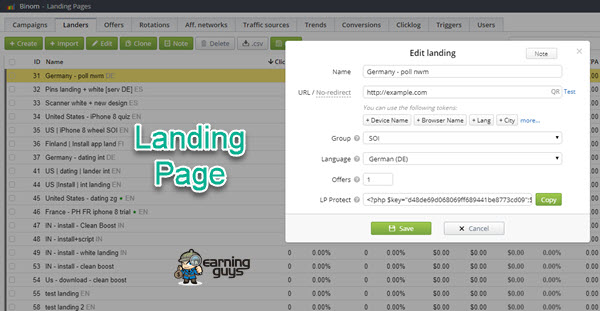 C. Analytics
The highest speed of reports generation
Filters system
Statistics by paths, rules, rotations
More than 30 metrics
Collective reports for campaigns and traffic sources
Export to CSV
Uniqueness report
Statistics for last hour
Bots identifying
Bid reports
IP-ranges and connection type
Trends
Click log with filters
D. Technological Core
PHP 5+ based
Works under any load
Transaction Engine for click storing
Low memory usage
Compatible with MySQL 5+, MariaDB, Percona
Server failover system
Monitoring and SMS-Notification System
E. Tracking
LP Pixel
Improved Postback
City Tracking
Integrated landings (without redirect)
Sending information from landing
Tracking exit points from landing
Unlimited additional domains
Conversion statuses
Postback conversions to the source
Manual conversions update and removal
Click cost import from the source

F. Traffic Distribution
A/B and MVT testing
Paths, landings, and offers
Rotation system
Redirect of Proxy-traffic
Distribution rules for 20+ metrics
Multi-affiliate landings
Distribution by uniqueness and conversion
Clickthrough between campaigns
Redirect to a particular path or landing
G. API
Campaign Information
Filters
Update Costs
Campaign reports
Information about landings and offers
H. Support
Great responsiveness
Detailed documentation
A FAQ with 100+ questions
Answer within one hour
Tickets, Skype, Telegram, Email
Online from 9 to 23 MSK
Minimum Server Requirements
Server Types: Dedicated/VPS/VDS
CPU (Cores/Threads): 2
RAM: 2GB
Storage Type: SSD
OS (Recommended): Debian 9.x minimal/Ubuntu 18.04 minimal
You can opt for manual installation if you are a technical person. However, the best option would be to run the auto-installer that was developed by Binom.
Moreover, the Binom Support Team can do all the installation process for you. So, if you are not so technical, this would not be an obstacle to install the Binom Tracker.
As Binom Tracker is self-hosted, the amount of clicks that it can handle depends upon your server hardware. So, if you want to run millions of clicks per day, then you need to possess a powerful server. The good thing here is that their technical support team can help you to tune server for any volume.
How to use Binom Tracker
Once you have installed the tracker, you can start creating your first campaign.
The traffic path is as follows:
Traffic Source: It sends the traffic to the specified link in the tracker
Link to tracker: distributes the traffic as per the conditions specified in the campaign
Landing: Mostly the traffic goes to the landing page
Offer: Directly to the offer in the affiliate network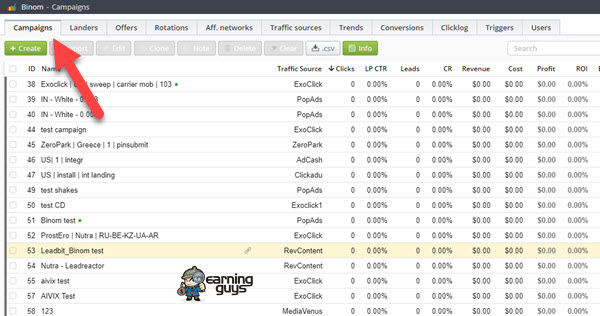 Traffic Source
You need to open the "Traffic Source" section. Now, hit "Create" to add a source from the list. It offers all the popular sources that you can choose according to your preference. However, in case the source is missing, it can be added manually by specifying the desired tokens.
Affiliate Network
It's very similar to the previous point. You need to access the "Affiliate Network." Hit "Create" and choose the available networks from the catalog or else you can add one manually.
Offers
Now, you need to add an offer.
You have to open the "Offers" section.
You can create an offer by specifying the below mentioned parameters:
Name
URL: Place the link to the offer and pass the parameters to the affiliate network
Country: You can set for a country, or else you can open for Global
Group: The parameter is used for additional filtering (grouping). It is also used for differentiating access rights for different users on a group level
Affiliate Network: Pick one as listed above
Payouts: You need to choose the currency as well as specify the amount of the payment
That's all. Hit Save and move on.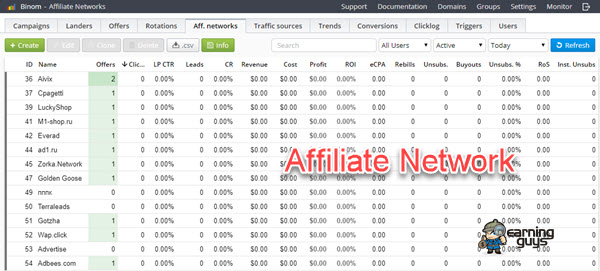 Landing Page Setup
You get two options for working with landings.
Here, you need to specify the path and the parameters that are to be transferred to it.
The LP gets loaded directly to the tracking platform. It will be opened from the traffic source with the link specified in the source.
How to create a campaign on Binom
You need to head to the "Campaigns" section. Click "Create" and fill the following details:
Campaign Name
Group
Traffic Source CPC/CPM/CPA
Hide the Referrer (when you don't want the affiliate network to see your traffic source.
Add the domains to which you'll direct traffic
Type of Distribution
Campaign URL
That's it.
Binom Tracker Pricing
Binom comes for $99/month with a monthly plan. It's also available at $69/month if you go for their yearly plan.
Additional license (when you want to install the tracker in multiple geo-locations) comes at a price of $49.
However, the Binom Tracker is also available on a free 31-days trial so that you can try out the tracker on your servers free of cost.
Binom offers free support with any plan.
Their support is nice and fast. You can contact their support team on Skype, without having to place any support tickets.
Binom also offers a live demo. So, you can test the tracker without having to install it on your servers.
Overall, Binom is a powerful and affordable tracker for affiliates and other performance marketing professionals.
Let us know what you think. Which tracker are you using these days? Do remember to leave your comments below.