The road to blogging starts with a website, and for that, you first need to have your own TLD (top level domain).
However, being a newbie blogger, you have your limitations and constraints.
The biggest of them all is your "budget."
With limited resources at your disposal, you cannot just put dollars and dollars into domain name registration.
So, you need to pick the best and cheap domain names registrar.
In fact, if you Google the term "cheap domain names" you will get as many as 3 million results.
It's a huge list to sort through.
It means that picking the cheap domain registrars might turn out to be a bit difficult for you.
At the least, it is time-consuming.
However, now you don't have to put in hours searching for cheap domain registrars.
Here, we have listed six (6) Best Websites to Buy Cheap Domain Names.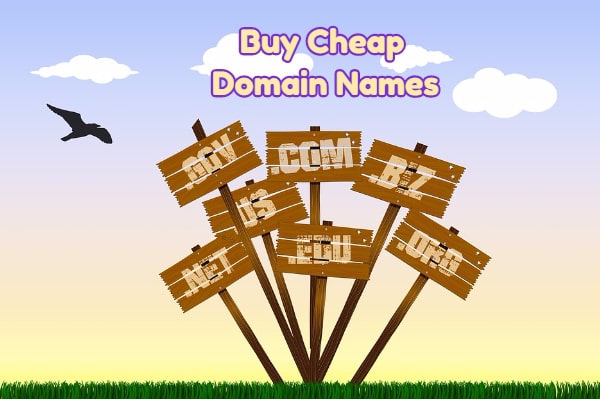 The list is comprehensive enough to provide you ample options for getting cheap domain names.
With these websites, you can surely go ahead with cheap domain registration.
Moreover, these are known to be the most reputable places you can get a domain name with.
Plus and of course, they are budget friendly too.
These websites (for cheap domain registration) go on to save your precious time, and you do not have to take the trouble of researching out on the 3 million pages of results. These are the most trusted sources for cheap domain registration.
Here, we want to make few points.
It has been observed that most internet users go with the same domain host for their domain registration.
Well, although there's no such rule that your domain registrar and host cannot be the same, however, you should get the best individually.
It's in your interest to get domain registrar someplace and a good host someplace else. It offers security advantage too.
So, if someone gets access to your hosting account, your domain name will still be safe.
In fact, the domain name system came into being for the benefit of humans. The actual address of a website on the internet takes a numerical format (Internet Protocol address) consisting of four series of numbers separated by periods.
For example, an IP Address can take the format as 215.55.256.155.
So, it is not easy to remember.
The domain name system was created to overcome the drawback of remembering IP addresses.
It is much easier for you to remember a website named "mywebsite.com" than to remember a whole IP address in numbers.
Here, we have made sure that choosing a good domain registrar becomes easy for you.
We have selected some good cheap domain registrars that offer the best mix of pricing, services, and support.
It offers the cheapest and best domain names registrars on the internet right now.
Below, we have featured six best websites to buy cheap domain names. These are the best place to buy a domain name at a low price with quality performance and support for a cheap deal.
Getting inexpensive domain names will become an easy affair with these cheap domain registrars that we have featured in this list.
So, let's explore and see the cheap domain name registrars.
You may also like: Top Web Hosting Providers
Here's the list of you:
6 Reputable and Cheap Domain Names Registrars
Namecheap is one of the most popular choices of the website for buying a domain name for cheap. It's the best place for purchasing domain names for cheap.
They have come up with their hosting account plans as well. Namecheap has built a very commendable and respectable position in the online marketing community.
You can get .com domain names for $10.69 per year.
.net and .org domains can be purchased for $11.48 per year.
So, they come out as a decently cheap priced domain registrar.
You get best service and support. Plus, they offer a host of other features as well. The only additional fee they charge is 18¢ for ICANN registration/year.
Namecheap is also known for its Twitter and Facebook contest wherein they offer domain names for the lowest price for a particular length of time.
They also provide a free DNS service and WHOIS protection.
The SSL encryption is available for the ones who would like to tighten up the security of their domains.
Another good thing about Namecheap is that they offer tutorial videos in case you face any issues with your domain set up.
They have the very helpful knowledge base and the chat support, as well. Plus, the checkout process is swift and easy-to-use.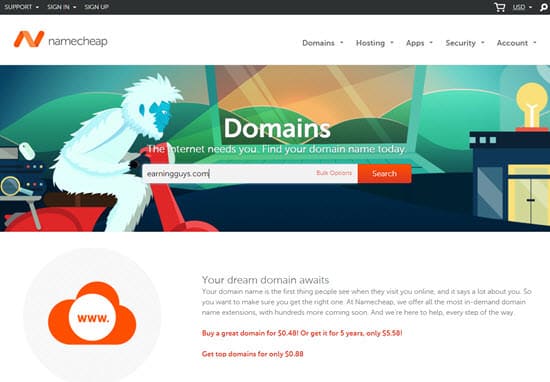 GoDaddy is another big name among domain registrars. In fact, they are considered a leading name in domain name registrars. It will not be surprising if you've heard of GoDaddy before. They run huge advertising budget and national ads (such as Super Bowl).
They offer competitive pricing as well as numerous options for up-sells and add-ons. So, if you go for getting your domain name with GoDaddy, then simply stick with a regular domain purchase and for-go all of the add-ons. That way, you can keep domain name purchase cheap.
The best thing about GoDaddy is the fact that they have been around for a long time. They offer reliable and trustworthy services. In fact, GoDaddy is both a domain registrar and a hosting company.
The cost for registering a domain name with GoDaddy comes to $14.99 per year. However, they also run promos wherein you can register a domain for as little as $0.99. They offer phone and chat support which is decent enough.
Buy Domain Name Starting from $0.99
Free Domain Name with Hosting for $1 per month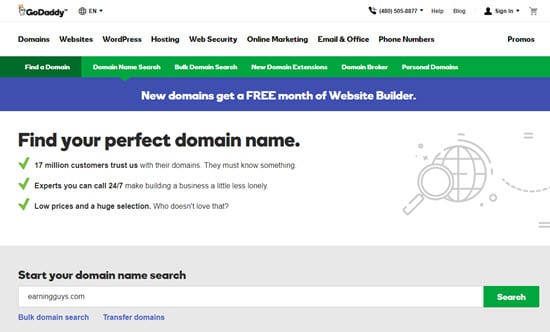 1&1 is another very well known domain hosting company.
Although it's appropriate for any business, 1&1 has focused more towards the bricks-and-mortar business audience.
They have been around for quite some time now.
They have grown big and are currently involved in managing as much as nineteen million domains across the globe.
They are considered best for registering domain names for cheap when you don't have much of a budget.
1&1 has come up with first-year registration plan.
They even run offers (promos) wherein you get an opportunity to grab a domain for as less as $0.99 (less than $1.0). And that's surely a lucrative steal that you can get on 1&1. Plus, it charges no additional ICANN fees or private registration fees. So, the prices on offer are the ones that you get at check out.
1&1 also provides web hosting, email hosting, eCommerce solutions as well as a website builder.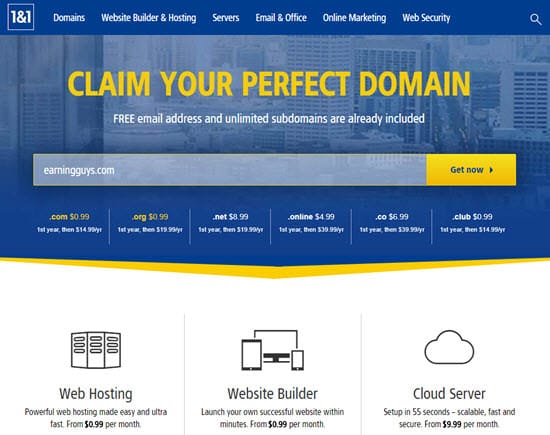 Although Network Solutions might not be as famous as some of the other brands listed here, it is certainly one of the first domain name registrar companies. In fact, Network Solutions is a well-established company and purchasing a domain name with them can surely be a right decision for you.
Other than cheap domain name registration, Network Solutions also offers hosting service, eCommerce solutions as well as other online marketing solutions. However, domain name registration business stands out as the prime division of the company.
Moreover, Network Solutions is currently managing over seven million domain names. Network Solutions offer excellent tools for domain registration and management. It even offers an array of web hosting solutions, email marketing solutions, eCommerce features, and easy website creation tools.
It also offers the facility to transfer your Domain to Network Solutions. There's even auto renewal facility for domain names so that your domains stay protected and you do not face any service interruptions or deletion. 24/7 support is available by phone or email. There are even user guides and tutorials to help you with answers.
50% OFF on Domain Name with Coupon: GOLD50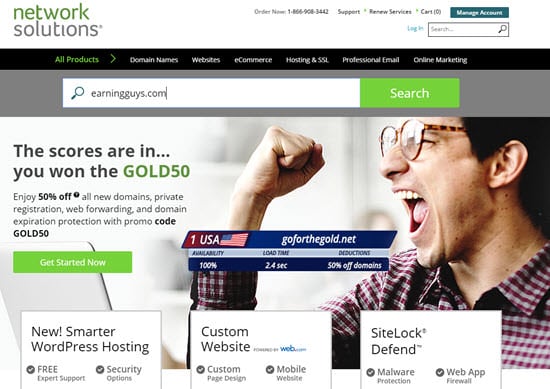 Bluehost is another cheap domain name registrars.
It offers cheap domain names.
In fact, Bluehost is a great budget host if you are into building a new website or blog and go on to offers a free domain for your first year when you buy a hosting account with them. So, Bluehost offers free domain name with web hosting.
It even supports WordPress hosting which turns out to be a lucrative offering as lots of people require building their websites using a self-hosted WordPress solution.
So, domain name registration with Bluehost is free with every purchase of hosting package (entry level) that comes at $6.95/month.
Bluehost turns out to be the perfect solution when you want to purchase hosting and register your domain name with the same provider. It means that you get the opportunity to save money when you buy hosting and domain name registration at the same time.
With Bluehost, you get excellent support which is available 24/7, and 365 days a year. In fact, many people choose Bluehost just because of their excellent support system.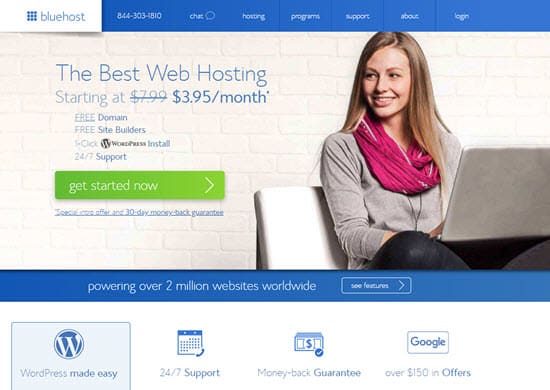 InMotion Hosting is well known for its web hosting solutions.
However, InMotion Hosting is also a cheap domain name registrar. It goes on to support any domain on the net and can be used to register any .com, .biz, .info, .org, .us domain.
It even offers a free set up with all registered domains. It also offers domain privacy. It turns out to be an excellent web hosting and domain registrar company that perfectly understands and manages your unique business requirements.
Purchasing a 12 or 24-month hosting plan with InMotion Hosting, you get the opportunity to have a free domain name registration, as well. You can even transfer your domain without any downtime or hassle. Plus, you can also reserve your domain so that it is available when you want.
So, InMotion Hosting turns out to be a good cheap domain registration company.
Get Free Domain Name with Web Hosting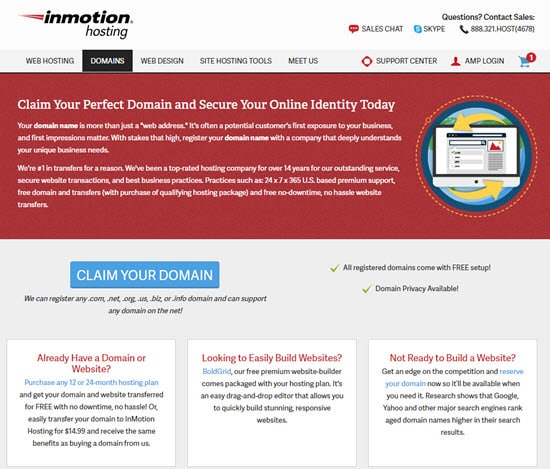 That's it from us in this presentation on 6 Best Websites to Buy Cheap Domain Names. We hope that you are now better equipped in choosing a cheap domain name registrar.
Lastly, don't forget to share this domain resource guide with your friends and colleagues on Facebook and Twitter. We welcome your comments and suggestions.