Affiliate marketing is all about sending people to vender website through your affiliate link. Whenever person buy something or do some specific task on vender website you earn commissions. As an affiliate, your motto is to send as many as people to particular vender website thru your affiliate link.
Now the question comes how you can send a person to merchant website? There are various ways you can send people to a merchant or vender website. When you join any affiliate program, you get a unique affiliate URL, which includes affiliate id, and most of the affiliate program offers banner ads.
You can use social media, place banner on your website or blog, and write a review or related article about that product or service. Both of these ways have to contain your affiliate link, and when visitor reaches to vender website and buy something you earn commissions.
Affiliate marketing depends on conversion rates. Just sending people to a particular website is not enough. You earn when those visitors buy or do some specific task which is required to earn commissions.
What I have seen in most cases, affiliate conversions are between 0.25% – 3%, which can vary from an affiliate program to another program. It means if you are sending 1000 visitors to your affiliate program only 2-3 people will buy that product or service. So it is very important to send as many as visitors to vender website as possible and try to increase conversion rate.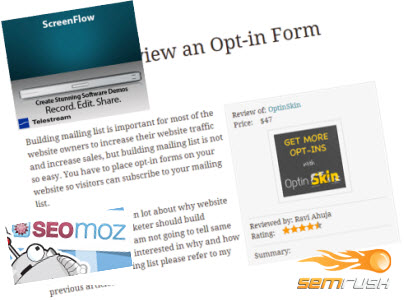 Now there is another question which way is best to get most conversions banner ads or article marketing which contains affiliate link.
The answer can't be easy both have their own advantages and disadvantages. No one solution can be the best. Let's look at benefit and disadvantages of using both type of affiliate promotion strategy.
Advantages of Affiliate Banners
1. Setting-up affiliate banners are very easy one just have to grab banner code, which contains image URL and affiliate link. Website owner has to place banner code on its website or blog.
2. You can show affiliate banner on all pages of your website or blog without much efforts.
3. Showing banner on all pages can give more clicks and more conversions.
4. Using attractive banner can grab the visitor's attention, and they may click on that banner.
5. You can easily setup rotating banners for the same offers to see which banner is performing better or you can use different offer using rotating banners.
Disadvantages of Affiliate Banners
1. Banner ads are from long time and visitors to a website ignores banner ad which is also called banner blindness. Because of that website owner see fewer clicks on banner ads.
2. Banner ad placement is easy and website owner often show same banner ads on all pages. Visitor landed on a page which is on topic X, but ads are showing of on topic Y how they can be interested in that banner ad?
3. Big size banner ads annoy visitors, and they can leave the website in few seconds.
4. Banner ads conversion rate is very low for most of the publishers.
Advantages of Article Marketing
1. When visitors are reading a particular article they may be interested in related product or service and placing affiliate link related to article topic can bring good conversions.
2. Writing a review grab visitors attention as they may be interested in that product and positive review make their decision strong to buy that product or service thus affiliate can get good conversions.
3. Writing article can bring a lot of search traffic as search engine love articles not banners.
4. Visitors from search engines are searching for a specific topic, and they know what they want. Fulfilling search visitors expectations can bring good sales and conversions.
5. Affiliates can publish an article on their blog as well as other blog or website like WordPress.com, tumblr etc by this they can send more traffic to the affiliate program.
Disadvantages of Article Marketing
1. Writing article can be difficult for many affiliate marketers as everyone is not a writer.
2. Writing articles do not guarantee traffic to your website.
3. Only writing positive review can look as scam.
4. Low quality article can brake visitors trust and search ranking.
5. Writing quality article takes a lot of time and affords.
This is not the only good and bad about both ways of promoting affiliate product or service. You can adopt both ways to promote affiliate product to get best results as an affiliate marketer.
I want to ask my reader which is the best way to get good affiliate results. Share your valuable opinion which can help many affiliate marketers to get best results.