The article features the 10 Best Domain Name Value & Appraisal Sites. In fact, estimating the value of your domains becomes extremely easy with these best domain valuation sites.
Well, it could be much surprising for you, but it's a fact that something as simple as a domain name could bring you a considerable amount. So, your domain name could turn out to be a potential moneymaker for you.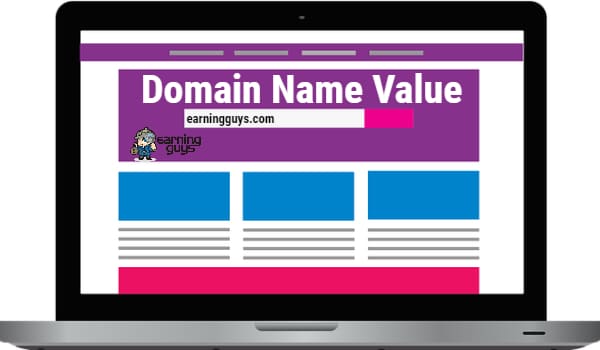 That's why it's in your interest to know the worth of your domain name so that you can procure a fair price for it when you sell it.
You can come to know the value of a specific domain name by performing a process known as domain valuation which is also referred to as domain appraisal.
Before moving on further, it would be appropriate to recap some basics of domain name quickly.
A domain name is the main part of a website's URL that is used by visitors to access the main page of that website.
For instance, our domain name is earningguys.com.
Moreover, a domain name is composed of two primary components:
Second-Level Domain: It is the main part of the URL and contains the name of the website. In our example, it is "earningguys."
Top Level Domain: It comes at the end of the domain name. In our example, it is .com. In fact, there are hundreds of TLDs available to use. The most common ones include .com, .net, .org, .edu, and .gov.
Sometimes you need to sell a domain that you're not using. In such scenarios, it's a smart idea to find out how much your domain is worth so that you can get a fair price for it.
You need to figure out – how much is my domain worth? Moreover, it is not difficult to estimate the value of a domain. You can use domain appraisal services and find out the worth of your domain name.
Here, we list out some features that make a domain desirable. These include:
Domain's TLD: A domain's TLD is one of the main features that make it desirable. For instance, buyers usually prefer .com TLD and consider it valuable.
Meaningful Keywords: Including high-quality keywords in your domain name makes it desirable and increases its value. In fact, it's a trend with the majority of sites to include high-quality keywords in the domains.
Moreover, it's also important from an SEO point of view to include the right keywords in your domain name. For example, www.hotels.com is one of the top-rated websites for the search query "hotel."
Correct Spelling: Your domain name should be spelled correctly and look professional. Few buyers would be eager to buy a domain that looks sloppy & unprofessional. That said, sometimes using unexpected spelling can make the domain more brandable.
Some sites have incorporated incorrect spellings in their domain name and have created memorable brands. Fiverr.com is one such site that has used incorrect spelling in the domain name and has still managed to create memorable brands.
Traffic and Popularity: The amount of traffic that a site receives plays a crucial role in determining the domain's worth. If a domain has an existing audience attached to it, then the buyer can leverage that traffic for their website right away. As people are already visiting the domain, so there's a clear value in acquiring that domain name that offers an audience with it.
Brandable: While it is much difficult to define what makes a domain brandable, most of the buyers take special notice of websites that have clear, memorable, and unique domain names.
A website that has a catchy and attention-grabbing domain name holds much value for the buyers. Sites such as facebook.com, youtube.com, or twitter.com have attention-grabbing domain names and are immensely popular with visitors.
Short Length: As a general rule of thumb, the shorter a domain is, the higher is its asking price.
So, a sellable domain name has all these qualities that increase its value and make buyers go after them.
With domain valuation or domain appraisal, you can come to know the value of your website and other domains too. So, you get a fair idea of your domain worth when you want to cash in on your website or when you need to find a new URL.
There are plenty of domain name appraisal sites that offer domain valuation or domain appraisal service. You need to enter your domain name and see the appraisal or asking price of the domain.
These domain name appraisal services make use of SEO-related factors such as keywords, monthly searches, Alexa rank, cost per click, and more for domain appraisal. However, estimates can vary from service to service. So, it would be good for you if you get a second, third, or fourth opinion from another domain appraiser. Ultimately the real value of your URL is determined by the buyer.
Here, we have listed the ten best domain name appraisal sites that give you domain value.
10 Best Domain Name Value Websites
So, let's check out these domain appraisal services. Here's the listing for you:
GoDaddy Domain Appraisals is known for its most accurate estimates of domain value. In fact, GoDaddy is one of the most recognized names for anything related to domains.
Moreover, GoDaddy has made a name for itself in the world of domain appraisals. Its exclusive algorithm combines machine learning together with real-market sales data that has been compiled from its vast experience of twenty years.
So, GoDaddy is one of the best places for domain name value and appraisal. The GoDaddy Domain Appraisal Service gives you the estimate of your website's price and explains its reasoning.
It considers various factors while offering you the estimate. For example, it considers whether or not a domain uses popular keywords and factors such as how long the domain name is.
It even offers you a list of available domain names that are still to be purchased. So, you can get some cheap alternatives with web real estate.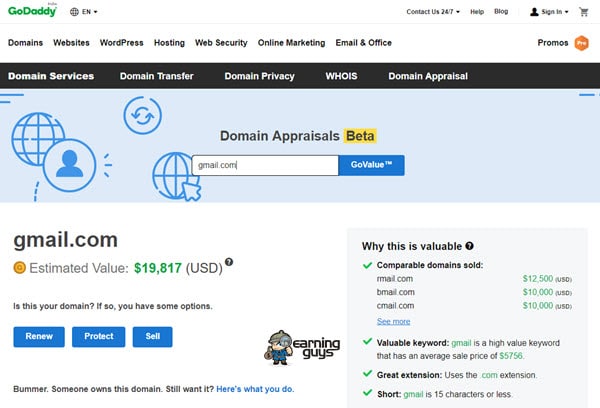 2. Sedo Domain Name Value
Sedo is one of the best tools for domain name appraisal. In fact, Sedo happens to be the world's leading domain marketplace. With Sedo, you can easily do domain appraisals and get to know your domain's value. It's known for offering precise domain appraisal.
Sedo takes into account as much as ten factors while evaluating domains that include search engine suitability, buying and selling prospects, and advertising effectiveness. Sedo even holds the world's largest database on website sales. So, with Sedo, you can be sure that you can accurately size up a domain.
Moreover, Sedo is also suitable for:
Searching the ideal web address
Domain acquisition
Earning money with Domain Parking
Launching a new domain extension
Professional trading of Internet domains
And much more…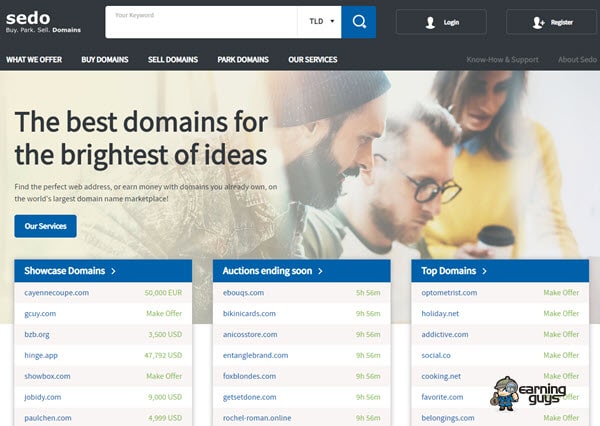 3. Estibot Domain Name Appraisal
Estibot is one of the best tools for free domain appraisal and domain investment. It's a free domain valuation service that considers a range of variables for domain appraisal. For example, it considers factors such as cost per click, keyword optimization, as well as the website's previous sale price.
In fact, Estibot is one of the most trusted names in domain name value, appraising more than two million domains per day. It utilizes the industry's most comprehensive data sets and reporting technologies. So, Estibot helps you to identify valuable domain names so that you can make an informed investment decision. With Estibot, you can easily come to know – how much is my domain worth?
Although the appraisal tool is free, you need to register with the site to perform domain appraisal.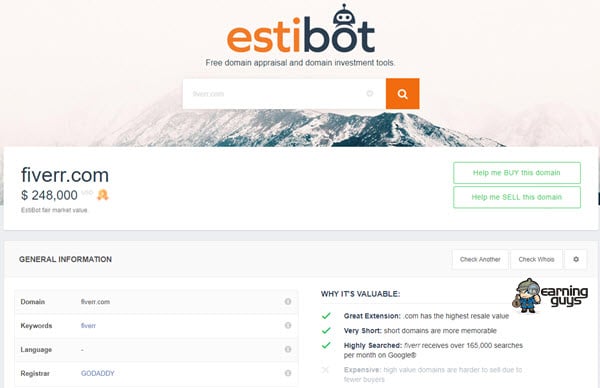 Free Valuator is a free domain appraisal tool. It offers free and professional domain and website appraisals. So, with Free Valuator, you can come to know how much your domains are worth.
Using this free domain valuation tool, you can get a preview of the domain name value. It calculates the value of the domain based on variables such as domain keywords, website rankings, statistics, and the sales of a similar domain.
You simply need to enter the domain name and click on the "Valuate" button. It gives the estimated value of the domain along with other insights such as domain details, website rankings, website details, social data, and more.
So, the hallmark of Free Valuator is its commitment to offering multiple perspectives on a website's valuation.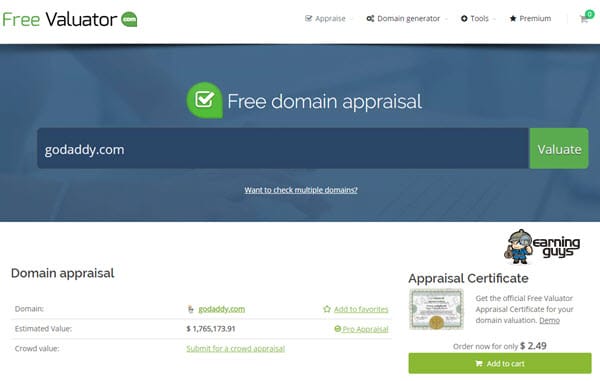 Domaining is a free domain valuation tool that offers a fair appraisal value using your name's metrics and the sales of similar domains.
Although it's a free tool, you need to sign up to see your results.
Besides evaluating domains, Domaining also provides other relevant data like top sales reports, traffic, competition, search frequency of website addresses, and CPC in an easy to read table. It also automatically checks for trademark issues with domain results.
So, Domaining is quite a detailed appraisal tool that offers scores of data on any domain name.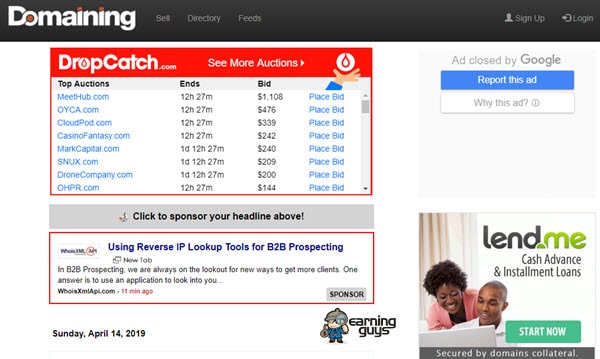 With over 800,000 registered members, Flippa happens to be one of the leading destinations for buying and selling online businesses. In fact, Flippa makes it easy to sell a business.
Flippa is different from other domain appraisal services as domains are appraised by the fellow Flippa users, not by software such as Estibot.
You need to go to "free crowdsourced domain valuation" and submit your domain. People get free credits for appraisals.
However, Flippa is planning to remove the incentive on appraisals which will make the service more reliable and will cut back on the rampant abuse with regards to inconsistent appraisals given.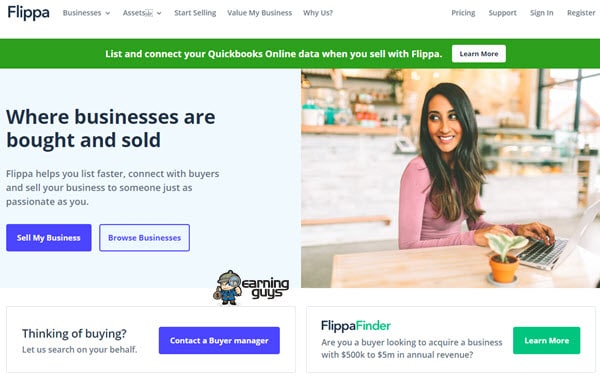 Epik offers both a free domain appraisal service (however, it's subject to signing up) as well as a premium bespoke website appraisal. It offers fair domain appraisals that are based on your names metrics and the sales of similar domains. So, Epik happens to be one of the best places to get your domain appraisals done.
It offers a fair market domain name value. The good thing with Epik is that it offers full domain history and performance. It has teamed up with archive.org and Alexa Rank to illustrate a website's history. Its fairness opinion feature comes handy when a transaction is being contemplated between a website owner and prospective owner.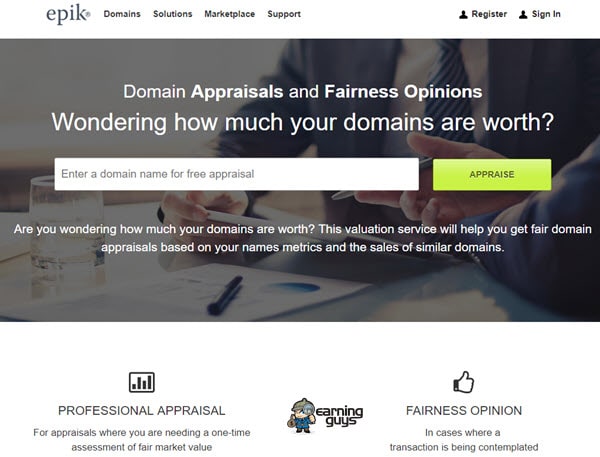 Website Outlook is one of the top domain name appraisal sites. It uses over twenty metrics to measure and track your website.
Other than functioning as a website value calculator, Website Outlook offers comprehensive stats such as:
Alexa rank, backlinks, page authority, and domain authority
SemRush Metrics such as Semrush rank, number of keywords in the top 20 Google SERP, traffic, and cost
Website Information including Meta tags information, HTTP header response, Code to text ratio, and more
Network Information: Server IP Address, ISP (Internet Service Provider), Server location, and DNS Records
Social Popularity that includes information from Google Plus, Facebook, LinkedIn, Twitter, etc
Whois Record such as domain contact and registration details
The best part is that the service is free with no sign up required. You simply need to enter the domain name and click on the "Check" button. So, it's an easy-to-use website value calculator.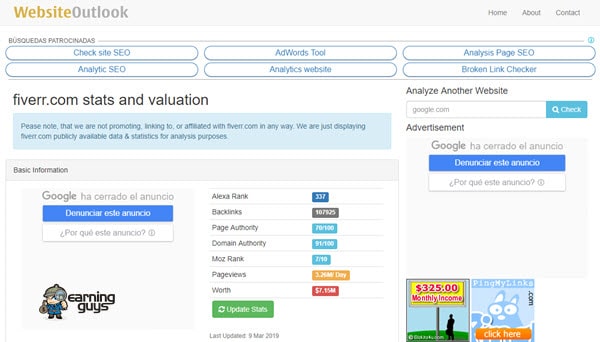 Domain Price Check is an easy-to-use tool for estimating the value of your domain name. It uses data from over 2,600,000 domain sales as well as state-of-the-art machine learning to give you the estimated value of your domain name.
With Domain Price Check, you get a detailed report on your domain. Its analysis tool gives you a detailed report based on several data and algorithms.
The algorithm is based on a neural network and helps you get your domain's value or those of third parties.
It provides insight of search volume, web statistics, TLD facts, check, keyword facts, Google Trends, and many other parameters.
In fact, Domain Price Check offers you one of the easiest ways to determine the domain value. Moreover, the Domain Price Check service is free of charge for you.
So, whether you want to buy a domain or want to access your portfolio, the Domain Price Checker turns out to be an excellent independent digital adviser in terms of domain value.
All in all, Domain Price Check offers you a quick and easy way to get the estimated value of your domain name.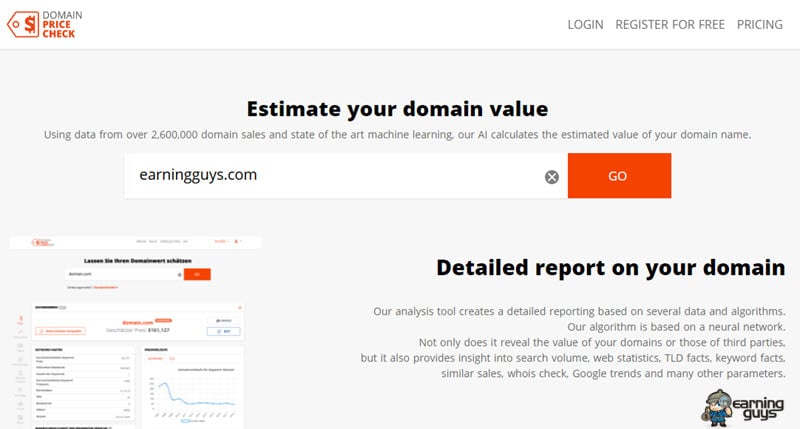 Siteprice is one of the best domain appraisal tools with which you can know the worth of your website. It's a free domain value calculator. It even helps you to find your estimated website traffic.
Siteprice analyzes data from internet resources and gives you an estimate of the website market price. It employs a unique algorithm to estimate the worth of a website.
Its algorithm is based on various factors such as daily page views, daily advertisement income, Alexa rank, domain age, social media visibility, backlink count, Google index status, and more.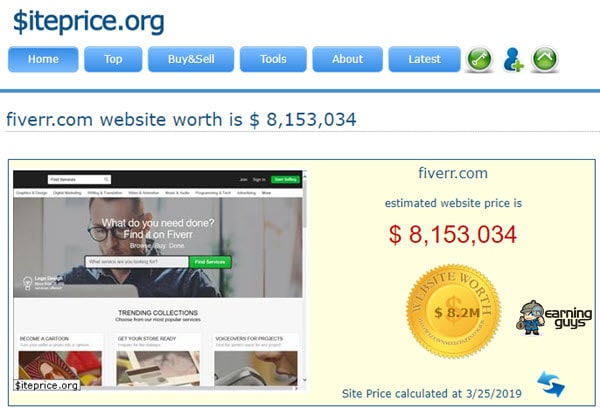 Domain appraisal is helpful is knowing the worth of your website/domain when you want to sell it. We have featured the best free domain appraisal tools to help you know the worth of your website/domain.
So, you can know the domain worth with these domain valuation tools. We hope that the post proves useful to you. Do let us know your feedback. We welcome your comments and suggestions.