DreamHost is a well known and much respected hosting company. It's gigantic, hosting over 1.5 million sites, including more than 600,000 WordPress websites.
And it's ancient.
DreamHost was found waaaaaay back in 1996 by some undergrad students at Claremont College in California.
Today, we have come up with DreamHost Review & Coupon Code. It will help you to know why exactly DreamHost is a leader in the Web Hosting Industry.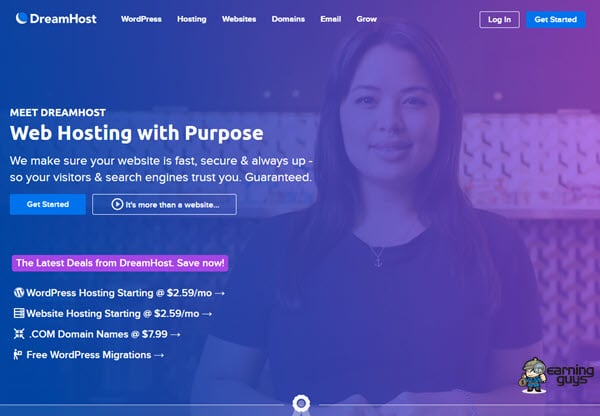 You can also go for its attractive web hosting options by using the Coupon Code shown below.
DreamHost offers fast and reliable hosting.
With them, you get whopping 97-day money-back guarantee and promise of 100% uptime (else you get refunded).
In fact, they have bagged the 'Best Web Hosting Service' Award from PCMag for two consecutive years in a row.
Moreover, they support a long list of features to meet you're personal as well as business-related web hosting needs.
It's Shared, VPS, Dedicated, and WordPress hosting plans give plenty of options to webmasters for creating attractive and flexible sites.
Plus, it also offers new website building software that helps you to create DreamHost powered sites easily.
DreamHost Shared Web Hosting
The shared web hosting plan starts at $2.59 per month and offers unlimited disk storage space, domains, email, as well as monthly data transfers.
You can have your first .com, .net, .org, or .info domain name for free. However, you need to pay the registration fee for additional domains.
That's a good thing with them as most web hosting providers offer unlimited domains only as part of their higher-tier plans.
Plus, DreamHost offers Linux-based servers for shared web hosting. That said, there is no Windows-based shared web hosting with DreamHost.
VPS Web Hosting
DreamHost has Linux-based VPS Web Hosting Plans that start at $10 per month. They are suitable for businesses that need more power or experience high traffic volumes.
The good thing about DreamHost's VPS Plans is that they offer unlimited monthly data transfers and domains.
However, as far as the base memory and storage is concerned, it is quite low. It's $15 per month VPS web hosting plan comes with only 1 GB RAM and has a 30 GB solid-state drive.
Its highest VPS Hosting configuration ($120 per month) gives you 8 GB of RAM and 240 GB of SSD storage. Note: They do not offer Windows-based VPS servers.
Dedicated Web Hosting
DreamHost offers dedicated server options starting at $149 per month and gives you 1TB of storage with up to 16GB of RAM.
So, it's not much different from what you get with other competing web hosting services as far as dedicated web hosting is concerned.
However, one good thing with DreamHost's dedicated web hosting is that it offers unlimited data transfers. Note: They do not offer Windows-based dedicated servers.
WordPress Web Hosting
The WordPress Web Hosting is known as DreamPress which starts at $2.59 per month. In fact, DreamPress offers managed WordPress Hosting.
So, you get white-glove treatment for your website by auto-updating CMS software, by having automatic daily backups and getting WordPress specific security.
Plus, DreamPress comes with 30 GB of storage, unlimited email, monthly data transfers, and a number of free WordPress Themes. It also lets you install any plugin that you want.
Getting Started
DreamHost offers a simple and well laid out user interface. So, DreamHost makes it easy for you to get started with it.
Moreover, they provides a tree of menu options on the left side of the screen.
It becomes very easy for you to find billing information, manage domains, and also to view settings for VPS and Dedicated Servers. For instance, you can easily find the security options.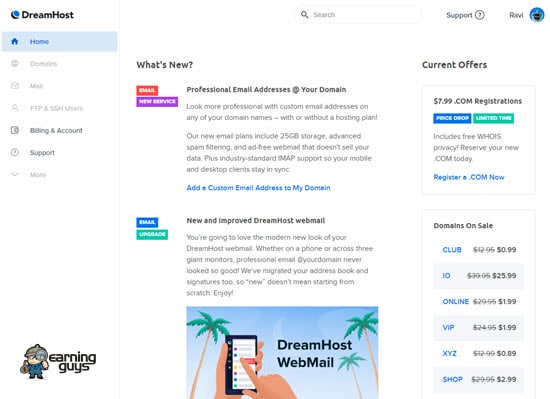 Plus, DreamHost comes with the Remixer website builder that allows you to build your site right away. Remixer provides dozens of themes that can be altered using its simple drag-and-drop functionality.
It's incredibly simple to add photos, text, and video. You can even install third-party applications to your account.
E-Marketing & E-Commerce
DreamHost offers the free open-source online shopping cart software in the form of ZenCart. It can be accessed from the One-Click Install Menu.
ZenCart allows users to check out the products that you have for sale quickly. It even supports Woo Commerce.
DreamHost offers a $100 Google AdWords credit.
You get to track site traffic and analytics through Chartbeat. This is much different from most other services that focus only on Google Analytics.
Security & Other Features
DreamHost goes on to offer Antispam in its email. However, there are no antimalware services.
That said, there are some other aspects to website security with DreamHost.
For example, the control panel offers an easy-to-find link for editing the .htaccess file for controlling access to the site or for setting up a password.
Plus, you can block spiders for preventing search engines from indexing certain parts of the site.
That's not all, as you can set up cron jobs (automated batch jobs) for scheduling tasks and for monitoring processes on the site.
They also provide free SSL certificates, which is a must-have addition if you sell products online.
You will also like the fact that DreamHost offers Subversion with which you can manage your source code files. It's a nice option for setting up your own repository.
They also have DreamObjects cloud storage plans that start at 95 cents per month for 40GB and max out at $299.95 per month for 20TB.
Advantages of DreamHost Web Hosting
There's much to like about DreamHost.
They offer a great uptime and customer support.
Plus, they even give few freebies for making your experience even better.
Here, we provide you an overview of their best attributes.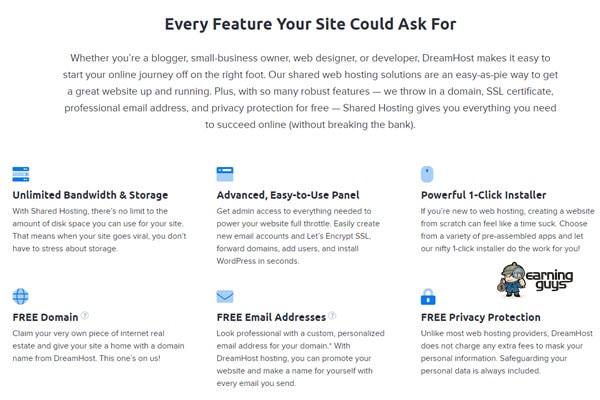 Splendid Uptime
Website uptime is the most crucial element of the web hosting experience. If your website goes down, your clients or customers will not be able to find you or access your products and services.
As far as DreamHost is concerned, it stands by their uptime. In fact, they offers an excellent uptime.
In a 12-month review process, DreamHost delivered 99.76% uptime which is fairly good by any standard.
Moreover, DreamHost is so confident that they will offer an extra day of service for every hour of downtime that your website faces with them.
Delivers Excellent Page Load Time
The hosting delivers page load time that is about 18% faster than average competition. In a 12-month review process, DreamHost clocked in page load time at 870ms which is much better than the average of 1059ms with other web hosts.
Customer Support
DreamHost offers online chat support together with email and ticket-based support. However, there is no phone-based support. Sometimes you do want to interact with a human being.
That said, online chat support is quite good. You get a prompt response with appropriate solutions for your questions.
However, you get phone support with WordPress Hosting.
The best thing is that their support is not outsourced, and is available 24/7. Plus, DreamHost also offers a Knowledgebase for answering commonly asked questions.
Money Back Guarantee
DreamHost offers an excellent money-back guarantee policy.
In fact, DreamHost has the longest money back guarantee in the industry.
It offers a 97-day money-back guarantee on its shared hosting plans if you cancel within 97 days of the initial signup.
And that's not all.
They also credit you with a day's service for every hour of interrupted service.
Apart from these advantages with DreamHost, you also get unlimited bandwidth and data transfer by their 'Unlimited Policy.'
Plus, DreamHost is a carbon-neutral company since 2007. It has neutralized as much as 29,298 tons of greenhouse gases.
Pitfalls of DreamHost Web Hosting
Although DreamHost is a perfect web hosting provider for most people, it's not without pitfalls.
In fact, DreamHost is one of the most expensive web hosting options out there.
Hosting plans starts at $2.59 when you pay for three years at once. Otherwise, they will set you back $4.95 per month for a one-year minimum.
Plus, there's only a single shared hosting plan for getting started which is not at all good for beginners but if you need quality hosting DreamHost is best.
DreamHost has come up with their control panel. There's no cPanel or Plesk. Professionals probably would not like this approach.
Setup is also delayed a bit as new customer accounts are verified before activation.
Our Verdict
Although DreamHost might look costly to you, they are certainly worth it.
They are super reliable offering incredible uptime and page load times.
Plus, they have a money-back guarantee policy in case you experience any downtime issues or other hiccups along the way.
That's not all, as they offer excellent support to back their services.
And you also get some freebies which go on to offset their higher initial cost.
So, if you value reliability and support in a web hosting company, then you should look no further than DreamHost.
There are certainly many good things about DreamHost than just a few pitfalls (if you really count them as pitfalls).
DreamHost Coupon Code
DreamHost is one of the most reliable and well-known hosting brands in the industry.
Now, use our DreamHost coupon code below to get a BIG DISCOUNT on their web hosting solutions.
This DreamHost coupon is exclusively available for your readers.
So, grab this superb opportunity and get to experience the power of DreamHost web hosting solutions at a never before price.
So, if the cost is coming in your way, this discount deal will certainly blow the tension off your head.
Simply use the DreamHost coupon code and avail this discount offer on DreamHost hosting plans.
It's your best chance to partner with them for powering your websites and blogs.
Best of all, this discount offer applies to all the hosting plans offered by DreamHost.
However, this is a limited period offer and will EXPIRE SOON.
So, Just HURRY!
Grab this discount offer before it expires.