The easiest way to join the blogging world is to get started with free blogs. To have your free blog, you need to choose the free blogging platforms.
Today, there are lots of free blogging platforms which help you to start your free blog.
However, this comes out as a challenge for newbie bloggers who are not aware of the best options for blogging platforms.
So, to help you out in choosing the best free blog platform, we have compiled a list of 8 Best Free Blogging Platforms. It is a comprehensive list of the best free hosted blogging sites, so you get a good many options that will make your job easy.
In fact, blogging has proved its mettle and is regarded as one of the best ways of making money online. Plus, you don't need any special skills to make money out of blogging. This is one of the major reasons which propel people to start their own blogs. Most blogger start their blogging career with a free blog.
Many people think that making money from blogs is fake or spam. I want to make it clear that making money from blogging is a reality for those who are willing to put in some hard work, and consistent efforts can certainly go on to make money from blogging.
Well, there are two ways by which you can start your blog.
You can either have a free-hosted blog or else you can start a self-hosted blog.
Both types of blogs have their advantages and disadvantages.
However, a free blogging site is an easy way to make your presence felt in the blogosphere. Plus, it is free, and you need not incur any expenditure to run and manage your blog. Having said that, as free blogs are free to use and hosted, you don't get full control over your sites.
Whereas for self-hosted blogs, you have to pay money for a domain and hosting for running your sites. However, you get full control of your sites.
So, if you are new to blogging and looking to start your first blog, then you can go with a free blog. With free blogging sites, you don't have to pay even a single penny for the domain name and hosting space.
Moreover, you will get exposure to how to work on blogs. Once you are familiar with blogging and have a working knowledge about a niche, then you can have a self-hosted blog where you need to buy a domain name, web hosting, premium themes, and plugins for your blog.
To start your free blogging site on a free blog platform, you need to choose a good domain name for your site. With free blog platforms, getting a domain name is also free. In fact, you will get a sub-domain as your blog address.
So, if I choose WordPress.com as the free blogging platform, my blog URL will be earningguys.wordpress.com (if it is available). So, wordpress.com will be added to each free blog name on WordPress.com. The same thing applies when you go for creating blogs on other blog platforms.
Some Key Facts about Blog Platforms
Before choosing any free blog platform, here is a list of some key pointers that I feel you should be aware of before you start your blog. It will help you to know what blogging is all about with these popular blogging platforms.
First up, with free blog platforms, you have no control over your blog address. Your free blog can be deleted without any prior notice if anything goes against their TOS.
Free blog platforms allow you to add content to your blog by having blog posts and pages. You can add images, videos. And other media elements on your blog.
Free blogging sites don't allow you to upload a theme or template of your own on your free blog. The only exception is Blogger.com.
There is a monthly blog post limit on these free-hosted blogging platform.
You don't get access to use plugins on most of the blogging platforms.
Monetization wise, you have limited chances of making money with free blogs created on most of these free blogging platforms.
So, now you have a fair bit of an idea of what to expect when you start a blog usingthe the best bloggingNow,.
Let us now head over to explore the ultimate list of the best free blogginyou can use to createfor creating your free blogs.
8 Top Free Blogging Platforms
WordPress tops this list of free blogging platforms as one of the most reliable and one of the most popular free blog platforms. It is a powerful Content Management System that is being used by not only newbie bloggers but also by millions of professional bloggers, as well.
The best thing about WordPress is the fact that it allows you to create any blog. As much as 17% of websites all over the world use WordPress.com for hosting their free blog. So, WordPress.com is increasingly being used to create free blogs.
You just need to sign up for an account at WordPress.com, and then you can start your blog in a matter of a few minutes. Plus, it is easy to use, and you also get the official getting started guide.
Although it is loaded with tons of features, you get very few options for monetization of your free blog on WordPress.com. Moreover, you just get a sub-domain with them. You are not allowed to install themes and plugins that are not listed in the WordPress official directory.
You also cannot use Google Adsense or any other monetization program that requires you to add Javascript or PHP code into your blog. Having talked about its limitations, WordPress.com is still one of the best options for starting your free blog.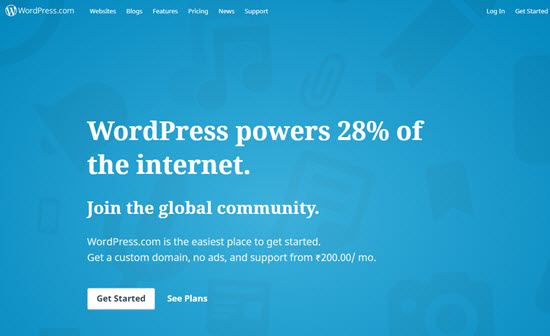 The list of free blogging platform cannot be extended without mentioning Blogger.com.
In fact, the Blogger platform is one of the most preferred and widely used free blog platforms.
If you are looking for a free and reliable blogging platform, then Blogger.com can be the best choice for you. Blogger is owned by Google the search engine giant.
The highlight of the Blogger platform is that its free hosted blogs are, by default search engine friendly. So, you don't have to worry about the SEO aspects of your blog. You can simply focus on creating valuable content for your readers and increase your overall organic traffic.
One can create blog posts with images and videos easily. You can also customize your blog design the way you like with thousands of free templates available on Blogger.com.
Plus, you can monetize your blog using Google Adsense, Amazon, etc. The best thing about the Blogger platform is that it is not only free but also easy to use and gives you great functionality as well.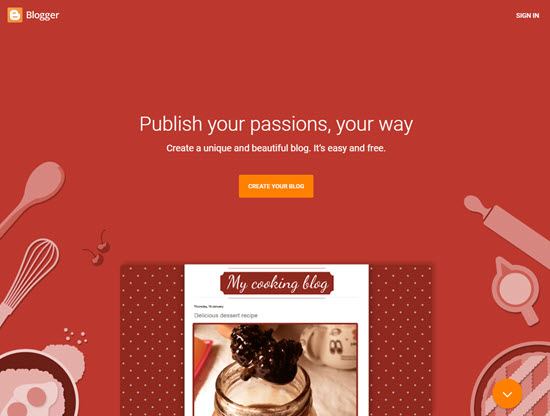 3. Tumblr Free Blogging Platforms
You will find Tumblr a little bit different than other blogging platforms. Tumblr comes as a Microblogging platform and has social networking features including following other blogs, re-blogging, built-in sharing tools, and much more.
It's a superb blogging platform for bloggers optimized specifically for publishing short-form content, like micro-blogs, quotes, images, videos, audio formats, and animated GIFs. It's free, easy to use, and has an integrated social media component.
In fact, Tumblr is one of the fastest-growing websites and can be dubbed as a mixture of Blogger, Facebook, and Twitter. It is mostly used for publishing visual posts and has everything to make your images look visually appealing. So, Tumblr makes it easy for you to show images, music, and videos in any way you want.
Let's have a quick roundup of the top features of Tumblr:
It provides a large collection of ready to use themes.
It allows you to publish updates to your Facebook account.
You can track your blog readers through Google Analytics.
It allows other people to contribute to your blog.
It allows you to schedule your blog posts.
You can add pictures of high resolution.
Keep your posts public and private.
It allows you to convert your posts into audio posts.
You can even use your custom domain.
You get an automatic update on Twitter about your latest posts.
It allows you to post almost anything.
You can repost, re-blog, re-share anything that you find useful on Tumblr community.
Other people can reblog your blog posts, images, and videos.
So, Tumblr turns out to be one of the finest platforms for creating your free blog.
4. Medium Start Free Blogging
Launched in 2012, Medium is easy to use blogging platform with social networking features. Today, Medium has a large community of writers, bloggers, journalists, and experts. It's a publishing platform for your blog posts, stories, and articles.
Medium comes as a blogging platform started by founders of Twitter, Ev. Williams and Biz Stone. It integrates well with Twitter and is good for those who want to indulge socially in blogging.
If you want a polished and streamlined blogging experience, then Medium is certainly the blogging platform for you. You do not get your domain. You get to publish under your profile (e.g. medium.com/@name/).
Moreover, the Medium is extremely easy to use. You just need to sign-up and begin publishing your posts right away. However, it lacks in customization and control.
Squarespace is a worth mentioning free blogging platform. It is one of the best website building solutions out there and helps you to launch blogs, business sites, e-commerce stores, and lots more. It is one of the best ways to create a free website and has everything that you look for a website builder tool.
The Squarespace blogging platform is best for photographers, bloggers, online retail store owners, and musicians. It helps you to build an awesome website. Moreover, their templates make your site stand out from the rest of other blogs easily.
However, Squarespace is not a free service. Their plan starts from $12 per month and includes all essential elements that your blog or website needs. You get cloud-based hosting as well as maintenance services for your blog. You also get a custom domain with your subscription.
Squarespace is extremely easy to use, even if you are building a website or blog for the first time. So, it proves a good platform for users with no design skills but who want to build a blog on their own. You get a number of modern designs to choose from.
It proves a good blogging platform for serious bloggers or start-up entrepreneurs. Squarespace might seem a bit pricey, however, if you look at its comprehensive range of features and services, it's worth a shot.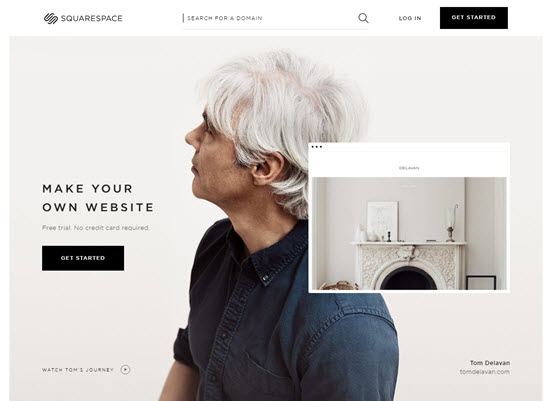 Wix is easy to use online website building solution and website hosting service. It resembles much like Squarespace having similar website-building and blog-building abilities. It is one of those drag-and-drop sites building services which comes with HTML5 capabilities.
Wix provides over 500 designer-made templates and plenty of additional features and apps. So, you can easily customize your site with pre-made templates and third-party apps. The best part is that you need no coding skills. Plus, you get top-grade hosting.
Wix proves to be a worthy online website-building tool for small businesses who want to build a website using drag and drop tools. Also useful for artists, photographers, musicians, and creatives in general who wants to blog and showcase their work creatively and uniquely.
Wix offers a free account with 500MB storage and 1GB bandwidth. However, if you want your own domain and Google Analytics, you can go with its premium plans which come from $0-$18 / month. Typically, Wix is useful for those who don't have a budget to invest and would like to start a website for free.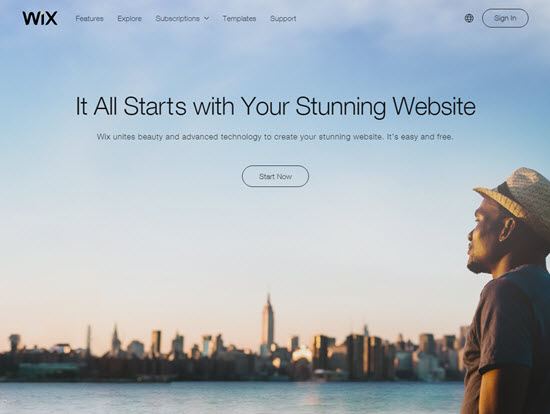 Weebly is one of the most versatile and popular free blogging platforms used by thousands of people from all over the globe for starting their free blog or site. The Weebly is a California based company which started operations in 2006. In 2007, Weebly was ranked amongst the Best 50 Websites by Times.
They are currently being used by over 10 million people for hosting personal websites and blogs. Besides using Weebly sub-domain, you can also use a custom domain, and you do not have to pay anything for domain mapping.
Creating free blogs with Weebly is fun. Plus, with Weebly, you go on to easily maintain your blogs. You can drag and drop items for creating menus, pages, and categories.
Weebly comes with dozens of pre-made themes which can be customized to suit your requirements. It is also loaded with usual sharing features for spreading your word far and wide.
Besides its free plan, Weebly offers quite many paid plans which start from $8 per month.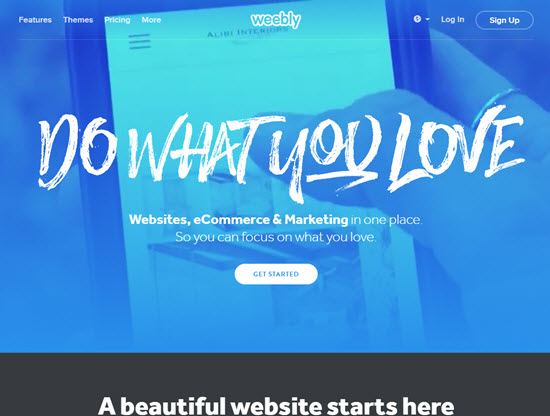 LiveJournal is a veteran in the free blog platforms arena. It started as a blogging application and community way back in 1999.
With LiveJournal, you can start your free blog or pay for an account that has more features, increased customization, fewer ads, and more. LiveJournal is now well known as a blogging tool. It is also about community and friends rather than just being a standalone blogging tool.
For casual bloggers, the free LiveJournal account offers functionality that might be just enough for building a unique free blog. However, if you want to upload a lot of images, control ads, publish polls, control design, track analytics and performance, you need to upgrade to one of the paid LiveJournal accounts.
Presently over 12 million people use LiveJournal. If you like the community aspect of LiveJournal and are ok with its minimal features and control functions, and do not have big plans to market your blog, then LiveJournal might be the right blogging platform for you.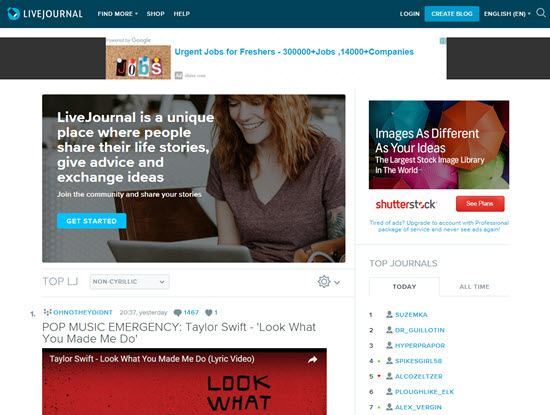 We hope that the article, 8 Best Free Blogging Platforms helped you to choose the best blog platform for your next blog. If you liked the article, don't forget to share it on Twitter and Facebook.