There are a lot of ways through which you can make money from your website/blog. One of the best ways is Affiliate Marketing. There are a lot of great affiliate programs you could promote on your site. One such program is Music Affiliate Programs.
The reason behind this is the flexibility these programs offer to their promoters. Meaning they don't require you to have a music blog, for starters. Bloggers with every kind of niche can become their affiliates.
Secondly, music is a very popular thing for people to learn. Approximately half a million people try learning music every year.
To help you decide which affiliate program you should promote, we have prepared a list of the 15 Best Music Affiliate Programs.
15 Music Affiliate Programs
Here are some of the best music affiliate programs.
Starting off our list with none of the best and most sophisticated platforms on the market, Masterclass.
The MasterClass is a learning platform that provides online courses in a multitude of hobbies and activities, such as cooking, acting, sports, and music.
They have a lineup of people who are well-known achievers in their domains. Thus, these workshops are designed to be enriching for the students. Moreover, each of them teaches you something specific.
For example, while Hans Zimmer teaches you film music, Nas and Usher are here to provide you with the basics of rapping.
Their annual subscription fee costs around $180. As an affiliate, you can earn a 25% commission on all transactions.
The platform also includes a monthly incentive based on results. For instance, if Masterclass generates sales worth $10,000 monthly from your affiliate link, you can further earn a commission of up to $300.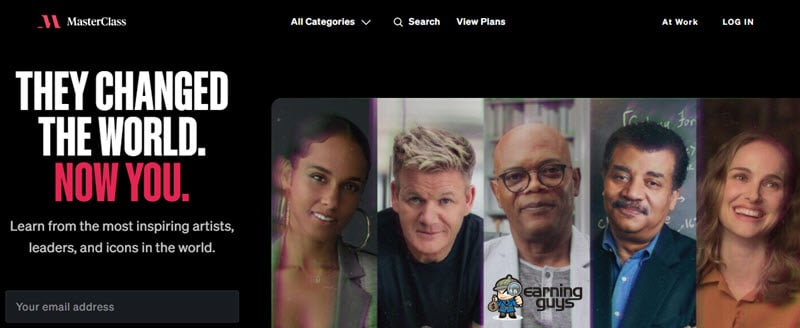 Guitar Tricks, unsurprisingly, is a platform designed for budding guitarists. It was launched in 1998, and as of now, it has become one of the biggest teaching platforms with 3+ million enrollments.
It has over 10000 video lessons that are designed for all kinds of learners. So it doesn't matter if you have never picked up a guitar or if you are a rockstar. There's always something new you'll learn on Guitar Tricks.
Guitar Tricks offers its affiliates a fixed amount of $25 per trial signup and $30 if someone purchases the full course. Besides that, you could also earn bonuses if you complete monthly targets.
Based on the reviews on their website, it is safe to say that Guitar Tricks is one of the best affiliate programs for music.
zZounds is popular for offering the cheapest rates when it comes to musical instruments and equipment.
They have a ginormous inventory of products one could choose from. Their website is simple to navigate. Moreover, the whole process of ordering from their website has been made very transparent, making it a reliable place to order from.
Besides the affiliates getting a 6% commission on every purchase, they become eligible for a monthly bonus if they successfully complete the monthly sales target.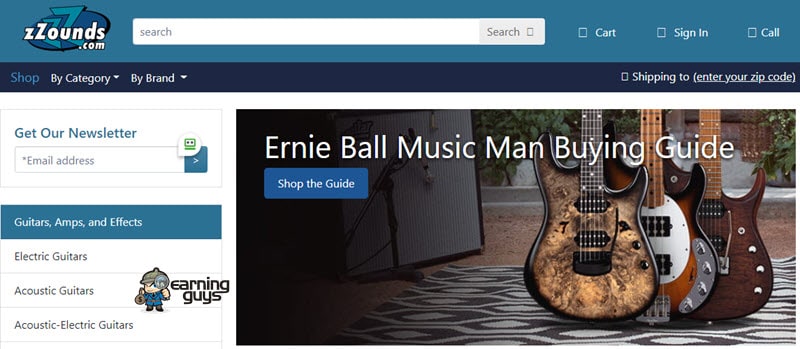 Fender is primarily a guitar manufacturing company. They have a good reputation worldwide after all music legends like Eric johnson and Bob Dylan are said to have used fender guitars.
In 2017, Fender extended their services and launched Fender Play as a platform for enthusiastic to learn the fundamentals of guitar, ukelele, and bass.
The curriculum is specifically designed with beginners in mind. The lessons are divided into personalized short videos to make them fun and interesting for each student. Moreover, they have a policy where if someone achieves a 7-day practice streak, they might win a Fender gear.
Fender Play is a bit inflexible with its affiliate program to maintain its reputation as one of the best music affiliate programs. If you don't have a music-related website/blog, there is a possibility you won't get accepted.
Moreover, it doesn't offer a fixed commission; rather, its affiliate rates change on a sale-to-sale basis.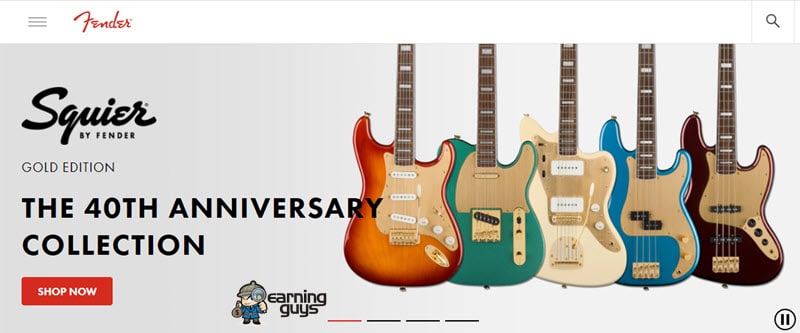 Much like Pianoforall, Flowkey is also a platform specializing in providing piano lessons for beginners, experienced and advanced pianists.
They claim to have designed their lessons in a way that's visually pleasing, fun, and interactive. They have over 1500 songs that one can learn and master.
But it's not even the best part.
Flowkey is applicable on IOS, Android, Mac, and Windows. You wouldn't even need an actual piano to get started. Isn't that amazing?
The biggest benefit of promoting Flowkey's music affiliate program is that you can generate recurring passive income. In other words, you can earn a commission as long as a subscriber (that you generated) keeps re-activating their Flowkey subscription.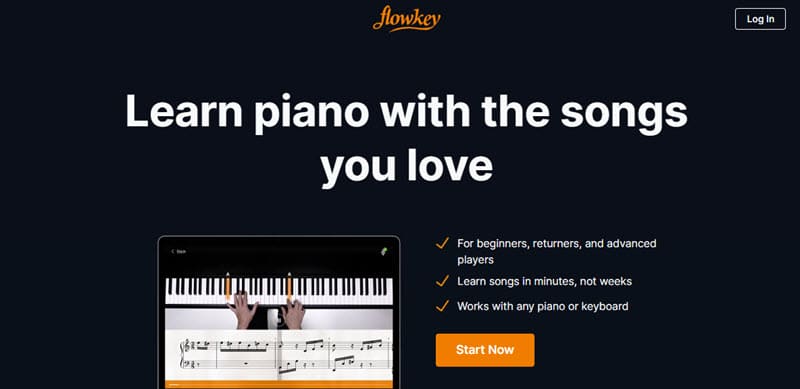 As the name suggests, Guitar center is a store primarily dealing in guitar and accessories. That being said, they do have all other types of musical gear for beginners and professionals.
Sometimes, your visitors may buy what you are promoting only to realize the product isn't available for their state/country.
Guitar Centre delivers its products across 90+ countries which is one of the major reasons why you should consider joining their affiliate program.
Having such an extensive reach not only increases conversion rates. Since customers can now be assured Guitar Centre's product is deliverable to their country. It also clears the way for affiliate marketers (outside of the United States) to join their program.
Guitar Center offers its affiliate marketers a commission of 6% per sale.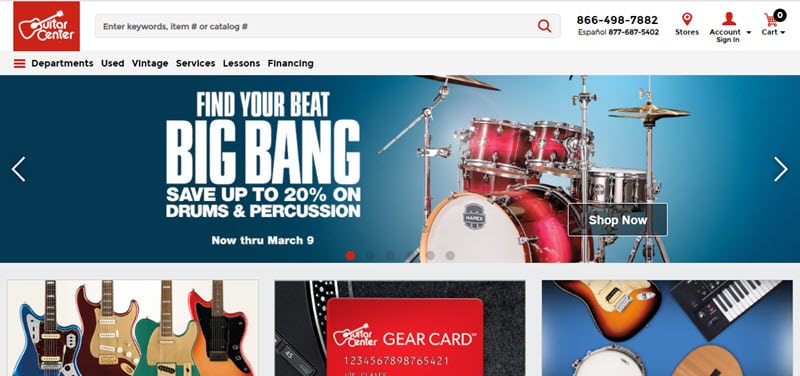 Sam Ash is the biggest music equipment dealer in the United States.
Founded in the early 1900s, Sam Ash has an online store selling 45000+ types of music equipment. Which includes DJ gear, studio accessories, and even software to record and edit music. Their website caters to beginners as well as professionals.
It offers affiliates 3 commission options (based on the product they choose to sell)
3% per sale on gift cards
5% or more on sale of music gear,
A maximum of 8% for affiliates generate $10,000 or more in monthly sales.
That being said, if you are based in Arkansas, Connecticut, North Carolina, or Rhode Island, you can't be a part of their affiliate program because of tax issues.
Like many others on this list, Musician's friend is a business dealing with musical equipment ranging from instruments, recording gear, lighting, speakers, etc.
It is one of the largest music gear companies in the market, with over 40000 products being sold on its website. Not only do they offer their customers a hassle-free experience when it comes to buying or returning any product. They also guide beginners on how to choose the perfect product for their needs.
As an affiliate, you would earn a 6% commission on each transaction. Moreover, they often host sales, offers, and discounts for you to use and incentivize your audience to make a purchase.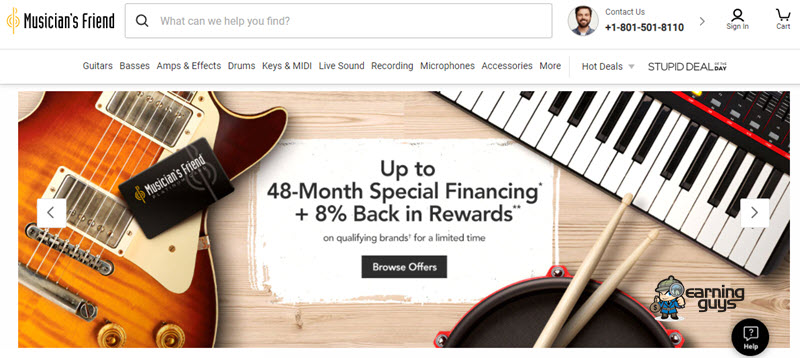 If you don't want your neighbors to file a noise complaint against you, be sure to check out Audimute.
Audimute is a company that provides all-around soundproofing solutions for households, offices, and workshops.
Their products include wall panels, acoustic soundproofing sheets, insulations, and fiberglass. Furthermore, all these products are made from 100% recycled materials.
Since their products can be bought by musicians and non-musicians both, Audimute's affiliate program offers a lot more audience reach than most mentioned in this list.
More audience = Better chances to generate a sale
Their program has a commission rate of 5% per sale, which may not sound appealing at first, but if we consider their average sale to be $300, it's something worth tapping into.

Pianoforall is one of the world's largest online piano schools out there. It features video tutorials, audio lessons, and ebooks to help you improve your music capabilities.
These tutorials are filled with tips, secrets, experiences, and lessons that artists have learned after years of experience. This can help beginners boost their skillset a lot faster.
Many people are confused if it is even worth it to join online music classes. So to back themselves up, Pianoforall has an option where you can even request to contact their ex-students to see if the audio lectures and videos are practically applicable.
Pianoforall offers its affiliates a whopping 60% commission per sale, making it one of the best music affiliate programs.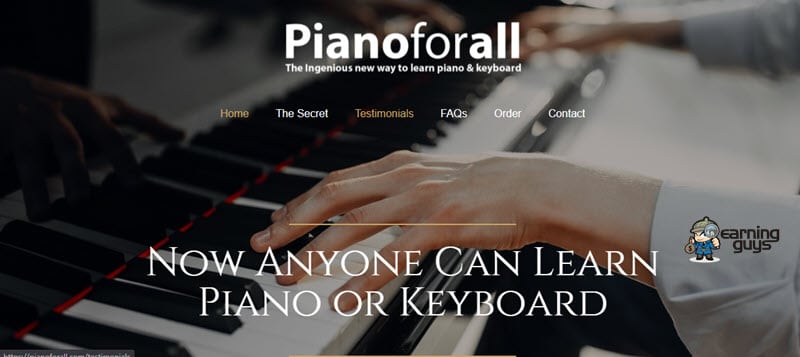 Singorama is targeted explicitly at budding singers and music composers. The platform offers its users both e-products and physical CDs to help them learn, practice, and improve their vocals.
Their course incorporates a total of 28 lessons and is priced at $299.99. In addition, their affiliate program is up there with the best music affiliate programs solely because of what it offers.
As an affiliate, you'll get a hefty 70% commission every time someone uses your link to buy digital products. In contrast, the rate drops down to 40% if someone buys physical products.
Not only that, Singorama often introduces offers, deals, and price cuts for affiliate marketers to help boost sales.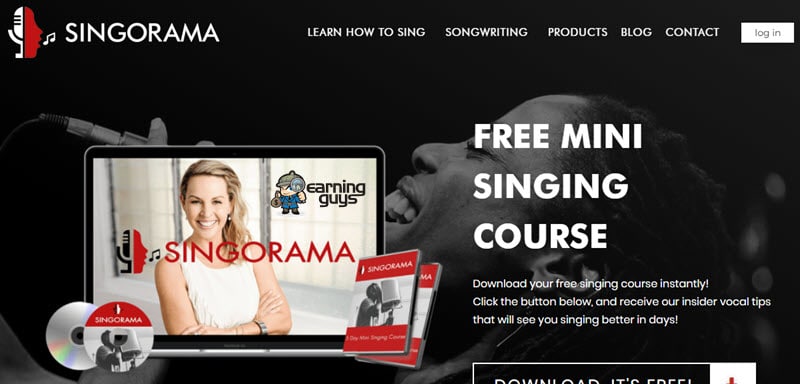 Pretty self-explanatory name, don't you think?
Singing Machine is estimated to be the first company in the United States to sell karaoke equipment for home use.
They were the first company to solve a major problem associated with karaoke. Getting Embarrassed in front of friends and strangers. So they started home-delivering karaoke equipment like microphones, speakers, music CDs, and much more.
Their affiliate program offers a commission of 5% per sale.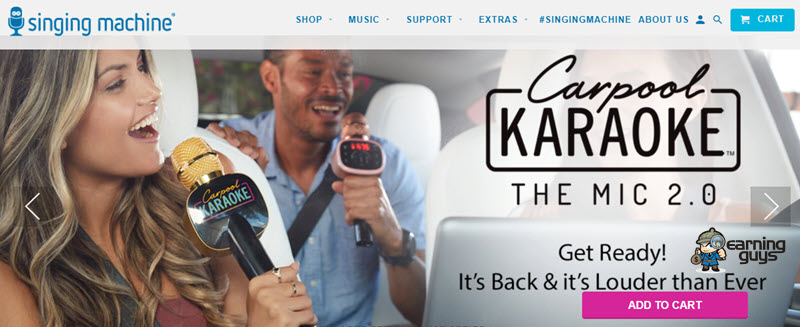 Reverb is like eBay but for musicians. Here, one can buy or sell pre-owned music instruments, gear, and other equipment. Since musicians developed it instinctively, it makes it one of the best platforms to buy used products at much lower prices.
Their affiliate program is a little branched out from the rest. For starters,
you will get a fixed $5 every time a customer makes their first purchase using your link.
Besides that, the commission rate is 10% for all digital products; however, the rate drops down to 1% per sale when it comes to physical products.
What makes this affiliate worth promoting is the fact that the conversion rate is bound to be high because people are getting good stuff at way lower prices than the retail market. Why would anyone say no to that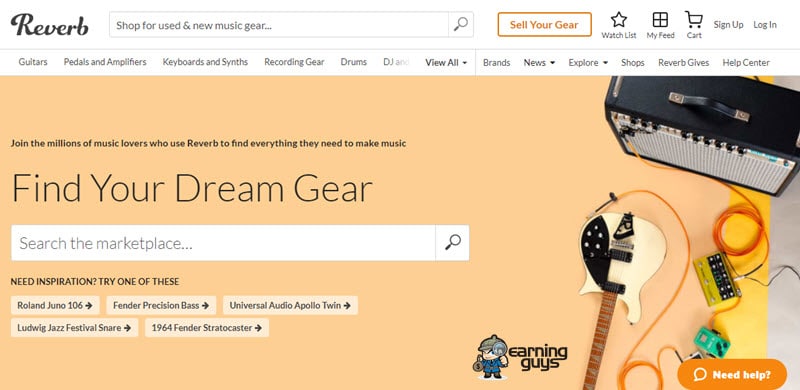 Maestro Classics is one of a kind music affiliate program currently available in the market. Their website includes products designed specifically for teaching music to kids.
The Maestro Classics website has stories and fables in the form of CDs and Mp3 audios, music lessons for beginners, and much more.
If the age demographics of your audience are anywhere from 35 to 50, then joining their affiliate program can be great for you. However, there is a high chance your audience is mostly made up of parents.
They offer a 20% commission to their affiliate marketers.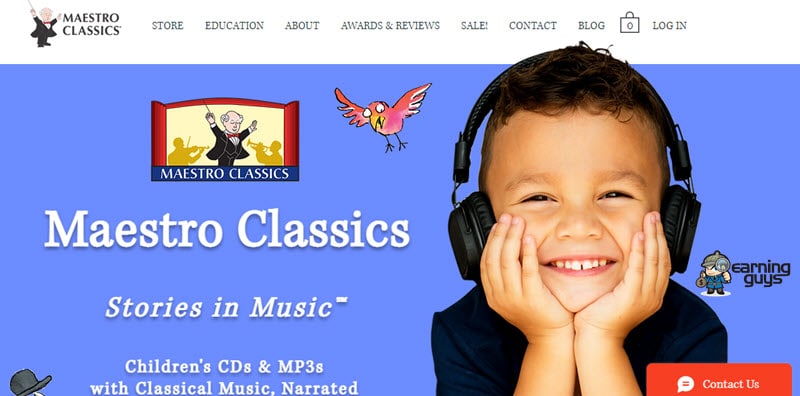 Fiddlershop is a marketplace dealing in classical music instruments like violins and violas. They have a website wherein you can find tons of options for beginners, intermediates, and professionals.
They also have all types of accessories like bows, strings, cases, amplifiers, music sheets designed for their products.
They offer a 5% commission on each sale which may put you off at first but considering how extravagantly priced their products are, you can make some good money from their program.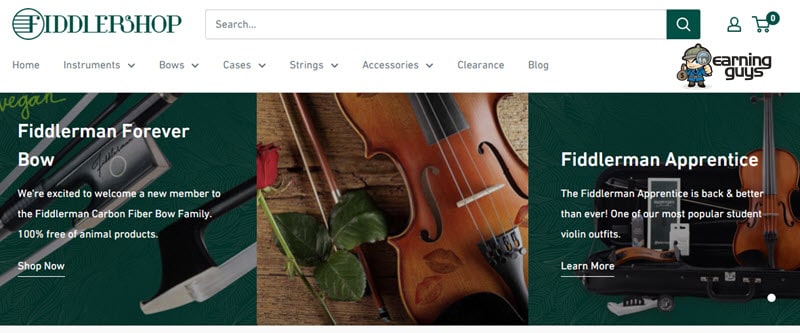 Conclusion
The bottom line is if you own a successful blog, becoming a music affiliate is one of the simplest ways to earn some extra cash (especially if you have a large and loyal reader base).
Considering how generic the music is, you could choose to join any program mentioned here regardless of your niche. In addition, they all offer pretty good commissions and bonuses to their marketers.
However, one thing to note here is that, besides being one of the best sources of online income, affiliate programs can also be a great tactic to build trust with your visitors. In simpler terms, if you want your audience to trust you and make a purchase using your link, promoting substandard products should be the last thing you should do.
As a matter of fact, providing you with quality music affiliate programs was the biggest reason behind making this list.
Hope you liked this post on Music Affiliate Programs. Please share this post with your friends on social sites.