If you want to make money online with Google AdSense, then the best way is to target high paying keywords & industries. So, we have come up with this post on High CPC Keywords to help you make more money with AdSense.
Herein, we have shared with you:
High Paying AdSense Keywords
Some Tips for Making "More" Money with AdSense
"Real" Facts About High Paying Keywords
Let's get started.
Well, the bottom-line for you is:
"You can increase your AdSense earnings by using High CPC Keywords."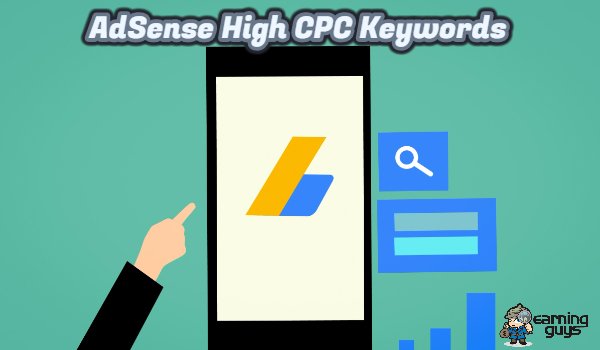 High CPC Keywords
So, here's a list of Top Paying AdSense Keywords (By Industry/Niche)
Keywords – Price
Car crash lawyers – $83
Insurance – $54.91
Gas/Electricity – $54.62
Loans – $44.28
Mortgage – $47.12
Attorney – $47.07
Claim – $45.51
Lawyer – $42.51
Conference Call – $42.05
Recovery – $42.03
Donate – $42.02
Degree – $40.61
Treatment – $37.18
Credit – $36.06
Software – $35.29
Classes – $35.04
Rehab – $33.59
Trading – $33.19
Hosting – $31.91
Transfer – $29.86
Core Blood – $27.80
Now, let's show you how to profit from this data.
Suppose you come up with an insurance-related blog that carries a high CPC. Now, you have to research a few keywords. Let's assume that you found out "car insurance companies" that pays decently well. Now, you write a fabulous article on car insurance companies. You follow this up with amazing On-page SEO.
All this enables you to get your blog post rank high on Google Search Results. You succeed in getting a high quality of organic traffic to your blog. Finally, you're able to monetize into more AdSense Revenue. So, you need to pick the best niche for AdSense with high CPC keywords.
In fact, you need to look for top-paying keywords. For example, one such top paying keyword is "mesothelioma survival rates," which pays at $1000+ per click. However, it's a very competitive keyword. So, you can search for other industries. For instance, here we have shared some best "attorney" Adsense keywords:
accident attorney rancho Cucamonga
mesothelioma attorney Houston
truck accident attorney san Antonio
motorcycle accident attorney orange county
auto accident attorney Colorado springs
accident attorney riverside ca
mesothelioma attorney California
phoenix accident attorneys
Louisville accident attorney
Moreover, we have picked some winners (High Paying "Insurance" related Adsense Keywords) in the insurance blogging space such as:
Compare car insurance
Car insurance comparison quote
Cars with the cheapest insurance rates
Best learner driver insurance
Insurance quotes young drivers
Car insurance personal injury
Auto insurance Philadelphia PA
In fact, these keywords can attract those high paying clicks for you. Well, you can find all these keywords (and more!) by using a keyword analytics tool like SEMRush.
Now, we move to another interesting part of this post and share with you some useful tips for making "more" money with Adsense.
Tip #1: You should target these countries for earning 10x more
Here, are the 10 top countries to target for skyrocketing your Adsense earnings:
USA
Canada
United Kingdom
Germany
Thailand
United Arab Emirates
Japan
Switzerland
Italy
The easiest way to target a particular country is to blog in their native language. So, if you want to get visitors from the USA, UK, Australia, or Canada, you must blog in English.
Tip #2: Block low CPC Ads
You should take a note of your ad performance and block those categories that are not paying well. It is one of the best ways to raise the CPC of your Adsense Ads. Here's how to do this:
In Adsense, click on "Blocking Controls > Content > All Sites
Click on "General Categories"
Here, you need to block those ads categories that you feel are not relevant to your website niche and are paying low.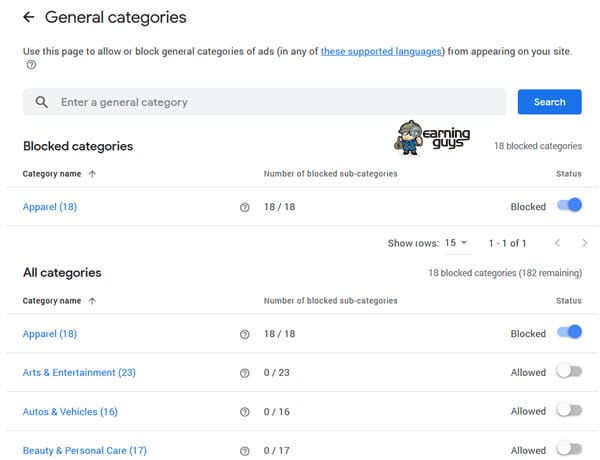 Tip #3: Find out which keywords are driving the most revenue for your competitors
So, you need to view which keywords drive the most clicks and revenue for your competition. You can use SEMRush to do it. The process is straightforward.
Find out any authority site in your niche
Now, type that site on the search bar in SEMRush
Scroll to (Top Organic Keywords) and click on (See Full Report)
View the report and sort by CPC
You will be shown a list of potential keywords that you can use
You can repeat this process with other sites that you admire
Finally, you get a good set of keywords that you can target.
Bonus Tip: You can use the Search Console for finding more high paying keywords. You can optimize your existing blog posts to target even better keywords. So, you can update your old post by picking juicier keywords.
We hope that you found this list of High CPC Keywords useful. Moreover, the above tips can prove beneficial to you for increasing your Adsense earnings. Now, we head over to the last part of this post.
The "Real" Fact about High Paying Keywords
Google AdSense is one of the most common ways to earn with your website today. Almost every website or blog have used Google AdSense to generate revenue from their website. However, it is not as easy as it looks. You may not earn good money because of low paying ads.
As you know, AdSense is a contextual advertising program that shows advertisements related to page content and publishers earn when someone clicks on the ads. Earning per click is not fixed; it can be $0.10 or $100 per click, which depends on various factors like country, keyword competition, etc.
Some keywords are very low paying for entertainment, celebrity, jokes, etc. if your site is on these types of niche, you may not earn a good amount of money for every click. On the other hand, some niches are very high paying like Health, Business, Jobs & Education, and Travel, etc.
AdSense publisher often searches for high paying keywords and hope they can earn good money with high paying keywords.
But there is another fact about high paying keywords which may not help you earn good money.
While writing this post, I searched for some high paying keywords and found a list. I checked some keywords on Google Ads Keyword tool and discovered how much Google charges for advertising those keywords, and below is the list of such keywords.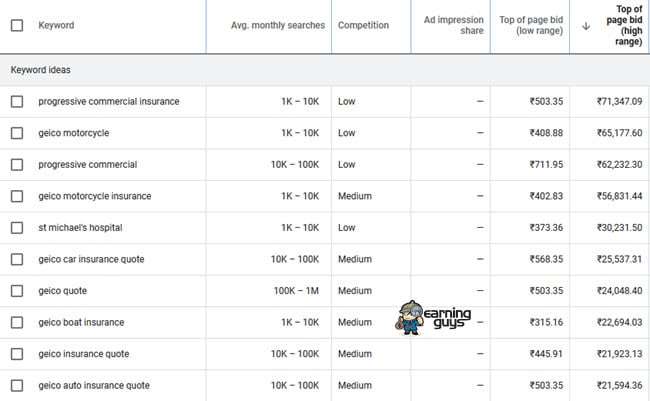 As I am from India, Google shows the cost per click rates in a local currency, and rates on the list are showing in Indian Rupee. I am going to give you the approx rates in US dollars.
Car crash lawyers – $83 to $300
Accident lawyer riverside ca – $100 to $300
Asbestos claims lawyers – $60 to $655
Massachusetts Mesothelioma Lawyer – $20 to $290
Progressive commercial insurance – Up to $900
Geico motorcycle – Up to $850
Shocked by CPC rates? I also got shocked.
What if you are just getting only one ad click on a day which is paying you $200 in 30 days you will make $200 x 30 = $6000 per month.
What fantastic earning can be, but wait a minute; this is not the whole truth.
These are Google Search rates, not rates for contextual targeting rates.
Before getting to any conclusion and start building the website on high paying keywords, please check that keyword with Google AdWords Contextual targeting tool, which shows how many advertisers have to pay if they want to advertise on the publisher's site.
This tool can tell how much you can earn as an AdSense publisher for that keyword or niche. I checked the same high paying keywords on the Contextual targeting tool, and the rates were shocking again.
For example, the high paying keyword "mesothelioma attorney Massachusetts" cost $238 on Google Search result but the same keyword will cost just $8 on publisher's site it's not even 5% what Google charges for search results.

Now another thing this $8 is not what exact publisher will get as Google share revenues with the publisher you may only get $4 per click. There is no comparison between $238 and $4.
Now, what's your thought?
Some of you may be thinking $4 is not bad at all. Yes, it's not bad at all to earn $4 per click, but again these rates are not fixed.
As you may know, rates depend on the country from which the visitor is coming. If your site visitors are from any other country, you may get very less and may not even earn $4 per click.
Second thing, if some keywords are very high paying, then for sure, there will be a tough competition too, and gaining visitors to such a niche is also very difficult. If you are not getting any visitor for such a competitive keyword, who will click on advertisements, and how will you earn?
I have seen most of the websites get less than 2% of ad CTR so when you get 100 visitors, and you may only get two ad clicks. So, where is revenue?
High Paying Keywords is not the only thing that needs to consider before starting a new website. You must understand how competitive that niche is to get visitors. If your website doesn't have visitors, it is of no use with high paying keywords.
Keyword research is an essential part of internet marketing, which helps to identify the right keywords to target and how we can rank in search results.
With low paying keywords but a lot of traffic to your website can help you make some good money. You should focus on what you are best in and increase your website traffic.
Take Away:
"Don't Just Depend on High Paying Keywords."
Well, that's all from us in this post. Now, it's your turn to make "more" money with Adsense. You can make use of these data to skyrocket your Adsense earnings. The tips and findings that we have shared can be beneficial to you. Thanks for visiting.