Here, we have come up with Adsterra Ad Network Review. It's a reliable Ad Network Platform for publishers as well as advertisers.
Advertising is the core part of any brand, blog, or online business. It allows you to share information with your customers about your products, offers, and new brands.
However, to advertise successfully with your website or for your brand, you need a reliable as well as an affordable ad network, to begin with.
Here, Adsterra can be your chosen partner as it is a popular advertising network to collaborate with.
Adsterra was started in 2013. It came with a new approach to the advertising industry. It offers many ad formats, such as Popunders, In-Page Push, Native Ads, Vast (video), Social Bar (new format), Interstitials, Banners (Display), etc. Moreover, it offers its services to both publishers as well as advertisers. So, it means that you can advertise as well as monetize your products & website effectively.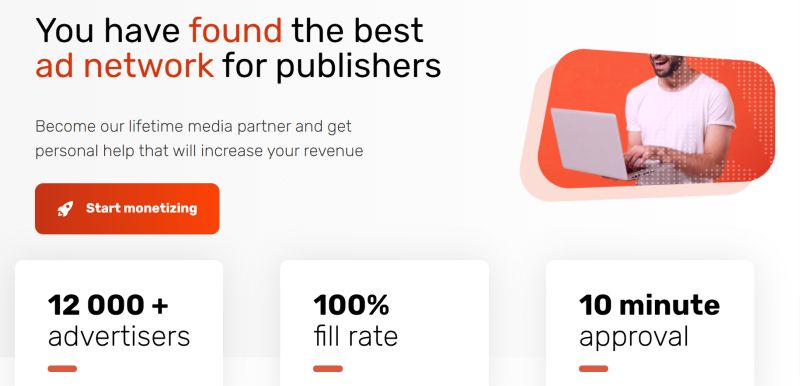 Adsterra offers digital advertising for the web, mobile, as well as social platforms. They are known for their modern approaches and are helping their partners to grow. Moreover, Adsterra functions as a premium ad network that serves geo-targeted ad impressions.
It is helping advertisers in increasing their brand awareness as well as improving ROI. In fact, as of now, Adsterra is global: it covers more than 248 countries. It has generated over 30 billion ad impressions per month and has partnered with 18K+ direct publishers and 12K+ brands, affiliates, media agencies, and ad networks.
Adsterra for Advertisers
Adsterra has proved itself to be an excellent pop-under ad network for advertisers. In fact, it is known to be one of the most trusted ad networks out there.
One of its major highlights being the fact that it supports all types of websites. It has mastered pop-under ad formats, which can help increase your profit.
Adsterra allows you to manage your advertising campaigns with ease and in an affordable way.
Moreover, it offers free consultations to you for achieving the best service. It is known to give premium quality traffic to your website.
In 2020 Adsterra successfully invented and launched the Social Bar — ad format exclusive for the whole advertising market. Its main feature is full customization. This means that the creatives can take any form, depending on your wishes and objectives. Social Bar allows you to create creatives in the form of chats, video teasers, messenger icons, interstitials, in-page pushes, notifications, and custom banners of any configuration.
Adsterra takes serious measures to detect, prevent, and fight fraud and scams. Each website and campaign is thoroughly inspected before approval through our own in-house security software, reliable third-party solutions, and a human review.
Adsterra has an industry-best Partner Care training program that all our managers have to pass. As a result, their managers are usually skilled, caring, and interested in every client's success.
List of specifications for Advertisers
Its retargeting system allows you to convert your website visitors to your customers. It has some of the most active & innovative formats in online advertising.
Adsterra allows you to view the statistics of your ad campaigns in real-time. It offers the advertiser's dashboard from which you can monitor the number of views & other activities about your brand.
A good ROI can be a big booster for your business. Adsterra's Pop-under ad service can help you to target a more efficient audience. This will help you to increase customer engagement, which will allow your business to get a good ROI.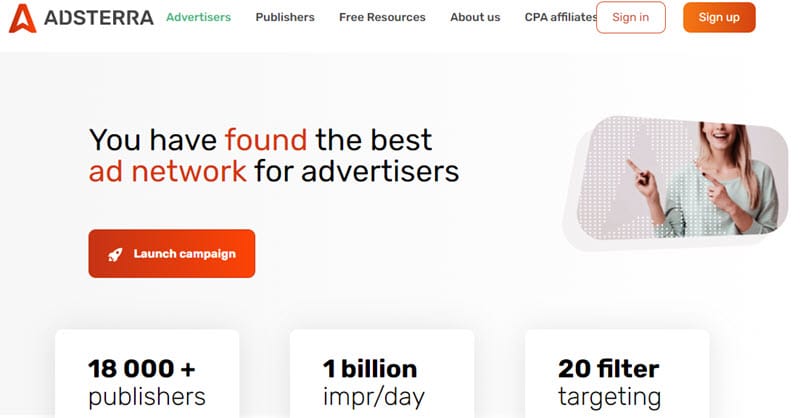 Attain a Targeted Audience
Adsterra's ad campaigns allow you to reach a large number of targeted audiences. It will enable you to specify your campaign by customer's choice, needs, language, as well as country, etc. This, in turn, helps you to increase your productivity.
Anti-Spam
Adsterra employs the latest technologies for detecting fake traffic, spam, as well as malicious activities on your website. This prevents misuse and fraud of your website.
Advertise on Top Websites
With Adsterra, you can promote your advertisement on top quality websites. So, Adsterra offers you the opportunity to increase your sales by running ad campaigns on sites that have quality traffic.
Advanced Optimization
Adsterra gives you the option to optimize your ad campaigns in effective ways. In fact, you can set up a budget cap for advertisement campaigns. You can set up daily, hourly, as well as total caps for your campaigns.
Moreover, you can even manage as to how many times you wish to show your advertisement. Plus, it allows you to set a specific date or time for displaying your ads. It even suggests the optimal bid.
Mobile System Integration
Adsterra comes with a smooth integration process for detailed tracking of all traffic sources by HasOffers, Tune, Appsflyer, Cake, Voluum, as well as, with other partners.
Adsterra is known for providing quality traffic to its clients. They sell traffic through RTB. They go on to use integration through XML, JSON, and Open RTB v2.4. The format they use is the Pop-Under Ad. Moreover, you can get traffic by using parameters such as GEOs, Mobile, Desktop, and Advanced Targeting (Full targeting inventory including rare options like Browser versions, OS versions, carrier, user lifetime, IP targeting).
Adsterra Self Service Platform
Adsterra SSP or Self Service Platform enables advertisers to launch, manage, & analyze advertising campaigns themselves.
The SSP is straightforward. It has a user-friendly interface. Plus, its tools help to launch campaigns without any hassle.
It is automatic, as well as fast. There's no need for any help from a personal manager.
It is clear & transparent. You will encounter no difficulties whatsoever for setting it up. For instance, you can choose all settings, bid adjustments, as well as limit yourself.
It allows you to monitor all the performance by yourself.
Adsterra for Publishers
Adsterra's "smart" technology helps to monetize your website in a fast and easy way. In fact, it's a "three" step process. Simply register with Adsterra, place the code on your website, and you are ready to start monetizing your website.
Here's the list of specifications for Publishers:
As of now, Adsterra accepts even small websites to their ad network. So, with Adsterra, your website traffic volume doesn't matter. They can help you grow with them. However, with Adsterra, your traffic quality does matter for approving your website.
They offer the highest CPM Rates
With high CPM Rates, you get the maximum amount of quality traffic. In fact, CPM Rates depend on GEO. Moreover, Adsterra can monetize your website's impressions with 100% fill rates. Plus, you can also get customized CPMs as per your needs.
At Adsterra, you get the highest security & protection against malware & bad ads by their experts. It has even implemented a third-party fraud detection system.
List of Features of Adsterra
Here, we have listed some of the essential features of Adsterra:
With Adsterra, you get the most popular & effective ad formats for enhanced performance. In fact, Adsterra offers a superb experience of displaying the pop-ad. Moreover, it allows you to customize your pop-ad.
For example, you can customize elements such as: how large the window is and where you want to show it on the screen.
All the formats you can use at Adsterra:
Multiple ad formats: Popunders, Web Push, Native Ads, Vast (video), Social Bar (OUR NEW FORMAT), Banners (Display)
For desktop and mobile, you get different types of display banners, Pop-under, leader board, skyscraper, direct links, video banners, Push-up ads, sticky footer, Interstitial Ads, and more.
Main benefits of Social Bar:
Includes several highly engaging ad types
Has a high CTR, which allows publishers to get more profits from advertising
Highly dynamic and customizable (Offers users interesting creatives instead of beat-up banners)
Mobile-friendly
Data forwarding (e.g., email)
Dynamic iFrame for scalable creatives (Doesn't take up site space)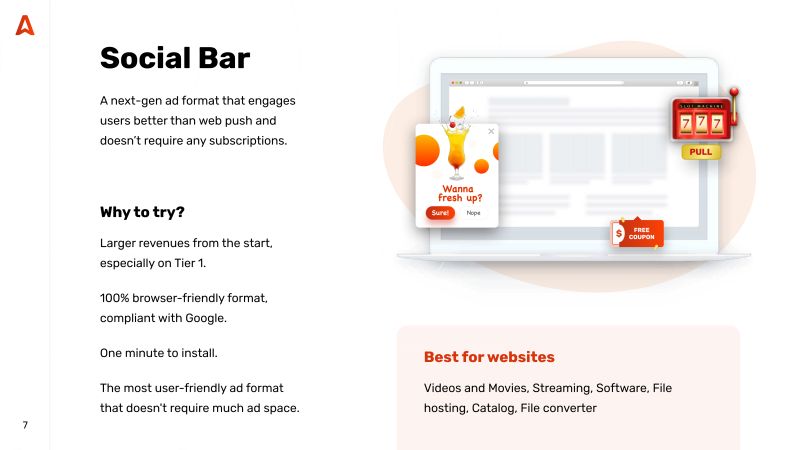 Adsterra offers experienced and qualified support team with unique Partner Care training program that all their managers have to pass, they invest in long-term relationships with partners.
So, with Adsterra, you can solve your problems very quickly. This enables you to get your target revenue achieved soon.
As far as the payment system is concerned, Adsterra is very particular about it. They make sure that all payments are made on time. They use PayPal, Bitcoin, Webmoney, Paxum (for publishers) to make payments quickly and easily.
The minimum payout is only $5 for Paxum & Webmoney and $100 for other payment systems.
Real-time reporting system
Adsterra has come up with a real-time "stats" reporting system for its users. So, you can track real-time ad campaign performance and have an opportunity to maximize your ROI.
Publishers have the option to choose which ads will be displayed – Mainstream or Non-mainstream.
User-friendly Control Panel
Adsterra offers clean and easy to use control panel. It has easy to follow features. So, you can concentrate on your work easily. There's no distraction by the different types of options.
Adsterra has various plans on offers such as CPM, CPI, CPA, and CPL.
Payment models for advertisers: CPM, CPC, CPA, CPI, CPL, RTB
With Adsterra, you can analyze the campaigns and optimize them for gaining maximum results.
Benefits with Adsterra Ad Network
Adsterra specializes in Pop-under advertising, which is nowadays very popular with mobiles and desktops. So, with Adsterra, you can earn more revenue as well as advertise your products effectively.
Increase CPMs with amazing and new ad format Social Bar ads. High CPM rates and high CTRs increase your earnings.
They offer 24/7 customer support. There are even personal managers for registered clients. Plus, their support team is very friendly. They resolve the issues very quickly.
Adsterra runs a 5% Referral program. So, you can earn by referring Adsterra to other publishers. There's an opportunity to make money when they join Adsterra.
Adsterra makes On-time payment
Advertisement service is available for both desktop & mobile. So, there's an opportunity to advertise your product to a much larger audience.
One of the essential highlights of Adsterra is the fact that it works with quality clients. So, it is a good thing for both advertisers and publishers.
They have several payment options such as PayPal, Webmoney, Paxum, Wire Transfer, and Bitcoin
Minimum Payouts: WebMoney & Paxum – $5; PayPal & Bitcoin – $100; Wire – $1000
Now, as you can make out with this review, Adsterra is a very robust ad network for maximizing your profits with online advertising. We hope that this Adsterra Ad Network Review proves immensely helpful to you.
I am working with Adsterra for some time, and they are my favorite Ad Network. I am sharing the payment screenshot so that you can be sure that they always pay on time.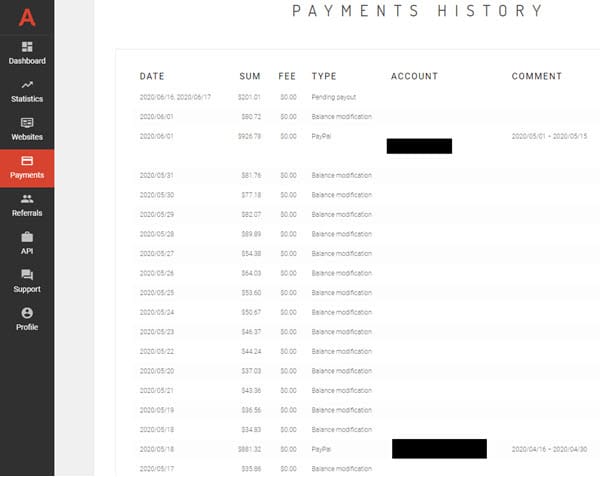 We welcome your comments and suggestions. Please share the post across all major social networking platforms.