If you are confused about how to make money online, then I would say you should consider marketing recurring affiliate programs.
Here, we show the Best Recurring Affiliate Programs, which will help you generate recurring income for yourself. These are also known as Residual Income Affiliate Programs.
Below, you will find the best residual income affiliate programs list. You'll want to get involved in these high-paying recurring affiliate programs.
These are the best recurring revenue business options that can give you income for a year or even for a lifetime, depending upon whether your referred user stays with the company.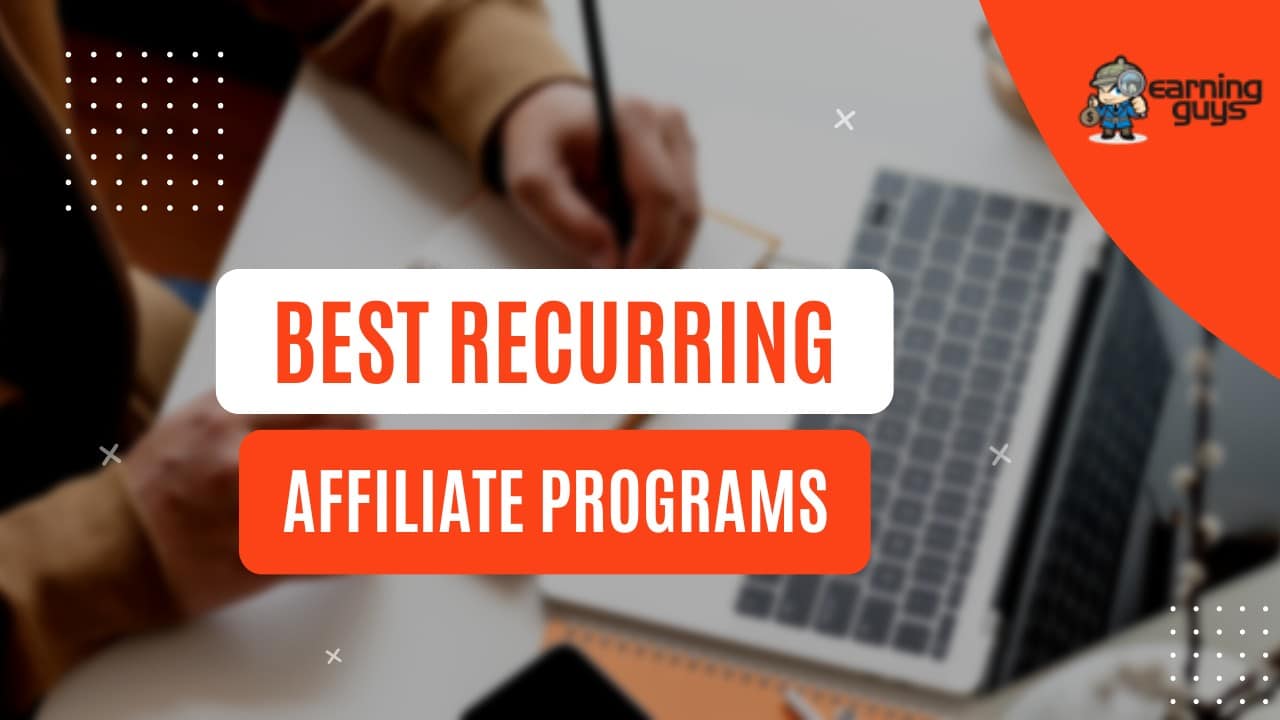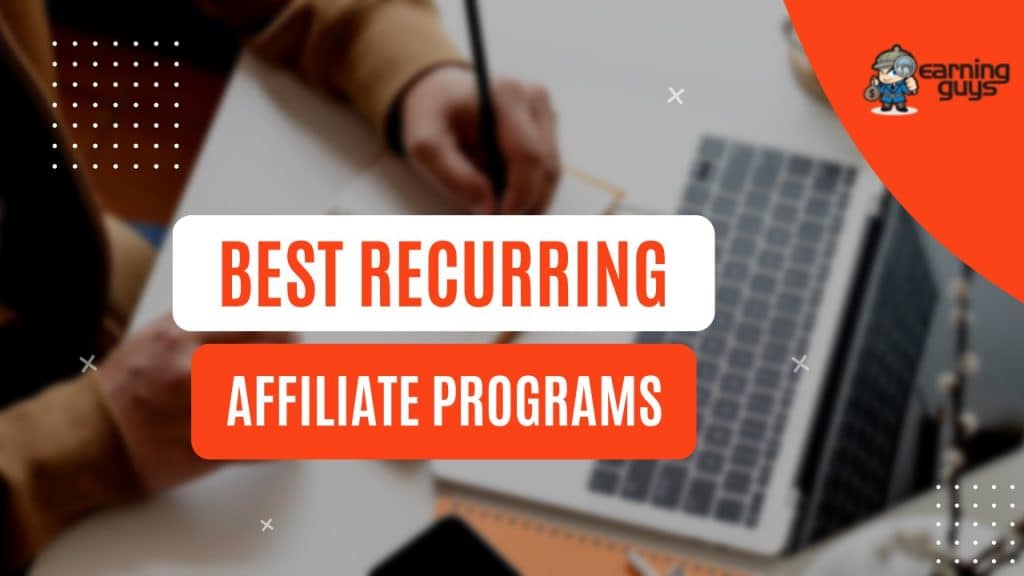 You must be aware of affiliate marketing. In affiliate marketing, you get paid when somebody buys a product or service using your affiliate link, and the commission is quite high.
Recurring Affiliate Programs (sometimes also known as recurring referral programs) have a slight twist.
You get paid once your referred user buys the product or service using your affiliate link when you market affiliate programs.
However, in Recurring Affiliate Programs, you get recurring income.
Let me explain it to you.
First, let us understand what a recurring commission is.
Simply put, the recurring commission makes you earn money for every purchase that your referral makes. So, the commission continues to flow in and does not stop on the first purchase alone.
For instance, you go on to promote a service that comes with a monthly subscription fee. A user goes on to click on your affiliate link and makes the first purchase on the website. He signs up for the service and pays the first month's fees.
Let's take the fee to be $100 and the commission rate to be 10%.
Normally, you would receive 10% of that first purchase.
However, if it's an affiliate program with recurring commissions, it would go beyond just the first month.
So, you will not only receive 10% from the first sale but of every purchase that is subsequently made by the customer.
Thus, if the customer sticks with the service for a year, you make $120 that year. And if he uses the service for five years, you make $600!
For lifetime usage, you'll keep getting commissions.
Usually, recurring affiliate programs are associated with membership programs that require people to pay monthly or yearly.
So, as long as the customer makes recurring payments, you continue to make recurring commissions.
Looking at the above example, I am sure that you would be interested in affiliate programs with recurring commissions.
With one referral, you receive consistent money over and over again.
Let's take the above example itself; one referral alone would fetch you $120.
Imagine a scenario when you got 100 people to sign up for the service, and they used it for a year.
Well, that's $12000 for you as a recurring commission.
The point is that you can make hundreds of dollars a month on month as recurring commission, of course, by using high-paying recurring affiliate programs without making any extra effort!
So, residual affiliate programs can grow your earnings as an affiliate marketer.
You may also like: Best Affiliate Programs for Bloggers
Let's dig a little deeper.
Suppose you are marketing Recurring Affiliate Programs for a hosting service. When one of your referred users buys out the hosting service, you get the affiliate commission.
However, things do not end here with Recurring Affiliate Programs.
When your referred user decides to stick with the company and pays for the hosting service in the next year, you again earn a commission on the amount paid by the referred user who has taken the hosting service.
So, in Recurring Affiliate Programs, your commission continues till the referred user sticks with the company.
The same scenario is exhibited when a referred user buys out an email marketing software or SEO Software under recurring affiliate programs.
Likewise, when you refer a publisher to an online advertising network, and he starts earning by displaying ads on his website, you go on to earn a commission.
It continues till the time referred user is attached to the advertising network. However, the commission you earn varies from company to company depending upon their marketing policies.
For example, if the publisher earns $20 in the first month and the percentage of commission payable is 10%, you would earn $2. If the publisher earns $50 in the second month, you will earn a $5 commission.
Likewise, if the publisher earns $100 in the third month, your commission would reach $10.
The best part is that the commission trickles in for you as long as the publisher is attached to the company and makes money. And you have to refer a user to the company only once.
So, your referred user can either buy a product or service or earn by joining an advertising network; in either case, you earn a recurring commission in recurring affiliate programs.
However, the quality of the products needs to be good as nobody would like to stick with a product or brand which is not of good quality.
The companies that have enhanced the quality of their products or service offer recurring commissions.
Now, let us see the best affiliate programs which offer recurring commissions. These Recurring Affiliate Programs can prove a gold mine for you.
25 Best Recurring Affiliate Programs
 So let's get started with these Best Recurring Affiliate Programs.
Adsterra is a leading digital advertising network widely appreciated for its performance-based solutions by advertisers and media partners worldwide.
It is widely known for its personalized solutions allowing you to enhance your campaign performance.
Here are some quick numbers for Adsterra that tell the success story of this leading advertising network:
25BN+ Impressions per month
248 GEOs covered
50K+ successful campaigns
10000K Leads per month
Moreover, the ad campaigns are secured by its in-house & third-party fraud detection systems.
Adsterra caters to both mobile and desktop traffic, offering high conversion rates by employing best-fitting payment models: CPM, CPC, CPA, CPL, CPI, and CPO.
Adsterra delivers real-time statistics for tracking your performance. It is known for offering high-quality traffic that leads to more impressions, leads, conversions, and sales. Targeting includes GEO & Language, Browser, Device & Vendor, OS, Advanced Mobile, By Keywords, and more.
Adsterra Publisher Network offers you the opportunity to monetize easily using its smart technology. The process is simple:
Register with Adsterra
Place code on your site
Start earning money
You can monetize every impression with 100% fill rates. Moreover, Adsterra offers one of the highest CPM rates in the industry. It has a wide variety of web and mobile ad formats.
It offers payments on a NET15 basis with many withdrawal options, such as WebMoney, ePayments, PayPal, Paxum, Wire Transfer, and Bitcoin.
Moreover, you can earn extra using Adsterra Network Referral Program, which is easy, rewarding, and made for you.
You can invite your friends to Adsterra Network to earn extra with its Referral Program. You can share your unique referral link with your friends.
You get to earn 5% of the revenue generated by the Publishers that you referred to Adsterra Network for a lifetime!
You can use text links, blogs, social networks, and contextual ads to attract your friends to Adsterra Referral Program.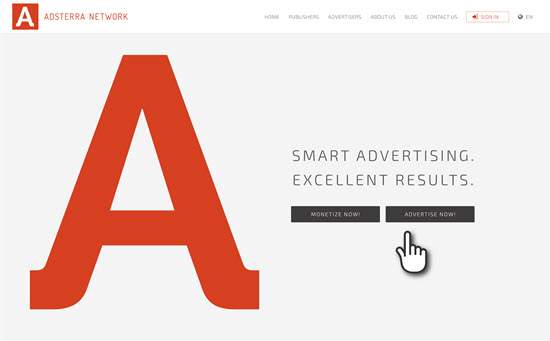 Clickbank is the biggest affiliate network out there. It has an ever-expanding catalog of quality digital products.
The best thing about Clickbank is that it offers many high-converting recurring affiliate programs. They are known as Rebill offers.
They have an excellent rebill rate making them a fantastic recurring commission product to promote.
Many of the products on Clickbank are sold on a recurring subscription basis. So, it is an excellent opportunity for digital marketers as they can continue to earn money month after month, as well as year after year, as long as the customer continues the subscription.
Plus, they provide their affiliates with all of the necessary tools to make money. And that's not all; Clickbank's advanced reporting offers you insight into detailed data about impressions, clicks, and sales for your offers.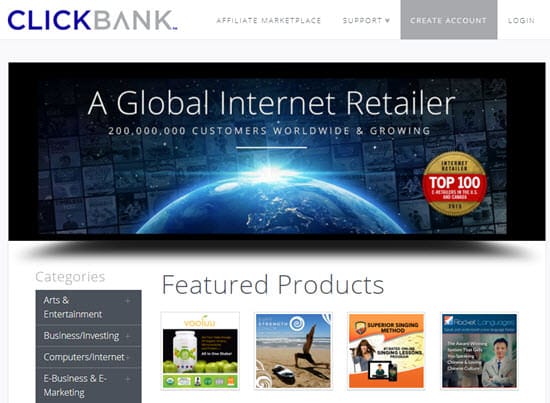 ConvertKit is a popular email marketing software with amazing features for email marketers.
The ConvertKit Affiliate Program has many successful affiliate partners who are earning thousands in recurring revenue from its program each month.
ConvertKit is committed to creating opportunities for affiliates to earn commissions.
As a ConvertKit affiliate, you can earn a 30% monthly commission from anyone you refer to. So, if you send an account worth $99/month, you get to earn $30 every month.
However, self-referrals are not allowed. It is not a way to get a discount on your account.
You can find your fit with ConvertKit.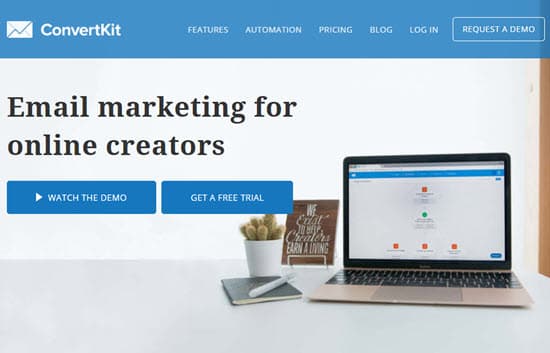 SendPulse is one of the most powerful Email and Messenger Marketing Platforms out there. It's built for sending emails and SMS and creating Chatbots for Facebook and Telegram.
So, SendPulse allows you to connect with your audience using channels such as:
Email Campaigns: Promotional and transactional emails
Web Push: Instant browser notifications for your subscribers
SMS: Messages with discounts, updates, or order confirmation
Transactional Emails: You can trigger transactional emails from any of your projects
Messengers: Automated chatbot flows and campaigns for messengers
So, with SendPulse, you get multiple channels of communication with customers. You can send different types of messages separately or combine them with Automation 360.
You can use Drag & Drop Editor to create responsive emails without any HTML knowledge. It offers a stunning variety of email templates.
So, SendPulse is one of the best tools for marketing automation.
Plus, you can earn using its referral program when you invite your friends to SendPulse. Once you register, you'll get a unique link that you can use to invite partners, friends, and colleagues to use SendPulse.
Anyone accepting your invitation will receive $50 off their five first payments. Plus, you get $50 as a bonus added that is added to your account. The more colleagues & friends you invite to use the service, the more bonuses you get. So, there are no limits!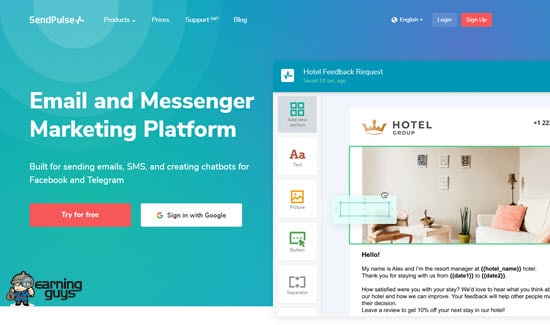 The Ninja Outreach Software is an all-purpose inference marketing tool. It offers four subscription plans where every user is billed on a monthly basis.
You can earn 50% monthly recurring commissions for each customer you refer to.
The Ninja Outreach affiliate program will surely interest you. Well, Ninja Outreach allows you to earn as much as 50% monthly recurring commission for each customer you refer to.
Its affiliate program incorporates two products.
The Ninja Academy comes with four subscription plans where every user is billed on a monthly basis.
It offers the opportunity to earn 50% monthly recurring commissions for each customer you refer to.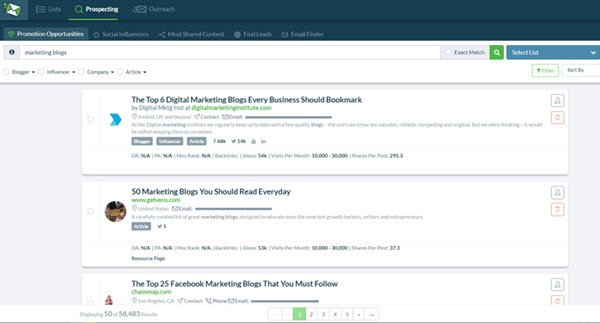 JVZoo is another very popular affiliate network that's been there for quite some time now.
It's more into info products like ebooks, software, video tutorials, apps, plugins, and things related to email marketing, list building, product development, etc.
The best part is that it is free to join. You can sign up and gain instant access to JVZoo's Product Library. Here, you can access many different products you can promote to your audience. You can earn up to 100% instant commissions.
You can promote products through your blog, email list, website, PPC, etc. Commissions are paid directly to the affiliate's PayPal account.
Plus, you also get the opportunity to earn recurring commissions on many of its products. It runs one of the best recurring affiliate programs. It also offers real-time tracking of your traffic and earning statistics.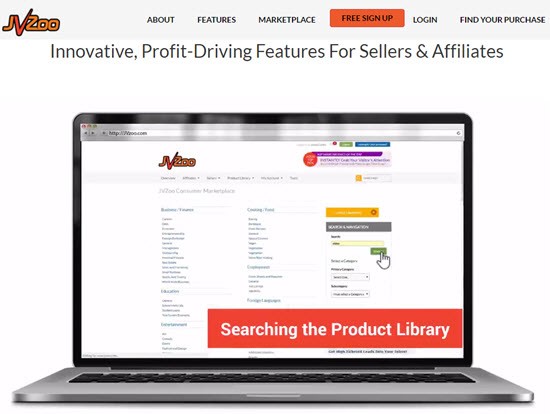 Aweber offers one of the best email marketing tools. The signup is free and offers a 30% lifetime recurring commission per referral. All plans provide unlimited emails and start at $9.
They offer a 30-day free trial, compelling enough for users to give it a shot. It allows you to send follow-up emails, RSS emails, and so on. Payment is made through Check, and the minimum threshold for payout is $50.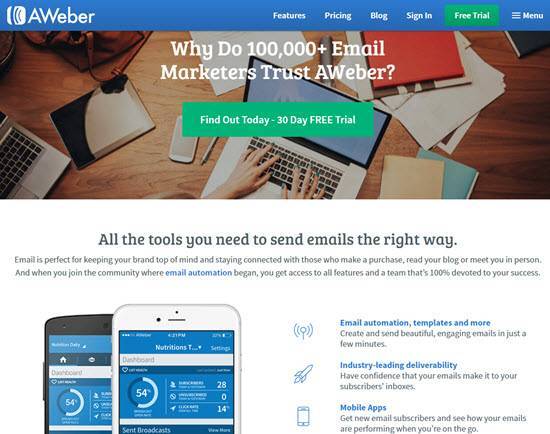 Instapage is a powerful landing page platform for marketing teams and agencies. It helps you to maximize your conversion rates. You can build post-click landing pages in minutes.
It offers a full testing suite for optimizing page performance. You can manage sophisticated campaigns at scale with advanced attribution.
You can create stunning, mobile responsive landing pages using one of the 200+ templates that no developer needs. One can create multiple landing pages for each keyword and ad group.
It offers one of the most powerful Collaboration solutions. It's useful when managing multiple collaborators, campaigns, clients, and deadlines.
It's a landing page platform that helps to improve your workflows.
Now, another very important aspect of Instapage comes your way. It allows you to earn money when you refer customers to Instapage!
You not only earn a 50% revenue share on the first payment, but you also get the opportunity to earn a 30% lifetime revenue share on all self-serve plans.
You can earn a portion of their revenue for every account you refer to Instapage through your affiliate link. Moreover another good thing is that you earn weekly automated payments.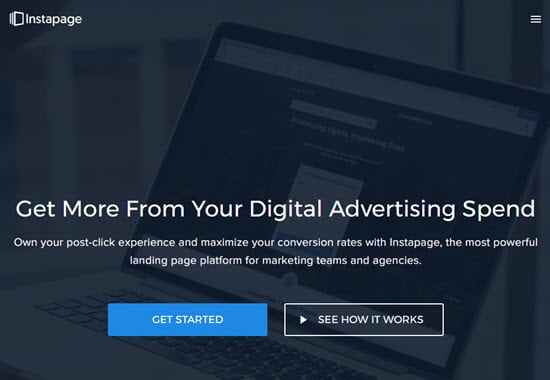 GetResponse offers one of the most reputed and popular email marketing tools. It is one of the top competitors to Aweber. When it comes to the recurring commission in the affiliate program, they have the edge over Aweber.
They go on to offer as much as a 33% lifetime commission for referring a user to their email marketing tools. They come with a 30-day free trial offer which is good enough to drive users to take up their email marketing tools. Payment methods include Paypal and cheques with a minimum payout of $50.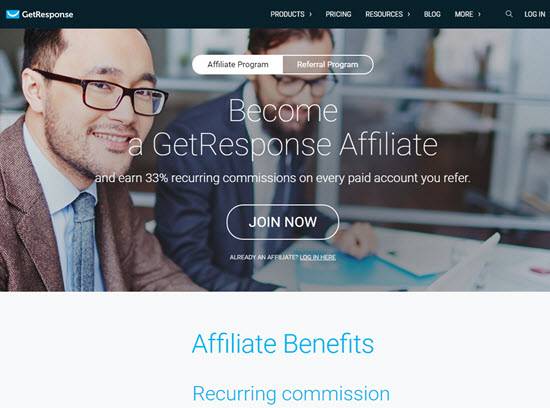 SEMRUSH is one of the most popular keyword research and SEO tools. They have one of the most lucrative offers of a 40% recurring commission. BeRush is their official Affiliate Program.
By joining their affiliate program, you would get an opportunity to promote one of the world's greatest competitive intelligence services. The best thing is that they offer as much as 40% recurring (monthly) commission. So, place one of their banners or widgets on your blog, or recommend SEMRUSH to your clients or followers to make a handsome monthly profit.
Payment Mode: Paypal
SocialPilot comes as a social media marketing and scheduling tool. Thousands of agencies and social media professionals are using SocialPilot to increase their online marketing efficiency and save time.
It offers you the opportunity to share as many as 500 posts and connect up to 200 social profiles from a single account.
Plus, its powerful analytics and reporting features help you fully analyze your social media strategy.
The SocialPilot Affiliate Program offers you the opportunity to earn a 30% recurring commission for SocialPilot subscription sales.
You get a variety of banners and links for use on your website as well as promotion on Social Media.
You get to earn a commission based on your subscription when a visitor clicks on one of these links. Moreover, joining the Affiliate Program is free. You can earn a 30% commission for every new paid subscription with us.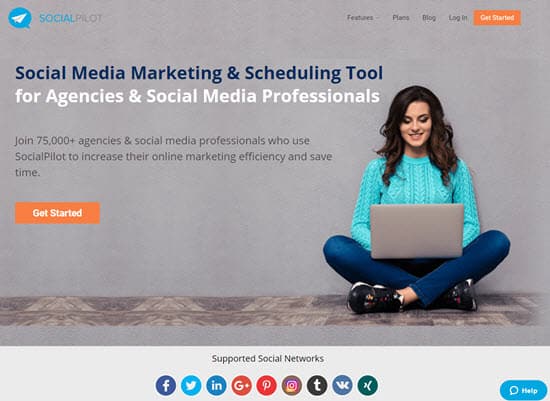 Shopify is one of the leading e-commerce software. It allows you to sell online and offline. Using Shopify, you can have fully functional e-commerce sites or just a shopping cart for your existing website. It supports as many as 70 payment gateways and is SEO optimized.
Shopify offers 20% of each bill from your referred merchants.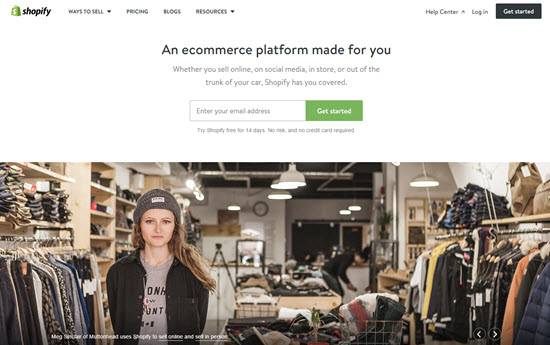 13. Propeller Ads Recurring Affiliate Program
Propeller Ads is another very popular advertising network especially known for pop-under ads. It offers one of the best eCPM rates in the industry. Propeller Ads provides pop-under ads, pop-ups, pre-rolls, post-rolls, and overlay ads. It delivers 100% inventory monetization, detailed real-time statistics, and 24/7 qualified support.
Propeller Ads offers up to 5% recurring referral commission for referring publishers to their advertiser network. Payment options include bank wire, Payoneer, MasterCard, Webmoney, etc.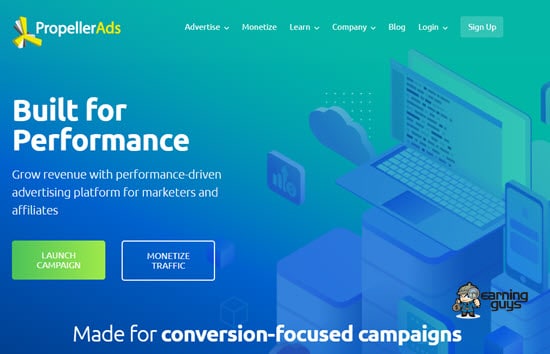 PopAds is one of the most popular Pop-Under ad networks. It offers one of the most lucrative Recurring Affiliate Programs whereby you get an opportunity to refer publishers and advertisers to its advertising network. Its services are fast, efficient, and secure.
Minimum Payment: $5
Payment Method: Paypal
Payment Frequency: Request, Automatic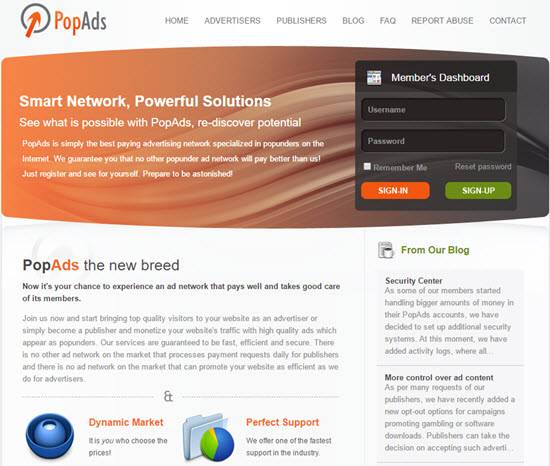 Thrive Themes is a well-known name in WordPress Themes and Plugins. All its themes and plugins have been built from the ground up, allowing you to convert more of your visitors into subscribers, customers, and clients.
As a Thrive Themes Affiliate, you enjoy a 50% commission per purchase.
Plus, you get a 25% recurring commission if your referred one purchases its Thrive Membership ($19/mo) or Agency Membership ($49/mo) where they get to use all the themes and plugins.
They pay recurring commissions on yearly renewals. Selling their membership plans can get you paid each year.
They offer special attention to their affiliates, with a support system always at your service. You have to place banner ads for the products on your site. Plus, you get statistics for keeping track of the traffic, sales, and commissions.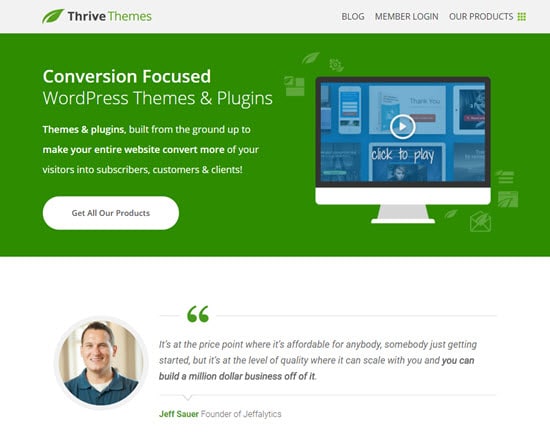 Max Bounty is one of the most popular CPA networks for affiliate marketing programs. It connects trusted and skilled affiliate marketers with vetted, high-paying advertisers. The network offers various commission types, such as CPS, CPA, and CPL.
It has a minimum payout of $100, and its Recurring Affiliate Programs offer a 5% referral commission for 12 months.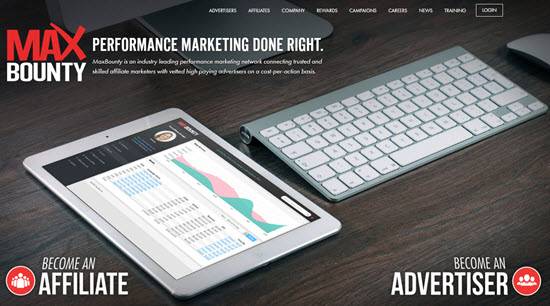 Teachable offers you an opportunity to easily create an online course with its powerful yet simple all-in-one platform. You can use Teachable to sell hundreds of thousands of dollars in online courses.
Teachable is the best place to create your online course.
Well, that's not all about Teachable. You can earn an ongoing monthly income by joining the free Teachable recurring affiliate programs.
It's one of the best affiliate programs in the industry. They payout as much as 30 percent commissions with a 90-day cookie.
Once you refer someone to them, you earn a commission for as long as that person stays a customer. So, send traffic once and earn forever. You need to have an engaged audience and a teachable experience.
There's great earning potential with a Teachable affiliate program.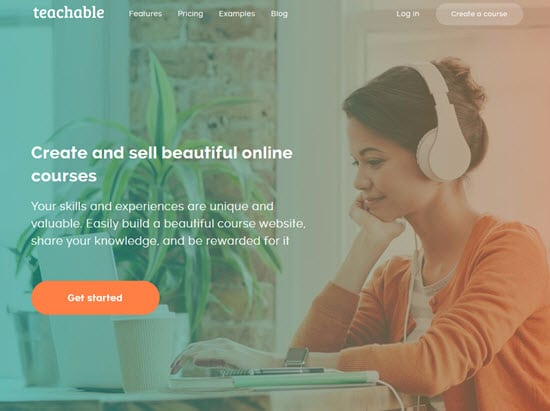 ExoClick is one of the most popular web and mobile ad networks. It functions as a pay-per-click platform and provides services for advertisers and publishers.
By joining ExoClick recurring affiliate programs, you get an opportunity to have a 5% referral bonus for a lifetime.
Whatever your referral publisher will earn, you will earn 5% of that for life.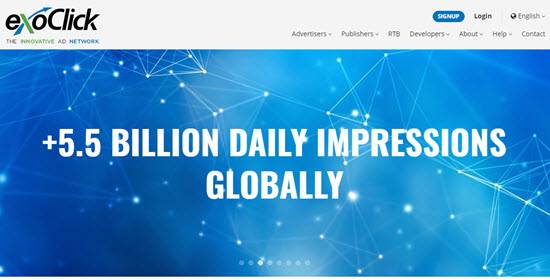 19. LiveChat Recurring Affiliate Program
LiveChat is the leading customer service software in a rapidly growing eCommerce market. It offers the opportunity to become a LiveChat Affiliate Partner and earn up to $4.500 per referred customer.
Moreover, it's simple to start and designed to make you earn some serious money. Plus, there's an opportunity to earn a recurring commission with their recurring affiliate programs.
You can get recurring payments for customers you refer. Get as much as 20% recurring commission for as long as your referred ones stay with them.
The good thing for you is that they are easy to promote and even easier to sell. The affiliate program can bring you a stable stream of passive income.
The LiveChat users stay with them for ages. So, every sale you deliver can result in multiple payments onto your partner account.
Moreover, it has 120 days cookie period, so clients can complete a purchase within 120 days from clicking on your referral link.
The affiliate program is suitable for bloggers, website owners, content writers, YouTubers, and even Social Media Superstars.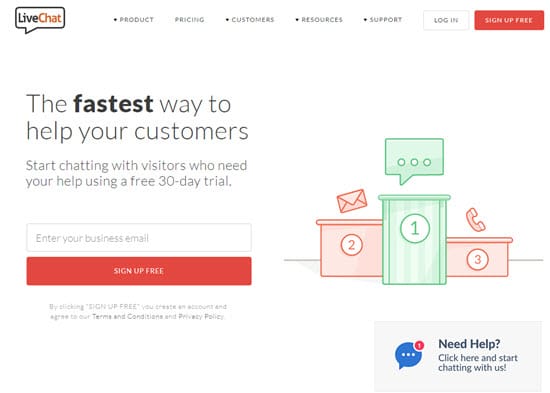 20. Graviex Referral Program
Graviex is a popular coin exchange that is headquartered in Malta. However, Graviex was originally created in Russia with its data center. It was launched in February 2018.
The Graviex exchange offers the opportunity of trading in a decent number of Cryptocurrencies. It has all the biggest cryptos and the less known ones.
Graviex has introduced three new features on the platform:
Crypto-world newsfeed
Comparative analyses of the hot markets
Daily exchange turnover, as well as last dividends, paid out
Plus, the exchange is continuously working to introduce new features and functions.
Graviex also runs a referral program. It has ten levels. You will not only receive referral rewards for the ones that you have invited directly. You also receive rewards for such people's invitees' invitees' invitees' invitees' etc. This goes on until the tenth level of invites.
This exchange has a flat trading fee of 0.20%. So, the trader and the maker in a trade pay 0.20% of the trade's order value. However, the global industry average is 0.25%.
Their withdrawal fee is 0.0004 BTC. The global industry average is 0.0008 BTC. So, Graviex charges 50% of that. It means that the fee is fairly competitive at this exchange when compared with the global industry averages.
Graviex does not accept any direct deposits of fiat currency. That said, it allows deposit and withdrawal of fiat currency with third-party payment services such as Payeer. The exchange allows deposits of USD, EUR, and RUB to your account through the Payeer service. It also supports credit card deposits.
Last but not least, the exchange has a security score that is way above average.
Graviex recurring affiliate programs pay 15% of the trading fee.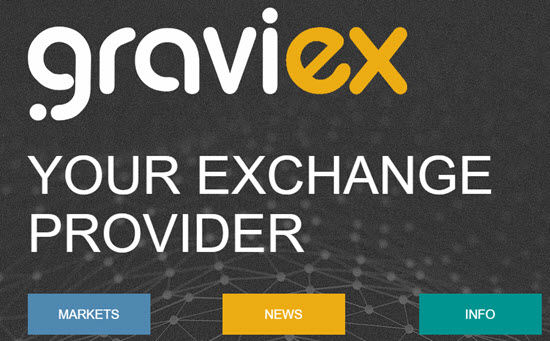 Pixpa is one of the most potent integrated platforms for creating a beautiful portfolio website with e-commerce, client galleries, and a blog.
Its easy drag-and-drop website builder allows you to create your beautiful portfolio website without any coding experience.
It offers fully customizable, stunning website themes for showcasing your work.
You get a mobile-ready, online portfolio website with all the features and tools for growing your creative business. It allows your clients to view, proof, purchase, share, and download images on any device. Moreover, you can sell your images as prints or digital downloads.
You can also easily add an online store to your website to sell physical products, digital products, and services. Plus, it allows you to manage products, inventory, discounts, shipping, and taxes for growing your business online.
You can add e-commerce galleries on your website for selling your images as prints and downloads to your site visitors.
You can also use client galleries for selling and delivering images directly to your clients. Plus, you can create personalized photo gallery apps for sharing your pictures with your clients.
The platform is perfect for photographers, artists, designers, and small businesses. The best thing with this platform is that you can become a Pixpa Affiliate Partner and get a 50% share of the first-year revenue of your referrals.
You can get paid up to $150 for each referral. They pay a 50% share of the first-year revenue from your referrals. Moreover, there is no limit to the number of referrals you can make. You get paid for each one of them.
It's aimed at website owners, bloggers, influencers, web designers, and agencies.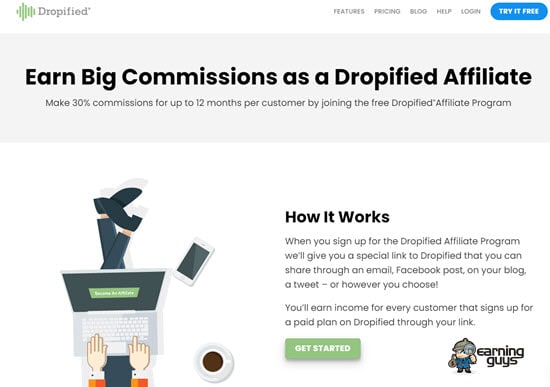 Dropified Dropshipping Software automates several of the daily tasks you need to execute to run a successful Dropshipping business so that you can focus on marketing and growing your eCommerce stores.
It allows you to automate your entire Dropshipping process from order fulfillment to delivery. Its research tools allow you to find profitable products for your store easily.
It automates the process of finding and adding products to your store. You can quickly add products to your online store from AliExpress, eBay, and several other supported sites. So, you end up saving 100x time in terms of uploading products and fulfilling orders.
You can even import product reviews from AliExpress vendors to increase your conversion rates and credibility. With Dropified, you would never need to copy and paste order details.
Dropified allows you to automatically place orders to your AliExpress and eBay suppliers. It means that you need not be involved in time-consuming, mind-numbing repetitive tasks. Plus, you get many more powerful eCommerce features that can help your business succeed.
Moreover, Dropified offers you the help you need:
60-day eCommerce training for starting a profitable Dropshipping business within 60 days
Superfast support with less than 4 minute response time to most questions. Plus, it offers multiple resources to help you.
The best thing is that you can earn big commissions as a Dropified affiliate. You can join the free Dropified Affiliate Program and make recurring commissions for up to 12 months per customer.
When you sign up as a Dropified Affiliate, you'll get a special link to Dropified that can be shared through an email, Facebook post, your blog, as well as a tweet. Using your link, you will earn income when a customer signs up for a paid plan on Dropified.
You can earn 30% of a customer's monthly subscription fee for the first 12 months each time you refer someone to Dropified. So, there's an opportunity for you to make $ 1000's in recurring commissions.
Another good thing is that you get monthly payouts. Plus, you get many other benefits as well, including promotional materials.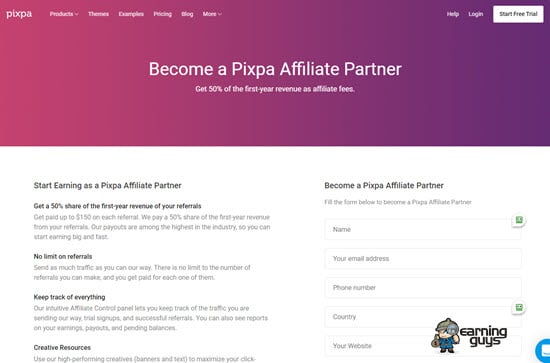 Olark is one of the simplest live chat software.
It offers tons of customizable features for augmenting the chat experience for your visitors and your team.
You get real-time reporting, automated messages, team management, and many other advanced chat features.
One can become an Olark affiliate and earn commissions for each new customer you refer to.
You can have up to 25% revenue share for new referrals. You can earn commissions on renewals for up to one year.
There is no limit on how much you can refer and earn.
Payments are made once a month via PayPal. It offers a Partner Portal for tracking referral activity and payment history.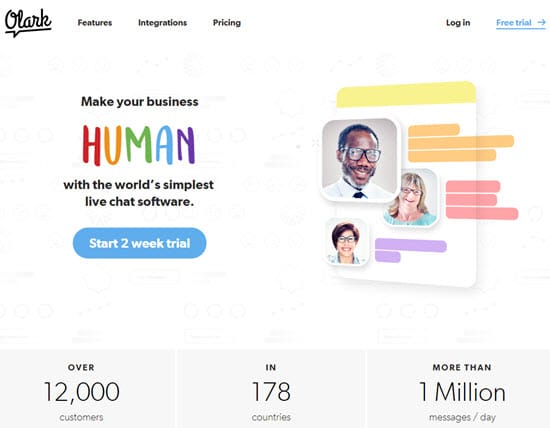 SocialBee is a social media management platform that you can use to set a posting schedule, share, and analyze your profiles' growth. Thousands of small businesses and agencies love to use SocialBee to be more consistent with their online presence and to get leads from social media. No matter how many and what profiles you have (Facebook, Twitter, LinkedIn, Instagram, Pinterest, Google My Business, or TikTok), you can use SocialBee to bring structure to your social media marketing efforts.
Their affiliate program is one of the highest-rewarding out there, with a 20% recurring commission for as long as the leads you refer stay customers. One bonus aspect of SocialBee is that they also have digital marketing services that you can recommend and earn an additional 10%. Win-win for you!
When you join their program, you get lots of resources to help you promote the tool: banners, social media templates, icons, logos, descriptions, roadmap, landing pages, coupon codes for your audience, and more. The program has three levels you can achieve, and as you grow as an affiliate, you can unlock more benefits.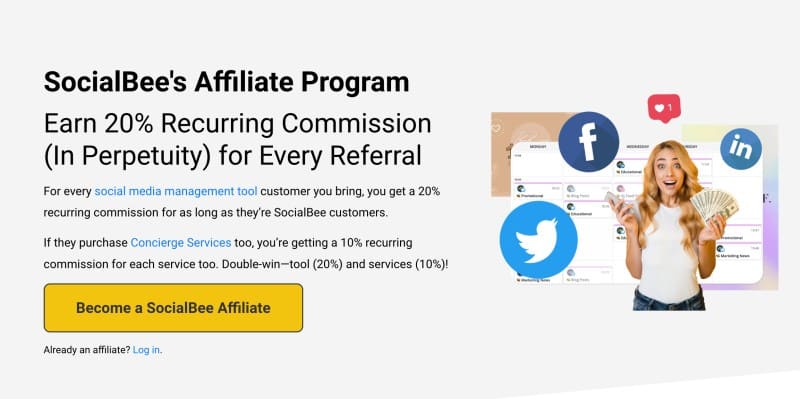 Raven is a popular online SEO tool. Affiliate commissions are pretty high when you promote Raven Tools. You get 50% of the first month's payment. Plus, you get a 10% recurring commission for that sale's account lifetime.
On its Pro account, you get $9.90/mo recurring revenue. Its Agency account gives you $24.50/mo recurring revenue. It comes with 180 days return policy which gives you an advantage on conversions and earnings.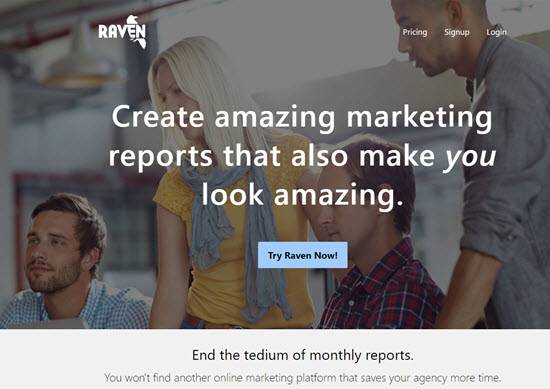 Post Affiliate Pro is powerful affiliate software that allows you to track leads, registrations, and sales commissions. It's a reliable affiliate software with exceptional customer service.
Its Affiliate Program provides you an opportunity to earn as much as 30% commissions for every sale referred. Plus, all recurring orders will give you a 5% commission.
Moreover, you also get a $5 commission for just signing up for the affiliate program. You can also refer other affiliates to join its affiliate program. These affiliates will become your sub-affiliates, and you will earn a 5% commission on their sales.
The minimum payout is $100, and you have referred the minimum two separated customers. They also accept self-purchases.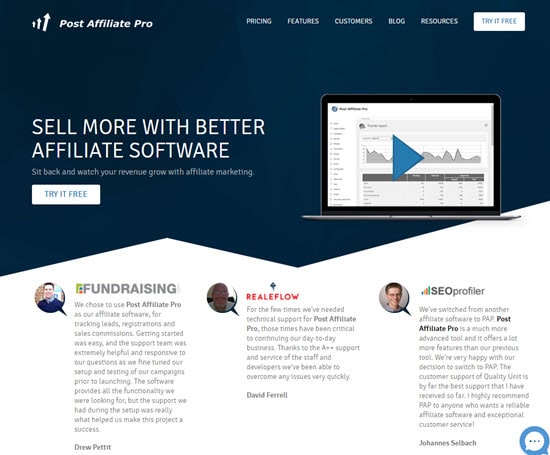 We hope the Best Recurring Affiliate Programs presentation proves highly useful to you. Do share your comments with us.