For Affiliate Marketers, it is important to run offers, design landing pages and have Ad copy which brings them good results as far as traffic and conversions are concerned. As an Affiliate Marketer, you often take the route of split testing by experimenting with different Ad copies, landing pages, and offers.
However, following this method may take a lot of time in order to bring the desired results and invariably involves a lot of expenditure. So you are putting your time, effort and money and still not getting the desired results. This is not what you expect out of doing Affiliate Marketing.
Is there some better technique for you as an Affiliate Marketer or Advertiser which can bring in quick results for you and can save your effort, time and money?
Is there a better Affiliate Marketing Strategy for you?
Well, the good news is that there is a better way for Affiliate Marketers.
You can use Ad Spying Tools to carry out competitive intelligence and find out successful Ad Campaigns.
Hereunder we have come up with an excellent collection of 17 Ad Spying Tools for Affiliate Marketers which can help you in sharpening your Affiliate Marketing efforts.
Using these Ad Spying Tools for Affiliate Marketers you get to access a vast pool of databases of advertising campaigns. You can search for a successful Ad Campaign in varied categories using different search criteria or metrics such as age, gender, region, network source, date range, etc. You can carry out Ad spy for display advertising, PPV, advertising on Facebook, and even mobile advertising.
This enables you to do a thorough competitive analysis and find out the reasons which make ad copies successful with the target audience. You can learn and improve upon your landing page, come out with a better offer, perhaps design attractive Ad copy, or can even prefer to join a particular Ad network. The end result comes in the form of a marked reduction in your split testing efforts, and a reduction in your overall advertising expenditure. Moreover, you get to see a substantial improvement in your ROI on your advertising expenditure.
So, to make your Affiliate Marketing efforts successful you should use Spy Tools.
The 18 Ad Spying Tools for Affiliate Marketers listed below can certainly help to enhance the returns on your Affiliate Marketing Campaigns.
18 Top Ad Spying Tools for Internet Marketers
1. Mobidea Push and Native Spy Tools
Do you know which are the hottest campaigns online?
If you do, good for you! But if you don't, I've got some insight for you.
Have you ever heard of Mobidea Push and Native Spy tools? I'm sure you have; otherwise, you must have been living under a rock!
If you haven't tried them yet, I really don't know why you're wasting your time. These tools are super powerful, not only because they give you instant access to millions of push and native campaigns, but also because they let you know which ones are crushing it online.
With the data of these tools, you'll be able to find out exactly which creatives are getting the most clicks and precisely which landers are converting.
Mobidea's Spy Tools allow you to access winning push and native campaigns running in every major country around the world.
Curious? Just check below these tools' main features:
Complete CPC Bid Visibility
Access to All the Latest Offers
Landing Page Ripper
New Ads Added every Hour
Easy-to-use Interface
Powerful Search Filters
Detailed Insights
Geo Partitioning Algorithm
Campaign Alerts
So, if you want to be kept in the loop and don't miss out on the opportunity to get ahead of your competition, it's time for you to unlock the secrets of the world's most profitable campaigns and make some serious money online!
Get access to the most profitable push campaigns:
40+ ad networks
19M+ ads
150,000+ advertisers
90+ countries
Competitive native ad intelligence at your fingertips:
29 ad networks
15M+ ads
150,000+ advertisers
60+ countries
Mobidea's Push and Native Spy Tools come as a flat monthly rate with zero hidden fees.
Prices:
Free Trial: Use the exclusive Earning Guys' promo code EG and get a free 2-day trial
Paid Plans
Mobidea Spy Push: $59.99
Mobidea Spy Native: $79.99
Mobidea Spy Push + Native: $124.99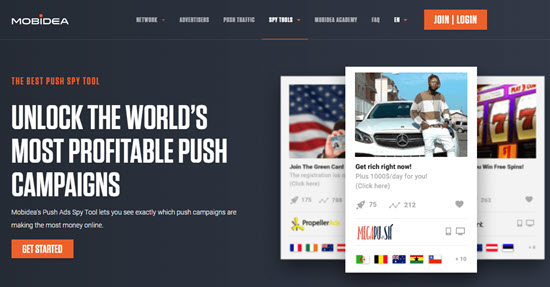 Adbeat provides an excellent platform for accessing the online marketing strategy of various advertisers. It even provides mobile competitive intelligence for devices such as iPhone, iPad, Android Smartphones, and as well as Android Tablets. Using Adbeat, you get to know your competitors' advertising strategy and can then leverage their results to improve your ROI on your advertising expenditure.
Adbeat makes you a smarter advertiser. You come to know which Ads are working and which Ads fail to deliver results. Get to know which Ad campaigns are being launched. Adbeat provides you with one of the most exhaustive Advertising intelligence databases so that you can profitably use the content network advertising channels.
It provides you with the best ad copy for any market segment. You can know which ads are the highest traffic drivers. Adbeat gives access to some of the top Ad networks including Google Display Network, Adsonar, Doubleclick, Pulse 360, MSN Content Network, etc.
Price: Paid Plans
Standard: $249 Per Month
Advanced: $399 Per Month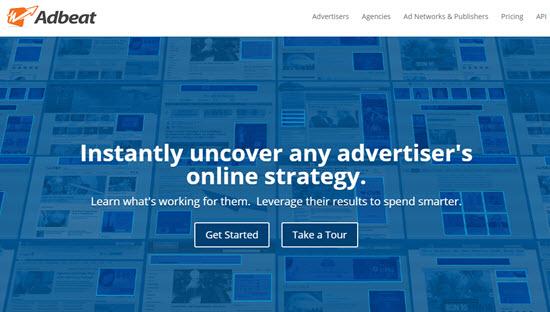 The best thing about Adplexity is the fact that it is a complete ad spy tool for mobile, desktop, and native intelligence. So, it is the best ad spy software that you can use for monitoring the ad campaigns of your competitors.
It is the only service on the market that monitors mobile ad campaigns on Android Apps, Mobile Web, Popups, and Redirects for both Wi-Fi and Carrier traffic.
Adplexity provides you the opportunity to uncover hidden campaigns that run exclusively on mobile carrier traffic from all around the world. It covers every major country and many "lower-competition" countries. It provides an ultra-fast search with results returned within a fraction of a second.
You can monitor ads running on thousands of Android apps. It even tracks campaigns running on popup ads. You can discover ads promoting affiliate offers. Go on to download every landing page straight from its user interface. You get in-depth data and filtering options about the individual campaign.
Adplexity desktop allows you to target all popular devices including Windows PC, Mac, iPhone, Android Phones, iPad, & Android Tablets. You can find out how long campaign has been running, landing pages used, and much more. You can find out what is working well for others on all major desktop, native and mobile traffic sources.
All-in-all, Adplexity is the best competition intelligence tool that you can use for monitoring desktop, mobile, and native ad campaigns.
Price: Paid Plans $199 Per Month for each traffic source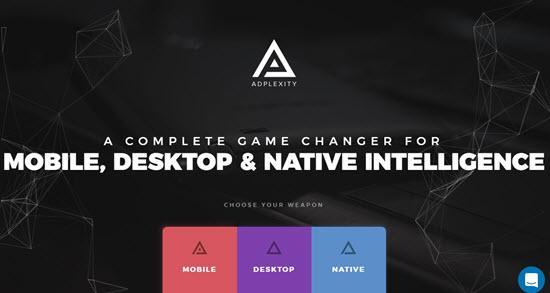 Anstrex is one of the best Native Ad Spy Tool that offers all the competitive intelligence data to you. It has a huge database and even updates on a regular basis.
It offers an easy to use interface that helps you to find successful native ad campaigns in any category easily. Anstrex offers great filtering options making the search so much easy for you.
Anstrex offers a preview of the landing pages in an instant. You can have ad network details. One can go on to filter ads by different metrics such as (Alexa rank, days running, Ad-strength, and Gravity).
You can even download the landing page. It covers both mobile as well as desktop platforms. You can analyze native ads in different countries, categories, and languages.
With Anstrex, you get all such as information such as how long the ad was running, on how many platforms the ad has been running, etc.
It is a great time saver as you can analyze tons of native ads in just a few seconds. Anstrex allows you to trace the affiliate campaigns of your competitors in your niche. It offers superior search and filter capabilities.
All in all, Anstrex proves an incredible native ad spy tool that enables you to stay ahead of your competition easily.
Price: Paid Plans
Standard: $39.99 Per Month
Custom: $49.99 Per Month
Ultimate: $59.99 Per Month
20% Lifetime Discount by using code: earning_guys_20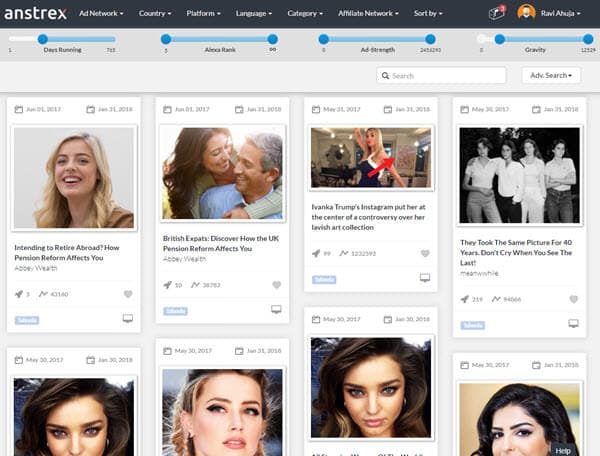 Adplexity (Adult) is one of the best adult intelligence services out there. It allows you to keep track of your competitor's mist profitable ad campaigns on adult traffic sources.
So, if you want to make better marketing decisions, then Adplexity is the best tool for you. With Adplexity Adult, you come to know what ads are already successful.
Adplexity (Adult) offers comprehensive data on profitable adult campaigns.
It covers every major country. You can see campaigns running in over 75 countries.
It allows you to uncover profitable campaigns on adult popup traffic sources. Adplexity (Adult) is much more than you could ever imagine.
It allows you to uncover hidden campaigns that run exclusively on mobile carrier traffic.
You can see campaigns targeting all popular devices such as Windows PC, Mac, iPhone, and even Android Phones.
You can have real-time insight on campaigns running on adult ad exchanges. Plus, you can find ads promoting affiliate offers (from 100 affiliate networks).
You can search by keyword, advertiser, publisher, affiliate network, and much more.
Adplexity (Adult) is for finding successful campaigns in a fast and easy way.
It allows you to analyze every piece of the campaign.
Come to know how long the campaign is running. Moreover, you can even know what part of the week it is performing the best.
This feature will let you know whether the campaign is working the best on iPhone or Android.
This feature will allow you to know where the advertiser buys traffic.
Its reverse engineering helps to find top placements which are sending the majority of traffic.
Adplexity Adult allows you to keep track of the latest trends in the fast evolving adult industry. You come to know what is working for your competitors and leverage that information in running profitable campaigns.
Price: $199 Per Month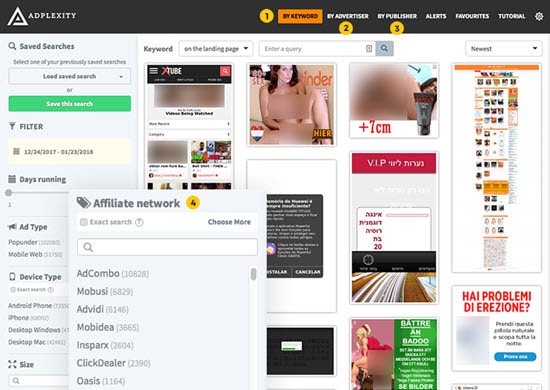 SEMRush is one of the most popular all-in-one SEO and competitor analysis tools. It is one of the top PPC tools that provide all-around information about your competitors. With SEMRush, you can quickly uncover your advertising competitors based on the keywords you plan to target. It provides an easy to use graphical user interface and allows you to keep track of your competitors. You can track information about your competitor's Facebook and Bing accounts.
The free version of SEMRush allows you to type in your competitor's website and view their ad text. You also get to know about the average position of keywords. Plus, you get to know the percentage of total keywords and their competitors. SEMRush has a paid version too. With its paid version, you get an increased volume of statistics, and you get more data compared to the free version.
Price: Paid Plans
Pro: $99.95 Per Month
Guru: $199.95 Per Month
Business: $399.95 Per month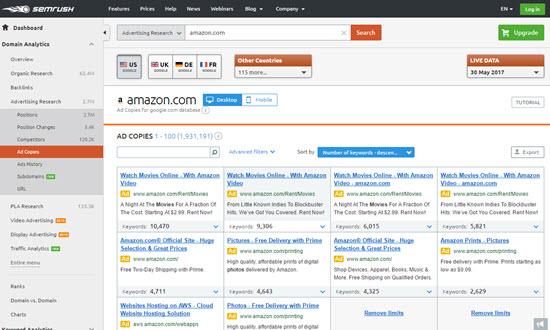 SpyFu has been rated as one of the best competitive research tools. It comes loaded with remarkable features that make it one of the leading ad spy tools in the world. SpyFu allows you to see every possible place where your competitor has shown up in Google. It provides information about all the keywords that have been used by your competitors as well as the ad variations that they have used.
SpyFu allows you to compare your campaigns with those of your competitors. With the help of SpyFu, you can discover the most profitable keywords that were missed by you. You can even eliminate non-performing keywords.
Best of all, SpyFu shows you the most important and profitable keywords of competitors using their advertising history. You get to know the actual ad copies that were used by your competitors. You simply need to type the web address of your competitor. It then reveals the estimated budget, keywords, clicks, ad texts, and ad position.
Price: Paid Plans
Basic: $39 Per Month
Professional: $78 Per Month
Team: $299 Per month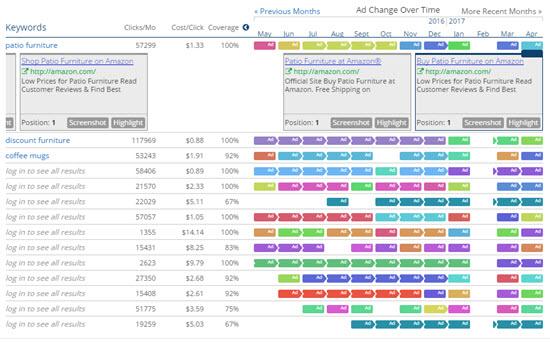 Connect Explore is another very powerful Facebook Ad Spying Tool.
It's loaded with all the necessary features that an advanced marketer needs. Moreover, Connectio.io is one of the most reliable Facebook Ads Spy Tool.
It allows you to know your audience better than before.
Connect Explore allows you to uncover Facebook interest in a way that you would have never imagined.
It's a revolutionary ad spying tool by Wilco de Kreij.
It allows you to go after the high targeted interested without having to compete with many other competitors right out there.
Using this smart research tool, you can uncover the interests of your competition. You can optimize ad results with the detailed interest performance stats without having to split the test.
It's made to propel your ROI with 300% or even a 600% return on investment. Connectio.io is the real competitive edge on your side.
Connect Explore works in four simple steps:
Discovery: find interests to target
Filter: Find the best interests and most engaged audiences
Target: Apply results to specific interests for the best possible ROI
Analyze and Scale: Measure out which interests are working best
Connect Explore comes with Automated & SMART Research Tool. It has the built-in "Layering" allowing you to hyper-target the hottest fans in any niche. Plus, it will enable you to optimize ad results with detailed interest performance stats.
Usually, it would take multiple hours for discovering those laser-targeted interests in any niche. However, with Connectio.io, you can automate it and save hours of time.
Connectio.io allows you to pick up winning campaigns. Plus, you can add those interests straight to your ad set. You can even discover how each interest is performing within that ad set.
Connect Explore is an ad spying tool that saves your time, helps you escape from tedious research, and maximizes your ROI.
It's easy to use, and support is top-notch. Simply put, Connectio.io is one of the best ad spying tools out there.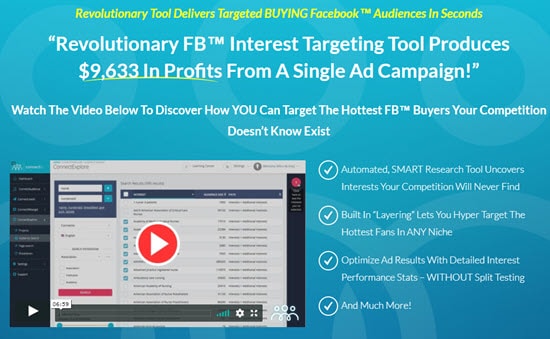 idvert is a comprehensive Ad Spying Tool for finding shopping ads.
Moreover, Idvert can be described as an "all-in-one" ad spying tool. Here are some important facts about Idvert for you.
Idvert comes as Business Intelligence Platform. It is best at doing competitive research. Idvert offers the opportunity to learn great creative ideas.
You discover ways of getting users your way. You come to know in which platform, what position, and which ads are the site running, and its effectiveness.
It offers insights with which you can win your market. Idvert offers global multi-device market intelligence. Idvert is about tracking and growing your digital market share.
It excels in data and analysis on paid and organic search; Facebook/Network display/Google search ads creatives, as well as advertiser analysis.
Idvert helps companies in discovering new traffic sources. It allows companies to keep an eye on the competition, and optimize their own online presence with site audit, SEO inputs, and brand monitoring tools.
Moreover, Idvert helps in finding creatives easily. For example, you can search for social ads in several dimensions. You can sort social ads based on the most up-to-date and the most popular.
Its shows the advertiser's icon, name, header information, subject, content, name, description, domain name, call-to-action buttons, likes, reviews, and last seen.
You can click on the ad image and see the details such as ad position, first seen, number of times it was viewed, landing page information, gender, country, device, and much more.
You can even find ads related to your keyword. It also offers the opportunity to search display ads.
In fact, the tool has three parts:
Social Ads (Facebook only)
Search Ads
DSP Ads
They have more than 100,000 ads about cod, Nutra, Dropshipping, and common e-commerce ads.
It mainly targets affiliates, media buyers, and advertisers. All in all, Idvert is a powerful tool for ad spying.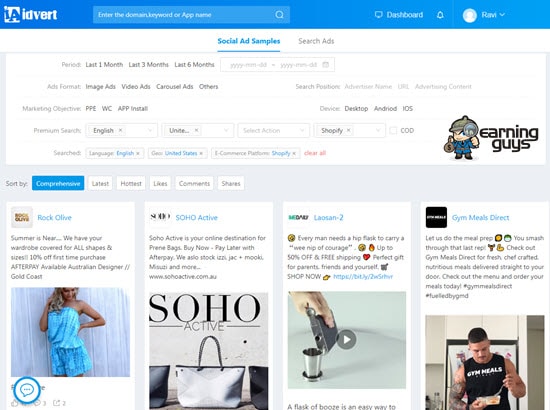 Social Ad Scout is another very powerful tool out there providing top-notch services for spying on social ads.
With Social Ad Scout, you can discover and access many social ads examples from all over the world in countries such as United Kingdom, United States, Australia, and many others.
Social Ad Scout comes fully loaded with unparalleled features.
It has detailed search filters allowing you to search easily by the Text, URLs, Demographic information, and many more.
Here you get extensive breakdown including the timelines, ad visibility, who saw it, and even how it was ranked.
It provides the actual screenshots of all the Ads. Moreover, Social Ad Scout makes it easy to download the landing pages.
The interface is fast, and the search results are processed within a fraction of a second.
The tool allows you to know what works on Facebook Ads and what doesn't. It's probably the best in business for spying on social ads such as Facebook.
Some of the key features of Social Ad Scout that differentiates it from other social ad spy tools in the market:
Devices: It is one of those social ad spy tools with both desktop and mobile ads
Ad Types: The tool supports every format including the Canvas Ads that no one else has
Targeting: You get the exact targeting details for every ad
Social Ad Scout also offers landing pages, images, videos, scripts, and style sheets – all in a compressed file making it easy for you to download.
Moreover, you can search by:
Hosting Providers
Alexa Rankings
Affiliate Networks
Landing Page Content
eCommerce Tools
Multiple Keywords
Price: $147 Per Month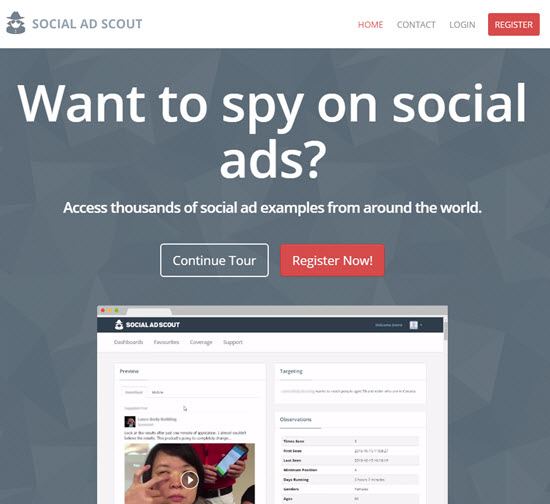 PowerAdSpy is more of a Facebook ads spy tool. It allows you to see your competitor ad's target audience age, interests, and geography.
PowerAdSpy has a massive database. It allows you to search through their database of over 50,000,000 real-world ads, with over 1,000,000+ monthly updates in as much as 15 countries so far.
It offers an easy way to review what type of ads your competitors are using. You can view the complete ad (Original Copy) as well as the current interaction it has (such as likes, comments, and shares).
PowerAdSpy allows you to:
Filter Ads according to your niche
Debunk your Competitors strategies such as running ads, landing pages, etc.
Scrape the best running Facebook ads within seconds
Bookmark the best ads and keep them safe for future work
It has powerful search options
With PowerAdSpy, you can search all the popular ads based on Keywords, Advertisers, and Domains.
PowerAdSpy comes with powerful filtering options.
You can filter popular ads based on ad positions (newsfeed, side column, etc.)
You can filter popular ads based on ad types (images or videos)
One can filter popular ads based on Gender (Target Audience)
You can filter popular ads based on Age (Target Age Group)
You can filter popular ads based on a relationship such as single, engaged, married, divorced
One can filter popular ads based on location. In fact, it's the best tool to search native ads.
From one single dashboard, you get detailed analytics about ad reach, social engagement, and latest trends.
PowerAdSpy comes in three different packages (monthly plan) such as Basic, Standard, and Premium. They also offer a five-day trial at $7 for Standard/Premium plans. It offers one day trial at $1 for Basic Plan.
Price: Paid Plans.
Basic: $49 Per Month
Standard: $99 Per Month
Premium: $249 Per Month

Advault is all about discovering hot ads and copy winning campaigns of Native Ads. Moreover, it's where you find the best native ads and landing pages in seconds. It's a massive source with as much as 11,148,220 Native Adverts, 13 Networks, and from 19 countries.
Advault has been dubbed as the most powerful native ads spy tool. It is trusted by many big players such as media buying agencies, affiliate marketers, and traffic arbitragers.
Advault offers the opportunity to search & filter by:
Ad Keyword
Ad Run
Advertiser URL
Device
Date Range
Redirects
Network
Landing Page
Language
Publisher
Country
And much more
And that's not all with Advault.
It also offers many additional features including:
• Instant landing page & funnel preview
• Identify and filter by redirects
• It allows you to save ads and favorite searches in your gallery
• Top ads, keywords and advertisers of the day, week and year
• Contact every advertiser in its database
• Full CSV export
Advault can do much for you:
You can discover winning campaigns
Uncover top landing pages & funnels
Monitor your niche and competitors
You can track specific advertisers and keywords so that you can know when new ads appear
You can collect your favorite ads
One can find new keywords and advertisers and see all ads related to them
Get tons of new advertising leads
You can find what products super affiliates are promoting on native networks
Identify direct marketers & affiliates
Advault offers various plans including Basic ($179 per month), Pro ($249 per month), and Network ($1499 per month).
They have partnered with seven native ad networks offering you up to $2300 in ad credits.
All in all, Advault is one of the most powerful ad spy tools.
Price: Paid Plans
Basic: $179 Per Month
Pro: $249 Per Month
Network: $1499 Per Month

AdEspresso is a leading Facebook Ad Managment Software for advertisers that help to test and scale their campaigns effectively. It is also one of the best tools to spy on Facebook Ads.
Using AdEspresso, you will surely head on the way to improve your Facebook advertising ROI. The tool helps to improve the ad click-through rates and increase conversions. Using AdEspresso, you can quickly set up new ad campaigns on Facebook. AdEspresso makes the entire ad setup process super simple. It comes with the capacity to conduct large-scale split tests.
AdEspresso Facebook ad spy tool allows you to find FB Ads according to your keyword. It shows competitors Ad copy along with targeted country, Ad Placement and some other information.
AdEspresso provides in-depth audience targeting based on their interests, location, and behavior. Moreover, with AdEspresso you can quickly check your ad campaign performance.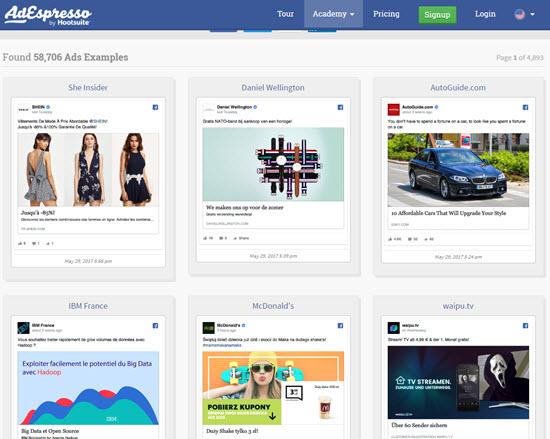 Native Ad Buzz is one of the best native ads spy tools that you should check out. It is designed especially for marketers who are tight on budget. With Native Ad Buzz, you can analyze native ads easily and come up with winning campaigns. It has NAB Mastermind Forum where advertisers can learn from one another.
With Native Ad Buzz, discover the top-performing native ads and launch winning campaigns. It allows you to spy on competitors. You can filter ads by the advertiser and follow what your competitors are up to. It helps you to discover the power and scale of native ads. Get to know what's working for your competitors and devise cutting-edge ad campaigns that deliver the best results.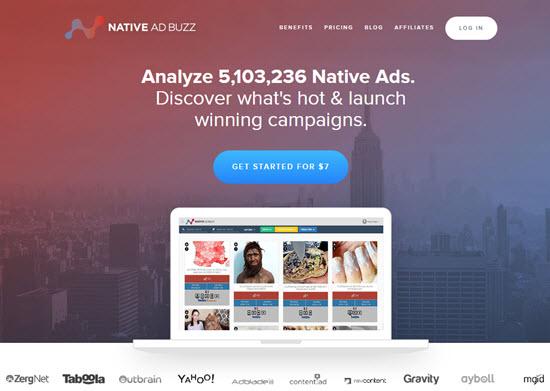 If you wish to seek competitive intelligence related to online media buying, then perhaps the best place to get this done is provided to you by WhatRunsWhere. Using this online service, you get the most thorough competitive intelligence which can help you to excel in your future Ad Campaigns.
You can look forward to boosting your ROI on your advertising expenditure. You get to know all the important data related to your competitors' advertising activities. It provides ample data to you by researching your competitors' ads.
It caters to display advertising, as well as the mobile advertising industry. Using WhatRunsWhere online service you can surely expect to get a definite edge over your competitors with access to its vast pool of databases. You discover new sources of traffic.
Its reach has tremendously increased in recent times, and at present, it covers more than 90 ad networks as well as 15 countries. With WhatRunsWhere, you can effectively utilize the display, text as well as mobile advertising media.
Price: Paid Plans
Basic Desktop & Native: $299 Per Month
Full Coverage Mobile + Desktop & Native: $399 Per Month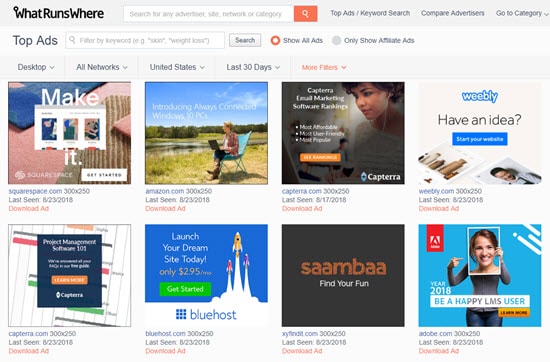 iSpionage has been touted as the most treasured resource for landing page discovery.
It's one of the most powerful competitive intelligence tools helping you to know what others are doing on AdWords and SEO.
iSpionage offers accurate and up-to-date competitive intelligence information. Moreover, it's easy-to-use.
iSpionage offers an unbeatable way of uncovering your competitors' conversion strategy.
iSpionage helps you in a number of ways:
It drives targeted traffic
iSpionage helps in generating more leads
It increases conversion rates
iSpionage offers competitor PPC Keyword Lists helping you to find profitable keywords fast.
And there's more to iSpionage!
You can download competitor SEO Keyword Lists
Land more clients with White Label Competitor Reports
Know how much your competitors are spending per month on AdWords
You come to know how other advertisers group their keywords, ads, and landing pages
Know your competitor's most profitable terms with its proprietary Keyword Effectiveness Index
It offers monthly ad traffic estimates
Know your top competitors in Google, Yahoo, and Bing
Know your competitors offers and landing pages
iSpionage is undoubtedly one of the best tools for strengthening your online marketing efforts.
Price: Paid Plans
Basic: $29 Per Month
Starter: $59 Per Month
Professional: $99 Per Month
Advanced: $299 Per Month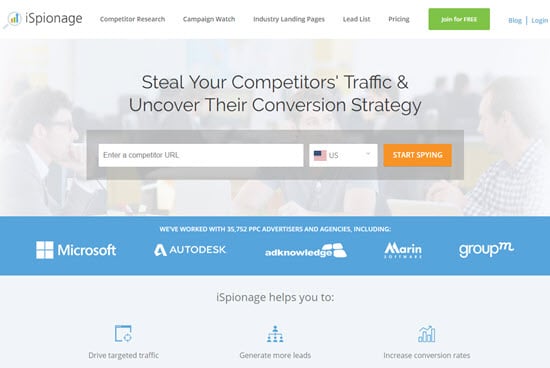 AdClarity is one of the best media intelligence platforms. It unveils the whole ecosystem of display advertising.
Digital Ad Intelligence is at its best with AdClarity.
AdClarity has the largest cross-channel programmatic digital ad coverage. It allows you to discover successful traffic sources that actually convert.
You can uncover all of the networks that actually perform. Plus, the publishers that mainly succeed and the audience that is right for every offering.
AdClarity reveals all of your competitors' media strategy. It offers the opportunity to learn from their successful partnerships and the initiatives.
So, you can avoid mistakes and avoid pay extra for your marketing. With AdClarity, you can increase your conversions by emulating the successful strategies in the marketplace.
AdClarity is helping thousands of media professionals to better their ROI on ad expenditure day in and day out.
AdClarity offers real-time display, mobile, and video data allowing you to create cohesive cross-channel digital campaigns across all digital channels and devices. So, AdClarity pays the way for exceeding customer expectations and of course helps to increase your profits.
AdClarity addresses enterprise needs for programmatic data scalability by monitoring and tracking over 22 million publisher pages, 14.5 million campaigns, and as much as 35,000 ad platforms.
It offers actionable insights to overcome digital planning blindness. AdClarity is all about obtaining the best results in the shortest possible time to achieve high ROI.
AdClarity is serving the complex world of digital advertising with its focus on advertisers, agencies, and media sellers.
In fact, AdClarity works out to be a complete media intelligence solution encompassing all of your digital media needs. AdClarity revolutionizes the way you do digital advertising.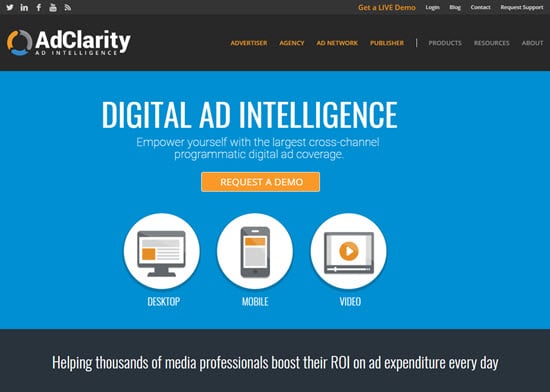 SocialPeta is one of the best Ad Intelligence tools. It's more than just Facebook Ads Spy Tool. It supports channels such as Facebook, Twitter, YouTube, Unity, Google, etc. It goes on to track ad creative, targeting, and performance of 500,000 apps.
SocialPeta offers more than 100 millions of creatives including video, image, carousel, playable, and search ads. It covers over 50 key countries such as America, Canada, Australia, Japan, China, India, etc. SocialPeta supports Influencer Analytics. You can find the best influencers and know how to engage with them. Its analytics is based on data from 100,000 influencers and 100 millions of posts on Facebook and YouTube. You can find the best influencers by country and game genre.
Moreover, you can capture trending apps, new releases, new marketing cases, as well as their ads and performance by country. SocialPeta also offers App Analytics. You can come to know industry better practices and even the latest cases of social ads & influencer marketing for mobile games and utility apps.
It is the best tool for social marketing and ad planning. SocialPeta offers you rich data of competitor's video ads as well as influencer performance so that you can make decisions effectively. It offers detailed marketing analytics and Ads insight for developers and businesses. SocialPeta is available in as much as four versions starting at $59 per month.
If you use any other Ad Spying Tools, please do share with us so that we can include them on this list.